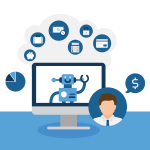 Welcome to the November 2017 issue of the Latest News in Financial Advisor #FinTech – where we look at the big news, announcements, and underlying trends and developments that are emerging in the world of technology solutions for financial advisors and wealth management!
This month's edition kicks off with the big debut of CleverDome, a next-generation cybersecurity solution that aims to bring all major financial services providers into a closed network that operates with a "Software Defined Perimeter" (SDP) to block out hackers and only permit known entities to interact with vendors. At the T3 Enterprise advisor technology conference, CleverDome announced that it is launching with Redtail CRM, Orion Advisor Services, Riskalyze, Entreda, and TD Ameritrade all "under the dome", and is looking to rapidly add more advisor tech providers in the coming months.
Also in the news this month was a slew of new "Model Marketplace" announcements, including the launch of Orion Advisor Services' "Communities" model marketplace built around its new Eclipse rebalancer, a pivot by Oranj to build a new MAX model marketplace around its recently acquired TradeWarrior rebalancing software and make its platform free to advisors to place assets in MAX, and the announcement that Apex Clearing is launching its own API-based rebalancer called Equilibrium that may also become a future player in Model Marketplaces (while enhancing its capabilities to compete with other RIA custodians as well).
From there, the latest highlights also include a number of major new product and feature rollouts this month, including:
Morningstar launches its "Best Interests Scorecard" solution to help advisors with DoL fiduciary due diligence and compliance on IRA rollovers
Redtail launches "Redtail Speak", a new compliant text-messaging solution for advisors
Advizr launches "Accelerate", which will allow advisors to directly open investment accounts or begin insurance applications from within a financial plan presentation
CapGainsValet re-opens its annual tracking database of end-of-year mutual fund distributions
You can view analysis of these announcements and more trends in advisor technology in this month's column, including fresh Series A rounds of capital for Snappy Kraken and Vestwell, the launch of U.S Bank's "FundKeeper" platform that aims to reinvigorate the "direct mutual fund" business of small- and mid-sized broker-dealers (with better compliance oversight and a fraction of the cost!), and the release of a series of "Consumer Protection Principles" from the Consumer Financial Protection Bureau to re-assert that consumers are the owners of their financial data and have a right to grant third-party data aggregators access to it (despite a desire of many Financial Institutions to limit the flow of data that is increasingly being used against them!).
I hope you're continuing to find this new column on financial advisor technology to be helpful! Please share your comments at the end and let me know what you think!
*And for #AdvisorTech companies who want to submit their tech announcements for consideration in future issues, please submit to [email protected]!