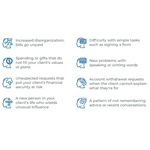 With an ever-increasing number of seniors afflicted with dementia, most financial advisors should expect to have to deal with (if they don't already) clients experiencing diminishing mental capacity. Which are often challenging situations to deal with, not only for the complexities of the clients themselves, but also because client privacy rules can limit an advisor's ability to involve other family members or to intervene if outright elder financial abuse of the diminished-capacity client is discovered. And while there has been regulatory progress towards protecting seniors from abuse (and allowing advisors more ways to involve family members and outside providers), it can still be very challenging for advisors to figure out how best to handle these relationships.
Importantly, though, financial advisors are in the unique situation of potentially being among the first to recognize that symptoms of diminishing capacity ailments are beginning to develop in the client, as indications of impaired financial capacity may be noticeable long before a formal diagnosis of dementia is made. Furthermore, given that seniors with diminishing mental capacity are potentially the most vulnerable to financial exploitation, it's especially important for financial advisors to be aware of these risks, and to know what to do if they suspect (or know) that their client is being victimized.
In this guest post, Steve Starnes, a Principal with Grand Wealth Management in Grand Rapids, Michigan, discusses what client diminished capacity actually entails, how regulations protecting seniors (as well as guidance for advisors who serve them) have progressed, the importance of documenting goals, key relationships, and investment plans, and how advisors can help clients manage through the various stages of cognitive decline.
As a starting point, the most basic challenge is simply understanding the relatively vague nature of what 'diminished financial capacity' actually means… both for clients (and their loved ones) as well as the advisors who serve them. As while it's easy enough to peg a definition on the term, the real challenge is in recognizing when the client has actually crossed the threshold of their financial capacity diminishing to the point that it actually becomes a real 'problem' where action must be taken.
The regulatory landscape paved by Federal legislation, FINRA regulations, and the North American Securities Administrators Association (NASAA) offers another challenge to advisors, who, in the past, were often restricted in involving authorities, but now in some cases may instead be required to report suspicions of financial exploitation. Fortunately, at the Federal level, the Senior Safe Act provides some level of immunity to advisors who report incidents of potential financial exploitation against seniors. NASAA is on the same track at the state level, encouraging states to adopt its Model Act which also grants advisors immunity for reporting suspected financial exploitation. Further, NASAA's Model Act also allows for advisors and broker-dealers to delay disbursements from a client's account if they suspect their client is a victim of financial exploitation. And when it comes to brokerage firms themselves, FINRA has established two rules intended to help broker-dealers protect customers from financial exploitation: Rule 4512 requires brokerage firms to request Trusted Contact Person information for customer accounts, and Rule 2165 allows brokerage firms themselves to put a hold on disbursements if financial exploitation is suspected.
Working with clients with diminished mental capacity creates additional concerns over the business risks faced by advisors and their practices. For example, if a client makes an uncharacteristic request, it's often hard to distinguish whether the request is the result of a temporary external situation, or if it's a warning sign of diminishing mental capacity… raising questions of how the advisor should respond and handle the client's request (or not). The risks inherent in such situations, however, can be mitigated by implementing and following structured processes and procedures that a firm establishes in advance specifically for situations of potential diminishing capacity of clients. Among the most important are documenting (and regularly updating) client goals, values, and investment plans, as well as maintaining a list of their important personal relationships (including the client's financial power of attorney, the advisor's trusted points of contact, and custodial trusted contact persons) and getting signed permission in advance for the firm to be able to reach out to the client's trusted points of contact if a concern of diminishing capacity arises.
Often the biggest advisor challenge, though, is simply the dynamic of trying to communicate with clients who can't remember basic, yet important, details about their own lives and financial situations. By keeping conversations straightforward and clear, and maintaining patience and compassion during these conversations, client interactions can often remain productive and helpful. If the client's financial POA is included in the discussion as well, they can help the client understand any confusing points of the discussion, and they may be better positioned to understand the issues around the client's financial priorities.
Ultimately, the key point is that while there are many unique challenges in working with clients suffering from dementia, advisors have an abundance of resources available to help them navigate through these challenges. And arguably, advisors have an even greater responsibility and duty to clients who may be especially vulnerable to financial exploitation to help protect them to the fullest extent possible. The starting point, though, is to recognize that while financial advisors are typically well-equipped to help clients plan for their retirement, investments, and tax strategies, it's equally important to create the necessary processes and procedures to plan for what unfortunately is a virtually inevitable reality of at least some clients who will eventually face the onset of diminishing mental capacity and who will need to rely on their financial advisor more than ever.