Welcome Prospective Guest Authors!
The Nerd's Eye View blog constantly publishes new and unique content for the financial advisor community, and as such, is always interested in accepting submissions from guest authors.
Because this blog is intended specifically for financial advisors, guest post content should pertain directly to the issues and challenges faced by advisors and/or provide advanced education on a technical topic pertinent to practitioners.
Accordingly, the Nerd's Eye View typically only accepts guest posts from fellow financial planning practitioners, or consultants or vendors who work directly with advisors on a full-time basis and have the requisite specialized knowledge and expertise of advisor needs and concerns.
The NEV Guest Post Process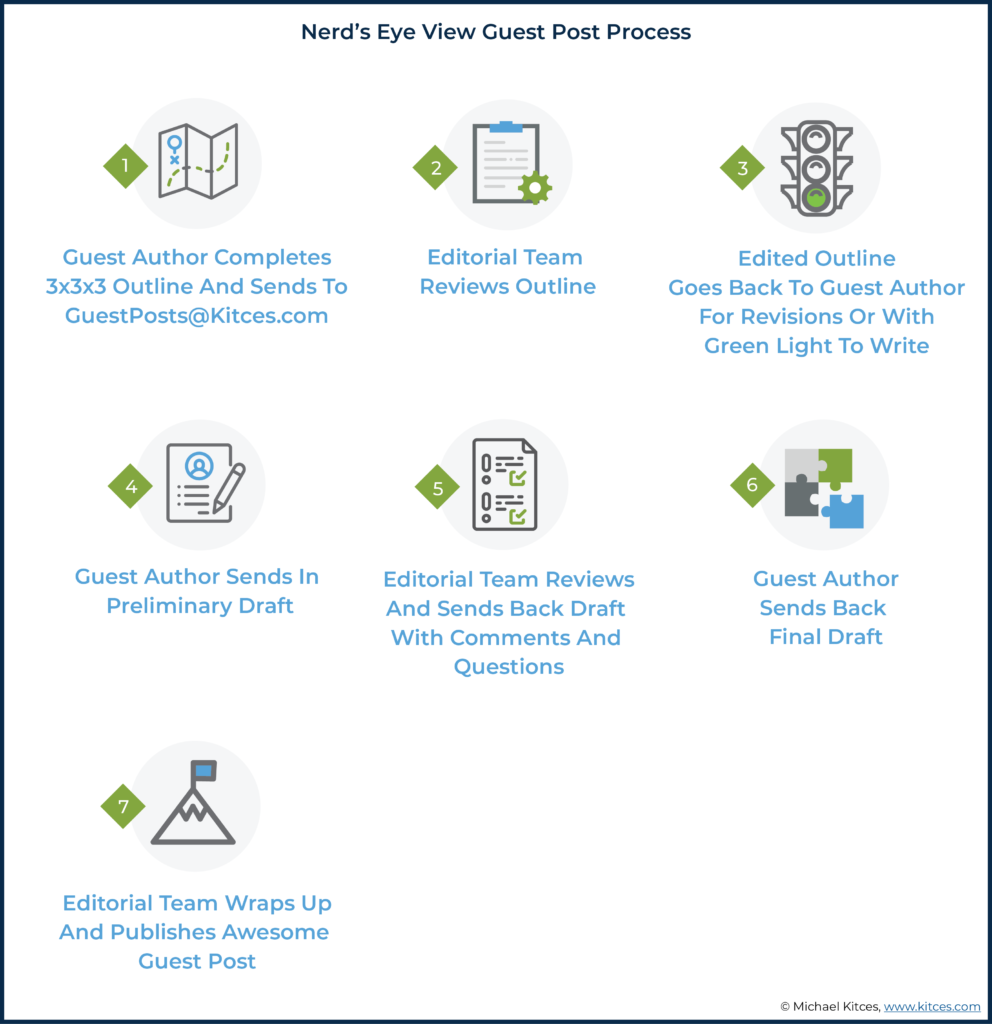 For those who are interested in submitting a guest post, please download and complete a copy of our 3x3x3 article outline template, which helps to ensure that both the guest author and editorial team at Kitces.com are on the same page in regards to Key Concept and Key Points (and their relevance for advisors). In addition to the examples in the template, check out, "Creating Blog Content As A Financial Advisor – Coming Up With Content Ideas And Other Best Practices" for insights into how to craft an outline that lives up to our Nerdy standards!
Once the proposed 3x3x3 Outline is completed, please submit via email to [email protected] for consideration. Please also include a long-form, deep-dive, Kitces-style writing sample along with your submission.
Please note that we will generally not be able to proceed before reviewing and accepting a completed Outline.
Ultimately, Michael Kitces retains the final say on which articles are eventually published based on the final edited version, but we try to work proactively with prospective authors to figure out early on if something isn't a good fit for the site (via the Outline Review process).
The Nitty Gritty
Guest posts for Nerd's Eye View are expected to provide thorough in-depth "nerdy" treatment of their subject matter; accordingly, the typical guest post is 2,500 – 5,000+ words and provides a good balance between information, insight, and instruction.
In addition, please note that while we rely on our guest authors' expertise, we also expect authors to include hyperlinks to appropriate citations (e.g., external references or other sources) within their draft. However, this may include references to Guest Author's other articles and content (e.g., on their own website) if information is properly sourced and referenced there.
FAQ
Can I pay you to publish my article? The Nerd's Eye View does not accept payment for articles to be posted (i.e., no "paid links" or "paid guest post" articles). Content will be selected solely on the basis of content merit.
Does Kitces.com pay Guest Authors for their work? Guest Authors who submit a single Guest Post to establish their expertise and credibility (and generate linkbacks for SEO purposes) are generally paid an honorarium between $500-1500.
Will Kitces.com consider an article I've already published elsewhere? Guest post submissions are typically original content for the Nerd's Eye View blog, but articles that have been previously published elsewhere will be considered (assuming you as the author retain the copyright to republish the content).
Can I link back to my website and/or social media profiles? Articles that are included for publication on Nerd's Eye View will also include full attribution to the original author, including links to the author's business and social media pages (as requested). As long as a prospective Guest Post meets our length and depth guidelines, embedded hyperlinks in the article are permitted (where contextually appropriate), though any affiliate links may be removed at the discretion of the publisher.
Can you point me in the direction of some successful guest posts? You bet!
The 26 Steps I Took To Set Up And Launch My Own Independent RIA, by Aaron Hattenbach
12 Tips To Survive Your First 12 Months As An Independent Financial Advisor, by Shawn Tydlaska
Selecting Income-Driven Repayment (IDR) Plans To Manage Student Loan Obligations, by Ryan Frailich
6 Types Of Niches For Financial Advisors To Differentiate Themselves, by Stephen Wershing
Taking Maternity (Or Any Extended) Leave As A Financial Advisor Without Losing Your Clients, by Ashley Micciche
The Four M's Of Finding "Limitless" Success As A Solo Advisor, by Stephanie Bogan
How To Profitably Price Fee-For-Service Financial Planning, by Alan Moore
11 Action Steps To Design An Extraordinary Client Experience, by Julie Littlechild
Thanks so much, and we look forward to working with you on your next guest post!