What Is "Kitces-Style" Content?
The mission of Kitces.com is "Making Financial Advicers Better, and More Successful" (no, "Financial Advicer" is not a typo!). In this context, "Better" means helping advicers to become better at the delivery of advice, from the technical knowledge it takes to deliver accurate advice, to the communication skills it takes to deliver the advice in a way that clients will act on it. "More Successful" is about helping financial advicers to advance their careers (as an employee) or practices (as an advisory firm business owner). Consequently, all Kitces content first and foremost is about helping Financial Advicers by delivering new insights about how they can solve the client and business/career problems they face.
Kitces content is typically long-form and in-depth (narrow but deep), and gets nerdy in covering all the details and nuances; we take topics past surface-level explanations, and go deep on the real issues that Financial Advicers face, providing Informative education about the issues, original Insights about how to tackle the issue in a unique or different way, and Instructions on how to actually apply the concepts in practice with clients or in the advicer's business.
Kitces.com has long been recognized as a "Trusted Source" amongst the Financial Advicer community as well - which means we take a strong focus on maintaining our independence and objectivity to ensure that we continue to "Be The Trusted Source" and always keep "Advicers First" (2 of our Core Values for the Kitces platform!). As a result, Kitces.com accepts no advertising or affiliate relationships with any industry vendors, and has no 'pay-to-play' opportunities for content to appear on the platform; selection of content that will appear on Kitces is based solely on our QNR standards - is it of good educational Quality, sufficiently Nerdy, and truly Relevant to Financial Advicers.
At the same time, Advicers are looking for solutions, and we're happy to 'name names' and provide concrete suggestions and ideas of specific vendors to implement ideas. However, while we willingly talk about specific products or solutions to help advicers, we do not permit any kind of sales pitches, or sponsored posts or videos; all content must be purely educational to help "Financial Advicers Be Better, and More Successful".
Who's Allowed To Contribute To Kitces?
Because Kitces is the "Trusted Source for Financial Advicers", anyone who wishes to contribute content on Kitces must be a credible expert on 'the thing' that they're contributing on, which means having a combination of expertise and actual experience in doing 'the thing', so you can speak from experience about what actually works for financial advicers. As a part of applying with us, contributors will be vetted for their credibility on the particular topic. (Note: Don't overthink this, though; if you do it for a living with clients, you are an expert!)
Broadly speaking, Kitces contributors typically fall into 1 of 3 categories:
Advicer: current or former practicing financial advicer.
Consultants: your primary business is providing consulting to financial advicers.
Vendors: you sell products, services, or a platform to financial advicers.
We accept content from advicers, consultants, and vendors, but not all types of Kitces content accept from all submitter categories, as shown below:

Because we have high demands for expertise and quality, we do compensate contributors for content types that have to go through our full editing process (for articles, webinars, and summits). Notably, this means that even in the context of vendors, there is no pathway to pay to have content featured on Kitces; instead, the content must stand on its own merit (and if it does, we will compensate you for the time you spend working with our team to deliver it via the Kitces platform!).
What Types Of Content Does Kitces Publish?
Kitces.com publishes a wide range of content types across a number of different channels, both on Kitces.com directly (e.g., our articles and webinars) and externally on other platforms (e.g., our podcasts). Certain content types are available openly to the entire Advicer community (e.g., the Nerd's Eye View blog), while others are limited to those who pay to have access to our Kitces Members Section. Currently, the Nerd's Eye View blog receives more than 200,000 unique visitors every month, our podcasts generate more than 150,000 downloads per month, and there are more than 14,000 advicers in our Members Section.
Further detail on our Kitces content types are explained below.
Articles - Write For Us!
The Nerd's Eye View blog is openly available content (no registration, paywall, or other limitations on access) hosted on Kitces.com (and occasionally syndicated to other industry publications), making it available to anyone and everyone who comes to or is referred to our site (or finds it via search!).
We follow a standard Editorial Calendar of content where Monday articles discuss practice management, AdvisorTech, or industry trends, and Wednesday articles cover CFP-CE-eligible topics such as tax, retirement, client communication, and other 'nerdy' topics to make financial advicers better.
We publish new articles every Monday and every Wednesday of every week, all year long! (Which means there are 104 article publishing opportunities each year!)
Podcasts - Chat With Us!
We publish 2 podcasts, Financial Advisor Success and Kitces & Carl. Every podcast is published as an embedded audio file on the Nerd's Eye View blog with the associated transcript, and is syndicated view Apple Podcasts, Google Podcasts, Spotify, and the other typical podcast distribution platforms. All of our podcasts are freely available to all who wish to listen.
Financial Advisor Success is a 90-minute conversation between Michael and a guest financial advisor or industry consultant, discussing their career path, personal experiences and perspectives as they've navigated the industry, and lessons learned along the way. The FAS podcast publishes every Tuesday, every week, all year.
Kitces and Carl is a 30-minute conversation between Michael Kitces and client communication expert Carl Richards on practice management, industry trends, and the occasional zany financial advicer story. K&C publishes every other Thursday throughout the year.
Webinars - Present For Us!
Webinars on Kitces are live events that provide CE credit to financial advicers (which means topics must be CE-eligible), and are delivered as 60 minutes of prepared content followed by a live 30-minute Q&A.
We host 1 webinar every month on the Kitces platform as a part of our Members Section (which means it is 'free' and included as part of their Membership). Our Kitces Webinars run on the first Tuesday of every month at 3PM EST.
Office Hours - Talk Us Through It!
Kitces Office Hours are meant to showcase industry consultant expertise and vendor solutions to financial advisors, and currently have 2 formats: Advicer Makeovers (where 2 advicers bring a specific problem they're facing in their business, and receive a 'live makeover' in the form of consulting advice from industry experts, in front of an audience of fellow advicers), and Software Showcases (where industry AdvisorTech vendors deliver 13-minute demos followed by 7-minute Q&A sessions to show how their solutions can help advicers be better with their clients or more successful in their practices).
Our Office Hours run on the 3rd Friday of every month at 3:30PM EST, and rotate each month between Makeovers (even months of the year) and Software Showcases (odd months of the year).
Kitces Summits - Demonstrate It To Us!
Kitces Summits are 4-hour live virtual events that go 'behind-the-scenes' and allow financial advicers who have established for themselves a successful technique to market their practices or show value to their clients to 'demo' their success to other financial advisors, in the form of a 30-minute screenshare where they literally show the tools or systems they've built that's worked so well for them.
We currently run 2 summits each year - a Marketing Summit in late April, and a Value Summit in early December.
What Does It Take For Content And Contributors To Be Considered On Kitces?
Because each of our Kitces content types are a little different, the exact standards of what it takes for submissions to be considered - and the types of contributors that will be accepted - varies by content type, as discuss further below.
Nerd's Eye View Blog Article Opportunities
The typical Nerd's Eye View blog article ranges between 3,500–5,000 words (and if it's outside of that range, it's more likely to be longer than shorter!). The goal of a Guest Post is to thoroughly cover a single topic (think narrow but deep, rather than broad but shallow), talking financial advicers through a key Insight that the author wants to share, including: the information advicers need to know to understand it, the insight itself and how it applies to advicers, and the instructions how advicers can implement the insight into their practices.
Interested guests pitch a topic with what we call our "3x3x3 outline" for initial approval, then draft a full-length article that is then reviewed with 1–2 rounds of red-line editing (we red-line because we care, and believe in putting the time and energy in to get things right for our audience; #RedInkEqualsLove), before being sent on to publishing – which means Guest Posts typically appear on the Nerd's Eye View blog about 6–12 weeks after initial submission by the time the entire process is complete.
Advisors, consultants, and vendors are all welcome to submit outlines. However, while we recognize that vendors and consultants have deep expertise in their domains because of what they do for a living, specific authors must still meet our Credibility criteria to be considered, and content must meet our independence and objectivity criteria as we continue to "Be The Trusted Source" for advicers. Because we are focused on concrete solutions and actions for advisors, though, specific mentions of companies, and links back to one's own company, are permitted and even welcome, but they must still be presented in a product-agnostic manner, and writers must be transparent about other companies that offer comparable solutions as well.
Publishing a Guest Post on the Nerd's Eye View blog is a paid opportunity.
For further details and the application process for an Article guest post, see: https://www.kitces.com/how-to-publish-a-guest-post-on-the-nerds-eye-view/
Podcast Opportunities
Of our 2 podcasts, only Financial Advisor Success is open for external guests, which can include both financial advicers themselves, and consultants to advicers who have expertise and a journey to share. Notably, though, the focus of Financial Advisor Success is not to talk about industry trends or share expertise, but to highlight the career/business journeys of advicers and consultants themselves, including both delving beneath the surface of the "iceberg illusion" (that even within businesses that seem outwardly successful, there's a lot of messiness that happens beneath the surface in building a career/business), and sharing the details of what we've discovered in the journey that works for us (at least individually!) on our path to success.
Financial Advisor Success podcast guests tend to be established practitioners (typically 4+ years of experience and at least $200,000 of gross revenue, but can be advicers with decades of experience, and billions of dollars under management and/or $10s of millions of revenue). That being said, success can and does have many definitions (a theme we explore on the podcast itself): most successful guests simply tend to have one particular thing that they feel they have done well, are proud of, and want to share as a part of their story.
In the spirit of "If you can't see it, you can't be it", Financial Advisor Success is committed to a 50/50 gender split of podcast guests (despite an industry that has stubbornly remained at only 23% female).
Appearing on the podcast is not a paid opportunity.
For further details and the application process to be considered as a prospective podcast guest, see: https://www.kitces.com/podcast/
Webinar Opportunities
Prospective Kitces webinar presenters should have credible experience to demonstrate expertise, and an established presentation in the form of a PowerPoint (or similar slide deck) on a particular CFP-CE-eligible topic. The presentation portion of the webinar will be recorded in advance (video plus slides), but guests will also be expected to participate in a live Q&A on the webinar delivery date.
The webinar guest selection process begins with the submission of a prospective topic that is relevant to Advicers, a PowerPoint deck to show how the education will be shared, and a video sample of delivery of this (or another) topic to demonstrate one's ability to speak in front of an audience. Advisors with expertise in the domain that they serve clients in are welcome to apply. Vendors with expertise in their product can present on a CE-eligible topic, but will still need to meet Kitces objectivity and depth standards.
Given that a portion of webinars are delivered by the Kitces team, only about 6 slots each year are open for eligible guests.
This is a paid opportunity.
For further details and the application process to be considered as a prospective webinar guest, see: https://www.kitces.com/webinar-speakers/
Summit Opportunities
Because the entire focus of Kitces Summits is on financial advicers sharing (via screenshare) a 30-minute demonstration of the particular marketing/advice-delivery process/system that they've created in their business, only practicing financial advicers will be considered for Summit speaking opportunities. Vendors or consultants who have a relevant product or system that has been successful for advicers should encourage one of their customers or clients who use their offering successfully to apply themselves (and feature the vendor or consultant's solution in the process).
Summit Guests are selected based not on the uniqueness or originality of their tactic, per se, but how effectively they've executed it, and the measurable results that they've generated (and can share). Prospective guest demonstrations are evaluated via an initial submission process to pitch 'the thing' that they want to share, and once selected go through 1–2 rounds of practice demonstration with the Kitces Summit team for feedback and refinement before the final event.
This is a paid opportunity.
For further details and the application process to be considered as a prospective Summit guest, see: https://www.kitces.com/summit-presenters/
Office Hours Opportunities
When it comes to Kitces Office Hours, all programs are by invitation only. Our Makeover topic areas are selected by the team based on themes that we believe will be relevant to advicers, and consultant guests to participate in the makeovers are selected based on their established and demonstrated expertise in those subject areas. Software showcase vendors are selected by the team based on our Kitces AdvisorTech Research about what financial advicers use or are interested in learning more about.
Office Hours guests are not compensated.
Kitces AdvisorTech Map
In some cases, industry vendors aren't necessarily seeking to create content that will be featured on Kitces, they simply hope to be mentioned or want to be included on the Kitces AdvisorTech Map and in our AdvisorTech Directory.
Companies that want to have their solution considered for the Map or Directory (or more generally want to 'get on our radar screen') can get further details here: https://www.kitces.com/fintechmap/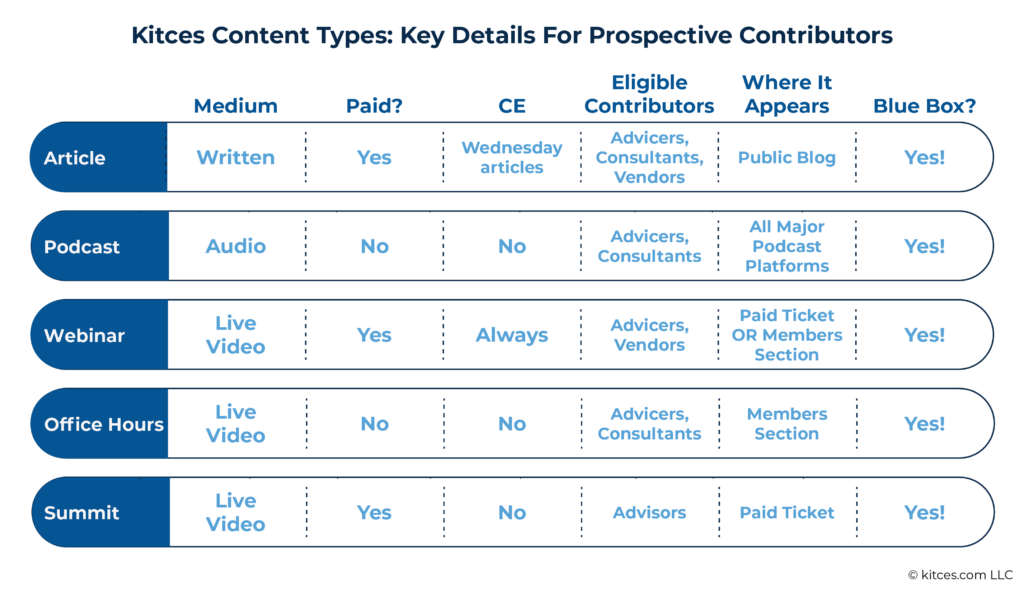 What Are Kitces Blue Boxes?!
For those who go through our content submission process and are selected to appear on Kitces, they not only receive the visibility of the platform, and for many content types an outright payment for their time... they also receive a Kitces Blue Box with goodies exclusively available to our successful contributors! Feel free to share out a picture of your content and your Blue Box when you receive it, using the #Advicers hashtag, and tag us via Twitter (@MichaelKitces) and LinkedIn (Michael Kitces and Kitces.com).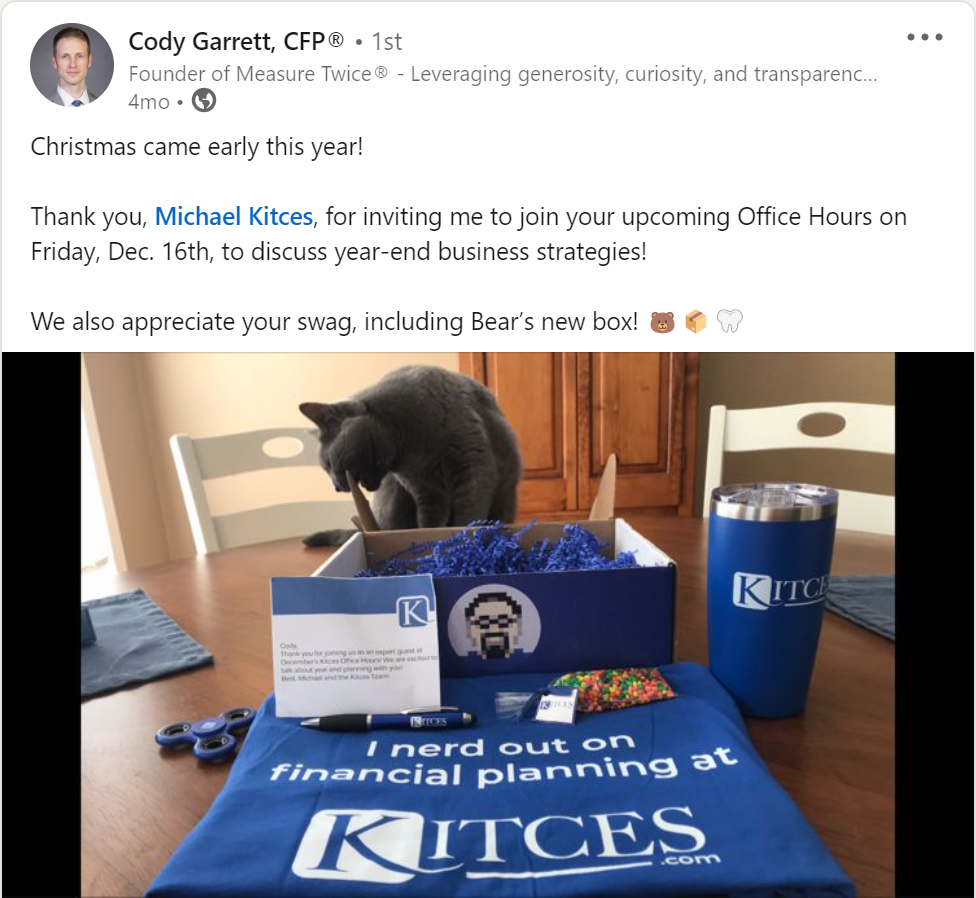 (Source: Cody Garrett of Measure Twice Planners, receiving his Blue Box after being selected as a Kitces Office Hours guest expert!)
What If I Want To Do Something Else On Kitces?
We deliberately feature a wide range of content types on Kitces.com, recognizing both that different Financial Advicers wish to learn in different ways (some wish to read it, others want to hear it, and some want to see it, so we have both written, audio, and video content!), and also that different experts like to show up and feature their own expertise in different ways.
Nonetheless, we also realize that not every expert who has value to advicers that could be featured on the Kitces platform will fit into our current content types and options. Fortunately, though, this list is not the end-all, be-all of opportunities to appear on Kitces. Different (though less systematized) chances to be on the Kitces platform may arise – follow us on Twitter or LinkedIn or Facebook, or join our Nerd's Eye View email list, and keep your eyes peeled. You can also 'pitch' us directly on your own novel idea or approach by emailing [email protected]!
Tips To Succeed In Appearing On Kitces
Embrace the process. We hold our content contributors to a high standard, in order to continue to Be The Trusted Source to the advicer community, which means our content process isn't short and simple. But that means we're equally committed to putting our own time and energy into working with you, once you're accepted, to create accurate, trustworthy, and insightful content to help advisors solve the problems they are facing.
Be specific. Amongst any of our content types, the more specificity you bring to the prospective topic, the problem you believe advicers are facing, and the insight regarding how advicers can solve (or how you have solved) a problem, the more it helps the team in the selection process. Think narrowly to get really specific on 'the thing', and don't be afraid to go deep. (We're a Team of Nerds, we like nerding out on this stuff!)
Be advicer-centric. There is a plethora of content in the world to help consumers on a wide range of personal finance issues. While some of those consumers do find their way to the Nerd's Eye View blog as well, we write for Financial Advicers and are 100% focused on the advisory industry.
We want to hear from you! We can confirm that normal humans get published on the Kitces platform all the time, and the content is also worked on/reviewed by normal humans. You don't have to be the best in the world at something to appear on Kitces; you 'just' need to have credible expertise of having lived the journey yourself and found a way to solve the problem. So we encourage all to "err on the side of [making a] submission" – look through the submission pages, follow the standards, and take the leap to try!