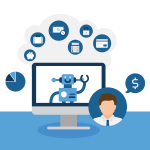 Welcome to the March 2018 issue of the Latest News in Financial Advisor #FinTech – where we look at the big news, announcements, and underlying trends and developments that are emerging in the world of technology solutions for financial advisors and wealth management!
This month's edition kicks off with the announcement of Fidelity's new "Consolidated Data" platform, that aims to become a central account aggregation hub of all the relevant information regarding an advisory firm's clients and its own business… which creates not only a newfound potential for Fidelity to create new technology value-adds for advisors, but supports Fidelity pivoting to a more open-architecture system (with a newly announced Integration Xchange that would just provide it more data to feed), and appears to be part of an even broader strategic shift that Fidelity is aiming to make Data – and not just technology – its unique custody/clearing value proposition for wealth-management-centric advisors of the future.
From there, the latest highlights also include a number of interesting advisor technology announcements, including:
After castigating Schwab 3 years ago for including its own proprietary funds in its robo-advisor solution, Wealthfront launches a new proprietary mutual fund (at twice its base advisory fee) and defaults its taxable clients into it
LifeYield launches a new Portfolio Advantage solution that aims to make Asset Location a more central value proposition for advisors to help clients make their portfolios more Taxficient
LPL announces the launch of a new Virtual Assistant service for its advisors, though it's not clear if the company simply wants to develop a new revenue line for its advisors, or more aggressively compete with its own OSJs
A slew of new solutions to help advisors market to and attract clients, including a new Advisor Ratings website called StackUp, a lead generation service from SmartAsset called SmartAdvisor, and a digitally-driven webinar marketing system from Snappy Kraken called Seminar Freedom
Wealthbox launches a new 3.0 version of its CRM, including a native email system with automatic two-way sync to popular email clients like Gmail, iCloud, and Outlook or Exchange Server
Read the analysis about these announcements, and a discussion of more trends in advisor technology in this month's column, including the launch of several new Risk Tolerance Questionnaire tools from PreciseFP, DataPoints, and Capital Preferences, a new version of the robos-vs-advisors battle for consumers playing out in the small business 401(k) space between Betterment and Human Interest (formerly Captain401) versus Vestwell, a new tech-based competitor called Grove that is aiming to scale the monthly retainer fees model with tech-enabled CFP professionals, and the rise of new business intelligence software tools like Advisor Metrix and Advisor Clarity.
I hope you're continuing to find this new column on financial advisor technology to be helpful! Please share your comments at the end and let me know what you think!
*And for #AdvisorTech companies who want to submit their tech announcements for consideration in future issues, please submit to [email protected]!