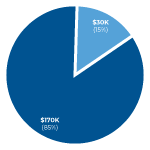 The Roth IRA was first introduced in 1997 and has since been a popular tax planning tool for financial advisors and their clients. As while Roth IRA accounts generate tax-free growth and income from retirement savings, making Roth IRA contributions is most beneficial when a client is in a relatively low marginal tax bracket. This is in contrast to deferring pre-tax dollars to a Traditional IRA, which is often most beneficial when a client's current marginal tax bracket is high (and anticipated future tax brackets are lower). While Roth conversions are often used to transfer Traditional IRA funds into a Roth IRA account, reporting these transactions for income tax purposes can be complicated when the Traditional IRA from which the funds are being transferred include both pre- and post-tax funds.
Although contributions made to a Traditional IRA usually consist of pre-tax dollars (for which taxpayers can take an above-the-line income tax deduction on their tax returns), there are occasions when post-tax dollars are included as well.  For instance, nondeductible contributions are made when a taxpayer (or their spouse) is an active participant in an employer-sponsored retirement plan, and their MAGI exceeds the applicable limit for their filing status. Rollovers originating from an employer-sponsored retirement plan can also include after-tax funds if the plan allowed for after-tax contributions.
When Traditional IRA accounts hold both pre-tax and post-tax dollars, the balance will be subject to the "Pro Rata Rule", which stipulates that, in general, distributions from a taxpayer's IRA maintain the same ratable proportion of pre-tax and post-tax funds as the taxpayer's total IRA balance. Which means that distributions from accounts with a mix of pre-tax and post-tax funds cannot be made as solely pre-tax or post-tax and that transferring these distributions into a Roth IRA will need to be accounted for accordingly.
Despite the intricacies of reporting Roth conversions from Traditional IRAs with pre- and post-tax funding, converting Traditional IRA accounts can make sense, especially when a substantial percentage of after-tax dollars are in the Traditional IRA. As while the after-tax contributions themselves will be tax-free, the growth on those funds will be taxable! Therefore, paying tax on the pre-tax portion of the Traditional IRA balance can be worthwhile when considering the tax-free growth of all contributions made to a Roth IRA.
Accordingly, there are few strategies that advisors can use to make Roth conversions more compelling, which can be particularly useful when the Traditional IRA may not (initially) have a large proportion of after-tax funding.  For instance, some clients may have access to an employer-sponsored plan that allows for rollovers of IRA funds into the plan. Since IRA-to-plan rollovers are restricted to pre-tax dollars, such rollovers can essentially serve to reduce the pre-tax balance of a Traditional IRA, maximizing the after-tax balance available for the Roth conversion. Importantly, rolling funds back into an IRA from an employer plan, after completing a Roth conversion, should not be done until after the calendar year in which the Roth conversion was carried out, as doing so would result in the basis of the rollover to be included in the converted amount.
Another strategy available to increase the proportion of IRA after-tax dollars is to make a Qualified Charitable Distribution (QCD), as these distributions are restricted to pre-tax dollars from the IRA. Thus, as in the case of rollovers into an employer-sponsored plan, QCDs effectively reduce the pre-tax portion of the IRA account balance, leaving a larger post-tax balance available for Roth conversions.
Ultimately, Roth conversions continue to be a powerful and versatile tool for financial advisors to help their clients mitigate the tax bite from distributions taken from their retirement accounts. By planning around current and expected marginal tax brackets, and by strategizing to isolate the basis of pre-tax dollars in Traditional IRA accounts, advisors can facilitate substantial tax savings for their clients by way of efficient Roth conversions.