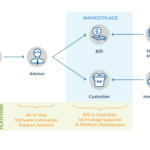 The ongoing commoditization of investment products is driving a fundamental shift in today's financial advisor platforms, as broker-dealers and custodians transition from being primarily about financial services products, to instead trying to operate as the technology hubs around which financial advisors build their businesses.
The transition is appealing because ultimately broker-dealers and custodians are a form of platform business model, which takes a small slice of all the assets and transactions that flow across the platform. Which means in the end, the more successful the financial advisors on the platform are, the more successful the platform itself will be.
The challenge, however, is that the rising demand from financial advisors for better technology is driving a number of advisor FinTech software providers to build increasingly comprehensive solutions, aiming to compete directly with the often-proprietary platforms of today's broker-dealers and custodians. From the growing portal platforms of Orion Advisor Services and eMoney (before it was acquired by Fidelity), to the launch of Salesforce Financial Services Cloud and Black Diamond's acquisition of Salentica, it's "game on" for independent FinTech providers to build comprehensive solutions for financial advisors.
Unfortunately, though, this transition has set financial advisor software companies on a collision course with broker-dealer and custodian platforms themselves, and it's a collision that many of the independent FinTech companies cannot survive. Because the reality is that in the end, financial advisors will only pay "so much" for a software solution, and independent software proivders simply cannot compete with the size and scale of a true platform business – as companies like Garmin navigation quickly learned when Google Maps showed up, or the entire CD music business learned when iTunes showed up.
Notably, this doesn't mean that all financial advisor technology will inevitably consolidate around broker-dealer and custodian platforms. Because those platforms really only need to "control" the technology that is integral to their platform itself. But it does mean that the most successful advisor tech companies in the future may not be the ones that are the most comprehensive - unless they can truly pivot to not just platform software, but a platform business model - and instead will be the ones that stay focused in their core competency, and are most effective at building flexible APIs to integrate most easily with other real platforms (and their often-legacy existing technology infrastructure).
Or viewed another way, the future of independent financial advisor FinTech software companies is to become the best "Apps" in the App Store of custodian and broker-dealer platforms. Not to try to become App Stores themselves… a transition that most will inevitably lose, because they cannot outcompete and replace the true platforms that advisors still need to invest their clients' actual portfolio dollars.