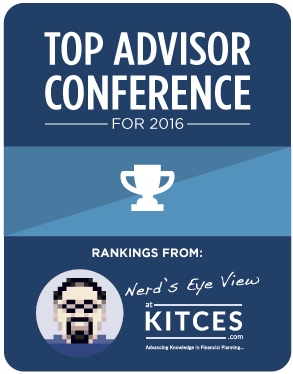 Attending at least one industry conference every year is crucial for financial advisors who want to keep their perspective on industry and practice management trends to improve their career or advisory firm… not to mention being an efficient means to getting required continuing education credits. Yet the overwhelming challenge for many advisors is figuring out which conference to attend, given so many to choose from, and that many are little more than a never-ending series of thinly-veiled product pitches by sponsors.
Given that I speak at upwards of 70 conferences myself every year, I've participated in virtually every major conference available for financial advisors, and am often asked for recommendations of which events I think are the best to attend. Of course, the reality is that what is "best" will vary from one advisor to the next, depending on the kind of job they have or advisory firm they run, and their own needs and experience level. So in 2012 I started to craft my own annual list of "best-in-class" conferences, based on my own travels and experience, divided into various categories so advisors could find the best conference to fit their needs.
And now, I'm excited to present my newest list of "Top Financial Advisor Conferences" for 2016, including several new categories like "Best Social Media/Blogging" and "Best for Young Advisors". Of course, the reality is that the 2015 conference season isn't even over yet, but with some of the best conferences getting underway as soon as January and February of next year, the early bird registrations for 2016 events are already closing soon!
So I hope you find this year's list of conferences helpful as a guide in planning your own conference budget and schedule for 2016, and be certain to take advantage of the special discount codes that several conferences have offered for all of you Nerd's Eye View readers!