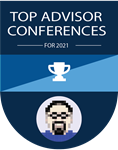 Reinvesting in one's education is a staple of being a professional and is embodied in both the philosophy and the actual requirement of continuing education (CE). Of course, ideally, financial advisors will want to advance their knowledge not merely to fulfill a CE obligation but for the sake of the additional knowledge and expertise itself, which can pay dividends from better strategies for clients to practice management guidance that (even if not actually CE-eligible) helps them better execute their businesses and service their clients.
However, the world of financial advisor conferences – which so many advisors attend for those continuing education and advanced learning opportunities – were substantively disrupted in 2020 by the coronavirus pandemic, which shuttered virtually all in-person advisor events after the March outbreak through the end of the year, forcing some events to be canceled, others to be delayed into 2021, and most to be pivoted to an online/virtual format with… varying degrees of success.
Starting back in 2012, we began to publish an annual list of recommended conferences for financial advisors to attend – a byproduct of the fact that I've been speaking at 50 – 70 conferences per year for more than a decade myself, and as a result, have seen and attended virtually every major advisor event, and could provide a first-hand perspective on which events really delivered on their promise of advisor education, from membership associations to broker-dealers, insurance companies to RIA custodians, trade publications, private events, and more.
But as we come up on 2021, the reality is that no one knows exactly what the options for advisor conferences will even be in the coming year, given both the uncertainty about the timing of the coronavirus vaccine, a major shift in the economics of advisor conferences as vendors have pivoted heavily to running their own webinar events and appear to be scaling back on the future of conferences, and limited experience for any events about how well they really deliver, or not, in a virtual environment.
As a result, this year's newest list of the "Top Financial Advisor Conferences" for 2021 takes an alternative approach, focusing instead on the 'knowns' we can control in the decision of what events to pursue, including Community Events for the advisor's platform (e.g., the advisor's broker-dealer, RIA custodian, or advisor network), Deep Learning events for advisors looking to better specialize, immersive Practice Management events for those looking to get more efficient in (or better execute on) their businesses, and the ever-widening range of both free and paid Continuing Education on various topics.
In addition, we'll continue to maintain our new "Master Conference List" of all financial advisor conferences in 2021, with ongoing updates for which will be virtual versus in-person, as a guide for advisors to plan their own conference budgets and schedule in the coming year.
So I hope you'll find this upcoming year's 2021 financial advisor conferences list (and our new 2021 Master Conference List) to be helpful, in an environment that admittedly poses far more uncertainty in the landscape of advisor events than we've ever seen… while still recognizing that in the end, reinvesting into our own education as financial advisors is still a professional imperative.