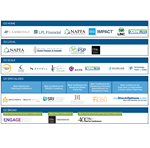 It was Benjamin Franklin who once famously quipped "An investment in knowledge pays the best interest". The caveat, however, is that like any investment, it's still important to do your due diligence in researching whether any particular allocation of dollars will be a good investment. And with the proliferation of financial advisor conferences in recent years, it has become more and more difficult to figure out which events are most likely to actually provide a good "Return On Investment" (ROI) in fruitful knowledge that advances your success as an advisor. Even if it often takes just one good takeaway from a conference that can be implemented to make the whole trip worthwhile.
The matter is further complicated by the fact that advisory firms themselves are evolving in an ever-wider range of directions, with small, mid-sized, and large firms, independents versus employee advisors, RIAs versus broker-dealers, and an ever-growing range of niche specializations… which means an objectively 'good' conference may be the absolute 'best' conference for one advisory firm (or one advisor within a firm)… yet be totally irrelevant for another.
As someone that has been speaking at nearly 70 conferences a year for almost a decade myself, I've seen the good and bad of our various industry events, which are spread across membership associations, broker-dealers, insurance companies, RIA custodians, product manufacturers, trade publications, private events, and more. And as a result, I am often asked for my own suggestions of what, really, are the industry's 'best' conferences to attend.
Accordingly, back in 2012, I started to craft my own annual list of 'best-in-class' top conferences for financial advisors in various categories (to allow advisors to match the available conference specialties to their own needs), and have updated it every year since, in what has become one of our most popular annual articles.
And so now, I'm excited to present my newest list of "Top Financial Advisor Conferences" for the upcoming 2020 year, broken into 5 broad categories: Go Home (to your broker-dealer, RIA custodian, or network conference); Go Local (to network at your membership association's local chapter meetings); Go Scale (whether it's making your big advisory firm bigger, or your lifestyle practice more efficient); Go Specialize (in the various industry niche conferences for those cultivating deep subject matter expertise); or Go Broad (to one of the major regional or national association conferences).
In addition, we've also launched a new "Master Conference List" of all financial advisor conferences in 2020, for both advisors looking for a wider range of events to attend, and vendors looking for more conferences to exhibit at!
So I hope you find this year's 2020 conferences list (and our new Master Conference List) to be helpful as a guide in planning your own conference budget and schedule for next year, and be certain to take advantage of the special discount codes that several conferences have offered to all of you as Nerd's Eye View readers!