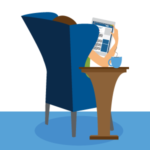 Enjoy the current installment of "Weekend Reading For Financial Planners" – this week's edition kicks off with a look at the details of President-elect Biden's newly proposed "American Rescue Plan", a $1.9 trillion economic stimulus proposal that would provide additional from additional ($1,400) stimulus checks to increased unemployment benefits, a higher Child Tax Credit to an increase in the minimum wage (to $15), along with a wide range of state and local government aid, and more funding for national COVID-19 testing and vaccinations. Of course, a legislative proposal does not necessarily mean it will become law… though, with the potential for tax legislation to pass with a simple majority as a budget reconciliation bill, all eyes are increasingly on the potential for major tax legislation in the initial weeks of the incoming Biden administration.
Also in the news this week are a number of other key announcements on transition and new plans from the Biden administration, including:
A signal from Senate Democrats that they intend to quickly take up the Biden Tax Plan proposal to increase capital gains rates to ordinary income rates for upper-income households (e.g., those making more than $1M in income)
An indication that the Biden administration may soon announce Gary Gensler as the incoming SEC Commissioner… who is known for implementing aggressive pro-consumer policies to reign in Wall Street from his years at the CTFC and suggesting that Regulation Best Interest may be back on the table for consideration in the coming year
From there, we have several articles around managing household cash flow:
A look at the new 'perks' that premium credit cards are rolling out to keep high-end customers on board in a world where travel perks weren't usable in 2020
6 apps that can help automate the process of figuring out all the services you're automatically subscribed to (and help you unsubscribe from them!)
Thoughtful consideration of when 'frugal habits' become so ingrained that they persist long past the point of being useful or necessary (do you really still need to keep using single-ply toilet paper!?)
We've also included a number of articles around marketing:
How using the word "only" in your marketing (as in, you "only" work with certain types of clients) can actually attract them more quickly
Why it's not helpful to ask clients if they want to connect with you on social media, and instead should ask them what they want to hear about instead
How the shift to working with clients virtually means having a 'local' advisor is no longer necessary… a game-changer in marketing as a financial advisor for many years to come!
We wrap up with three final articles, all around the theme of running a better advisory business:
Why it's so important to create a 'culture of learning' when, in the end, the advice business is all about the wisdom and experience of the people that work there
How better decisions require not just more perspectives but substantively different perspectives that force consideration of issues from all angles
Why the remedy for boring meetings is not to make them shorter (or eliminate them altogether) but actually to make them longer… and in the process, spend more time focusing on the topics that are most relevant to have the time to really discuss in depth!
Enjoy the 'light' reading!