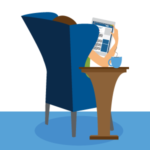 Enjoy the current installment of "weekend reading for financial planners" – this week's edition kicks off with the big industry buzz that Schwab has announced it will be retaining TD Ameritrade's iRebal solution in the merger, which is both a big relief to TD Ameritrade RIAs often reliant on the tool, a big opportunity for Schwab to expand adoption of the popular tool to its own even-larger base of Schwab advisors, and a big threat to independent rebalancing software providers currently serving Schwab RIAs that may soon find themselves threatened by Schwab's offer of another 'free' solution.
Also in the news this week is the latest industry trend data from FINRA, showing a record-low number of registered representatives joining broker-dealers in 2019, as more and more financial advisors don't simply leave broker-dealers for RIAs but join RIAs rather than coming into the brokerage side of the industry in the first place (while broker-dealers try to combat the trend by increasingly expanding their own hybrid platforms for those who want to and are willing to be dually registered with FINRA and as an RIA!).
From there, we have a number of additional articles about industry trends, including a consumer survey showing that while investors increasingly want to talk to their financial advisors about a broader range of topics, "investments" are still the dominant category for advice; highlights of the latest FA Insight practice management study showing that advisory firms still grew well in 2019 but organic growth continues to slow while operational overhead costs are on the rise; a mid-year "snapshot" study from Ensemble Practice noting that at least larger advisory firms have weathered the pandemic well with the median firm's revenue down barely 1% and only 4% of firms engaging in layoffs but a whopping 48% of advisory firms seeing at least one employee resign as the pandemic disrupts normal working (and parenting) habits; and a study finding that individual financial advisors shined over 'call center' advisors when it came to making personal connections that maintained client satisfaction in the midst of the pandemic.
We also have several articles on marketing, including why advisor marketing should be viewed as less of a magic formula to spot and more of an ongoing series of experiments to test and improve upon (with some ideas on where to start), tips from Influence expert Robert Cialdini on how to engage and be persuasive with prospects (especially when meeting with them virtually), and a look at how to create an advisory firm that is distinct for having a clear mission and a team that passionately believes in that mission.
We wrap up with three interesting articles, all around the theme of thinking hard about what "success" really means: the first explores how the traditional measure of wealth (accumulated assets) is a poor way to measure because success at wealth-building is really about the wealth you build relative to your income; the second also explores how we often use the wrong "proxy" to measure success; and the third takes an even deeper look at what it really means to be "successful" and what we should be considering when we try to measure the value of our own lives and what we've accomplished.
Enjoy the 'light' reading!