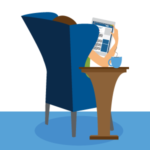 Enjoy the current installment of "weekend reading for financial planners" – this week's edition kicks off with the big industry news that FPA Executive Director Lauren Schadle has resigned in the face of 8 years of stagnant membership and a recent accelerating decline, a new interim CEO is stepping in, and the FPA is beginning a national search for new leadership to try to get its growth engine firing again (giving the ongoing growth of the financial planning profession itself).
Also in the news this week is an announcement that the CFP Board is updating its own Disciplinary Rules and Procedures in advance of the June 30th enforcement date for its updated Code of Ethics and fiduciary-at-all-times Standards of Conduct, and a recent study by Hearsay Social shows the dramatic improvement in results that financial advisors get by sharing more personal and authentic information on social media channels beyond just canned investment content.
From there, we have several articles on cash flow and spending decisions, including a look at how credit card companies are beginning to shift their rewards benefits in the face of a major pullback in travel and dining, a look at the ongoing rise of subscription services for 'everything' and tips on how to keep track of them all, and an interesting discussion of the benefits of 'taking a sabbatical' to work remotely as a renter instead of buying a house (with all the costs and reduced flexibility that entails).
We also have a few retirement-related articles this week, from a look at how the coronavirus pandemic may shave one or several years off the survivability of the Social Security trust fund (accelerating either a prospective cut in Social Security benefits, or action in Congress to shore up the system), a look at the use of hybrid annuity/LTC policies in low-interest-rate environments, and why it's perhaps time to eliminate the assumption of 'retirement' altogether and instead think about phased glidepaths of retirement itself (where hours worked and duties gradually shift over time, rather than a hard-stop retirement plan).
We wrap up with three interesting articles, all around the theme of client communication and engagement: the first delves into recent research on exactly what communication strategies support client trust, satisfaction, and referrals; the importance of evolving client communication beyond 'just' regular check-ins (including and especially in the coronavirus pandemic environment); and the last provides a powerful reminder of the emotional benefits of working with a financial planner, in terms of not just walking clients off the proverbial investment ledge but also simply helping them to focus on what they can financially control (from investments to spending and more)!
Enjoy the 'light' reading!