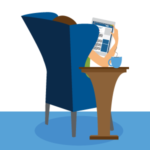 Enjoy the current installment of "Weekend Reading For Financial Planners" – this week's edition kicks off with a striking new study from state regulators finding that broker-dealers are drastically more likely to recommend 'complex' investment products than RIAs (from being 2X more likely to use leveraged and inverse ETFs, to 8X more likely to recommend variable annuities, and 9X more likely to use non-traded REITs), raising questions of whether or how the newly implemented Regulation Best Interest will actually change such tendencies or not (which NASAA is preparing to measure with a follow-up study in early 2021).
Also in the news this week is news that FINRA is preparing new Regulation Best Interest guidance as initial broker-dealer exams reveal where firms are doing well and where they're still struggling to implement, and a new industry study that finds the Department of Labor's 2015 fiduciary rule really was reducing the cost of annuity products for consumers while not limiting access to financial advice for small investors (at least for the limited time window it was in effect before the product manufacturing and distribution companies successfully sued to have it vacated anyway).
From there, we have several articles on the ongoing rise of new lower-cost annuity solutions, including a fresh look at how Single Premium Immediate Annuities compare to bonds in today's low-interest-rate environment, when it pays to wait to buy an annuity to avoid 'locking in' today's low interest rates (and how far and fast rates must rise to actually benefit), and how a new wave of no-commission annuities are being developed by annuity companies after a major new Private Letter Ruling last year that allows RIAs to bill their AUM fees from the products directly (but are still struggling with the technology integrations necessary for RIAs to execute annuities in their client portfolios at scale).
We've also included a number of client communication articles this week, from a reminder that helping panicking clients starts with first acknowledging that it's normal to panic during turbulent times (rather than telling clients to 'calm down'), to a look at how Financial Therapy is gaining more and more attention as a complement to (and facilitator for implementing) financial advice in the pandemic environment, and a look at how clients will rarely change their behavior until their advisor understands and helps them to change their own financial stories first.
We wrap up with three interesting articles, all around the theme of how to maintain a cohesive work environment in the midst of what is now becoming a long-term work-from-home world: the first looks at how introducing a "virtual commute" can help us to more effectively transition from our home life to our work life (and back again); the second looks at the techniques that companies are implementing to maintain their office cultures in an online/virtual world (from internal video podcasts to virtual team-building exercises); and the last looks at how technology tools themselves are being reshaped in how they are used to maintain a strong office culture in a world where it's unclear when we'll be returning to our offices (or if we ever will for at least some firms!?).
Enjoy the 'light' reading!