Welcome to Kitces.com, home of the Nerd's Eye View blog, and much more, too! This page will help you understand why we give away so much valuable content for free, how to get the most out of it, and the additional resources we offer if you need more help. Make sure to read to the bottom of the page so you don't miss anything!
But first, let me introduce myself…
Hi! I'm Michael, and I'm a bit of a nerd when it comes to financial planning.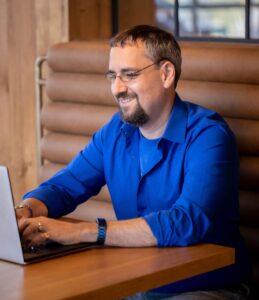 Just to be clear, I don't mean I'm nerdy in the "socially awkward" way... though I suppose I am sometimes! I mean I'm just a little obsessed when it comes to learning everything I can possibly learn about financial planning, from strategies to improve your financial situation in all stages of life, to ideas on how to better run a business providing financial advice.
And as a lifelong learner of all things financial planning, I know how hard it is to find good information. The internet is an amazing place… but it can take a lot of looking to find a credible, authoritative, trustworthy source you can really trust to give you the right answer.
In fact, for the first decade of my career (I started in 2000), I would spend incredible (or even "absurd") amounts of time searching online to find good financial planning answers to complex client situations. It took a lot to piece together facts, information, and research from a wide variety of different sources, filtering out the noise to get to the best ideas.
Yet after years and years of searching for and filtering through information to find the best solutions for my clients, I had a Eureka moment. A revelation. A life-changing realization.
This is my Why.
I have a special gift in my ability to gather scattered information and bring it all together in an organized, well researched, and actionable way.
"My Why is to continuously learn, and then share the ideas I've learned for anyone to implement!"
Accordingly, in 2008, I launched Kitces.com. As a way to share this continuous learning journey that I'm on, and provide anyone and everyone who can find their way here that source for intellectually honest, knowledgeable, thoughtful information that I was always looking for. As a way to share my "Nerd's Eye View" on all things financial planning.
From Financial Advisors To Financial Advicers
When I started my career as a Financial Advisor more than 20 years ago, I couldn't believe the company that hired me would let me put "Financial Advisor" on my business card. Because the reality was that I didn't actually know anything about giving financial advice. Or economics. Or money. I was a psychology major, theater minor, pre-med student, who had only figured out by my college graduation that I didn't want to go into psychology, theater, or medicine!
In truth, though, I wasn't really starting out as a Financial Advisor. It said "Financial Advisor" on my business card, but the truth was that I was a life insurance agent. My job was to sell the insurance company's (variable universal) life insurance policies to anyone and everyone I met.
It was only as I reinvested into myself and my education and "upped my game" as a financial advisor by earning my CFP marks (and ultimately a veritable alphabet soup of additional degrees and designations) that I finally reached the point where I knew I could deliver valuable financial advice and be paid for it.
In other words, by "nerding out" on financial planning, I made the transition from selling products to selling advice. I had transformed myself from a Financial Advisor to a Financial Advicer.
Notably, a Financial Advicer is not a legal or regulatory title. It's a way of being, an approach to the business of financial advice that recognizes the impact we have in the lives of our clients, and the sacred duty that we have to serve our clients to the best of our abilities.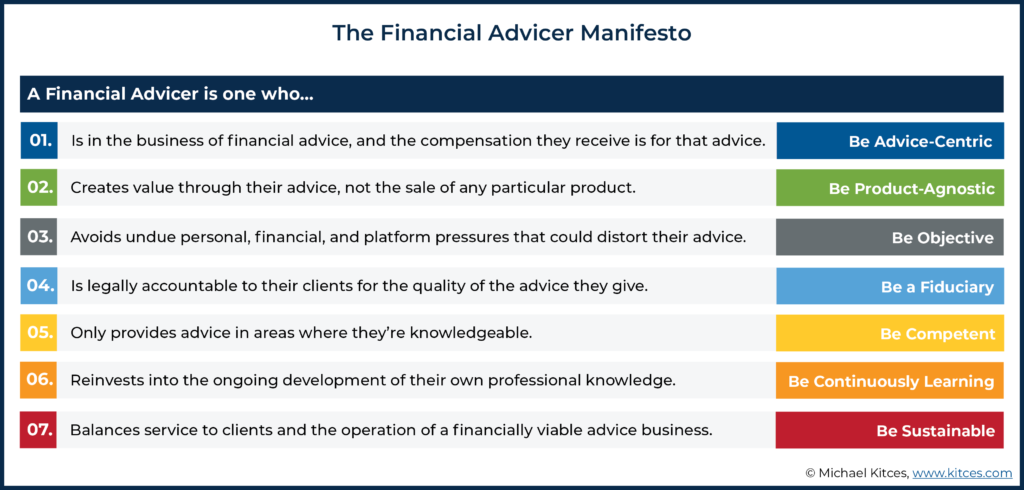 And it's Financial Advicers that we serve here on the Nerd's Eye View blog. Those who want to improve not their ability to sell products, but their ability to deliver quality advice. To transform themselves from Financial Advisors to Financial Advicers, and to elevate the quality of their advice and their career or business success when delivering it.
The Mission of Kitces.com is to make Financial Advicers better, and more successful!
Accordingly, as the Nerd's Eye View blog has grown over the years, there are now a lot of resources available on this site to help make Financial Advicers better and more successful (and more are being added all the time!). The sections below are intended to help you understand everything we have to offer, so you can figure out what might be of interest to you!
Step One: Get Content You Can Trust The Moment It Is Released...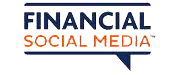 "Best of the Best for Advisors"
Since 2010, the Nerd's Eye View blog has grown to become one of the top leading sites to find expert financial planning content.
We've been recognized as the #1 top industry blog over and over again, from media sites like RIABiz and Financial Planning magazine, to industry surveys of advisors, and our peers who select the Plutus Awards.
And so the starting point to get the maximal benefit from this site is to sign up for our mailing list, which ensures you're completely up to date on the latest content from the top blog on all things financial planning!
By signing up for the mailing list, you get a once-per-day email, directly from me, with all my latest ideas and content, as soon as they're released!
Pro-Tip: Every email contains an Executive Summary of our newest content. So you can quickly skim the latest, and decide if that day's article is something you want to read in full.
Join 56,154 Financial Advicers receiving our latest research as it's released!
"Michael is the 'Nerd-In-Chief' of the financial planning profession! His daily emails is a must-subscribe for anyone wanting to stay up-to-date on the industry!"
- Bill Winterberg, FPPad
Step Two: Get CFP CE Credits For Articles You're Already Reading…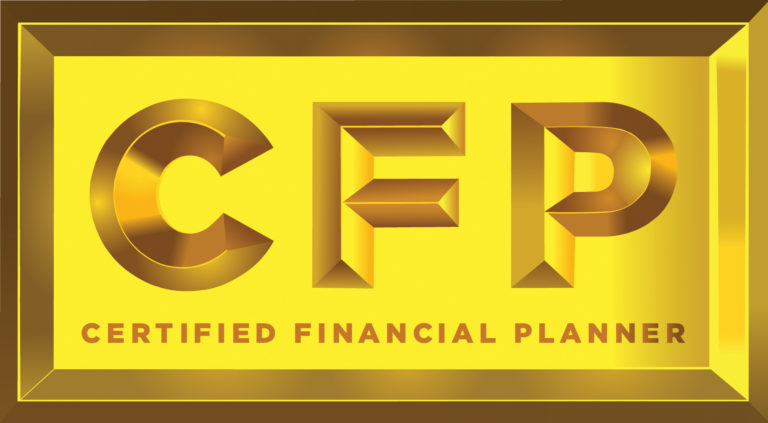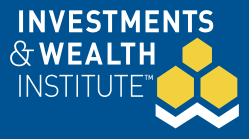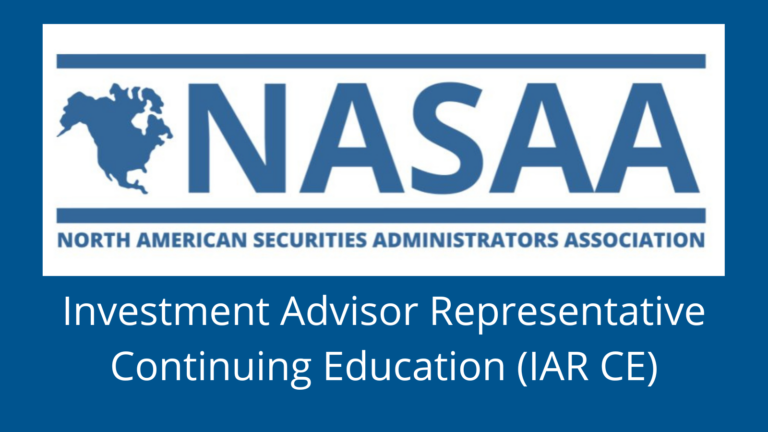 Did you know you can get CFP CE credits just for reading our articles? Along with CE credit for IWI designations like CIMA and CPWA, and CPE credits for CPAs and EAs?
That's right, you can get continuing education credits for content that actually teaches you something, and that you're already reading!
When you join our Members Section you'll get instant access to 30+ hours of on-demand CFP CE credits (and cross-apply for most other types of advisor continuing education credits as well), with more being added every month!
And here's the best part: twice a month, our team will submit all your completed CE quizzes to the CFP Board and Investments & Wealth Institute (IWI, formerly IMCA) on your behalf! You get your IWI and CFP CE credits processed automatically because we handle the headaches and hassle of the paperwork! No more scrambling last minute to get your CE credits filed by your renewal deadline!
Unlock Exclusive White Papers, Webinars, and more...
In addition to making earning your CE credit easier than it's ever been before, our Members Section has some additional resources and exclusive content to help take your financial planning practice to the next level:
Instant access to

The Kitces Report

white papers: in-depth discussions of advanced financial planning strategies

Educational webinars: If you'd prefer to hear and see the content, rather than read it!

Specialized practice management resources that you can use to improve communications with clients, and how you structure your business!

… and more that we'll be adding in the future!
We have two tiers of membership available, depending on whether you just want CE credit for reading the Nerd's Eye View blog articles, or if you want all the exclusive content and access to additional CE credits.
Step Three: If You Don't Want To Read It, You Can Listen To It, Too!
Here at the Nerd's Eye View, we publish thorough, in-depth content. But I realize that sometimes you won't have the time or inclination to read it all.
That's why we've also launched two podcasts over the years. The Financial Advisor Success podcast shares the stories of successful financial advisors and the steps they took to build their successful businesses - including all the hard stuff that happens behind the scenes, that no one ever shares, but is the reality of being a financial advisor and an entrepreneur. We also regularly interview the industry's leading consultants and experts for insight about industry trends and practice management tips.
Meanwhile, on the Kitces & Carl podcast, my co-host, Carl Richards, and I discuss ways financial advicers can build their businesses with intent, better communicate the value they deliver to their clients, advance their careers, and still have a life in the process.
So if you'd prefer to listen to the content, rather than read it, check out our full podcast archives below, or go to iTunes (or your other favorite podcast player) to subscribe directly and get all the new podcast episodes automatically as they're released!
Step Four: "Want Some Hands-On Help? I Put My Name On The Line For These Solutions…"

For some people, information alone isn't enough. You want fully assembled solutions or help to implement the ideas you've read about. Fortunately, we have several related businesses that can help! And you can trust every single solution, because I'm personally involved with each, and have put my own dollars and reputation on the line as an equity owner!
FOR CONSUMERS
Our financial planning solutions for consumers cover the full spectrum including retirement planning, comprehensive wealth management, and evidence-based investing solutions.
If you're younger and not yet focused on retirement, we also have a network of trusted advisors who can work with you to provide financial advice on everything from student loans and other debt, cash flow and budgeting, career advice, and more, for an affordable monthly fee.
FOR ADVISORS
For financial advisors, we have an ever widening range of outsourcing, technology, and other support solutions.
Check out the details below, for anything from portfolio management and back office needs, to recruiting for new financial planners, accounting/bookkeeping services for your practice, technology to facilitate charging your advice fees, compliance and platform support to launch your own advisory firm, and more.
Step Five: Work with Michael And The Kitces Team Directly
If you're interested in engaging me or the Kitces Team directly, beyond our financial planning and advisor solutions noted above, there are a few ways that you can work with me.
BOOK MICHAEL TO SPEAK
Between myself and our growing team of Kitces Speakers, we speak at more than 100 financial advisor conferences every year, from local association chapters to national conferences, and from breakout sessions to panels and keynotes.
HIRE MICHAEL TO CONSULT
Every year, the Kitces Consulting Consortium takes on a limited number of consulting clients - typically vendors (from asset managers to advisor FinTech companies) who are looking to reach financial advisors, and/or are looking for feedback on how to improve their solutions for advisors.
Step Six: Catch Up On What You've Already Missed!
Did you know that the most common way readers find their way here is simply because they typed their question into a search engine, and Nerd's Eye View came up as the answer they were looking for?
Save yourself the headache next time, and go straight to the source!
Because after 10 years of publishing the Nerd's Eye View, there are over 1,000 articles on a wide range of financial planning topics now! Which means there's a good chance that the next financial planning question you come up with has probably already been answered here, too! (And if we haven't covered it yet, read through to the end to find out how you can submit a topic suggestion for us to write about in the future!)
Of course, with so much content on the site, I realize can be a bit overwhelming figuring out where to begin.
So to get started, here are a few of the most popular articles you might enjoy as a new reader, depending on your situation:
New Financial Advisors
Career Changers
Advanced Planning Strategies
Practice Management Tips
Personal/Career Development
Strategies for Retirees
Best Books For Financial Advisors
Pro-Tip: if you have a particular topic you want to learn more about, use the search box in the upper right of any page to search all the articles. Or go directly to our Search The Archives feature, where you can search by category as well.
Didn't find what you need, or just want to say hello?
If you're interested in services beyond the details noted above, have a suggested topic you wish we'd write about, or simply want to say hello, feel free to contact me directly.
In the meantime, I hope you've at least signed up for our mailing list… not only to get our latest content as it's released, but also because as the business world changes and evolves, so too do the services and solutions we offer. Our email list is the best way to keep up with it all, and I promise it's something we hold sacred (so we absolutely will not share or sell your email address to anyone, and we don't allow anyone to spam our readers with third-party offers!).
I'm excited to have you at Kitces.com, and we look forward to providing you with relevant, accurate and thought-provoking articles and resources to improve your financial planning practice.
With Warm Regards,
Michael Kitces