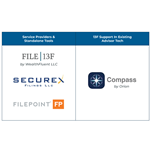 Amidst the economic expansion that came in the wake of World War II and in response to the rise of institutional trading by bank trust departments, insurance companies, investment companies, and registered investment advisers, Congress directed the SEC to conduct a study in 1968 to better understand the nature of institutional investor activity in the interest of maintaining healthy competition in the financial marketplace. The end result – the Institutional Investor Study Report of 1971 – revealed a lack of information available for investors regarding institutional investor activities and the impact their trading may have been having on the broader markets.
In response, Congress amended the Securities Exchange Act of 1934 by adding Section 240.13f-1, known as Rule 13f-1 (and the supporting Form 13F), mandating that institutional investment managers disclose and report on a quarterly basis their equity holdings of certain "13(f) securities" as identified by the SEC. 13(f) securities consist mainly of equities that trade on a national securities exchange (including not only traditional stocks, but also certain equity options and warrants, closed-end investment company shares, and importantly in today's world, ETFs).
The 13(f) reporting requirement applies to all institutional investment managers that manage at least $100M in those 13(f) securities, where the definition of an "institutional investment manager" pertains to banks, insurance companies, broker-dealers, corporations, and pension funds that manage their own portfolios, as well as discretionary investment managers – in other words, registered investment advisers (i.e., RIAs) – who invest on behalf of others.
Consequently, registered investment advisers who exercise discretionary authority over $100M or more of 13(f) securities as of the last trading day of the month – by holding, for instance, a broad portfolio of ETFs for their clients, or simply by trading stocks directly, or using a growing number of direct indexing solutions – are required to file four consecutive quarterly Form 13F reports. In fact, given the substantial rise in popularity of ETFs amongst RIAs, a large swath of SEC-registered investment advisers (i.e., those holding ETFs at or above the $100M threshold) are now becoming "institutional investment managers" subject to the 13F reporting requirements… which has only been compounded by the fact that the $100M threshold has not been updated in decades even as the RIA industry grows. The first Form 13F filing deadline is 45 days after the last day of the calendar year in which they first crossed the $100M threshold (of holding 13(f) securities).
The Form 13F filing information required by the SEC is prepared in an XML table format that is uploaded directly to the SEC EDGAR database. RIAs who are required to file Form 13F but who do not share discretionary management responsibility with any other independent investment adviser are required to complete a 13F Holdings Report, while reporting advisers who are in a co-advisory or sub-advisory relationship (e.g., those who use third-party TAMP providers or sub-advisers but otherwise meet the filing requirements) are required to complete a 13F Combination Report or a 13F Notice, respectively.
The SEC website has extensive guidance on the submission process, though, given the time-consuming nature of completing and submitting all of the requested information, some advisors may prefer to delegate the responsibility to a third-party service provider. And in fact, the growth of the use of ETFs by RIAs – and the associated 13F filing requirements they create – is rapidly creating a cottage industry of 13F filing solutions in the form of both technology tools (e.g., portfolio management platforms offering built-in 13F analysis tools to facilitate RIAs that are self-filing 13F), and service providers to help those RIA that prefer to outsource their required 13F filings instead.
Registered investment advisers who may have missed their Form 13F filing deadline (e.g., because they didn't know the 13F rules applied to their ETF investing activities!) should simply file their reports as soon as possible, as while the SEC does not grant extensions, they do encourage advisors to submit their Form 13F as soon as they can.
Ultimately, the key point is simply that with more and more RIAs offering discretionary management services that include managing portfolios comprised of ETFs (which are 13(f) securities) instead of mutual funds (which were not), many firms have a new reporting obligation as an "institutional investor" that they may not have realized they have. Fortunately, the growth in technology tools and service providers to support the process make it more manageable to complete than it was in the past. But 13F reporting is still a non-trivial compliance burden that RIAs must be prepared to manage… and, potentially, to catch up on with the SEC if they're just now realizing they haven't been in compliance with their 13F reporting obligations all along!