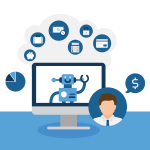 Welcome to the August 2018 issue of the Latest News in Financial Advisor #FinTech – where we look at the big news, announcements, and underlying trends and developments that are emerging in the world of technology solutions for financial advisors and wealth management!
This month's edition kicks off with the big news that, after years of warning that robo-advisor growth rates were slowing and seeing many high-profile robo-advisors pivot to become B2B solutions for advisors… some of them are beginning to outright shut down, with early (founded in 2009) robo-advisor Hedgeable withdrawing its investment adviser registration to manage portfolios as its founders move on to new blockchain endeavors, and WorthFM permanently terminating, as its related DailyWorth media site is sold (without the WorthFM robo-advisor attached) to personal finance media personality Jean Chatzky.
From there, the latest highlights also include a number of interesting advisor technology announcements, including:
Notwithstanding guidance that it's permissible for clients to leave reviews for advisors on Yelp, the SEC cracks down and fines several advisors (and their marketing consultant) for asking clients to leave reviews as a deemed testimonial solicitation.
Advisor FinTech competitions heat up, as XY Planning Network announces its FinTech competition finalists, TD Ameritrade launches a new FinTech competition with $100,000 in prizes, and Scratchworks funds its first FinTech competition winner InvestmentPOD.
Large-firm enterprise interest in technology to support advisor efficiency hits a fevered pace, as Merrill Lynch rolls out a massive Fiduciary Dashboard for its advisors and Ameriprise announces a 10,000-advisor deal to switch from Ebix to Salesforce CRM.
MaxMyInterest announces a deal with Dynasty Financial as "cash management" becomes a new value-add service from advisors to their clients.
Read the analysis about these announcements in this month's column and a discussion of more trends in advisor technology, including Wealthfront launching a new financial planning module in Path that helps working clients understand the implications of taking a sabbatical or time off to travel (which is significant not only for the technology itself, which no other advisor software can do effectively, but the fact that its Millennial clients may not engage with saving for retirement in the "traditional" way), a new report from the Treasury Department laying out the Trump administration's FinTech regulatory guidelines that would include a streamlined process for firms to more easily get the licenses and permits they need to operate and innovate, and a look at the second (next) generation of estate planning software beginning to emerge, as estate taxes move to the background but getting basic (but not always simple) estate planning documents in place takes on a relatively greater focus.
And be certain to read to the end, where we have provided an update to our popular new "Financial Advisor FinTech Solutions Map", including a number of new companies and categories!
I hope you're continuing to find this new column on financial advisor technology to be helpful! Please share your comments at the end and let me know what you think!
*And for #AdvisorTech companies who want to submit their tech announcements for consideration in future issues, please submit to [email protected]!