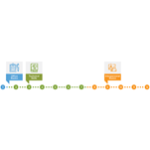 Back when the financial services industry was focused almost exclusively on product sales, the process of "training" new employees was relatively straightforward: either new hires were able to learn to sell enough to survive and build a book of business, or they didn't… and moved on to do something else. However, as the industry has evolved into a more sustainable, advice-centric model, advisory firms are discovering that, unlike most other professions, there aren't many standards when it comes to training new entrants to progress down a (well-defined) career path into the profession.
And in the modern era, the stakes are higher when it comes to training new advisors. As while in decades past, firms didn't put much into training new advisors (beyond basic sales training) and therefore didn't have much to lose if a new advisor "didn't make it", modern advisory firms trying to develop a new advisor to be able to manage ongoing relationships (for ongoing revenue) have to incur far more salary expenses until that new advisor develops the necessary skillets to be a productive member of the team.
Accordingly, advisory firms that are looking at steady and ongoing growth are increasingly focusing on developing a repeatable in-house training program, or "boot camp", to accelerate a new advisory hire's learning curve to get them through that process faster. Where systematization reduces the cost to the firm if the hire doesn't work out. And in the extreme, can actually make newer employees so valuable, so quickly, that the firm might even assume that participants will actually move on to another firm at the end of the program and still be successful.
Yet, while a training program is certainly better than none at all, perhaps more important is inculcating into the firm's culture a "Growth Mindset", which fosters an environment that encourages learning and talent development, seeks out challenges, and understands that improvement is impossible without failure. Which is especially important in the advisory profession, where new entrants into the field might have a good amount of technical knowledge, but can only learn the (arguably more) important interpersonal skills through experience.
The real key to the Growth Mindset, though, is simply recognizing that if growth is natural, employees can learn anything they need to learn to be successful, as long as they have the right attitude that they can learn it in the first place. Which means it's crucial that the firm itself is characterized by an attitude of, "I may not be able to do that now… but I can learn how!"
Ultimately, the key point is to realize that adopting a Growth Mindset can be an invaluable step towards helping an advisory firm better educate, retain, and grow a team that sets high expectations, challenges team members throughout the firm, and gives positive reinforcement, not in the context of innate personal ability, but against a backdrop of a process fosters their long-term success and reinforces the firm's culture.