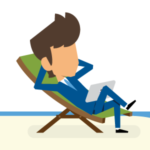 In a 'normal' year, summer is the season of vacation and family trips, as client meetings tend to slow down (if only due to the clients' own vacations), and advisors get a little more time for rest and relaxation. Unfortunately, the coronavirus pandemic has disrupted a lot of family and vacation plans for 2020… yet the need for getting some rest remains, as it is arguably even more important to find time to recuperate from the client and business stresses of recent months. Which in practice, often includes finding a little time to catch up on some good books!
The question, of course, is then to figure out "what's a good book to read these days?" As a voracious reader myself, I'm always eager to hear suggestions from others of great books to read, whether it's something new that's just come out, or an "old classic" that I should go back and read (again or for the first time!). And so, in the spirit of sharing, a few years ago I launched my list of "Recommended (Book) Reading for Financial Advisors", and it was so well received that in 2013 I also started sharing my annual "Summer Reading List" for financial advisors of the best books I'd read in the preceding year. It quickly became a perennial favorite on Nerd's Eye View, and so I've updated it every year, with new lists of books in 2014, 2015, 2016, 2017, 2018, and a fresh round last year in 2019.
And now, I'm now excited to share my latest Summer Reading list of top books for financial advisors in 2020, including some suggestions from our growing 'team of nerds' here at Kitces.com (including Derek Tharp, Erica Crane, and Matt Nelson), with suggestions on books about building a virtual culture (if you decide to keep your advisory firm virtual even after businesses are permitted to re-open in person!) or alternatively hiring a virtual assistant, how to refine and focus your marketing message by figuring out exactly what your value is to clients (in essence, what 'job' your clients are really hiring you to fulfill) and how to more effectively differentiate (under the philosophy that for branding purposes, "it's better to be different than [just] better"), tips on how to better communicate with clients and help them change their behaviors to achieve their own goals, ways to take small steps to improve your own life (and why it's easier to improve yourself by taking small steps instead of making big change resolutions), a discussion of whether we're focusing on the wrong measures of economic growth and wealth in setting economic policy, and a look at how various government policies over the past 200 years have limited the ability of many minority populations to be able to accumulate wealth in the first place (which, due to two centuries of compounding – or the lack thereof – have amplified the racial wealth gap in America, with profound implications on the diversity of financial planners and who we serve as well).
So as the summer season gets underway, I hope that you find this suggested summer reading list of books for financial planners to be helpful… and please do share your own suggestions in the comments at the end of the article about the best books you've read over the past year as well!