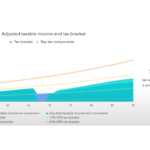 Amid a landscape that has been dominated for nearly a decade by a select group of financial planning software heavyweights – MoneyGuidePro, Naviplan, and eMoney – newcomer RightCapital first launched in 2015 at the XY Planning Network conference. With an eye towards providing a simpler and easier-to-use interface and presenting solutions to clients in easy-to-understand reports, RightCapital (perhaps undeservedly) was labeled as a "light" financial planning software solution by industry publications. But in reality, RightCapital not only fills gaps left by other planning software providers around the intersection of retirement decumulation, tax planning, and Roth conversion strategies  – that show, in dollars, the tangible value that financial advisors bring to the table – but also allows advisors to work with largely unserved next-generation client segments with its student loan planning capabilities, and to produce financial plans faster with its more collaborative planning capabilities. All of which has helped RightCapital in just 5 years since launch to jump to 4th in market share amongst financial planning software and, according to the latest Kitces Research study, see the biggest gains in market share for both broker-dealers and RIAs in the past two years.
In the guest post, Craig Iskowitz – CEO and founder of Ezra Group, a financial technology consulting firm – provides an in-depth software review of RightCapital, covering its features and benefits, interface, modules, client deliverables, and pricing.
In a crowded financial planning software marketplace, RightCapital differentiates itself by allowing advisors to help their clients with:
Real-time collaborative planning around retirement planning and goal setting/scenarios by using "levers" to immediately show the dollar impact of different strategies (thus showing the tangible value of the advisor and fostering greater engagement),
The tax impact of various decumulation strategies (whether proportional or sequential across different types of accounts) and the value of proactive tax planning through Roth conversions (for which RightCapital has been the only full-scale financial planning program in recent years to offer such in-depth capability),
Detailed cashflow reporting and asset allocation modeling (thanks to their state-of-the-art calculation engine, which allows advisors to quickly flip through analytics tabs), and
Using either a goals-based or cashflow-based planning approach depending on the client's personal circumstances and advisor preferences.
RightCapital also offers a Social Security optimization and Student Loan planning modules, as well as accumulation planning and estate planning capabilities, though none of those features necessarily help the software stand out from other full-stack financial planning software providers or standalone vendors providing similar tools. And notably, while RightCapital has expanded its suite of available integrations with popular CRMs, reporting tools, and custodians, it still doesn't have the breadth of integrations when compared to other providers (which means it's important to check upfront if it integrates for any particular advisor's tech stack).
Ultimately, most comprehensive financial planning software is 'comprehensive', which means ironically all the available solutions do so much it's often difficult to differentiate at the margins which is really best at what. In the context of RightCapital, there are several areas that do stand out against its competitors, particularly when it comes to an attractive and intuitive user interface, real-time collaborative planning (and its speed to do calculations, which matters when clients are watching in real-time!), and the ability to choose either a goal-based or cashflow-based planning approach. However, RightCapital's key differentiator is its detailed and tax-sensitive retirement distribution planning, which helps foster engagement between client and advisor, and importantly, demonstrates the actual dollar value that an advisor can offer… particularly in an environment where advisors are pressured to justify their fees. RightCapital may not offer all the robustness (or complexity) of eMoney, Naviplan, or MoneyTree, in certain areas, but it does provide powerful capabilities (especially for tax-savvy advisors) at an attractive price in a competitive marketplace.