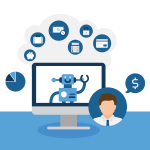 Welcome to the November 2020 issue of the Latest News in Financial #AdvisorTech – where we look at the big news, announcements, and underlying trends and developments that are emerging in the world of technology solutions for financial advisors!
This month's edition includes guest contributor Kyle Van Pelt, and kicks off with the big news that Morgan Stanley is acquiring asset manager Eaton Vance, in what was largely billed in the media as asset management consolidation of Eaton Vance's mutual fund family… but in practice may be a $7B bet from Morgan Stanley on the future of Direct Indexing technology to displace ETFs and mutual funds, as in practice more than half of Eaton Vance's assets were actually managed or overlay portfolios of its subsidiary Parametric (which is estimated to control a whopping 75%+ of the current Direct Indexing marketplace). Though in practice, Morgan Stanley will likely simply re-package Parametric into an ultra-HNW solution for its own 16,000+ brokers serving affluent clients… leaving the door still open for other Direct Indexing startups (or fast-encroaching incumbents) to gain market share with the mass of independent advisors.
From there, the latest highlights also feature a number of other interesting advisor technology announcements, including:
LPL acquires Blaze Portfolio for $17M to in-house its own model marketplace through rebalancing software
Lincoln Investment acquires Hanlon Advisory Software as the old IAS all-in-one 'silver bullet seeks a new home
YCharts recapitalizes with LLR Partners to expand its footprint from investment research to investment communication (and potentially proposal generation?)
CapGainsValet launches its 2020 season of capital gains estimates for mutual funds with a new Delivery service to give advisory firms a weekly update on their firms' individual holdings
Read the analysis about these announcements in this month's column, and a discussion of more trends in advisor technology, including MoneyGuide's new built-in analytics to identify potential product sales opportunities for clients, Income Conductor's novel discount on E&O insurance for independent advisors that use their retirement income planning software (with underwriters presuming that clients will be more likely to be satisfied with their outcomes?), ScratchWorks FinTech accelerator announces its season 3 winners with $5M of funding and opens for new applications for Season 4, and CRM systems signal that they may be becoming the new 'hub' for advisory firms as Holistiplan, fpPathfinder, fpAlpha, and Knudge all announce new integrations to Redtail and Wealthbox!
And be certain to read to the end, where we have provided an update to our popular new "Financial AdvisorTech Solutions Map" as well!
I hope you're continuing to find this column on financial advisor technology to be helpful! Please share your comments at the end and let me know what you think!
*And for #AdvisorTech companies who want to submit their tech announcements for consideration in future issues, please submit to TechNews@kitces.com!