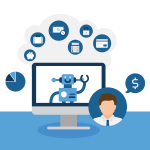 Welcome to the June 2020 issue of the Latest News in Financial Advisor #FinTech – where we look at the big news, announcements, and underlying trends and developments that are emerging in the world of technology solutions for financial advisors and wealth management!
This month's edition kicks off with the news that Goldman Sachs has acquired Folio Institutional and its $11B RIA custody platform for 450 (mostly small) RIAs… and raising the question of whether Goldman is making a play to compete for small RIA custody opportunities as Morgan Stanley acquires E*Trade Advisor Services and Schwab acquires TD Ameritrade, or if Goldman will repurpose Folio to capture large wirehouse breakaway teams, or simply use it as a custodial platform for their own RIAs (Ayco and United Capital), or turn it into a robo-advisor solution paired with Marcus, or use Folio's fractional share trading capabilities to build a direct indexing solution. Or perhaps all of the above!?
From there, the latest highlights also include a number of other interesting advisor technology announcements, including:
Franklin Templeton acquires the robo-advisor-for-advisors AdvisorEngine, but the real play may be to reinvigorate Junxure CRM?
AdvicePay rolls out Offices for Enterprises as LPL signs on to the trend of fee-for-service financial planning
Smarsh acquires Entreda as device management cybersecurity becomes a more pressing issue in a future with more remote workers
Plaid launches an integration with Microsoft that will offer consumers (or advisors and their clients) a spreadsheet-based budgeting tool with automated account aggregation
PlanTechHub launches a new financial planning software competitor built around actually showing the value of a financial advisor's recommendations to clients
Read the analysis about these announcements in this month's column, and a discussion of more trends in advisor technology, with special AdvisorTech consulting guests Craig Iskowitz and Kyle Van Pelt, covering news including Aurora Capital acquiring FMG Suite to build 'Hubspot for financial advisors' as interest grows in advisor digital marketing, Vise.ai launches a new robo-tech-turned-TAMP solution for advisors, Envestnet launches a next-generation client portal that includes not just performance reporting and news but also client To-Dos, Fidelity rolls out a new Virtual AI assistant not for clients but to support advisor back-office servicing, and Morningstar doubles down on its bet of a more ESG-centric future by fully acquiring Sustainalytics (after buying an initial 40% stake back in 2017).
And be certain to read to the end, where we have provided an update to our popular new "Financial Advisor FinTech Solutions Map" as well!
I hope you're continuing to find this column on financial advisor technology to be helpful! Please share your comments at the end and let me know what you think!
*And for #AdvisorTech companies who want to submit their tech announcements for consideration in future issues, please submit to TechNews@kitces.com!