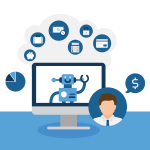 Welcome to the September 2019 issue of the Latest News in Financial Advisor #FinTech – where we look at the big news, announcements, and underlying trends and developments that are emerging in the world of technology solutions for financial advisors and wealth management!
This month's edition kicks off with the news that Wealthfront is acquiring financial planning monthly subscription startup Grove… but as part of the deal, is selling off all of Grove's clients to Facet Wealth, leaving the industry wondering whether Wealthfront is about to pivot into the monthly subscription model to mimic their competitor Schwab Intelligent Portfolios, wanted Grove's financial planning technology to expand Wealthfront's own Path financial planning software, or simply wanted to "acquihire" the Grove technology and product talent to advance Wealthfront's own mission. And raising concerns about why Grove, which just last year raised an $8M Series A round to begin to scale its monthly subscription fee financial planning solution, decided to walk away barely a year later.
From there, the latest highlights also include a number of other interesting advisor technology announcements, including:
United Income's virtual-CFP-for-Baby-Boomer-retirees model gets acquired by Capital One as digital advice expands beyond just serving Millennials
Snappy Kraken raises a $2.5M seed round to begin ramping up its marketing technology built to both generate leads for advisors and convert them
Aivante launches a new health care cost calculator for prospective retirees that helps to project out health care costs based on a client's health and geographic location
ScratchWorks announces the open of its third season of Shark-Tank-meets-FinTech-Accelerator for advisor technology
Read the analysis about these announcements in this month's column, and a discussion of more trends in advisor technology, including Ladenburg acquiring the NewDay impact investing robo-advisor to create more customized ESG portfolios for advisors instead, BrightPlan launches adds an artificial intelligence "financial coach" to its digital wellness platform as a way to upsell complex clients to its affiliated PlanCorp RIA, PreciseFP launches new data-gathering forms specifically to facilitate TD Ameritrade client onboarding with reduced NIGOs, both Envestnet and MoneyGuidePro launch expanded life insurance modules as interest grows from insurers in using financial planning software to facilitate life insurance sales, and Ric Edelman suggests that part of the challenge of advisor adoption of cryptocurrency may be a PR/perception problem and accordingly rebrands his Advisor Blockchain and Cryptocurrency Council into an "RIA Digital Assets Council" instead.
And be certain to read to the end, where we have provided an update to our popular new "Financial Advisor FinTech Solutions Map" as well!
I hope you're continuing to find this new column on financial advisor technology to be helpful! Please share your comments at the end and let me know what you think!
*And for #AdvisorTech companies who want to submit their tech announcements for consideration in future issues, please submit to [email protected]!