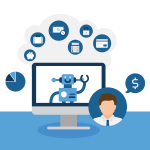 Happy New Year, and welcome to the February 2021 issue of the Latest News in Financial #AdvisorTech – where we look at the big news, announcements, and underlying trends and developments that are emerging in the world of technology solutions for financial advisors!
This month's edition kicks off with the big news that Walmart has partnered with Ribbit Capital (one of the FinTech VC firms that backed Robinhood) to begin creating its own FinTech solutions for Walmart customers and employees… which would instantly create one of the largest distribution platforms for a FinTech solution (as Walmart reaches nearly 40% of all Americans on a weekly basis!) and also a Financial Wellness platform (as the world's largest private employer). Yet the reality is that, as the world's largest superstore, Walmart is arguably well positioned to become a financial products superstore as well – taking a page from the playbook of Sears, the 20th-century retailer that expanded into financial services and, in the process, spawned Allstate Insurance and the Discover card – though that still doesn't mean that Walmart will necessarily want to enter the far-more-challenging-to-scale services business of financial advice itself.
From there, the latest highlights also feature a number of other interesting advisor technology announcements, including:
– Former Vanguard CEO McNabb joins the Altruist advisory board, signaling that it's not just RIAs themselves but also asset managers that would like to see a breakup of the current RIA custodial oligopoly
– Milemarker launches a new "Integration-as-a-Service" as AdvisorTech integration fatigue hits new depths even as cross-platform integration becomes more essential than ever
– DPL raises $26M of private equity capital to scale its new fee-based annuity platform for RIAs
– MaxMyInterest tries to expand the reach of its cash management solution for advisors not by integrating with their investment platform but via Redtail's CRM instead
Read the analysis about these announcements in this month's column, and a discussion of more trends in advisor technology, including:
– Focus Financial launches its own cash management solution in partnership with Orion and competing with the RIA custodians its partner firms use
– National Guardian Life acquires Everplans as more insurers look to acquisitions as the means to facilitate their own digital transformations and overcome their Innovator's Dilemma
– Chalice Network launches a new "Certified FinTech Advisor" designation for financial services enterprise executives trying to get up to speed in the world of Advisor FinTech
– Financial personality assessment tools are on the rise as client profiling goes beyond "just" risk tolerance to a wider range of client financial behaviors that advisors may be able to help (or, alternatively, want to screen for!)
And be certain to read to the end, where we have provided an update to our popular "Financial AdvisorTech Solutions Map" as well!
*And for #AdvisorTech companies who want to submit their tech announcements for consideration in future issues, please submit to TechNews@kitces.com!