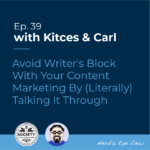 Over the past several years, financial advisors have increasingly utilized digital channels as a part of their overall marketing strategies, as the more traditional tactics for generating new leads have become less effective (and especially in recent months amid the ongoing COVID pandemic). Of course, a key ingredient of digital marketing is content (whether it be a book, podcast, blog, video, or any number of content 'artifacts'). For many financial advisors, however, content creation isn't something that comes as naturally as, say, comparing decumulation strategies or analyzing Monte Carlo simulations, and it's easy to hit a roadblock when staring at a blank screen.
In our 39th episode of Kitces & Carl, Michael Kitces and financial advisor communication expert Carl Richards share some actionable steps that advisors can take to create content for digital marketing that can then be used to establish the advisor's expertise with their existing (or prospective clients). Because the reality is that there are far more tools available for creating all sorts of content in a myriad of formats and packaging beyond simply typing out words one paragraph at a time into a long-form article.
As a starting point, it's helpful to actively observe internal sticking points that may slow down the advisor's capacity to create content, and then consciously turn them into 'features' instead. For instance, don't have the capacity or desire to deal with the logistics of booking guests to have on a podcast? Decide instead to produce a short podcast without guests where the primary feature is the listener's opportunity to hear from the advisor directly. Use the memo feature on your phone to remember stuff or take notes as someone who doesn't like to write? Upload them to SoundCloud, and share them on social media or with a client newsletter as an audio recording that clients and prospects can listen to without needing to read it!
Another tried and true method for effective content creation is to simply keep track of the questions that clients already ask, and turning the answers into something (appropriately anonymized for the particulars of the situation) to share out with the broader base of clients and prospects. And (importantly) it doesn't have to start as something that is written down. Instead, it can start as a spoken response, that is then transcribed and edited using any number of tools, or even produced as a podcast… or both! In fact, there are several services where freelance creatives are available to take raw content (the advisor's expertise answering common client questions) and turn it into polished material, that can then be repurposed and distributed on different platforms.
Because the simple fact is that, for advisors who have decided that they have expertise that they feel would help a broader audience or a perspective on an issue that they want to share, there are a few relatively simple steps to take – track notable ideas and observations, block out just a little time each week to review those notes, record observations, and send that basic commentary along to a freelancer – to start regularly creating content. Because, after all, while many advisors get writer's block, few get talker's block!