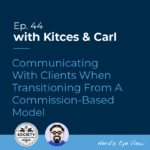 For much of its history, the financial advice industry has been dominated by a commission-based business model, where the comprehensive financial plan was a form of consultative selling that demonstrated to the prospective client their gaps (that the advisor's products could fill). Given the one-off nature of the model, financial advisors would, in turn, need to gather as many clients as they possibly could in order to have a stable of existing clients with whom they do business again sometime down the road… often to a point where the advisor became overwhelmed with the number of individuals that they had to try to stay in touch with. However, as the nature of financial planning has become more about the relationship and ongoing advice rather than 'just' the transaction being implemented, additional business models (whether they be based on assets, income, a flat fee, or hourly) have evolved, giving advisors options to more effectively get paid for the ongoing advice relationship and providing ongoing comprehensive advice to their clients. Yet when an advisor has in the past primarily or only been compensated by commissions (that their clients don't necessarily see), the transition to charging upfront or outright fees can be challenging. Which raises the question: what is the best way to communicate to clients when transitioning to a more fee-oriented business model?
In our 44th episode of Kitces & Carl, Michael Kitces and client communication expert Carl Richards discuss the key mindset shifts that advisors need to make in order to better serve their clients and themselves, how to present to clients who may not initially get why anything needs to change in the first place, and why, at the end of the day, most clients may not end out transitioning over… and why that's okay!
The best way to navigate the transition to a more fee-based model depends on how the advisor comes to the proverbial commission/fee crossroads. One camp comes from the traditional brokerage model, and after years of accumulating a Rolodex of (sometimes hundreds of) clients find that they are starting to burn out, and want to get off the treadmill of having to continuously find new people to do business with and finding new products to offer. These advisors want to build a more focused business, with a smaller subset of their top "A" clients, and will often seek to transition legacy clients who they may have interacted with only a few times over the span of several years. In such circumstances, advisors will need to clearly lay out how the relationship will change, and all of the new (holistic) services that the clients who are staying will be getting on a regular basis.
The second type of advisor transitioning to a more fee-based model may have already started providing ongoing services, are proactive with their planning, and having regular meetings… but are getting buried in the volume because their (transactional high-volume) business model doesn't match their (relationship-oriented lower-volume higher-touch) service model. In such instances, the conversation isn't around all the services the advisor will be providing, but rather making sure that the fee structure is aligned with the work that's being done so that it can continue to happen sustainably and scalably on an ongoing basis.
Ultimately, the key point is that the transition conversation isn't about suddenly charging clients more and new fees, but instead doing a better job of aligning the advisor's ongoing value to their ongoing business model, and aligning their ongoing business model to the advisor's ongoing services. And, at the end of the day, it's important to realize that many clients who hired an advisor for a more one-time transactional service will decide not to transition to a more ongoing relationship-based model, which may seem daunting at first blush but really means that the advisor will simply end out working fewer hours with a more focused clientele who really value what the advisor does and are willing to pay for it, ensuring the advisor can profitably serve the right relationships and charge what they are really worth!