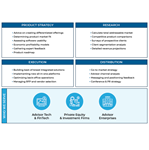 2020 hasn't gone exactly as planned. From the COVID-19 global pandemic and ensuing pivot to a work-and-school-from-home model, to the stunning market crash and (even-more-stunning?) subsequent rebound, and the civil unrest in the wake of the death of George Floyd, this year has presented multiple challenges. Yet, those challenges have also presented opportunities for growth, not only personally and professionally, but also for our society. Here at Kitces.com, we've had to make several adjustments on the fly amid conference cancellations and the shifting needs of the advisor community, but throughout, we have continued to focus on growing our platform in order to provide you, our readers, an ever-increasing array of content and solutions to help you be better financial advisors!
With that, I am excited to announce that, as part of a new pilot program with the CFP Board, this month's June articles on the Nerd's Eye View Blog about the CFP Board's new Standards of Conduct are now eligible for a full 2 hours of CFP Ethics CE! Similarly, we are also happy to share that we've expanded our CE credit offering to cross-apply a full 16 hours of CE credit for Enrolled Agents (on top of the CFP and IWI continuing education credits we offer) for our articles that – as specified by IRS guidelines – cover Federal taxation.
In addition, we have some exciting news around new (and existing) Kitces team members. Jeff Levine formally became a full-time member of the team, assuming the role of Lead Financial Planning Nerd and expanding his capacity as both a writer for the blog and a Kitces speaker (at both live and virtual events). Sarah Keese, our new External Engagements Manager, is now handling every aspect of our speaking and consulting engagements and has also become the main point of contact for our rapidly growing number of Members Section advisors. Finally, Hannah Collman is joining the team this month as our Associate Financial Planning Nerd and will be supporting Jeff Levine with financial planning research, crafting presentations for events, as well as many other endeavors on our platform.
As part of our mission to help real financial advisors become better and more successful, part of my efforts over the years have included helping various vendors and advisor platforms in the industry better understand macro trends and opportunities. Unfortunately, though, there are only so many hours in the day – which has led to a growing waiting list for my Consulting time – and as such, we are expanding our consulting capacity by launching the Kitces Consulting Consortium and partnering with Craig Iskowitz of the Ezra Group, who will be available to provide his consulting expertise and insights around FinTech with larger advisory enterprises, from large RIAs and broker-dealers looking to make strategic technology decisions, to FinTech vendors themselves trying to iterate their products and identify advisor market opportunities, and private equity and other investment firms looking for market research and insights into industry trends.
In the meantime, we've also spent much of the second quarter revamping our speaking services for a virtual world, and have participated in literally dozens of educational webinars (both for various industry organizations as well as on our own platform in our Members Section) and a growing number of virtual keynotes.
In fact, as the industry becomes more comfortable with virtual conferences, we are even kicking around the idea of hosting our own "Kitces Virtual Marketing Summit" to help advisors learn more about how to market and network in a world where the traditional methods aren't practical (or even possible) anymore. If you'd be interested in participating as an attendee, please let us know and we'll keep you posted as we develop the prospective agenda!
We've seen some tremendous growth here at Kitces.com over the past 12 years (and especially in the past two as our team has grown!), and while these are challenging times, I am more excited than ever for the opportunities that lie ahead to serve the advisor community, and to help Real Financial Advisors Be Better And More Successful. So, stay tuned for more announcements, more ways to interact with our platform… and more opportunities to join the growing Kitces Team!