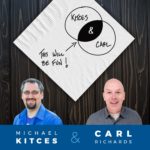 The ongoing growth of the Nerd's Eye View blog has made it possible for us to reinvest more and more into the overall Kitces platform, from the expansion into offering CE credits for CFP, IMCA/IWI, and CPAs, to the launch of the Financial Advisor Success podcast, and more. And as the platform continues to grow, we continue to reinvest more, into both the content and solutions we offer via Kitces.com itself, and the team that supports it. Which this month includes a number of exciting new announcements!
First and foremost, based on your feedback and requests, our popular Kitces & Carl video segments are now being made available as a standalone podcast: Kitces & Carl – Real Talk For Real Financial Advisors. Launching today, the podcast is now available directly on Apple Podcasts, Google Play, and Stitcher, starting with all the prior episodes we've already recorded in video format since the beginning of the year (which will be released at 1 per day for the next two weeks), and continuing with new episodes to be released every other week going forward (starting a week from Thursday). We hope you enjoy the content in a convenient audio format!
In addition, we're excited to announce several new Kitces team members. Jim Koford joined us last fall as an Associate Editor, and is responsible for ensuring that all of our articles post properly and go out via the various email, social media, and RSS channels. And Brian Boyer is joining us as a new Director of Platform, responsible for both re-building the back-end of our Kitces platform as we prepare for the next stage of growth, and making site improvements for all of you – the readers – to make the Nerd's Eye View and our Members Section easier to read, navigate, and use.
Through the second half of the year and into 2020, we'll be working on a number of additional new features and enhancements as well, from adjustments to our search functionality and site/category navigation (to make it easier to find articles we've already written), more options about how you receive your Nerd's Eye View blog emails, more audio content options, and overall improvements to the usability and navigation of the Members Section webinars and CE content. For those who are interested in having an even-more-involved role as a "beta tester" for new features rolling out in the future, you can submit your interest to [email protected], and we'll be in touch as we begin work on some exciting new site features for 2020!
Notwithstanding the incredible growth we've already had with the Nerd's Eye View over the past 11 years, I'm more excited and energized than ever to build the platform further and provide even more to the advisor community. So stay tuned for more announcements, more opportunities for feedback… and if you want to be a part of the Kitces team, more Career Opportunities as we continue to hire in the year(s) to come! ?