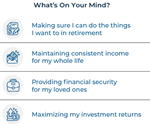 For many financial advisors, 'proving' their worth to prospects prior to engaging them as clients (by delving deep into the details of the prospect's situation, and then coming up with potential strategies of how the advisor believes they can help the prospective client to 'fix' their financial life) is an irresistible means of marketing themselves to cultivate new client relationships. However, the reality is that financial advisors don't always prioritize the same issues that are actually most important to prospective clients and can often invest time and energy analyzing details that do little to actually bring in new clients. This isn't to say that the important issues viewed by the advisor should not be addressed – rather, selling to a prospect by emphasizing what's most important to them (i.e., reaching their goals), and then servicing them once they become clients by addressing all of the points the advisor knows is most important for the client's holistic plan to be successful, is not only a more efficient use of the advisor's time but also a more effective way to convert prospects to clients and to fully service them with their financial planning needs.
In this guest post, Evan Beach, Director of Wealth Advisory at Campbell Wealth Management, an RIA in Alexandria, VA , discusses a research study conducted by Morningstar that found that clients value an advisor who helps them reach their financial goals above anything else. On the other hand, the advisors who were surveyed believed that their clients' top priority would be for their advisor to understand who they were and their unique needs. And while these priorities may have similarities, the challenge facing these advisors is on keeping the focus of their discussions with new prospects on the big-picture journey to achieving their goals, rather than on the nuts and bolts of the mechanical necessities of ensuring the 'vehicle' (i.e., the financial plan) – at least initially during the prospecting stage – will not break down along the way. Accordingly, it is crucial for advisors to ask prospects and new clients the right questions to identify and understand the goals that are most important to them. One approach is to ask questions during the initial meeting that probe into the client's vision for the long-term, mid-range, and short-term future vision of how their life would look if they had and did everything they wanted, and then to prioritize the importance of the goals identified. Then, with that information in hand, advisors can structure subsequent meetings to address how they can help the client to plan for and actually achieve the goals they identified.
A financial advisor's skills and knowledge are what clients identified as the second most valued aspect of the relationship with their advisor, which is an important point for advisors to consider when setting up their website and social media profiles because many clients will use these resources to identify if the advisor has the qualifications they seek before even reaching out to them in the first place. Additionally, advisors can bolster their credibility by using media inquiry services like those offered through the Financial Planning Association or through the Help A Reporter Out (HARO) service, by engaging with a public relation firm, and even authoring articles for personal finance and financial planning websites. The CFP designation, too, demonstrates an advisor's credibility to prospective clients that they are likely to associate with a requisite level of expertise. Similarly, good communication skills are also ranked highly by clients, and using a storytelling structure can be a good strategy for advisors to explain complex ideas to clients.
Surprisingly for many advisors, many clients care a lot more about investment returns than advisors think they do. Accordingly, financial advisors should be thoughtful and empathetic when addressing their clients' investment concerns while maintaining sound financial planning logic and practices. Advisors should educate their clients about rational benchmarking decisions, as well as create unique investment portfolios specifically designed to meet their individual clients' goals.
Ultimately, the key point is that advisors can strengthen their client relationships (and improve their prospect marketing efficiency) by identifying and understanding what their clients value most from them. For many clients, focusing on and prioritizing goals (versus discussing the technical side of their advisor's financial planning strategies) are generally what matters most to them. And to successfully convey to the client (and prospect) that you are on the same page with them and that you have the relevant knowledge and ability to help them achieve their goals, will be the most effective approach to providing the most value to your existing (and future) clients!