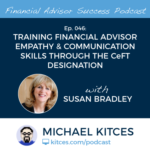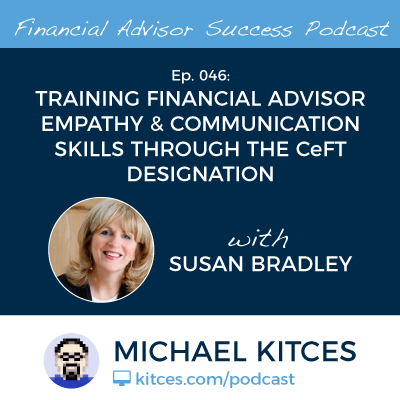 Welcome everyone! Welcome to the 46th episode of the Financial Advisor Success Podcast!
My guest on today's podcast is Susan Bradley. Susan is the founder of the Sudden Money Institute, which trains financial advisors in how to improve their empathy and communication skills when working with clients who experience so-called "Sudden Money" transitions – whether from a business liquidity event, a personal injury settlement, an inheritance, or the settlement proceeds of a divorce. Because as Susan puts it: "When life changes, money changes. And when the money changes, life changes." Which means as advisors, we need the training in how to help clients through those change transitions - which Sudden Money Institute teaches through a designation program called the CeFT (short for Certified Financial Transitionist).
In this episode, we talk in depth about what it really means to help clients through these kinds of financial transitions, why it requires a unique skillset to help people through what is not only a big financial change but typically the major life transition that inevitably accompanies it, the "Purpose, Method, and Outcome" framework that Sudden Money Institute uses to have productive conversations with clients, why it's ineffective to help people in transition to plan for their goals (because they usually don't even know what's possible after a major life transition!), and why it's important to give clients a "decision-free zone" after a major transition before they actually implement any new financial planning strategies.
We also talk about why it is that helping clients through financial transitions really requires more specialized training, the reason that Susan decided to create a formal advisor designation specifically to train advisors in a better and more consistent process, why the CeFT is positioned as a "post-CFP" designation - as you need 5 years of client-facing experience, and an advanced technical designation like the CFP or CPA/PFS, to even qualify for the CeFT training - and what it really takes to complete the year-long training program.
And be certain to listen to the end, where Susan shares her vision of the future value proposition for financial planners, which is all about developing in two directions at once by pursuing post-CFP training, including the technical competency skills that are necessary to actually give the best financial advice, and the empathy and communication skills necessary to really listen to clients and get comfortable being their thinking partner and their guide (and NOT just "the expert" that tells them what to do to achieve their stated goals).
So whether you've been looking for better ways to assist clients through financial transitions, thinking about pursuing post-CFP training in communication and empathy skills, or are interested in the evolution of more behavior-change-oriented financial advisor value propositions in the future, I hope you enjoy this episode of the Financial Advisor Success podcast!