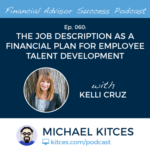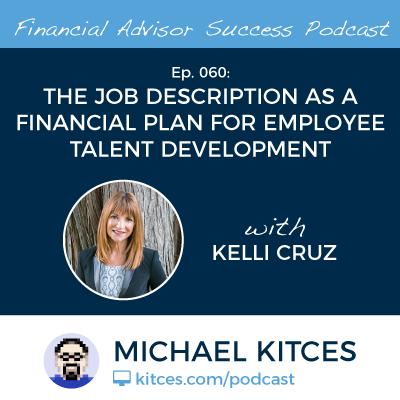 Welcome, everyone! Welcome to the 60th episode of the Financial Advisor Success Podcast!
My guest on today's podcast is Kelli Cruz. Kelli is the founder of Cruz Consulting Group, a human resources consulting practice that specializes in working with mid-to-large sized independent financial advisory firms.
In this episode, we talk in depth about the kind of human resources challenges that begin to emerge as an advisory firm grows, especially once it crosses the $100M and then $200M under management thresholds... where the firm grows beyond half a dozen employees – and the founder's ability to manage them – and suddenly creating the right culture, and designing effective compensation systems that properly incentivize employees, becomes crucial for the business. All of which begins with establishing effective job descriptions for every role in the firm... which Kelli says is like creating a financial plan for employee talent development, forming the basis of what goals the firm and the employee are collectively working towards together.
We also talk about the challenges of hiring dedicated management in an advisory firm, the importance of industry benchmarking studies, how to think about crafting a career track for your employees – especially when your firm isn't even large enough to have formal career tracks yet – and why the growth and evolution of an advisory firm is all about refining employees into increasingly specialized roles over time.
And be certain to listen to the end, where Kelli shares her thoughts on best practices in setting actual compensation plans, why Kelli believes that the traditional model of paying advisors a percentage of revenue for the clients they manage is a fundamentally unsustainable model for advisory firms that ever hope to scale, how Kelli believes that even sales and business development incentives should only last for 1-3 years, and how firms should balance out the combination of base salary, incentive plans, and sales incentives for various advisory, administrative, and other staff positions in the firm.
So whether you are experiencing your own human resources challenges as your firm grows, have been thinking about hiring dedicated management for your firm, or are interested in how to best structure incentive compensation, I hope you enjoy this episode of the Financial Advisor Success podcast!