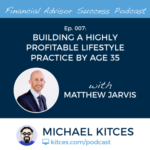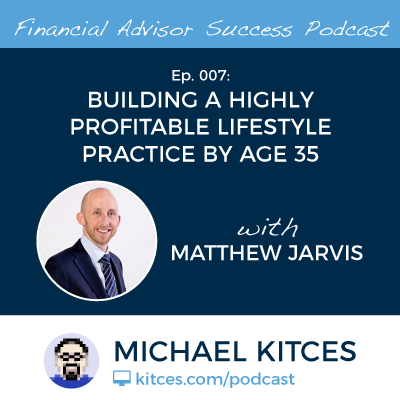 Welcome back for the seventh episode of the Financial Advisor Success podcast!
This week's guest is a bit different from those we've had on the podcast in the past – because he reached out to me to share his story. And it's a pretty incredible one.
Matthew Jarvis is the founder of his eponymous firm Jarvis Financial, based in Washington state. He manages over $100M of AUM for about 150 retirees, providing both investment management and financial planning services, with the support of a three-person team.
But what makes Matthew unique is that he has so systematized his firm and the services he provides to his clients, that he's able to support all 150 clients while also taking over 80 days of vacation every year, and still maintain a more-than-50% profit margin! In essence, Matthew runs a hyper-efficient lifestyle practice. Oh, and he's only 35 years old!
In this episode, Matt talks about how he bought out and transformed what had been a relatively stagnant and struggling firm in the midst of the financial crisis, into what the business is today, sharing how he views his business' key metrics, how he structures the service model, and the internal staff and technology infrastructure he has created that allows him to take off all the time he wants to be with his family.
And be certain to listen to the end, where Matthew shares his strategy for "time blocking" to maximize his personal productivity, and the business development training course he took that has helped him to steadily add 10-20 new clients every year for the past four years.
So whether you're struggling with efficiency in your own advisory firm and trying to find a better work/life balance, or you're proactively building a "lifestyle practice" and want ideas of how to do it better, I hope you enjoy this latest episode of the Financial Advisor Success podcast with Matthew Jarvis!