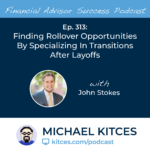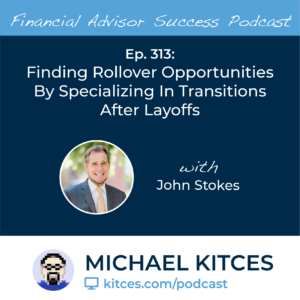 Welcome back to the 313th episode of the Financial Advisor Success Podcast!
My guest on today's podcast is John Stokes. John is the founder and CEO of John Stokes Financial, a hybrid advisory firm based in Irvine, California that oversees more than $400 million in assets under management*, for 1,800 client households.
What's unique about John, though, is how he has built an expertise in layoff transitions and leveraged corporate layoff workshops – that large firms hire him to come in and deliver to their soon-to-be-laid-off employees – to build a niche focus in helping employees go through their layoff transition… and capture the inevitable rollover and other financial planning opportunities that arise along the way.
In this episode, we talk in-depth about how, as an expert in layoff transitions, John has leveraged relationships with a number of large companies in California (that are required to meet a California state law mandate to notify and prepare employees for a layoff 60 days in advance) to create a niche focus counseling employees through layoffs, how John established and built his relationships with large companies by pitching the importance of understanding the rules for navigating unemployment insurance (not focusing on employee 401(k) rollovers directly) so that he could offer a truly needed value for the companies seeking to make their layoff transitions go as smoothly as possible, and how despite what is traditionally a cyclicality to layoffs the reality is that there are so many large companies in the US going through change and competition that that layoffs are inevitable… which has allowed John to achieve a steady stream of over 100 in-person workshops a year and a steady flow of new clients in both bull and bear markets.
We also talk about how during the early years of John's career at a broker-dealer, he was inspired to work solely with those going through various stages of layoffs after he realized that he could entirely avoid cold-calling and consistently meet with hundreds of people at a time during workshops to generate a high referral rate, why John insists on not being compensated for his workshops as he feels it is his duty to provide goodwill and help people through trying times and uncertainty (knowing that, inevitably, some of the people he helps will want to engage him further), and why John takes the time to ensure he hires advisors that are motivated by their willingness to help people and greeting clients with deep empathy in order to maintain firm culture and the skillset necessary to help clients through their difficult and stressful layoff transitions.
And be certain to listen to the end, where John shares how witnessing his father go through a layoff in New Zealand after a multi-decade career at a single company, and experiencing two layoffs himself early in his career, helped John see the value in focusing on people going through layoffs because he could connect more deeply with his clients based on his own personal experiences, why the effects of the pandemic on John's in-person meeting cadence gave him time to realize that he had an opportunity to further deepen his client relationships by providing financial planning as a value add at no additional cost (as prior to the pandemic, his client relationships had been more transactional), and why John feels it's important for advisors entering the financial services industry to find their inner passion as soon as possible as it not only helps to develop a more specialized focus (which John feels is invaluable to surviving in the industry), but it also creates better opportunities for advisors to use their knowledge and skills for the betterment of society… and themselves.
So, whether you're interested in learning about how John has grown and scaled his firm through a niche focus of layoff transitions, how John has leveraged virtual workshops to engage with even more companies across the U.S., or how the limiting of in-person workshops during the pandemic has inspired John to offer financial planning and has increased opportunities for his firm to grow and scale even further, then we hope you enjoy this episode of the Financial Advisor Success podcast, with John Stokes.