Executive Summary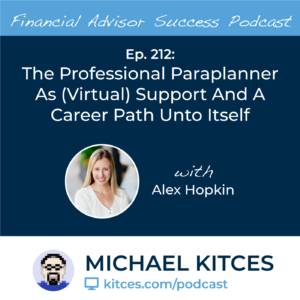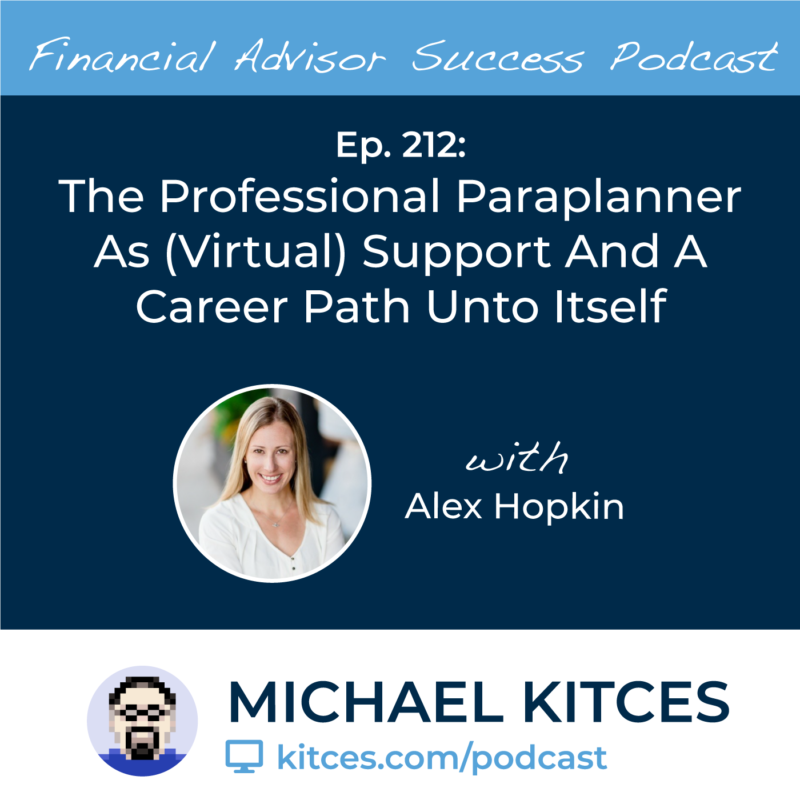 Welcome back to the 212th episode of the Financial Advisor Success Podcast!
My guest on today's podcast is Alex Hopkin. Alex is the founder of Simply Paraplanner, a job board and training portal for virtual paraplanners across the U.S. What's unique about Alex, though, is her vision for Simply Paraplanner – not just as a way for paraplanners to find job opportunities and firms to find virtual paraplanning help – but to support the ongoing evolution of paraplanning from an entry-level support role into a dedicated professional services career path unto itself.
In this episode, we talk in-depth about what paraplanners really do in an advisory firm to make it more efficient and effective, the best way to divide tasks between a paraplanner and a lead advisor, how the internal process of crafting a financial plan must change when a paraplanner develops the initial plan but the lead advisor has to get up to speed on the details and recommendations in order to actually deliver it, and how the technical demands of the paraplanner role have risen in recent years to the point that designations like the Financial Paraplanner Qualified Professional are no longer necessarily sufficient, and firms increasingly want someone with CFP certification or at least who has completed the CFP educational requirement and passed the CFP exam to be in the paraplanner role.
We also talk about the Simply Paraplanner platform itself, how advisory firms become split about hiring part-time or full-time paraplanners based on their own current size and needs, the support services that Simply Paraplanner provides for firms that aren't sure how to pick the right paraplanner for their own firm, and the portal that Simply Paraplanner has developed to help newer virtual paraplanners get the training they need to be successful, from guidance on how to set up a virtual paraplanning practice to training in key financial planning software like eMoney and MoneyGuidePro.
And be certain to listen to the end, where Alex shares her own path through the financial services profession and building the Simply Paraplanner platform, from the frustrations of trying to get paraplanner work herself as a stay-at-home spouse and military mom that led her to founding Simply Paraplanner so others could have an easier journey, the emotional roller coaster that is founding and building a business, the turning point where Alex decided three years ago to turn Simply Paraplanner from a hobby into a full-time focus by taking on a partner so that they can build together, and Alex's advice to newer financial planners trying to enter the profession today who want to get started on the right foot.
So whether you're interested in learning about the education and designations needed to become a professional paraplanner, how hiring a paraplanner can benefit your firm, or the challenges that Alex faced trying to find work virtually as a military spouse, then we hope you enjoy this episode of the Financial Advisor Success podcast.
What You'll Learn In This Podcast Episode
Never miss a Financial Advisor Success podcast episode! Get notified of the latest episodes (and all our research as it's released!) directly via email:
Resources Featured In This Episode:
Full Transcript:
Michael: Welcome, Alex Hopkin, to the "Financial Advisor Success" podcast.
Alex: Thank you so much for having me. I'm excited to be here.
Michael: I'm excited about today's conversation and talking about – what to me – is kind of this interesting blend of the ways our advisory businesses are morphing and how we structure them and the rise of virtual team members and virtual staff. We've had some other recent podcast episodes talking about virtual administrative team members, and we're going to talk a little bit today about virtual paraplanners as a part of that team. But at the same time, there's an interesting phenomenon that's happening as well that I feel like there is sort of this idea of paraplanners that has gone through phases and stages where, at one point in our industry, a paraplanner was kind of just really sort of glorified administrative assistant or might have just literally been a nice label for an administrative assistant, then it really became a position that was much more about advisor-in-training, like you're learning the technical and the back-office stuff before you move into the front office, client-facing roles, and was part of a career journey.
And now I feel like we're even entering another stage and phase of people who actually want to do this technical paraplanning sort of stuff, but it's not an entry-level path. It is the path. It's the thing they want to do. They like spending time with the software, and the numbers, and the analysis, and recommendations in 'planner-ing', and things that go with that maybe don't get as jazzed by the client-facing activity. And so, I know you've lived from the intersection of all of this. You run a platform called Simply Paraplanner, about helping people become paraplanners and find paraplanner opportunities. And so, I think you've probably lived and seen all of these different angles in this whole evolution over the past couple of years, and so I'm just excited to talk about, I guess, the evolution of the paraplanner as a career track and a professional journey and how we hire them and use them in our advisory firms.
How The Role Of The Paraplanner Has Evolved From An Entry-Level Position Into A Designated Career Path [05:17]
Alex: Yes, you're absolutely right. There has been a big shift in the term 'paraplanner'. It used to be an entry-level role or a steppingstone, but now we're seeing the rise of what we call the 'professional paraplanner', so these individuals that want the paraplanner role – the professional paraplanner role – to be the end goal and they want to become technical experts. So, we've gotten to see such a beautiful shift in the term 'paraplanner', and it's really become an umbrella term to cover all sorts of roles that used to be defined differently. And now, a paraplanner can sort of cover all different areas of financial planning.
Michael: It's interesting to me to look at this evolution because if you look at some other countries, this role actually is more established. I know the U.K., in particular, has a very deep field of paraplanning providers, paraplanning as a career track and role unto itself. It's sort of an established, stable part of their ecosystem. It is not uncommon that the firm with the advisors is separate from the firm with the paraplanners, and you hire a paraplanning firm to work with and support your firm. And I believe, in the U.K., part of that was frankly the nature of their regulatory environment, that there's a lot of documentation that had to happen around financial plans that made it particularly conducive to hiring someone into a dedicated role to help create that on an ongoing basis. But it has been, I think, so different here in the U.S. in this evolution from just doing administrative work to really doing planning work, but because that was the steppingstone to the client, to this world of, "No, I'm a professional paraplanner. That's what I do." I think of that in the context of other professions, like there are paralegals, and they don't become a paralegal because it's like a stepping stone to law school to become a lawyer. They are a paralegal. That's what they do. It's a different skill set. It's the work they want to do. They don't want to litigate in court or even necessarily deal with legal clients the same way. There are people who really like doing paralegal work, and they're compensated quite well for it. And I'm fascinated that we are now seeing professional paraplanning start to go in a very similar sort of role and pathway.
Alex: Exactly. And I'm so excited about it because a lot of our professional paraplanners felt like...almost as if they were being pushed out of the industry before. If you didn't want to become a lead advisor, there really wasn't a space for them. There wasn't this career path for them to take. It is either grow into this role or maybe find a different career route for yourself. And now, it's okay for them to say, "I don't want to be a lead advisor. I don't want to be out prospecting, bringing in new clients, or even managing clients of my own." It's perfectly okay for them to be a professional paraplanner and grow in the back office space and really, like I said before, become that technical expert.
Michael: Can you maybe just define for us a little bit more when you...I guess I'll sort of do this in two stages. When you talk about 'paraplanner', what exactly are we talking about in terms of the role and the scope? And I'll sort of asterisk: the next question I'm going to ask is, how does that change when we talk about a professional paraplanner who wants to do that as sort of the terminal job – the endpoint – as opposed to the steppingstone to lead advisor? But as a starting point, how do you define or characterize a paraplanner and what they do? Because I think different advisors may still be thinking about this in terms of more administrative work or more lead-in for advisors or support advisors. We use different paraplanners in different ways. So, what do you characterize as a paraplanner? What does that person do?
Alex: You know, it's interesting you say that because when firms come to our website to hire a paraplanner, they all have a very different definition of what they believe a paraplanner to be. So we see more client service associate roles all the way up to lead planners and then everything in between. Everything sort of gets put under this umbrella term, 'a paraplanner'. But to us, a paraplanner is someone that does the true planning work. So they would be creating the preliminary plan for the lead advisor to review and sign off on, and the lead advisor would go on to present the recommendations to the client. So the idea is for the paraplanner to do the entire financial plan, create these preliminary recommendations based off of the client notes, perhaps they're sitting on the discovery call, getting to know the clients themselves, but they are just not delivering the recommendations to the client.
Michael: Okay. And I guess, nor implementing them or kind of managing the client relationship thereafter as well. It is focused on the plan.
Alex: Yes. The true paraplanner role is focusing on the development of the plan. Now, again, like I said, everyone has a different idea of what this paraplanner role looks like to them in their firm, and so sometimes we will see paraplanners helping with implementation or follow-up, I would say, most notably, creating the post-meeting follow-up email and putting those things into the CRM, etc. But really, it's the lead advisor that's managing the client relationship, and the paraplanner is doing the planning work.
Michael: So, when you frame it that way, is there a distinction of what does it mean to be a 'professional Paraplanner'? Sort of like, now we've gone from 'paraplanner' with the little p to 'Paraplanner' with the capital P.
Alex: Yes. So I would say the professional paraplanner is, like we mentioned before, the one that is not using paraplanning as a steppingstone. Sometimes we'll see paraplanners specialize in different areas. So whether that's tax planning or college planning, they will become so knowledgeable in one area and become an area expert. But the idea of the professional paraplanner is one that is very skilled, very knowledgeable, and that is their end goal, is to stay a paraplanner.
Michael: And when you talk about things like skilled and knowledgeable, what does that mean? Are we talking college degree, CFP certification, or a master's degree in financial planning? What does it take? I know there's a Registered Paraplanner designation out there from the College for Financial Planning. Where do you view, sort of, the benchmark of where someone needs to be to kind of get themselves to the level of a professional paraplanner and be able to make that a career unto itself?
The Education Or Designations Needed To Become A Professional Paraplanner And How Advisors Can Utilize A Paraplanner In Their Firms [12:02]
Alex: That's a really great question, and we find it to be the CFP designation. So the professional paraplanners will have the CFP designation, and those that are wanting to become a paraplanner are typically pursuing the CFP. So we have over 2,000 paraplanners, for example, on our website, and about a third of them are pursuing the CFP, another third have passed the CFP exam and they're working towards their experience requirement, and the last third have their CFP designations.
Michael: Okay. So, how do you think about programs like the College for Financial Planning...I guess, I think it was the Registered Paraplanner, and I think they call it the Financial Paraplanner Qualified Professional, I think, FPQP. Just how do you view a program like that versus telling someone, "You want to be a paraplanner. Don't go with the paraplanner designation, get the CFP marks." Even though, I guess, you want to be a paraplanner, you're not necessarily trying to pursue client-facing work.
Alex: So I think it's important to note that the term 'paraplanner' used to mean a very different thing. It used to be this entry-level admin role. And so these paraplanner designations used to be geared towards that definition. They have recently restructured their program, and so now, the paraplanner certification or designation will count towards the very first class of the CFP program. So now, we tell people, "If you're unsure, if you want to test the waters, and you want to get some marks behind your name and decide if this is the right route for you, then the paraplanner designation is not a bad place to start." It's a lot less expensive. You get to know the content well. But if you know that you want to go into paraplanning and that is your end goal, then we definitely recommend pursuing the CFP.
Michael: And I guess the good news is if you decide you're not sure and you go get the FPQP designation first, it literally is, or counts towards, the first class of the CFP certification. So you're not necessarily behind. You are just taking a milestone step, which I'm sure is probably why the College for Financial Planning did that because it gives it an appealing way to steppingstone into the path if you're not sure you want to take the full leap on the CFP marks yet. So I want to talk more about the paraplanner role, but I actually want to pause a little bit from the paraplanner's end and just talk about this a little bit more from the advisor's end. Because I know there are a lot of advisors out there who aren't necessarily all that planning-oriented and are going to basically say, "Why would I hire someone to make the plans? What the software outputs is completely fine." And maybe they're not even going as deep into the planning realm. But for those who do go deeper, I know for a lot of advisors, they will say either "My value is creating the plan," or "I figure out the clients as I create the plan," or "I can't really get a handle on what the appropriate recommendations are unless I'm the one in there that's doing the analysis and inputting the numbers and looking at the projections and crunching the numbers, because that's how I actually figure out if I'm going to tell them to retire at 65 or 62, or whatever it is." And I guess, in essence, would say or maybe push back like, "Doesn't the advisor have to be doing all this stuff hands-on to be able to create the planning recommendations?"
Alex: You know, we find that most advisors tell us that they are feeling short of time. They would much rather be out there being face-to-face with their clients, bringing in new clients – maybe they have waitlists – but they find that too much of their time is spent running these different scenarios and analysis, etc. And so if they can bring in someone, you know, maybe 5 hours a week, 10 hours a week, 20 hours a week, to run these different scenarios in their financial planning software or to create these financial plans, then all they have to do is simply review them, maybe make some changes, maybe send some edits back to the paraplanner. Then they have that much more time to present to the client and spend more time with more clients.
Michael: So you view this primarily from the context of just kind of outsourcing and delegating, like, "Yes, you can certainly do this. You are a trained and skilled advisor and have delivered many plans to clients, but you will be limited in how much you can grow, where your time goes, how much free time you've got because at some point, you're going to have a lot of clients and there's a lot of planning work to do." So if you want to keep doing it yourself, you're going to be limiting yourself. If you want to have more time and more flexibility, you'll be able to grow bigger and follow those paths. That's where the paraplanning comes in. It's not a "You can't do it." It's a "There are other people who could be doing this and that would let you spend your time in other areas."
Alex: Exactly. And I think it also comes down to valuing your time. How much is your time worth as an advisor? And does it make sense for me to outsource this to someone else that is likely less expensive than I value my own time? Or I might even be able to be more efficient than I would be doing these myself.
Michael: And I do know we actually saw this quite strikingly. We did a benchmarking study on just advisors and their financial planning process and time efficiency and found quite strongly and directly that the biggest predictive value for advisors being able to grow their income basically came down to leveraging client service administration and paraplanners, to the point that solo advisors with teams around them were actually at the high end, generating as much income as partners in billion-dollar firms just by really leveraging themselves with client service administrative support and paraplanner support so that they can maximize the time they're spending in client-facing activities that ultimately are what drives the revenue that makes the math work so well.
Alex: Exactly.
Michael: So, for an advisor that's going through this, how do you help advisors get comfortable with this idea that they're not going to be hands-on with a client plan? How do you even know what you're talking to the client about and presenting the plan if you didn't build the plan you're presenting?
Alex: You know, I think it comes down to setting those expectations with the paraplanner, having conversations with the paraplanner, and having thorough notes from that discovery call, and/or having the paraplanner sit in on the discovery call, and making sure that you're on the same page as far as what these recommendations would look like. And then when the paraplanner presents the plan to the advisor, that's the opportunity to discuss the plan in full and decide if there need to be any edits or any changes to it. And so the advisor should have a good understanding of the plan and feel confident in the plan itself before presenting it to the clients.
Michael: So I guess one of the key distinctions there from maybe what the planning process looks like for most advisors is that there is a meeting. There's an internal meeting after the paraplanner builds the plan before the advisor delivers the plan which is a "Let's go through this thing" and actually understand what's in here, and what did the analysis show, and what recommendations the paraplanner at least initially serving up and suggesting. The advisor gets to make the final call on them. But there is a "let's get on the same page about this plan" meeting that we don't necessarily do today if we're making the whole plan because you don't need that meeting if you literally just inputted all the plan. But you do end out with a meeting there to get up to speed. The difference is just, I guess, that's whatever it is. That's a 30- or 60-minute meeting to get up to speed, but it's not necessarily the 2, 3, 4, 5, plus hours that you may have otherwise been spending creating the plan, plugging in data, running scenarios, and doing these iterations, just trying to figure out what you're going to really recommend to the client in the first place.
Alex: Right, exactly. And every financial planning firm does planning a little bit differently. You have different areas of focus, different sorts of recommendations, and so these meetings are extremely important to the paraplanner as well, especially in the beginning, so that we can get to know you and your firm and your types of recommendations. And then, hopefully, as we go down the road and in the future, these meetings will become a lot shorter because we'll really know you and how you like to present plans and the types of recommendations that you like to have in your plans. And so we can become a lot more efficient down the road. But especially in that beginning, it's going to be important to have those meetings.
Michael: Okay. And so, I guess, that's just an important preparation point or mental shift to be cognizant of for any advisor that's thinking about this. It's not that you go completely hands-off to creating plans. It's just that your role is different because you are going to supervise plan creation, and you're going to get feedback on plan creation. Your paraplanner is going to help you get up to speed on what the analysis shows as you figure out what's going to be presented to the client. But it's not as though you take a plan from someone else and go into a meeting blind.
Alex: Exactly.
Michael: And so, can you walk us through a little bit more just what the paraplanner ends out doing in practice? How do you actually divvy up the planning process between the advisor and the paraplanner?
Alex: So, again, it goes back to the fact that every firm is so different and the way they operate is different. Their processes are different. And so, when they come to us and they want to hire, we ask them to go through their process and their tasks and their responsibilities and pick out what it is that they are hoping to offload first. What is it that is taking up the majority of their time? What is it that they feel like they could most successfully offload to another individual? So every relationship is going to look different. I think it's important to note that we don't have in-house paraplanners. And so our paraplanners don't do paraplanning the 'Simply Paraplanner way'. We are helping firms find a paraplanner to work directly with them. So, for example, we'll have some firms come to us – and again, remember that the term 'paraplanner' really has been an umbrella term – so we'll have some firms come to us and say, "My biggest headache is TD Ameritrade paperwork. That's the only thing I want to offload." So that's what they'll offload. We have other firms say that, "You know, my biggest headache is taking those notes and uploading them into the CRM post-meeting, etc." So our paraplanners will sit in all those client meetings or input data into the financial planning software and output them accordingly. Your financial plan, is it simply an output of the financial planning software, or is it a 10-page Word document? So it really depends on the financial planning firm and what it is that they're looking to offload and how a paraplanner can best support them.
Michael: Interesting. So you give a striking range there. So it might be, "I'm doing all these client discovery meetings, but I'm not the best at taking notes and capturing all this stuff. So I'm going to have someone in the meeting. I'm going to have the paraplanner in the meeting whose job is to make sure we really capture just the notes and the details in the way that we need to in order to actually input it into a plan later." For some, it's about taking that data and just actually getting it into the planning software – so doing the data entry part. For some, it's about producing, I guess, the plan deliverable, like, "We do this a certain way, and we create this 10-page custom Word document. So we need someone that grabs the planning software output and puts it into our Word template and adds these sections or discussions and kind of makes 'The Plan,' capital T, capital P – like makes The Plan deliverable so I've got the thing I can bring into the client because I don't really need to spend my time producing that physical document. But our process is to produce this." So someone's got to do it, so enter a paraplanner.
Alex: Yes, exactly. Every single job listing that comes to our website is so, so different, and it all comes back to what it is that is causing the financial advisor the biggest stress or taking away the majority of their time and how can we best help them. So every situation differs.
Michael: And how do I think about just, if I'm an advisor, like the line of...when do I need a client service administrator where I'm going to contact Nifty Advisor Support or one of the outsourced admin support services, versus when am I looking for a paraplanner?
When Should An Advisor Hire A Paraplanner And How Much Does It Cost? [25:30]
Alex: Yeah, that's a good question. And we do help fill all sorts of roles from client service associates up to even lead planning and then everything in between. So we see a little bit of it all. What these paraplanners don't do would be anything outside of the financial planning process. So marketing support, social media support, website help, things that fall outside of the scope of financial planning our paraplanners do not do.
Michael: Okay. And when you had mentioned things like "I need help with TD Ameritrade paperwork," is that something you happen to get on your site because you also get some administrative-oriented work, or do you think of that as paraplanning work because it's still touching plan implementation, which is separate than marketing, which is they're not even clients yet, they're prospects? How do you divide up the line on some of those?
Alex: I would consider that a client service associate position or task. And so, when they come to our website and they want to hire for any sort of these roles, we help them title them properly and decide what the position should be called, because no, I do not think that a paraplanner's role should be TD Ameritrade paperwork. But I will say that, sometimes, with solo shops, they hire a paraplanner that is a jack-of-all-trades. And if that is the case, then yes, that might fall under the scope of their tasks. But if that's the only thing they're hiring for, then they would likely be called a 'client service associate'.
Michael: So, what then leads someone to look at a virtual paraplanner? I know your platform, in particular, is kind of focusing on this virtual outsourced paraplanner. How does an advisor decide when to do virtual versus in-person or Simply Paraplanner versus going out and hiring my own full-time person, or do I use Simply Paraplanner to hire my own full-time person? How do I draw these lines between in-person, virtual, full-time, part-time, just as someone who's trying to figure out what is my solution, what do I need?
Alex: At Simply Paraplanner, we only do virtual positions. So we will not help fill any in-house positions, but we do help fill such a wide range of positions otherwise, so ranging from full-time to part-time, 1099, W-2, 5 hours a week, or as needed, all the way up to full-time. So pretty much any structure of the position, we can hire at Simply Paraplanner, but we do not do any in-house hires. And I would say the benefit of hiring virtually is the fact that you can reach so many more candidates. You're not limited to your immediate location, but instead, you can pick the best candidate for your position regardless of where they're located.
Michael: Interesting. So, to you, a lot of it is about just the sheer availability of talent that even if you're a big, dense metropolitan area, there are only so many people in the area who may be paraplanners with the right skills, with the right abilities, who happen to be looking for a job right now, who will take it at whatever dollars you're offering. And when you're willing to go virtual, you just get access to a bigger talent pool because you've removed the geographic constraints.
Alex: Exactly. And there's the flexibility behind what it is that you want to hire for? Is it five hours per week or as needed? Is it going to be...? We don't see a lot of project basis, but it could be on a project basis. Are you trying to switch CRMs, for example, or do a software switch? You could find someone just to do that project, which is great. We're finding that regardless of the structure of the role, whether it's 1099, W-2, part-time, full-time, we're still seeing, on average, about 30 applicants per job listing. So our audience is so wide that they are looking for different types of roles that it really doesn't matter what it is that you're looking for. We have a really strong candidate pool.
Michael: Interesting. So 30 applicants per job listing, meaning when a firm says, "We're hiring for this particular role we need" – whatever it is, 15 hours a week, and – "you've got to know how to use eMoney," or whatever their particular constraints are, that listing might see 30 people reaching out to say, "Hey, I'm actually interested in this. I'd like to interview for this." And are most of what you're hiring and seeing advisors seek out full-time positions, or are they more often these 5-, 10-, 15-hour part-time kinds of roles that we've mentioned a few times here?
Alex: It's pretty split. So, in October, we had 12 jobs on our job board, 6 of them were part-time, 6 were full-time, and also 6 were 1099, and 6 were W-2. And then, in November, we had 10 jobs, 7 were 1099, 3 were W-2, and I think it was split 5 and 5 between part-time and full-time.
Michael: Interesting. And the distinction...I sort of get the distinction of part-time, full-time. The split of 1099 versus W-2 is just how the firms decide they want to take this person on. I mean, obviously, if you're part-time, you're going to tend to be 1099 because you usually don't put them on a payroll, but I guess even full-time, some firms want to hire these W-2 positions, and some just want to have it more flexible as a contractor.
Alex: You have to be really careful with the 1099 versus W-2 distinction. And so we tell advisors that we certainly cannot give legal advice, and so, to definitely go speak with an attorney and figure out what makes sense for the role that you're hiring for, but we do see all different types of structures. And ultimately, it comes down to, with a 1099 contractor, that individual is self-employed. They do have control over their own schedule and how they handle tasks, etc. Whereas the W-2, you have control over the person that you're hiring. You can decide that they're working 9 to 4, 9 to 5, whatever the case is. You can decide when they're going to be available for client meetings. There's training involved. You can train the individual up on how you want them to be doing financial plans, etc. So the structure of each is different, and you have to be careful to make sure that what it is that you're hiring for can fall within either category.
Michael: And that's not necessarily a paraplanner issue per se. That's just literally like IRS employment law. You're going to hire people full-time, control their schedule, and then try to dodge your payroll taxes, basically. As you hire paraplanners into these roles, I guess I'm just wondering since you see a lot of these jobs and postings, what's the going rate? And if I'm an advisor and I'm thinking about this, what should I be budgeting for what it takes me to get a good paraplanner, a good virtual paraplanner?
Alex: The average hourly rate for a paraplanner is falling between $30 to $50 per hour.
Michael: Okay, $30 to $50 an hour. So if I think about this in sort of like roughly 2,000 working hours in a year, right, 40 hours a week times 50 weeks a year, with a little bit of vacation, so we're in the neighborhood of $60,000 to $100,000 for positions, with the caveat like that you don't have to actually hire the whole person for $80,000 or $100,000 if they are at the upper end of that hourly range. You only have to pay for what you're actually going to use because that's what you get when you hire people on a virtual, outsourced contract.
Alex: Yes. So you're paying for exactly what it is that you need, whether you're paying for someone as needed to be on standby as plans come in or five hours per week, or we've seen it variable as well. We have firms that say, "During these certain months, we need someone for 30 hours a week, and then during these other months, where we have a very light workload, and we'll only need someone 5 to 10 hours per week." And as long as you're able to describe that in your job listing and set those expectations upfront, we have no problem finding individuals that can work those variable hours.
Michael: I'm just struck by that classic – I think a lot of firm owners have experienced over the years – it's hard to find good part-time talent. Some people, I think, actually kind of characterize that as an oxymoron, like finding good part-time talent, because the good talent often seeks out high-paying full-time jobs, and then it's hard to get them on a part-time basis. So I guess I'm wondering, who's coming at this from the other end? Who are the paraplanners when there are 30 applicants coming at this for any particular listing on Simply Paraplanner site? Who are the applicants that are applying for this? Who pursues these roles?
The Types Of Applicants Who Pursue Part-Time Virtual Paraplanning Roles And How Working In A Virtual Environment Is Unique [34:33]
Alex: I think it's so interesting when I hear that there is a lack of talent or, "Who would want to fill these positions?" Because I look at the other side of it, and I look at our 2,000 paraplanners, and we have the people. And to us, it's the lack of part-time positions. And Simply Paraplanner was created because I was a stay-at-home mom. I had my first baby at the time, and as a military spouse, moving, I needed something flexible and virtual and part-time. And I was really, really struggling to find that for myself. It took me four solid years to find an entry-level part-time position that would work for us and our family. So, when I was finally able to, I decided that that was way too difficult. I don't want anyone else to feel like they have to quit before they can even start because there aren't jobs available to them. So I created this platform with the military spouse and/or stay-at-home parent in mind, but what we've seen is that it's grown to an audience much larger than military spouses or stay-at-home parents. We have a lot of career changers and people that live remotely. So, for example, we have a paraplanner on a cattle ranch in New Mexico, so being able to find a job nearby was just not going to happen. We have people caring for elderly parents. We just have so many different people coming from different life experiences and backgrounds that need flexible part-time work.
Michael: So it sounds like, in practice, yes, there are people out there that are looking for full-time roles. You get some applications for full-time roles and fill them on your site, but the special niche and the unique thing there is particularly firms that are looking for part-time virtual paraplanner work because you've got a community of professional paraplanners who really are looking for, at least in many cases, part-time work. That's the thing they want, but it's otherwise so hard to match those folks up, the people who want the part-time work and the people who are hiring for the part-time work. And so that's the match that you're making on the site.
Alex: Exactly. I mean, we definitely have full-time positions and individuals looking for full-time work. We also have paraplanners that want full-time work, but we see a lot of part-time positions come in, so they might contract with several different firms to get their full-time hours. But the true heart of the site, and where it began, was for these flexible part-time positions.
Michael: I like that – like that the heart of the site was for these flexible part-time positions. So – I guess I'm also just wondering – what's sort of the level or the candidate quality of who is applying? If I list my position and I get applications, am I getting what we talked about earlier, CFP professionals with many years of experience? Am I actually going to get a lot more newer advisors who might be aren't that far down their career path yet and they're still trying to build their experience? Is it a mixture of each? What sort of depth of experience of people are you finding that are coming to the site as career seekers looking for these jobs?
Alex: So we have such a wide range of individuals. And when you post a job listing, you're able to tag it as either an entry-level role or looking for someone with one to three years of experience, three-plus years, five-plus, etc. So we can help you target the right audience as far as how experienced you want your individual to be. And what we find is that our paraplanners are really applying to the jobs that suit their qualifications or that really speak to them and that are the right fit for them. So, say, right now we have 10 jobs on the website. We're not going to see the same 30 applicants to every single job. They are applying to the jobs that are the right fit for them.
Michael: Okay. Meaning like you've got people who are CFP professionals with lots of experience but just maybe aren't in a place or a position to have a local full-time job, and then I guess you got folks at the other end that maybe are earlier in their career stage – maybe they don't have CFP marks, maybe they don't have the experience, maybe they're even doing this to get their experience – because checking the box on CFP experience requirement is actually a challenge for some people if they don't have local full-time job opportunities. So you'll be across the spectrum, and I guess that's just the point of that's why the hourly rate ranges from $30 to $50 an hour because you're going to get a range of how experienced and credentialed your paraplanner is.
Alex: Exactly. And how experienced they are as a virtual paraplanner, you know, how long have they been working virtually in this setting? Because there is a little bit of a learning curve to working as a virtual paraplanner versus working in an office position.
Michael: How does that play out for the paraplanner? What do they need to be thinking about or prepared for if they're trying to make that adjustment?
Alex: I think there are a lot of things to consider when working virtually: the flow of events when working with an advisor, the communication style, how to present the information and plan back and forth, etc. So there are definitely some different elements to working virtually versus working in-office with someone. And I think, also, it takes someone that can work well independently because you probably will not be checking in with your paraplanner, or vice versa with the advisor, every single day like you might in an office setting. So you need someone that can work independently, that is pretty tech-savvy, that can figure out issues on their own, and also know when to communicate as necessary.
Michael: And is that training you do on Simply Paraplanner or ultimately your focus is like, "We're the matchmaker, but you decide the level of the person that you're hiring?" If you hire a less experienced, just you need to be cognizant as a firm. You may still have to do a little bit of training and feel this out if you want to get to whatever cadence or meeting or work style works for you.
Alex: We do have a training platform for paraplanners. So it is separate from the job board. It is called our Paraplanner Portal, which is a virtual academy for paraplanners, and we teach them these topics, you know, "How to work effectively in a virtual setting". We teach them the ins and outs of running a paraplanning business if they so desire because as a 1099 contractor, you are self-employed. And so, what exactly does that mean for you as a paraplanner? And we've also partnered with several different financial planning softwares, like eMoney, MoneyGuidePro, RightCapital, Redtail, etc., to offer them training on their platforms so that they can come to these roles more prepared and ready to dive in.
Michael: So paraplanners who go into the portal can even do things like they get to practice with eMoney, MoneyGuidePro, etc. And so, is that a free service to the paraplanner community? Is that a separate thing that you offer and charge for? Just how does that actually work if someone's a paraplanner and they're interested in this?
Alex: To access the portal, there is a monthly subscription. There are three different tiers depending on the services that you want to be included in the portal, but then it is a monthly subscription service.
Michael: And what pricing neighborhood are we talking about? Is this $50 a month? Is this $500 a month?
Alex: It ranges from $10 a month to $50 a month, depending on what all they want to be included with their portal experience.
Michael: Okay. And what kinds of levels are we talking about? What's the difference between the $10 tier and the $50 tier?
Alex: So the $10 tier is just basic access to our community. We have a private Facebook group, and we have some resources for them as well. We have a middle of the road option that includes our monthly webinars. We have guest experts come in every month and talk on both technical topics and soft topics. So they have access to those. Those are recorded as well. And then the $50 per month tier, they have access to all the different software training, bi-monthly coaching calls and mastermind groups, and all of the recorded videos and courses and webinars as well.
Michael: Okay, interesting. And so, how many paraplanners get involved with the portal versus just following the job site and searching for jobs directly?
Alex: So we usually have about 100 paraplanners in our portal at any given time, depending on what it is that they're seeking. We have some people that have been members with us for two-and-a-half years since we've started the portal, and then we have others that sign up and join for the length of, say, the eMoney training, for example. So it really depends on what training we're currently offering, but usually, we have about 100 members in the paraplanner portal.
Michael: Okay. And so it's not like you have to sign up for a year at a time or anything. You can come in, sign up for some period of time to get through the stuff that you want to get through, and obviously, if you want to hang out with the community, you may hang out for a long, long time. If you're coming because you just want to train in a particular area, you can come and do that for a period of time and move on if that's your preference.
Alex: Exactly. It's super flexible, and we love feedback from our Paraplanner Portal members. So we try to create services around what it is that they need and are seeking. So it's ever-evolving and changing and growing, but yes, it is extremely flexible, and they can come and go as needed.
Michael: And then, how does it work for firms that are looking for paraplanners, assuming they pay for a job listing kind of like other job boards?
What Is The Process For A Firm To Hire A Paraplanner? [44:58]
Alex: They do, yes. So we have three different service offerings for advisors, depending on how much help they want with the hiring process. So our very basic option is our do-it-yourself job listing, and with that, we operate a typical Monster or Indeed job board site. So we have a 30-day or a 60-day option, and they come and they post a job to our website. And they're really seeking us for our audience in our community, and we promote their job listing for them. And then they go on to interview, and they go on their way after the job listing. So we are very, very hands-off with that one. It's pretty automated, and that's for the advisors that have a solid hiring process in place, or we work with firms that have recruiting departments, for example, and they're coming to us because they're seeking our audience. So that is our DIY option.
And then if we flip it to the complete opposite side, we have an option called our Premier Screening. And with that, we take over the entire process for you. So we have a one-hour discovery call with the advisor, and we have them fill out a questionnaire ahead of time so that we can dive deep and learn more about them, their company, and what it is that they're looking for. Sometimes they're not entirely sure what it is that they're looking for, and so, during that hour, we can really help them figure out what this position could look like. And then our hiring specialist goes on and writes the job listing on their behalf. Once the firm approves it, we'll post it. And then, at that point, the advisor just kind of sits back and waits for us to go through with the remaining part of the process.
So our hiring specialist posts the job listing, and then they manage all of the communication with the candidates. Once the job listing closes, our hiring specialist will put the candidates through a two-phase screening process. The first phase is a thorough questionnaire where he will analyze their writing style and responses to the questions, and then phase two is a video or a phone interview with the candidates. From there, he's able to narrow down the candidate pool, and he narrows it down to who he believes to be the top three candidates for the position. And he puts them through what I call the 'A-analysis' – reference checks, sometimes a skills assessment depending on the position, and then he goes back to the hiring firm or the advisor and presents the top three candidates to that individual. And from there, the advisor goes on to interview the top three and, hopefully, select one – or several – from the top three candidate pool.
Michael: So the advisor ultimately is making the final decision of who they're hiring, but the idea is you guys are going to do the whole process down to "Here are three names and the info we've got about them, and this is what we are able to find."
Alex: Yes, exactly. We find them three really solid candidates, but at the end of the day, there are some things that we simply can't screen for. Sometimes an advisor will have a strong connection with one individual, something from their interview will really stick out to them or a personality type. So we do our best to find the best possible matches, but we do want to present to them at least three individuals for them to interview and go on to select from there.
Michael: And out of curiosity, just what happens if the firm owner, if they're like, "I'm not actually excited about any of these three?"
Alex: Yeah, that's a good question. So, fortunately, that doesn't happen very often, but it does happen occasionally. And at that point, we figure out why it is that they were unsatisfied with the top three candidate pool. Did we misunderstand what it was they were looking for? Or sometimes they'll be presented the top three candidates and they'll say, "You know what, this other software is actually more important to me that they're proficient in than this one that I originally thought. So let's go back and regroup and reassess." So, at that point, we'll go as far back in the process as we need to, to find them a new top candidate pool. So whether we can review the existing candidate pool and find them a new top candidate selection, we'll do that, or if we have to go back to the very beginning and rewrite a job description to attract a different kind of candidate, we'll do that as well.
Michael: And from the firm's end, do I pay again for another screening if you have to go back again? Do I have like a partial fee if you have to go part of the way back? Or is it like your fee covers me until I get to the end? And obviously we're all hoping we'll get there quickly, but if we've got to change course and do another round, then that's part of the package.
Alex: Yes, it's just part of the package. You wouldn't have to pay again if we had to restart. So you have 30 days from when we present to you the top 3 candidates to let us know that, "Hey, this isn't what I was hoping for. I'd like to review different candidates," for us to go back and have it still be included in your package.
Michael: And then you said those were kind of bookends. There's the "Do-it-yourself list your job". There's the premier version: "We run the whole process for you." It sounds like there's something then in between if there are three choices.
Alex: Yes, there is a middle option. It's called our Guided Hiring. And we created that because we found that some advisors – especially the solo shops – they really want to be involved in the process, but they also need help along the way. They don't have anyone to bounce ideas off and discuss the process with and know these candidates as well as they do. So we do have a middle-tier option, and with that, you do still work with our hiring specialists, you still have that discovery call, and he will write the job listing for you and post it on your behalf. But the difference is that our hiring specialist will now give you the tools that he would have used to screen the candidates. So he gives you the questionnaire that he would have used. He gives you sample interview questions, etc. The advisor then goes on to screen the candidates, and then he can come back and have a one-hour call – our hiring specialist can have a one-hour call with the hiring advisor or hiring firm to discuss any of the candidates, review anything, and really have a discussion post-screening to have some support. So the middle option is for someone who wants a lot more involvement in the process but still wants our team to be a part of it.
Michael: And how are these tiers priced? What does it cost me as a firm owner?
Alex: The DIY job listing is $349 for 30 days or $449 for 60 days. Our Guided Hiring, the middle option, is $2,499. And then our Premier Screening is $4,500.
Michael: Okay. And again, like I just kind of pick "how deep do I want to be in this," or "how much support or outsourcing assistance do I need on this"?
Alex: Exactly. And something that we get asked all the time is, "Are these the only fees associated with these packages?" I know that there are other business structures out there where, say, the company helping with the hiring will take a percentage of the hourly rate, for example. And so, for us, at Simply Paraplanner...
Michael: Percentage of salary that you hire for, right, all those kinds of industry recruiting packages. You see that a lot for advisor hires.
Alex: Exactly. But over here at Simply Paraplanner, those are the fees. That's it. It's at $2,499 or the $4,500, and there's nothing else. So you go on to hire or contract with the individual we present to you directly. There's nothing else that's coming back to Simply Paraplanner.
Michael: But again, and this is all specifically like for those who want to hire paraplanners, you're not running a search to find me an advisor with 11 years of experience with a book of business that can come over to my firm kind of thing. You are living solely in the paraplanner world. That's the focus.
Alex: So, no, we do see all sorts of positions. Like I mentioned earlier in the call, they come to us, I think, originally, they think it's a paraplanner role, but it can range from client service associate up to lead planners. We have helped hire lead planners. So, in October, with those 12 positions that we had, they were totally split between client service associates, operations, paraplanners, and lead planners. So we had three of each of those.
Michael: And your pricing for the supported roles is all the same across those? You don't necessarily make a distinction? Like if it's a part-time role, it's a lower fee than if it's a full-time role?
Alex: It's just a flat fee, regardless of what it is that you're hiring for, the role, the hours per week they're hiring for. It's just a flat fee for the search.
Michael: So help us understand more of like what your path was that you ended out in this role of creating this platform for helping paraplanners find jobs and for helping firms find paraplanners. You'd mentioned sort of the challenges of being a military spouse and stay-at-home parent and trying to work your way into the industry. So were you always looking at this as a pathway, or was this like a shift for you because you started out in a paraplanner role? What was your journey?
Alex's Journey That Led Her To Create Simply Paraplanner And Where She Sees The Business Going In The Future [54:42]
Alex: It definitely was a shift, and it's still something that I wrap my head around, because I personally am a CFP professional and that was always my goal, was to be a financial planner and have my CFP marks and everything. But along the way, it shifted, and I decided – as I was pursuing my CFP designation – I decided that it was just too challenging. And I felt that feeling of wanting to quit before I even had my chance, and it was so frustrating. And so I decided that I wanted to help others. And so I started the job board in 2015. 2015 was sort of my last-ditch effort to find a financial planning gig, something entry-level, and I had been searching and searching. And I heard about the XY Planning Network conference, and I thought, "Oh my goodness, these are my people. They are all working virtually. If I'm going to find a job working virtually, it's going to be at this conference." So I went out...
Michael: And that was the first year of the conference. Like XYPN was just getting going at the time.
Alex: It was, yes. It was such a small conference at the time. It was in North Carolina. And I flew out there and left my baby for the first time. It was a big deal, and I felt like, "I'm going to walk away from this conference having it been worthwhile. This is going to mean something." And fortunately, it did. I landed two jobs at the conference, and I also found it to be a recurring theme during all of the sessions. It was, "How can I find outsourced support? How do I hire a virtual paraplanner?" So it was at the conference, I remember calling home to my husband and saying, "I have this idea. I'm going to create a job board. I'm going to connect all of these advisors with all of these military spouse financial planners or paraplanners that I know, and it's going to be amazing." And he was so sweet. He was like, "I don't really get it, but I support you. Go ahead and come home and we'll figure this out." And so I kind of did both simultaneously. So I was pursuing my CFP and was working as a virtual paraplanner while also launching this job board.
So, for the first two years, it was just a very, very basic job board. I learned how to create a website on my own. I didn't have a lot of extra time in addition to having a baby and now working with two different financial planning firms. So it was just a very basic website. About two years later, in 2017, I had gotten my CFP marks. That was my primary goal at the time. And at that time, I had 300 paraplanners on the website, and I had given it so little attention. It was basically just a standalone website, and that was it. And that's when I decided, you know, Jen Pritchard, who is my business partner, kind of came into my life around that time as well through a mastermind study group, and she had this fantastic vision as well, and we have the same passions, and we decided at that point, "Let's give this a shot. Let's give Simply Paraplanner our attention and try to grow it into a business and see if it's even possible." So 2017...
Michael: So early on, you've made the job board. It was out there. Like I guess people could buy a job listing and some advisors were showing up to find jobs, but I guess there wasn't a lot of volume. This was still kind of more side hustle.
Alex: Yes, definitely. It was totally automated. Everyone found it through Google searches or word of mouth. And it was just really a side hustle at that time. So 2017 was pretty pivotal. At the end of 2017, early 2018, we found out we were moving to Hawaii. I was getting ready to have my next baby. Jen Pritchard came on board, and so I decided to pause the CFP side of me, my virtual paraplanning side, and just give Simply Paraplanner my all and see what would happen. And it has grown significantly since 2017.
Michael: So I'm curious about this kind of transition moment of saying, "I'm going to step further away from the planning firm work and kind of take the leap into this as a primary focus, as a full focus." So, what was going through your head in making that transition or trying to decide if you're going to take that leap?
Alex: I think it's because we had such a big vision and idea of what this could be, and it was at that time that we decided to launch the Paraplanner Portal as well. So we had this audience of paraplanners, and we felt like we weren't providing them enough service or we didn't really have anything for them until we had a job listing. And so I really felt for them. I felt like we needed to create something that they could benefit from, even while we didn't have job listings. At the time, we were lucky to have job listings maybe one or two per month, which is not the case anymore, but back then, I felt like we needed to create something for these paraplanners. So I think that probably helped me decide to make the leap and grow this virtual academy, which took a lot of effort and time on my part, and I knew that I wouldn't be able to juggle it all.
Michael: And then, how did it work in, I guess, taking on a partner as well and Jen Pritchard coming into work with you? So, how did that work? How did that come together?
Alex: So Jen and I met through a mastermind study group for virtual paraplanners. Back in the day, I could count on one hand the number of virtual paraplanners that I knew or was able to network with through Facebook and LinkedIn, etc. And she and I just had really similar passions and beliefs of what paraplanning could become. And she and I are so greatly different that it was, you know, really beneficial. She came through a financial planning program in college and went more the traditional route and realized it wasn't for her. Whereas I did not go through a financial planning program in college, and I pursued it a little bit later when I was a stay-at-home mom. And so we had very different perspectives and very different backgrounds, and we operate very differently. I am extremely high quick start, and she is extremely low quick start. She is very process-driven, and I'm not process-driven. So our qualities just really meshed really well, and we were able to create something really wonderful together.
Michael: And how do you look at that just from, I guess, the business perspective and launching perspective? I know, whether it's kind of this endeavor or almost any advisors that come together to form a partnership, the hardest thing about being in the early stages of a business is there's often not enough dollars coming out just to feed the family or get to the income goals that you want. And I know, often, the only thing that's harder than trying to get your business going when there are not enough dollars coming out of it is splitting it in two. So, how did you think about trying to come together with someone and make that transition if you also weren't thrilled with how many job listings and how much was coming through in the first place?
Alex: I think, back then, to us, we still viewed it as a passion project. At that time, I don't think either of us really viewed it as a business. We wanted it to become a business, and we had dreams and goals of it becoming a business, but it had still just really been this passion project – almost like a volunteer project – having this website just live in the universe that we didn't really give too much into. And so there wasn't much of it, anyway, in the beginning. So I don't think...yes, it was hard bringing someone in when I'd been working on this for so long. And what if our visions don't really align down the road? But Jen and I had known each other for some time, and it was obvious that we had the same end goal for this. So it really wasn't too difficult, and when I say this was a passion project, it absolutely was. Jen did and still does have a full-time financial planning job outside of Simply Paraplanner. Whereas for me, this is my job.
Michael: Okay. And so, where do you see it going from here?
Alex: That's a good question. I really hope it continues to grow. We were really promoting virtual jobs and trying to really change the dynamics a lot pre-COVID. And now that there's a pandemic, most people are working virtually anyway. So that changed things a lot for us. It really normalized working virtually, which has helped tremendously. And it's been a lot easier having firms come on board with the idea of bringing on a virtual team member because everyone was thrown into it, anyway. So we've really hoped to continue expanding the job listings. Back in 2017, I think we were lucky to have 1 or 2 job listings per month, and now we have 10 to 15 per month. So I hope that we can just continue to grow that. And on the virtual academy side, the Paraplanner Portal, we have plans to continue growing that as well. Similar to Simply Paraplanner, we were just sort of testing the water with the Paraplanner Portal to see if that was even a viable idea, a viable option. And it has been. It's been very rewarding, and our paraplanners have really enjoyed it. So we do have plans to grow the virtual academy as well.
Michael: And as firms go through this, I guess I'm just curious. What do they...are most firms using this as a do-it-yourself sort of on the job board end? Do most firms actually say, "We're not even sure how to hire virtually. We want your full premium tier of 'run the whole hiring service for us'?" I'm just wondering what you see for firms or firms that are thinking about this. What should they realistically expect? Because I'm sure you have your share of horror stories across the board of firms that tried their own thing and it didn't go well.
Alex: Yeah. Again, it's pretty split between what it is that they're looking for. The people that go for the Premier Screening package are doing it because they are looking for a long-term fit, whether that's a five-hour-per-week individual or a full-time individual. The hours per week don't really matter as much as the fact that they see this being a long-term engagement with their paraplanner. And that's how we view it as well. We are really, really striving for long-term placements with the Premier Screening. The very first one that we did back in 2017 – at the end of 2017 – just celebrated her 3-year anniversary with the firm that we placed her with. So that's our goal. We want people to be able to grow within these firms that we are helping place them with. And then, on the other side, the DIY jobs, those are more for firms that might not be so sure about hiring someone virtually. Maybe they're not sure that it's a viable long-term option. They're still new to this idea, or maybe they have a project that they want a paraplanner to help with. What we do see sometimes, though, on the DIY side, are firms not following through with the entire process. We have one firm that has a job listing. He's posted with us three times, not because of turnover, not because of growth, simply because he never followed through with the actual hiring process the past two times. And so, with the Premier Screening, there's accountability the entire way through our team. So we are making sure that you are continuing through and actually following through with your intent to hire someone.
Michael: Interesting. And I guess that makes sense to me that just the firms that are really looking for larger scope positions, I would imagine kind of full-time or at least a large chunk of part-time hours and want a long-term fit, are willing to invest more dollars into the screening and fit process. The firms that might just say, "I just need someone to help out for 5 to 10 hours a week. I just got to start getting some stuff off my plate and getting some help, and maybe that'll expand to something bigger in the future," are more likely to do the just, "I'll do a job listing. I'll try to find someone. Frankly, it's relatively low stakes. If it doesn't work out, I'll list again for someone for 5 or 10 hours a week until I find someone that's a good fit for the contract work I need for now."
And so help me understand again just this journey piece of, you've mentioned a few times, like the challenge and frustration that you had in trying to find a job in the first place. So take me back to that, like, before you ended out going in the route to do the Simply Paraplanner role. What was the problem? What was so difficult about finding an advisory role?
The Challenges That Alex Faced Finding A Virtual Advisory Role [01:08:24]
Alex: Yeah. So when I started, as a military spouse, we were stationed overseas in Okinawa, Japan. So the location was a big factor. I applied to a bunch of positions and tried to pitch myself as working virtually, and unfortunately, it just wasn't the norm back then. So I'd go through the interview process. They say, "You sound great." I say, "Is there any chance I can work virtually?" And they say, "Oh, sorry, that's not going to work for us in our structure and this position." So, at the end of our time...
Michael: And I guess the double whammy at that point is it wasn't even just "I need to work virtually," it's "I need to work virtually and I'm..." What would that be? 10 hours? 10 to 13 time zones away? Depending on which coast you're on. It's one thing to say, "I'm in San Francisco and my virtual paraplanner is going to be over in Tahoe." It's another to say, "I'm in Boston and my virtual paraplanner is in Japan." I guess the practical time logistics also get hard at some point.
Alex: Absolutely. And I knew it was a stretch back then, and so I just kept telling myself, "Our assignment's almost over." We were there for four years, and I just kept saying, "Our assignment's almost over. Soon, we will be back stateside. And I will be in a big city, and I will be able to work within a firm. And everything will be wonderful, and I'll pursue my CFP at that point." I had passed the exam while we were in Okinawa, but I kept telling myself, "Things will be great once we go back to the mainland." Well, our next assignment was in the middle of nowhere, Oklahoma, like the middle of cotton fields. It was two-and-a-half hours from Oklahoma City and three hours from Dallas, straight in the middle of those two. So we were just as remote, it felt like, as we were in Okinawa, Japan. And I was just devastated, career-wise, because I had these big hopes and dreams, and there were no financial planning firms anywhere nearby. So again, I had to pursue virtual opportunities. And it just wasn't an option. I applied like crazy, and I sent out cold emails like crazy. And I tried pitching myself so much, and I just kept getting rejected and denied until I went to that XY Planning Network conference.
Michael: Was this just that 'virtual' wasn't a thing, in general? Was this sort of time zones and distance instead or on top of it? What do you think was driving this?
Alex: I think it was more that working virtually within our industry just wasn't a thing back then. It was so, so uncommon. I mean, I was in Central Time Zone, so that wasn't really an issue. It was just that working virtually was pretty unheard of back then.
Michael: And what do you think is so different now? Is it just the mental mindset has changed? The average home internet is certainly faster and more stable than it was before. But we've been Netflix-ing for a while, so we can do video calls with our team members for a while virtually if we had to. What do you attribute the shift that you're seeing more ramp up now, or I guess at least before this year? Because, clearly, the pandemic this year has kind of changed everybody's views around it, but it sounds like you were still seeing some pick up even before the pandemic broke out of just more acceptance around virtual models.
Alex: Yeah, I think a lot of it does come down to mindset. I know that there was a lot of fear before of, "How can you create a relationship with a team member virtually? How is that even possible? How will you be able to get to know my clients virtually?" Or, "I meet in-person with my clients, how are you going to be able to come in then as a virtual paraplanner and step in?" and like, "Could you participate in those meetings, or can you not, because they're in-person and you're virtual?" And so I think there were a lot of obstacles that people had to overcome mentally to come to terms with this idea of working with a virtual team member.
Michael: And so, how do you get over that now? Well, right now, I guess we're in our temporary pandemic world where everything is virtual, but presumably, soon enough, we'll be back in our realm where I might be meeting with my clients in person again. So, am I still working with my paraplanner virtually, and how does that work? Am I sitting across from the client, but they're going to be on the screen, looking at us through a multi-in-person-plus-Zoom thing? How do firms handle that?
Alex: There are a few different options to handle the situation where you meet with clients in-person and you have a virtual team member. We've seen it where, say, the advisor has a virtual team member. They'll either have them Zoom in or conference call in before the clients walk in. That way, it's a lot less awkward, trying to fumble and get them in on the call. But instead, when the client walks into the room, you can say, "Hi. I want to introduce you to so and so, our virtual paraplanner, who will be joining the meeting." Yes, it might be a little weird because they're on a video screen, but it's a lot less awkward when they walk into the room and are presented in that fashion. They can either conference in or Zoom in. I've also had client meetings recorded before and then uploaded to a folder where I could access and then take notes that way as well.
Michael: Interesting. So they'll turn the audio recorder or literally a video camera and send you something?
Alex: Just an audio, yep, and then upload it to a shared folder. And then I would create the notes from that recording.
Michael: Interesting, okay. And so, as you look at it, where do you envision paraplanning and professional paraplanning going from here?
Where Alex Sees Paraplanning And Professional Paraplanning Going In The Future [01:14:32]
Alex: I think it's just going to continue becoming the norm, especially now, post-COVID. March and April were very, very quiet months for us over here at Simply Paraplanner. Everyone was trying to figure out what the new lay of the land was going to be, figure out what the pandemic was going to look like. And then July was the busiest month we've ever had at Simply Paraplanner because I think people just came to terms with the fact that this is a long-term arrangement. And I think a lot of the hiccups of working virtually had been figured out, and people realized that this is a very efficient and effective way to scale your business and bring in a team member without having to hire someone full-time.
Michael: And what about from the paraplanner's end? You've kind of talked about this sort of there's a career track piece here, there's just a flexible work environment piece, there's a being a professional paraplanner as sort of the terminal job because you want to do that, not necessarily as a steppingstone. How do you see those roles taking shape? What does that career path look like in the future?
Alex: I think it's going to continue growing in its own right and continue. I would love to see...so over in the U.K., for example, I know that they have different levels of certification of a paraplanner, so you can tell how experienced they are, etc. And I would love for one day for us to get to a place like that where the paraplanner role is a professional role and you can have different levels of experience within the role. We have been reached out to by a college program that wants to create paraplanning as its own track within their financial planning program. So I know that it's growing, and I know that people see the future of it as well. So I'm so excited to continue to watch the role of a paraplanner grow.
Michael: It's an interesting shift to me that, first, we started having some of these roles emerging at a leadership level. It was only about 10 years ago that I started seeing directors of financial planning start cropping up at, at least, at mid- to large-sized firms where there's a person who is responsible for the planning stuff that the firm does and delivers but isn't necessarily in a client-facing client management role. They just really own the planning work that's being done in the firm. And now, I feel like we're seeing paraplanner roles built out in increasingly senior levels that move up towards those kinds of leadership positions, at least for people that want to move into leadership positions that, as you said, just didn't exist not that long ago.
Alex: Yes, I think it's very exciting, and yeah, I hope that they do continue to grow and become a standard and become a viable option for people entering the industry. And I hope people can see it as another option instead of feeling like there's only one road to success or one end goal that means success. I hope that they're able to see that there are different routes now that you can take. You can be more introverted and want to stay back-office and still pursue a legitimate career within financial planning.
Michael: I think it's just a power thing unto itself. You can be more introverted and stay back-office and have a career path. Back many years ago, at the FPA Retreat conference, they opened with a circle gathering, and the question I used to ask there for many years when I was kind of on a similar journey in the early stage of my career was, "What does it mean to be a great financial planner if you're not focused on managing client relationships?" We can sort of acknowledge, there are great lawyers who don't want to litigate in court. There are great doctors who don't necessarily want to take and meet with patients all day long. We don't really have a mold of, "What does it mean to be a great financial planner that isn't in a client-facing role?" To me, that whole path seems to be one that we're in the process of actively creating and inventing right now.
Alex: Absolutely. And I hope it does encourage more individuals to enter the industry or pursue these designations and pursue a career within financial planning that might not have before. When I asked our group of military spouses, a lot of them went on to become financial counselors but chose not to pursue the CFP, and I asked why. Why do you guys stop and not want to pursue the CFP? And most of them said because they didn't want to go into sales. They didn't want to be worried about bringing in new business. And that entirely was preventing them from wanting to pursue the CFP designation. So I hope that this can change that mindset a little bit and show people that you can pursue the CFP or another designation. You can pursue a career in financial planning and not have to worry about producing later on.
Michael: So, as you've gone down this journey, what surprised you the most about trying to build your own business?
What Surprised Alex The Most About Building Her Own Business And The Low Point In Her Journey [01:19:58]
Alex: Good question. Probably the roller coaster of emotions, you know? Some days, feeling like, "Wow, this is going fantastic. This is a really great idea." And then other days, feeling like, "What am I doing? This doesn't make any sense! Why am I even going down this path at all?" And I don't think... I never set out to be an entrepreneur. That was never something that I envisioned for myself. And so, falling into that position and figuring it out as I go and having those high highs and low lows has definitely been surprising for me, but also appreciating that it is a pretty small tight-knit community. Yes, it's a very large community, but it's also pretty tight-knit, and people are willing to help and share experiences. And a lot of people have a passion to help our industry and grow it and make a positive impact. And so I think it's a very welcoming industry to be a part of.
Michael: So, what was the low point for you on the journey?
Alex: I would say a lot of it revolved around being a stay-at-home mom, and struggling with reliable child care, and bouncing a baby in one hand and answering phone calls on the other, and trying to be a professional, or sound like a professional, but really I'm locked in my closet while my baby is screaming on the other side. To have this appearance of a successful business, and moving – being a military spouse as well, was difficult. I remember launching the Paraplanner Portal from...I was eight months pregnant; we were living in a hotel in Hawaii. We just moved to Hawaii, and I had our kickoff call on the balcony of my hotel room early in the morning so that I wouldn't wake up my husband and kids. And so just trying to juggle both sides of it, trying to be there as a mom without reliable child care, and also be this professional that I'm trying to portray.
Michael: To me, one of the things that it's long been a frustration for me, I feel like we don't talk about enough within the industry is just the dynamics of family and child care and the toll it takes on starting advisory businesses in general and just, I guess, kind of the reality of the world today. A lot of those tasks disproportionally fall to women. Some you kind of have to because we can't carry the babies yet. We'll see what modern science does in the coming years. And at least how a lot of households divide household labor and child care as well, I know a lot of women that were looking at becoming advisors, and the challenge essentially came down to child care and sort of this concern about a tradeoff of, "If I decide to have a family when I'm the lead advisor and running the business, my business basically stops while I take time to have kids, and I'm concerned if that's going to set me back too far in the progression of the business." I don't know what the magic answer is, but it strikes me in hearing the journey and what you're talking about here that, I'll admit, this is a story I feel like I've heard from a lot of women trying to navigate past in the advisor world and some men, but not as many, despite the fact that, at least on CFPs themselves, we're still at about 77% male and 23% female.
Alex: Yeah. And I wish I could go back in time and tell myself back then when I was trying so hard to separate the two and come off as this one sort of professional of how I envisioned I should be professional, and then, in reality, being a mom at home with little kids. And I wish I could go back and tell myself to give myself a little more grace and forgiveness. Because especially now, post-COVID, there's so much more acceptance and understanding. And if a child runs into my Zoom meeting in the back, whoever I'm chatting with says, "Oh my goodness, my kid's in the other room as well, doing virtual learning." And there's so much acceptance of it right now that I wish I could go back and tell myself that it is okay. It's okay to be a human and be a mom and be a parent and be balancing all of this.
Michael: It is an interesting dynamic that, on the one hand, I can try to make the case that it's always good to kind of be your authentic 'you' and show up with the reality, which is, "Yes, I'm a parent and there are kids in this house as well as we're having this call." But you do make an interesting point that, to me, this is another area where the mindset has really shifted around doing this in the pandemic environment where so many people now have had some version of an experience of, "Yeah, my kids are in the other room doing home learning," or "Our family has been impacted by this as well." That I do feel like it has become a lot more relatable than it was in the past. Although even the...what was it, the BBC journalist quite a few years ago who had his kids coming into his room. That went viral because it related to people.
Alex: It was so relatable.
Michael: Yeah, yeah. So, what advice would you give to younger, newer advisors looking to come into the financial planning world, and particularly if they want to go a professional paraplanner route?
The Advice Alex Would Give Newer Advisors Or Paraplanners And How She Defines 'Success' For Herself [01:25:45]
Alex: I would tell them to pursue their dreams. Try not to let any sort of idea of what your career path should look like or any of these obstacles that are probably mental obstacles preventing you from pursuing something that you love stop you. If you're interested in becoming a professional paraplanner or just a paraplanner in general, I recommend beginning your education journey, whether that's through the paraplanning designation or pursuing the CFP, because that's what the majority of our firms are looking for. They're looking for someone that's hopefully completed the CFP education coursework. Just start digging in and reach out to others that are like-minded and in similar situations. We do have an open Facebook group that's called the Simply Paraplanner Community, so you don't have to join the monthly membership to be a part of this. This is just an open community where you can ask questions and pick apart people's brains and learn about their situations and figure out if this is the right path for you and learn best practices. It's a really, really welcoming group of individuals and community that we've created.
Michael: And initial, I guess, career steps. I know the blocking point still for so many is "I need the job experience to get my CFP marks, and I need the CFP marks to get my job experience." So, how do you look at job experience when you're pursuing paraplanner roles, or how do you see this working in the future?
Alex: I think a lot of paraplanners have to be prepared to start in maybe a client service associate role to get their foot in the door, to begin working their way towards a paraplanner position. I know that the term 'paraplanner' used to mean entry-level, but a lot of firms right now are looking for paraplanners with experience. And so a paraplanner role may not be entry-level anymore. So just knowing that there may be other ways that you have to get your foot in the door through internships, client service associate roles. I know that FPA has their externship that can help a lot. We are starting an internship program as well. And recently, one of our webinar guest hosts talked about how to pitch an internship yourself to a firm, how to try to convince another firm to bring you on as a virtual intern, and the value that you can provide to their firm, and what the structure would look like, and sort of like a pitch deck for you to present. So just know that the competition is stiff right now for these positions and you may not be able to start in a paraplanner role.
Michael: That's an interesting framing that there was a time not so distant past that, I think, paraplanner was framed as kind of the entry-level role and step and that it's maybe morphed a bit now that, increasingly, a lot of people moved to paraplanner roles from client service administration roles, from more administrative paths, and that that actually becomes a stepping stone to get to a paraplanner role. And I guess, from just a practical perspective, it also helps you fulfill your experience requirement because that stuff does count, not towards the two-year experience requirement, but counts towards the three-year experience requirement for most firms, in being in an advisory firm in the first place.
Alex: Yeah, definitely. And I think those roles also help you get a good feel and understanding of the firm that you're working with so that when you are in a paraplanner role, you have so much more understanding of all the different moving pieces, and I think you'll be able to do your job much more effectively knowing what you had learned in the CSA role.
Michael: I joke sometimes. I see a lot of new people coming in the industry really, really focused on trying to find the perfect firm and the perfect job, and usually, really try to urge them that almost no one finds their perfect job out of the gate. Not the least of which, because you may not even actually realize what's the perfect job for you until you do some stuff for a while and realize like, "Oh, there's this thing that I thought I like doing, but I don't actually like doing that part. I like doing this other part more. I think I'm going to find another job that does more of that." That I find for so many advisors that go through this. Their first job, even if they thought it was what they wanted, really just sent out kind of being a random stab at it. Their second job is usually the opposite of the first. Whatever they liked the least about their first job, they make sure is the box that they check for the second job, so it tends to, like, the pendulum swings the opposite extreme – usually too far in the opposite extreme. And the third job is usually the one that they end out in for the long term.
Alex: Yeah. I think it's also really important for these individuals to note that, while I love Simply Paraplanner and I've put my heart and soul into it, it's definitely not the only place to find virtual jobs. We only have so many coming through and the competition is really stiff. If we're getting 30 applicants per job listing, there are 29 other solid candidates applying for the same position as you. So what we encourage our members of the Paraplanner Portal to do is to reach out themselves, try to find jobs elsewhere. There are various Facebook groups you can be a part of. There are different forums that are looking for paraplanners. There are other job boards as well. And then you can always pitch yourself. You can create a pitch deck and cold email or cold call firms as well. So you have to be looking all over and not solely through Simply Paraplanner.
Michael: And you do encourage advisors to go that far, of cold emails and pitch decks, even for finding a paraplanner job?
Alex: We have found it to be successful, especially since we have so many paraplanners on our job board. Some of them just have struggled to stand out in the crowd. And so finding someone...I've seen it posted a few times on the CFP forums, for example, or the FPA forums, someone will say, "Does anyone know where I can find a paraplanner?" And if you're the one reaching out to them and saying, "Hey, here's my pitch deck. These are the services that I offer. I would love to speak to you more about this position," that's been working really well. Or listening to podcasts and listening to firms that sound like they are overwhelmed, or maybe they have waitlists, or maybe there's some indication on the podcast that they could use some help, reaching out to those and presenting yourself and your services and what you could bring to the table.
Michael: I love it. I love it. And I do find that, for advisory firm owners that have lived the role of building a business and building clientele, which means doing all that – at least scary for some people – the prospecting, the going out there, the reaching out, the risk and fear of rejection, all the hard stuff that goes with that, I do find advisory firm owners tend to be disproportionately appreciative of people that can do cold emails and cold pitch decks and deliver them reasonably well, because that firm owner is probably putting themselves in your shoes and like, "Wow, that was really hard, because I remember what it was like when I was doing that at that same age, and that was difficult." Some respect for you for even having made that cold email and giving it a shot.
Alex: Yeah, definitely.
Michael: So, as we wrap up, this is a podcast about success, and one of the themes that always comes up is just the word 'success' means different things to different people, sometimes even changes for us as we go through our lives. So you're building this successful business around Simply Paraplanner and creating a marketplace for the firms and the candidates that want to find these opportunities. How do you define 'success' for yourself at this point?
Alex: That's a really great question, and I think you have a good point that your definition of 'success' can change and that's absolutely okay. To me, 'success' means feeling fulfilled, and I find fulfillment in making an impact around myself. I feel so fulfilled in knowing that so many individuals are finding jobs with my help. I think that is huge. I set out on this journey to make a difference in one person's life and help one person find a job, and instead, I've been able to help lots of individuals. And I hope to continue. As long as I continue to make an impact and help others around me, I hope to continue down this path and journey. I always thought that becoming a financial planner and a CFP was going to be my definition of success. That was my end goal. And I have become a CFP, and I do feel successful because of that. I hope one day to go back and be client-facing again and provide financial advice because I think that's impactful as well. But, yeah, I think finding fulfillment in what you're doing is success to me, and I feel like I am doing that with Simply Paraplanner right now.
Michael: I love it. I love that framing, and that – as you noted – fulfillment is around having an impact on others, but there are lots of different ways that you can do that, including sometimes the way you end out doing that is even the thing you thought you were going to be doing originally until you got there.
Alex: Yes, definitely.
Michael: Well, thank you so much, Alex, for joining us on the "Financial Advisor Success" podcast.
Alex: Thank you so much for having me, Michael.