Executive Summary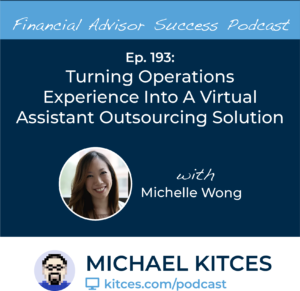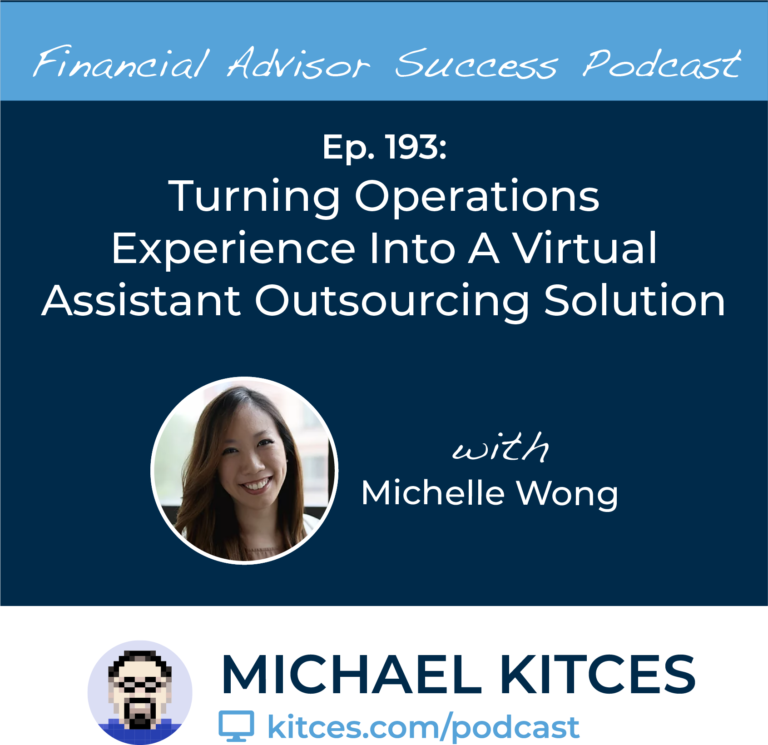 Welcome back to the 193rd episode of Financial Advisor Success Podcast!
My guest on today's podcast is Michelle Wong. Michelle is the founder of Nifty Advisor Support, a virtual assistant outsourcing solution serving more than two dozen independent advisory firms across the country. What's unique about Michelle, though, is the way that she's been able to capitalize on the dual trends of outsourcing and virtual teams by pivoting her own career in operations and as a client service administrator into an entrepreneurial venture.
In this episode, we talk in-depth about the rise of virtual assistant solutions for financial advisors. The kinds of advisory firms that choose to hire virtual assistants to help with everything from marketing to client servicing to paraplanning, the typical tasks that especially solo advisory firm owners can outsource to make themselves more efficient, and how Michelle's firm structures its solution to provide support across all three areas.
We also talk about the practical mechanics of how it works when taking on a virtual assistant as a financial advisor. How the typical cost of a virtual assistant is a higher hourly rate than hiring a full-time staff member but may be a fraction of the total cost when firms only have to pay for the productive hours they actually need. The benefits of using an external firm to avoid the responsibility of training staff members on key systems as a busy advisor, how virtual assistants typically work with firms through a combination of task and workflow systems within an advisor CRM and separate communication tools like Slack, and the way that cybersecurity with a virtual assistant can now be managed using third-party solutions like LastPass.
And be certain to listen to the end, where Michelle shares her frustration that so few advisory firms have a clear career track for operations team members the way they often do for their advisors. Why the flexibility and work-life balance of virtual work is just as relevant to operations team members as the rest of the advisory firm team, and the way Michelle has been able to scale her business by finding others in the industry with similar operations and client service experience who want career opportunities with greater work-life flexibility.
So whether you're interested in learning about hiring a virtual assistant, how Michelle created a career path for operations team members, or how outsourcing can make your firm more efficient, then we hope you enjoy this episode of the Financial Advisor Success podcast.
What You'll Learn In This Podcast Episode
How Advisors Can Incorporate Virtual Support Into Their Practices Whether Their Firms Are Virtual or Hybrid [06:35]
How Nifty Communicates With The Advisors They Serve [15:31]
How Advisors Can Use Virtual Support To Increase Their Firm's Efficiency And The Services That Nifty Offers [23:12]
What Advice Would Michelle Give Advisors Who Are Interested In Outsourcing Work To Virtual Assistants [35:11]
How Michelle Structured Nifty's Tiered Retainer Model Pricing [38:06]
How Michelle Finds Talent and Supports New Advisors Gaining Industry Experience [46:34]
How Finding Her Work-Life Balance Led Her To Create A New Career Path In Operations [51:03]
What Types and Sizes Of Firms Benefit From Using Virtual Assistants And How To Choose A Virtual Assistant Service [01:05:21]
What Surprised Michelle The Most About Building Her Business and What Does Her Typical Week Look Like [01:16:25]
What Was The Low Point In Her Journey, What Advice Would She Give New Advisors, And How Does She Define Success [01:21:53]
Resources Featured In This Episode:
Never miss a Financial Advisor Success podcast episode! Get notified of the latest episodes (and all our research as it's released!) directly via email:
Full Transcript:
Michael: Welcome, Michelle Wong, to the "Financial Advisor Success" podcast.
Michelle: Thank you. I appreciate you having me.
Michael: I'm really looking forward to the discussion today and talking about the business you built, which I think is still a little bit unique in our advisor world. You live the side of support services to advisors with a virtual assistant service of operations support, paraplanning, and marketing support and all of these functions that we inevitably need as advisory firms as we grow and hit a certain size and scale where, as the founding advisor, you can't literally do all the stuff on your own. And it's one of those roles that I feel like just historically, as advisors, we have 'always' hired these with staff in our office. In fact, the biggest reason for a lot of advisors to get an office is – as soon as you need someone to support you on client service, to do that paperwork, then you need an office – a place for the client service administration to be so that you can hand them the paperwork, collect the paperwork, and file the paperwork.
And I feel like we're at this strange crossroads of, the world is going digital, like, we can actually e-sign things now, in a pandemic environment that's forced us to work virtually. And I feel like it's creating this whole fresh look renaissance of, "Do we really need that office space? Do we need so much office space? Could we work more virtually? If we did work virtually, how would that work?" And I know you live this – you were living this before the pandemic – you live this world of providing virtual assistant services to advisory firms. And so I'm just excited to talk today about what that looks like. Like, is this a trend of the future? Is this a niche solution for the future? Like, who thinks about virtual assistant and virtual paraplanning services? And just like, how does this work when you can't be in the meeting with me and give the client the papers and collect them? Because that's just so what we're used to, even though we're not really doing things with paper as much as we used to anymore.
Michelle: I think a lot of the nervousness from converting an office from in-house to a virtual environment is just, part of it, is unfamiliarity with systems. I think the other part of it is advisors don't know how to translate their communication skills into a virtual environment. You're not sitting at a desk with your client where you can read body language. You might have a little more control of emotions because you're sitting at that same table, versus a Zoom meeting where the time you have with the client might be a little more condensed, a little more focused. You have to use more of your words to rely on the messaging between you and the client. You just don't have as much to read off of, especially being in a relationship-type of environment or industry. So, yeah, I really think that's probably one of the main reasons a lot of advisors are scared to be virtual. But again, in this pandemic, it's nice to see that advisors are forced to take that leap, hopefully as a positive experience for their firms moving forward.
Michael: I guess just, even the way you frame that kind of raises an interesting question to me. Like, is there a connection here that advisors with virtual teams tend to also be advisors who are virtual with their own clients, or can we break one virtual wall and not the other? Like, can I work virtually with a team like yours even though I'm totally in-person – all my client meetings are in-person – just your services and support for me aren't in person, they're virtual? Do you see those mixtures or is it more like if I'm virtual, I'm virtual for everything, and if I'm not, I tend not to be?
How Advisors Can Incorporate Virtual Support Into Their Practices Whether Their Firms Are Virtual or Hybrid [06:35]
Michelle: Some advisors are completely virtual, some advisors are hybrid. So some of their meetings might be through Zoom or GoToMeeting, whichever system they choose, and then the other half might be in an office. The advisors that we work with, there is a mix. Even though all the work we do is all virtual, we don't handle any hard copies, but then depending on what their process is, we can figure out how we can leverage our services the most, whether it's like paperwork and sending it to the advisor, and then just printing it out. But we're very much willing to work with them in terms of managing both their virtual practice in addition to their in-house activities.
Michael: And so I would imagine the challenge for some firms is like, "Hey, this sounds sort of interesting but I do deal with paperwork, we do have hard copies." So I guess I'm just wondering, as part of your world, do you end out not only working with advisors virtually but essentially like helping them to convert to being more virtual? Like, "Hey, you know you can do that paperwork with DocuSign. Can we show you how?" Or again, are you largely in a world of advisors that at least have gotten more digital because you have to make the decision to go digital, if you've gotten digital and you've gotten away from hard copies, now let me introduce you to this world of virtual staff support that you can do now that your paperwork is digitized as well?
Michelle: Yeah, it's a mix of both. We cater to a lot of different advisors. But there are advisors where they are making that transition, or they're taking a proactive step to convert their office to a virtual environment where there might be a lot more heavy lifting in the beginning. So that can include just document management, maybe they're scanning in papers, and we can help kind of organize their system, getting systems set up, making sure their data is clean. On the other hand, for maybe more established advisors who are more than comfortable being in a virtual environment, obviously, that relationship is a little easier and the work might look a little different. But we do help like on a project basis versus like maintenance, more ongoing work.
Michael: So help us understand, I guess just outright, like, if I want to hire a virtual assistant, if I want to hire a service like yours, just how does this work? I know how a client administrative staff person works, like, there's a desk, usually within a few feet of mine. I ask them when I have a question. They're there during the day when I'm there during the day, like, we have conversations directly and then we do the things that we need to do. It's like, I know how it works when there's a person right there. I know how we get work done, I know how we communicate. And just as soon as you put a virtual dividing line here, and I think in particular, when it's not necessarily a full-time staff position because a lot of what you do is 10 hours a week or 10 hours a month or 20 hours a month, when you're only having this on a part-time basis for virtual staffing, like, just how does this work as we need to do work and pass stuff back and forth and communicate and like, I need stuff now and you've got other clients that you're working with, like, how does this work?
Michelle: What a lot of advisors – or I'm sure you have experienced hiring a virtual assistant – the virtual assistance world is so big. And you'll find that different people specialize in different things. So obviously, any type of work that can be done in a remote environment on a virtual basis can be assumed as a virtual assistant. So whether it's a social media manager, digital marketing, or like general virtual assistants, maybe it's just consulting, I feel that all of that can be considered as virtual assistants. But advisors who go through that stage of, "Oh, I have experience working with support in an office," usually the issues that have come about is that, "Oh, I wasn't able to give them enough work. So maybe they're just sitting at their desk." Maybe they weren't as productive as the advisor would have liked. But then when they begin to look for a virtual assistant is really seeing whether, again, if they're replacing somebody on their team versus adding someone to their team, because, obviously, if we're replacing somebody, those expectations are very different. And there's already a role in mind, or somebody that you're...where you're hiring a brand new person to add on to your firm, that role might have a little more...you might have a little more creativity in what they might be doing.
So I think it's definitely figuring out what the role entails and where that experience lies, and then from there, reaching out to your network. There are various virtual assistant firms, us, who are more industry-specific or just general virtual assistant firms. There's like Zirtual, there's BELAY, there's so many out there. And seeing actually how much work that in-house person was doing, because they'll realize that they save so much money and time by hiring a part-time person versus also paying for that in-house person just sitting at their desk, where they might be just twiddling their fingers, especially with solo and smaller RIAs or smaller financial planners.
Michael: Yeah, I know for so many firms, particularly in the solo realm, the single hardest hire you will ever make is the first. It's the only time you make a hiring decision that doubles your headcount overnight because you go from one to two. Like, it's a really big change if you've never had payroll, like, it's a really big staff and financial commitment, usually relative to income and the size of the firm at the time. And this kind of binary decision, you hire a person to be the person or not, I feel like it slows down a lot of advisory firms from making that first hire because it feels like such a big commitment.
That to me, I've always been struck with just the opportunities in virtual assistants to say, you don't have to do this as an all or none thing. Like if all you need is someone to help out with just a couple of hours of work every week, like, you can have someone for just a couple hours of work every week. That works. In fact, that's a common package for a lot of virtual assistant services. You often see stuff that starts at just 5 or 10 hours a week. And as an hourly rate, you may pay a little bit more than what you would pay for full-time staff, but like, you can hire an eighth of a person, which you can't do with a full-timer, or at least if you try to hire a full-timer for only eighth of their time, you may not get the quality or the focus that you want. It's different when you say, "No, no, I'm working with a service that provides virtual assistant solutions. I may take an eighth of their time, but this may be a full-time person that's totally focused on doing this work and doing it really well, I'm just not the only person they do it for because I don't have a full-time's worth of stuff to do."
Michelle: Yeah. And you'll find that a lot of virtual assistant firms, they all have their own different models. So each firm is structured a little differently. Maybe they specialize in a specific niche, similar to what Nifty does. But at Nifty, we really pride ourselves on communication. So we really provide communication tools to the advisor. So that really helps them in the beginning. And it's a cost to us. But anything that helps the advisor, whether they're new or familiar with virtual assistants, just getting those lines of communication open so they feel comfortable working with us, and it feels less of a burden on a day-to-day basis because virtual assistants, especially with our offerings, like client servicing, paraplanning, and marketing, it's a very intimate relationship that we're trying to build with the advisors. So obviously...well, communication to me is very important. So whatever tools we can provide for the advisor to be successful is key.
Michael: So talk to us a little bit more about that. I think it's a good place to start. So just when you're working in a virtual assistant world with a provider like Nifty, how does communication work? You're not in my office, I can't shout down the hallway or across the room. Like, how does communication work between advisors in a service like yours?
How Nifty Communicates With The Advisors They Serve [15:31]
Michelle: Yeah. So for us, we work entirely out of the advisor systems. So it's kind of nice, we're on their team, it doesn't feel as if they're converting to this entirely new system that they're not familiar with. But we use a time tracking software. Pretty much all other virtual assistant firms do as well. They receive a report. We also give them a Slack channel. So that opens the line of communication. But everything is really conducted through the advisor CRM. I always say any type of task, you would assign it through their CRM, and it prevents everyone from going insane, at least from our end. So that's really how we manage. I think advisors like it, especially when they're a solo or a smaller RIA because they already have so much under their belt, they don't want to worry about learning a new system, but feel as if they're still in control of their business with the system choices that they make. And they're bringing on this part-time person that's really a part of their team.
Michael: So you say you work out of advisor CRM systems. So are there particular CRM systems that Nifty supports and works with? Is it a general thing like, "We'll help with some CRM systems that we're more familiar with or not others?" What do you support in practice?
Michelle: So it's really whatever the advisor is using. Our most popular ones are Redtail and Wealthbox. But then when an advisor, let's say...obviously, Nifty can't know every system in the universe, but when it's a new custodian or new CRM, honestly, every system is very similar. It's just that training curve of figuring out where the exact button is on the CRM that might be a little different. But honestly, they're all very similar, especially with our team, we're all very tech-savvy. But that learning curve is not very high. And that's how I usually communicate it to make advisors feel more comfortable because it's not as hard as it seems. The great thing about working at Nifty is that we're exposed to many systems, right? So even if the advisor is working with Wealthbox, because we're familiar with Redtail, maybe they have an interest in Redtail, they can ask us like, "Hey, you guys work with this system every day with other advisors. How do you feel about that? Do you feel as if this other system could solve my solution?" Or it just gives them a little more opportunity to explore and grow in addition to human capital on our team and utilizing our talent.
Michael: So you may be in my CRM system assigning tasks, completing tasks, that's the primary area of the "let's follow through on stuff and make sure stuff got done?"
Michelle: Yeah. So the advisor would create a separate login for their dedicated support person, and then they'd really just treat them as if they're hiring any other 1099. They would assign tasks to that person, it could be a workflow, it could be maybe a meeting that they need to schedule or follow up on. It's really an integrated system, and it doesn't feel as if we're even Nifty. It feels as if we're essentially a part of their team.
Michael: And then you also mentioned Slack. So can you explain Slack for maybe advisors who aren't familiar with Slack and just how you use Slack?
Michelle: Yeah, so Slack is a chat program. For every advisor that we work with, we give them a private Slack channel. From my own experience in client servicing, there are those like one-off urgent items. It allows the advisor to ping us on urgent items if needed, but it also gives us the flexibility to be away from our desk. So obviously, we can have Slack on our computers, but then we can also have it on our phone. I started Nifty because I love the flexibility of working virtually. And the advisor feels the same way. So I always communicate that even though everything is in the CRM, just to be realistic, we're not always at our computer, so just gives them another opportunity to reach out to us and not feel as if they're alone.
Michael: And then what about just, I guess things like phone support for advisors who are used to talking to their team or picking up the phone, talking to their team, do you live in a phone call, speed dial world as well or do you really try to primarily focus on saying like, "Task us through the CRM or Slack us if you've got a question, but we're trying to manage the communication this way and not necessarily by phone?"
Michelle: The majority of our communication is through video calls and through CRMs. So we always encourage our team to have regular video calls with every advisor, just because it brings another level of trust to the relationship. And also it's just nice to reconnect with the advisor on that level rather than all work, no play. So we've built very close and inner relationships with our advisors, which is great. And it allows us to kind of grow as a partnership and not feel as if we are an outsourced provider, even though we are.
Michael: And then how does this work from a security perspective? So I'm going to imagine for some advisors listening and they're like, "Wait, you're going to have what login to my CRM system, like, does my compliance approve of this?" How does this work when you've got access to all my client files and information?
Michelle: Favorite question, right? So everyone on our team is background checked. And from my familiarity, it seems at other VA firms, it goes the same way. All their workers or contractors are background checked as well. But then we also create a cybersecurity brochure. We go through our cybersecurity audit every six months, just as a way to kind of clear up our logins and any documents, making sure that passwords are changed and that two-factor authentication is active on all these logins as well. So it's just a process that our team goes through. But then I also communicate with the advisor. If they do want to conduct their own background check, they're more than welcome to. It's just under their own expense. In addition to any privacy policies or anything that makes them feel comfortable working with us. I always send our agreement prior to our relationship, just because, again, I don't like compliance either, but you have to do it. So any questions we can kind of plan through before the relationship is even beginning is definitely what I vouch for.
Michael: And I guess just like at the end of the day, like, as long as you are checking those boxes around being secure, having good passwords, having two-factor authentication enabled, and so forth, like, yes, you can do that. No one's breaking any rules or laws by the fact that your virtual team member has access to your CRM system.
Michelle: Yeah. And we also use LastPass as well. So I provide...it's my job to provide everybody with the LastPass account. So that's really how we share logins with advisors. And it hasn't been any much of a concern. As you know, LastPass is one of the industry leaders of password management, but all of that is in our cybersecurity brochure as well.
Michael: And so, as advisors go through and engage you for services, can you talk a little bit more about just what kinds of tasks get done? What sorts of things get handed off to you? What does virtual assistant support look like in practice?
How Advisors Can Use Virtual Support To Increase Their Firm's Efficiency And The Services That Nifty Offers [23:12]
Michelle: So with Nifty, I personally love working with RIAs. I have experience working obviously with RIAs, but then also in a broker-dealer environment. I just love small business owners. And obviously, that work looks very different in comparison to working with a very large firm. So I built Nifty around what I experienced working alongside advisors. So they might be doing some graphic design management or graphic designing, they might be submitting paperwork to a custodian, following up on that, they might be doing some data entry into eMoney, a whole bunch of different things, which I'm totally not upset about. But the way that Nifty works is we kind of preach this holistic client experience. So it's loaded, but in marketing, we do a lot of recurring tasks, we do like social media management, we do collateral design, any type of creation of email campaigns, and also the technical aspect of managing their marketing plan.
In client servicing, anything that you imagine a CSA would do. The work kind of varies depending on whether the advisor does only financial planning or if they do financial planning and investment management. If they only do financial planning, that work is more workflow-oriented. So keeping up with their CRM, making sure that they have everything for their meetings, and after their meetings, maybe scheduling and more general administrative assistance. But if they also do investment management, there's a custodian involved and there's more...that heavy lifting paperwork that has to get done. So from completing the paperwork, submitting it, tracking it, all that fun stuff, we would help the advisor there.
And then for paraplanning, we have two paraplanning offerings. One revolves around the technical aspect of paraplanning. So really revolves around data entry. So the advisor would send us their financial documents, we'll input all that into eMoney, MoneyGuidePro whichever system they use, and then we will actually come up with client questions and other just comments of maybe information that we need from the client or the advisor. And in our highest-tiered offering, Paraplanning Plus, it's really considered our full paraplanning offering. So that includes data entry, but then also plan development. So Paraplanning Plus was offered as a way to give advisors a little more advanced planning support, but then, in addition, it allows us to cater to CFPs as well.
Michael: And so, I guess just I've got to ask, how do you start...how do you do...?
Michelle: It's a lot.
Michael: Yeah. Well, how do you do financial plan development when it's not your client, you may not have been there for the client meeting? Just, I think from a lot of us that create plans, it's like, I figure out the stuff and the opportunities because I'm there in the meeting, having the conversations, finding the opportunities. Like, how do you create plans in a paraplanning context when you're not in the client meetings in the first place?
Michelle: Well, during our discovery call, we have a discovery call for every service offering, depending on what the advisor signs up for. So for paraplanning, we'll actually review a little more about their client base, what their usual recommendations are. Every financial planner has a certain planning style, but then we'll also review their assumptions. And again, it is difficult when we're not in the meeting with them, but then we also develop a process on capturing their notes and the relationship that we have with the client so we can kind of best deliver depending on what the advisor is already doing. I always say, though, with support, it's our job to take it to maybe like 80%, 90%, but then it's still the job of the advisor to bring it to 100%. There's still that collaborative nature that needs to happen, regardless of what part of the offering they're engaged in.
Michael: And so, what are the processes you create then for capturing, I guess, like, meeting notes? How are you getting the stuff out of an advisor's head? How does this work when I did my client discovery meeting, in a few weeks I'm supposed to deliver a plan, y'all are my paraplanning service making the plan, like, what actually happens from "I just came out of my client meeting" to "we need to deliver a plan in a few weeks?"
Michelle: Yeah, a lot of our advisors, because the majority of them are completely virtual practices, they'll either record themselves. And I'm sure you're familiar with Mobile Assistant. They'll use Mobile Assistant to transcribe it and then the notes are sent to their dedicated paraplanner. Or it's just being able to transcribe those notes and getting them to our team. Otherwise, it's not really much of an issue. It's just figuring out a way to capture those notes that might vary between advisors.
Michael: So you may tell them, "Okay, as you come out of the meeting, please just dictate into Mobile Assistant, just give us a brain dump of all the notes, of all the notable things that came out of the meeting. We'll have Mobile Assistant transcribe it, get into the CRM, and then we'll listen to it there so we can find out what we need to know to develop the plan." As the advisor, your job is just...I guess I'm envisioning this like a doctor after patient meeting, just talking to the recorder about your client notes of what just happened in the meeting and what the key planning areas and issues are, and then we'll run with it from there.
Michelle: Yes. And it really revolves around the financial planner's process. So we don't create processes for the advisor, we're really trying to formulate depending on what the advisor is already doing. So obviously, there needs to be a willingness to obviously collaborate with us on that level, and being open to recommendations on how they could best capture those notes.
Michael: Okay. And so, what comes next? Like just, how does this back and forth planning process work when it's virtual and I'm the planner and you're providing support and you weren't in the meeting but we're supposed to get a plan out of this?
Michelle: So it's the same, just assigning a task. We have two others aside from me that help with paraplanning, but it's really kind of just being in tune to the advisor's calendar that gets shared with us and figuring out when they're having meetings. But all of our work is very task-oriented. So if the advisor said like, "Hey, John Doe needs a plan created by next week, it's our job to make sure that we meet that deadline and make sure that we are asking the right questions and developing the right answers in that timeframe. But it's the advisor's job to make sure that they communicate a deadline. And also if they have a time expectation on how long they want us to work on this plan, or even if it's a client servicing or marketing item, making sure that's communicated in the beginning so expectations are met.
Michael: And then just, how does this creation process go? Like, "Dear, Michelle, here's my client notes. Next Tuesday I'm just assuming there's going to be a plan and it's going to be ready to go," because my meeting is next Tuesday, or is there a back and forth process? What happens along the way here?
Michelle: Yeah. So we do offer the advisor a debrief meeting once we send them their plan. But yeah, that's really it. I always try to keep things as simple as possible. I try not to overcomplicate them, but that's really what the process looks like, exactly what you said.
Michael: Okay. And are there particular planning software tools that you work with or don't work with?
Michelle: There's a slew of them. I primarily work with eMoney, MoneyGuidePro, and RightCapital. As of recently, I actually created a team experience sheet so I can capture what systems every team member knows, maybe they don't know, and it allows me to train and develop them as necessary. Of course, the one-off advisors, of course, we won't know every system, but then usually there is most likely someone on the team that does and the fact that we onboard advisors in the future. So usually, we'll say, "Hey, if you speak with us now, we're onboarding advisors let's say in September, like a couple of months out allows us to forecast hiring and training." So the advisor is confident and is comfortable working with their paraplanner or whoever they're working with on the Nifty team.
Michael: And then you mentioned just client servicing and support as well, right? There's sort of planning follow-up, there's investment management follow-up, there's account opening work. So it sounds like you also live in a realm of custodian or broker-dealer support and paperwork support as well?
Michelle: Yeah, that's pretty much where my background is. So we work with Schwab, Fidelity, TD Ameritrade, and, as of late, SEI. So obviously, it depends on what the advisor is using. But, yeah. For example, I'm more experienced in TD Ameritrade, a couple of others of my team members are more experienced in Schwab. But depending on what systems the advisor is using, we gather that during the prospect call. We figure out who already knows these systems and who has the capacity to support this advisor. So once I speak with them, I'll pretty much pair them with the support person that would succeed well with that one advisor. And they kind of take it from there.
Michael: Does that mean you also have to become a registered person, a registered assistant in a broker-dealer realm? Like, are there licensing restrictions around how far you can go in supporting investment management? Where do you draw those lines?
Michelle: Yeah. So we don't do any trading. Usually, that's pretty obvious, though. When I say, "Hey, we don't do any trading, that's a huge or a big no," most advisors are like, "Yeah, yeah, that's understandable." So that hasn't been an issue at all. But we do...everything else we're pretty much able to do on the advisor end. So paperwork, move money, obviously with the advisor's instructions. But everyone on our team has industry experience, they were employed by, whether a financial planner or RIA in the past. So everyone already had experience before joining our team in the first place.
Michael: And so it sounds like this is kind of like the trifecta of areas. There's marketing support, social media management, email campaigns, helping to create marketing collateral. There's the client servicing work, so kind of operations, paperwork sorts of tasks. Are you in a world of like meeting scheduling and calendaring and client emails sort of work as well?
Michelle: Yes. So that's included as a part of client servicing. Honestly, it's great because we're doing something different every day. So no day is ever boring. But that's a learning experience, learning different systems and processes from all these different advisors, just seeing how they work and where their inefficiencies are. It's very interesting seeing how some advisors come up with the solutions on their own. But I love hearing how they kind of formulate their own ideas and how they apply it to their practices. And if there's any way we can help more, very much willing to give ideas of our own.
Michael: All right, so now I'm just curious, like, what kind of inefficiencies do you see as you get in? Like, are there common areas where you're trying to consult or restructure how they do something?
What Advice Would Michelle Give Advisors Who Are Interested In Outsourcing Work To Virtual Assistants [35:11]
Michelle: Usually, it's workflows. At this point in time, we don't position ourselves as consultants, but we say like, "Hey, what are you currently doing? We're more than open to give feedback." But a lot of the work revolves around what we do around implementation. So we'll really see what the advisor is already doing in terms of their workflow and seeing how that kind of plays into their prospect pipeline or their client experiences. But then it's also seeing how or what their goals are for their firm as well, in addition to whether they've changed their goal from when they first start with us to maybe like a year or two out. It's interesting to see how their thought process changes after they work with a virtual assistant.
Michael: What changes?
Michelle: How they visualize the growth of their firm. So a lot of advisors in the very beginning, they're like, "Oh, I want to build like 100-person firm with an operations team, a trading team, a financial planning cohort." But then once they get into the nitty-gritty of running a business, it sometimes changes to like, "Oh, I just want to partner with Nifty and add a few financial planners on my team." That's a common conversation we have with our clients, us acting as kind of like operational support or any type of support while they are focused on bringing financial planners. It's very interesting.
Michael: Interesting. So just what shifts when suddenly you realize or decide, "Oh, I don't actually have to build and scale the entire operations side of my business. There are external people that can do that. I'm going to go find the planners that are even harder to find and train and develop internally into your particular planning style?"
Michelle: Yeah, because they hire us because they don't want to do what they don't want to do. So usually, because they don't want to do any type of marketing, they don't know how to do it. They don't know how to do any type of client servicing. Especially when it comes to the custodial work, they gravitate towards utilizing the people that are the experts that do this every day. They enjoy what they're doing, why not let the people do that and have them be happy and let the financial planner focus on what they know best, which is obviously networking and hiring other financial planners versus worrying about the operational back-office side.
Michael: So talk to us about how a solution like Nifty prices, like, how does the payment structure work for hiring for virtual support?
How Michelle Structured Nifty's Tiered Retainer Model Pricing [38:06]
Michelle: Yeah. So our pricing is on a retainer basis. We do have hourly pricing as well, but retainer is really our bread and butter. So what it looks like is for some number of hours and certain services, you'll be billed in the beginning of the month. But the difference between our model is because we have such great talent on our team and our services are so diverse, our model is actually, at this moment, they're inclusive services. So the way I explain it is that if you have marketing at the bottom, servicing in the middle, and paraplanning at the top, if you utilize us for marketing, you can only allocate hours towards marketing. If you want to utilize us for servicing, which we call our Silver tier, you can actually allocate the hours between marketing and servicing. And same if you're at the top, Gold tier, paraplanning, you can utilize hours between any of the three service offerings. So where that helps advisors is, especially because all of our clients are pretty much solo to small RIAs, it gives them that flexibility not just with part-time support, but then also with their business needs. As you know, as small business owners, your needs change from month to month. So it allows them to adjust their needs with us while also being able to support our team where we work with multiple advisors.
Michael: And so I pay by the hour, I pre-purchase hours, like, how does the retainer structure work?
Michelle: Yeah. So you pre-purchase hours. So let's say, for example, you purchase 20 hours, you're billed on that retainer at the 1st of the month. But the issue that we kind of saw once you exceed the retainer, previously, we billed the same hourly rate that is the same as a retainer, but what started to happen is, just as a team, we had to do a better job of gauging team capacity, and also figuring out how many hours this advisor is actually going to use throughout the month. So we have this retainer, and then we have this excess hourly rate. So let's say if you exceed your retainer, you'll be billed at an excess hour rate. And what happens is that most advisors are like, "Oh, no, I don't want to be billed at this higher hourly rate." Right? So it allows them to kind of make sure they're in the realm of their agreement that they signed with us. Hours don't roll over either just because I still have a need to support my team and promise these hours that I'm giving them as well. So for us, the rolling over hours month-to-month doesn't work for us. I think it's called the bucket model. But yeah, these advisors, we do a regular job of making sure that these retainers are filled. And, yeah.
Michael: So if I'm coming and buying...like, essentially, if I buy 20 hours for a month, I really effectively buy up to 20 hours a month. I can either use all of my 20, I can end out using a little bit less, but I'm still committed for my 20-hour block that I paid for. If I go over my 20, I pay an hourly rate for my overage that's going to be a little bit higher than my average rate. So I'm kind of encouraged to commit to my hours upfront and not shoot low and then keep doing overages, which both cost me more and makes it harder for you to plan for your team capacity. And can you give us a sense of just what pricing is, like, what does this add up to?
Michelle: What do you mean exactly?
Michael: Like, what does a 20-hour package cost me? Is this $500 a month? Is this $2,000 a month? What does it cost?
Michelle: Yeah. So we have Bronze, Silver, and Gold. So Bronze, that marketing tier, it starts at $40 an hour, and then the Silver tier starts at $45 an hour, and then Core Paraplanning, which is a part of the Gold tier, starts at $55, and then Paraplanning Plus I believe it's $75.
Michael: So my Bronze tier starts at $40 an hour or $45 an hour for Silver, but I'm not actually paying by the hour. It's like, if I want 20 hours at Silver, I'm really going to pay, what, 20 hours times $45, I'm going to pay $900 a month to have up to 20 hours that I can use on marketing or client servicing. And so, as I think about that relative to a team, like, 20 hours a month, 5 hours a week, that's half a day a week of time back, that's a fairly material time left for most advisors for $900 a month. So I'm approaching $11,000 a year. So like, way cheaper than hiring a full-time person who I then also have to train and develop and get a desk for and get office space for and all the other things that go with building a team. I can just buy out this segment of hours.
Michelle: Yeah. And it's pretty cool. So usually when you have an in-house person, they're sitting at that desk specifically, let's say from 9 to 5, or even if they're part-time, maybe 9 to 12, whatever it might be. But the thing with us is that, of course, I appreciate the team, you have to at least communicate between 9 and 5, but otherwise, they could work whenever. As long as they meet deadlines, I don't care when you do the work as long as you're present. And if we have a question, we can reach out to you. But again, that flexibility is there. So a lot of people on the team, they're either single parents or just parents in general, or they just envy that gig lifestyle and that flexibility, which a lot of traditional firms don't have.
Michael: So in other words, offering this, you can actually try to find talent that maybe doesn't actually want a full 40-hour a week job or you would have like 8 of these clients doing 20 hours each. Maybe they only want to work 20 hours a week because they want a little more flexibility, hard for any one person to find a firm in their immediate local area that needs exactly 20 hours a week, not more, not less. So they can get that gig opportunity much easier for them in working with Nifty because you may actually have firms that need 5, 10, 20 hours a week. And so it's easier to say, "Okay, well, I've got 3 firms I can match to you that will cover your 20-hour a week goal. You can use your experience, you don't have to get a full-time job, we'll make this happen."
Michelle: Yeah. And what I've kind of realized...of course, this is my first time experiencing or managing a team at all. But what I've realized with hiring, the type of candidates that gravitate towards Nifty, again, they're parents that have kids at home so only can work part-time. I've seen quite a few retirees who are retired but they still want to be engaged in the industry and still do some type of work with that flexibility. Then the third type of candidate is students as well. So there are a lot of students that just want to work part-time, but, again, they need that planning or servicing experience, and Nifty gives them the opportunity to either get their feet wet in the industry, or maybe they already have experience, but it just takes...it provides more opportunity for talent out there where there might not be opportunities for them right now.
Michael: So, how do you find talent? Like, are you finding people from scratch and training them in advisor systems and technology and Wealthbox and Redtail and Schwab and Fidelity? Are you trying to find people already in the industry who maybe just want to move out of full-time work and are looking for more flexible contract work and you offer them that opportunity? How do you find people to do this? I feel like most advisors struggle to find good talent. How do you do it to find good talent?
How Michelle Finds Talent and Supports New Advisors Gaining Industry Experience [46:34]
Michelle: I always say the first thing is that people who are like you gravitate towards you, right? So I feel everyone on my team is a reflection of myself. But obviously, with different or different service offerings, they require different types of people. So aside from the industry, I'm very much a creative. So in terms of the marketing side, obviously, I wouldn't look at like simply paraplanner, like CFP Board or anything for a marketing type of person, but I usually look at like Upwork, or I'm in some creative groups on Facebook. So kind of just plugging into the communities that already exist. But then for servicing, usually simply paraplanner because a lot of them that exist on that platform, they're usually career starters. They're just getting their feet wet because they're trying to get that experience. For planning, I usually gravitate towards the CFP Board because they do have a little more planning experience underneath their belt that they can contribute to Nifty.
Michael: And it's an interesting point that you made that for folks that are looking to get going as advisors, particularly ones who may be career-changing or transitioning into the industry, where a lot of career changers, in particular, want to hit the ground running with CFP marks, which you can't do at the start because you need your three years of experience in addition to your CFP marks, that your offering actually becomes a pathway for them to get experience in something attached to the financial planning process, which helps you satisfy your three-year experience requirement.
Michelle: Yeah. And one of my other goals for Nifty is to lower the barrier to entry for the industry. So my goal aside from supporting financial planners, because I love them, the second prong of my mission is to find ways to get people into the industry, but not necessarily has to be financial planning. I'm sure you know there's a...you even just said it, there's a lack of talent in operational support. So with my own experience and my own challenges working under an RIA, I try to translate what I feel is the next generation of operational support and how I choose to kind of develop them into our culture and our kind of training mechanisms at Nifty to help them kind of leverage their talent and grow even further in the industry.
Michael: And so, how do you look at challenges of training? Like, are you building your own, I was going to say like training systems and protocols to get people up to speed on these systems, especially if you're maybe getting some career changer types who don't necessarily have a lot of industry experience already?
Michelle: Yeah, definitely. Internally, it's not just training them on our internal processes, but then with paperwork. The reason there's a lack of talent in the industry, at least on the operational side, is because, again, most financial planners don't know how to do that type of work. So they can't necessarily train on that. But then there's just a lack of career options for those in support. For those who don't necessarily gravitate towards financial planning, there isn't...personally, I don't think there's enough attention given to career paths for those in operational roles versus financial planning. So I'm sure you know, every career path and feedback I've gotten from my team is that, "Oh, I thought being a financial planner was the only way to go." And they end up settling for something where maybe it wasn't the right fit. But then also, the industry doesn't preach up other opportunities to excel as well. So I think any type of talent and also gaining more diversity in the industry, I think that starts from creating diverse career paths that cater to different lifestyles and different types of people.
Michael: So focusing not only on, I guess I'll call it increasingly traditional advisor career tracks. So you're a paraplanner and then associate advisor and then a lead advisor and then a senior advisor, that you're talking about career tracks in operations as well, maybe you're a client service administrator then a client service manager then an operations manager then a chief operations officer.
How Finding Her Work-Life Balance Led Her To Create A New Career Path In Operations [51:03]
Michelle: Yeah, or like more so in like practice management.
Michael: And is that just, you just don't see those opportunities out there for many advisory firms today? Because if your career track as a client service administrator is, well, you could go get your CFP marks and go over to the financial planning side, but not, "Here's how you move up to client service manager, operations manager, or COO in our operations team."
Michelle: Yeah, because some people on our team, from speaking with them, they're like, "Wow, I didn't even know Nifty existed. I didn't know even an opportunity like this was even available." But it's interesting hearing their stories and the challenges they went through with support because a lot of what happens is that, even like financial planners, if they do have support on their team, they overpromise and underdeliver most of the time. And that's why there's an important focus towards training their staff but then also making sure that they're actually happy and want to develop into a financial planner. But obviously, your team, like, they don't know what they don't know. So they feel that's the only way to excel. I can totally see them kind of taking that financial planning career path. But, again, to address the lack of talent in operational roles, to me, it's pretty obvious just from my experience, but I'm hoping over time, the industry caters to multiple career paths and their goal expands to not just pay attention to financial planners, but also the team that supports them and really elevates the financial planner to get where they want to be, similar to what we're doing at Nifty.
Michael: And so talk to us a little bit more then about your career path and journey. Like, how did you end out in this world where you're launching an independent service providing virtual assistant solutions for small and solo advisors? Like, were you always looking to launch a business? Did you always want to launch this business? How did you get to the point where you're taking the leap to create an offering like this?
Michelle: Yeah. I studied financial economics. And my goal was to actually go to business school, but decided against it and just learned from the real world. But I gravitated towards the financial planning industry just because I'm very service-oriented. And I really thought that client servicing was the way to step up into financial planning. I did have the goal to be a financial planner, but over time, that just changed. But I've always wanted to start a business. And I think what the service offering kind of looked like kind of stemmed just from my own experience in client servicing. What you kind of see is your operational support, they have to sit at their desk from 9 to 5. You can't go anywhere. It's a typical, just, traditional in-house job. And what I kind of saw is I was like, "Well, why are these financial planners getting all this flexibility? They're able to work virtually, they just have more perks." And I wasn't necessarily happy because, at the same time, I'm very entrepreneurial. I wanted that flexibility that I saw my colleagues have but I didn't necessarily have.
Michael: So that kind of job...I don't know, I was going to say job style inequality that I feel like I see this in a lot of firms, that, as you said, operations and client service administration are expected to be there all day, every day, 9 to 5 because, got to be open during business hours, got to be able to process paperwork promptly, "someone" has got to be there if the client calls and needs assistance with something. But advisors at best are maybe out of the office for much of the day because they're not seeing clients and interacting. And then as happens, I think, for a lot of businesses, at the point you get used to advisors being out in the field interacting with clients and not needing to be in the office, then at some point, even when you don't have any client meetings, it's still like, "Well, I'm just going to work from home and not come into the office because we're already used to the fact that I can get stuff done when I don't come to the office, even though I didn't actually have any client meetings today."
And you end out, as you said, in this realm where operations and admin often have to be there all day, every day, and the advisors get a flexible virtual work schedule, which I suppose to some extent was kind of necessary in the past because we had forms that required wet ink signatures and someone literally had to handle and process the physical paperwork in a timely manner when some of that stuff you can't hold for more than 24 hours. But now we're increasingly digital and virtual. And so the whole idea of you must be in the office all day every day to process things that are all virtual and don't actually require you to be in the office has gotten a little awkward, probably just accentuating the pandemic environment where we all had to go virtual. It's like, well, how about that? Work is still pretty much getting done.
Michelle: It's been interesting. It's kind of sad to see that advisors were kind of pushed to become virtual because of the pandemic, but at the same time, it's nice to be able to see those in support or even other paraplanners that I've spoken to that are finally able to work virtually despite what's going on, because, again, that overpromise, underdelivering where the advisor wants to go virtual, but they don't know exactly what that looks like. It just shows how important just work-life balance is for advisors, but then also their team as well. So I think that's where a lot of our team members come from too who have an interest in working for us.
Michael: Interesting. Because they want operations and marketing and paraplanning roles that have more flexibility than "you will be at your desk at this time, all day, every day."
Michelle: Yeah.
Michael: And so, what was your...I'm kind of curious both what your actual path was into the industry. And you had said like you started out in a world where you actually wanted to be moving towards becoming an advisor directly and then had a turn where you didn't. So talk to us a little bit more about that journey. I guess just starting from being like, initially, you wanted to be an advisor, and that was going to be the path. So what was the strategy about how you were trying to get going and get your foot in the door out of the gate?
Michelle: So similar to how most people get their feet wet in the industry. So I started with AXA Advisors, and then I switched to New York Life. So I've got my feet wet in the broker-dealer world where it kind of tarnished my perspective that financial planning was all sales. And that's not exactly my perspective now at all, just because the RIA industry has grown so much. But I think that's mostly what tarnished it. But at the same time, I think I just learned that personally, I do not like financial planning as much as I liked, even though I am studying for the CFP, so I'll take that.
But I think it stems just from a personal place. Like even when I started or before I even launched Nifty, what I did was really just list 10 things that I wanted out of my life, what my values were, and then I picked the top 4 or 5 and really figuring out what I'm building for myself versus what the industry was expecting from me. And I think that really helped. I recognized that I'm like the jill of all trades. I love learning about all these little things versus kind of getting sucked into one thing and getting scared that I'm going to be bored one day. But I think it comes with an area of acceptance and figuring out the type of business model that works for you. And it just happened to be that advisors and others in support feel the same way. They wanted that same flexible lifestyle. They wanted a virtual business for the same reasons I did. And a lot of our advisors and our team members reflect the same values that I have, which is really great and makes the working relationship so much easier. But otherwise, yeah, it just came from an area of self-reflection. Otherwise, I love client servicing, that ability to help others, and I love working with accounts and the custodial paperwork, which is very rare at the same time.
Michael: And so help me understand just what was it that made you not want to go further down the financial advisor path, aside from an unpleasant initial taste of the industry because of sales, or maybe that was the whole thing? Why the decision of the operations side as opposed to the advisory side? Because it sounds like you gave it a lot of thought, had your eye on a path, and very consciously changed that path.
Michelle: I would say, I think it's just skillset and my own strengths. If I really wanted to do financial planning, I probably could. But I think the idea of wanting to still be a creative and all three offerings are different areas of myself. But I'm not exactly sure. Oh, well, one of the things is that starting Nifty, one of the things I knew was that I really enjoy working with businesses versus clients. Because I'm sure a lot of financial planners know it's a very different ball game working with consumers versus other business owners. And I just love talking shop and being able to connect at that level. And making it feel as if, even though I'm not directly involved in the financial planning process where I'm sitting in front of a client, it's having that awareness that support is still an essential part of a financial advisor's success that a lot of people in the industry I feel like are still taking the time to recognize that.
Michael: Yeah, I think across the industry, we've had this dynamic for a long time that the advisors were the ones out with the clients, powering the revenue forward. It's been a very revenue, business development-based world for a long time. And so just, right or wrong, for better or worse, that was the role we tended to focus on, to put up on the pedestal, and everything else was built solely for the purpose of, keep the revenue-producing advisor out in the field producing more revenue. And that as we grow more into businesses and the model shifts from sales to recurring revenue and ongoing client relationships and support, those priorities start to shift a little, not that if you're growth-oriented, you don't need someone doing business development and powering revenue growth, but suddenly it starts to look a little bit different when you say, "Oh, well, we really have to have a solid foundation of serving clients consistently on an ongoing basis because...and if they fire us and we have to go get another one, that actually makes the business development part a lot harder. It's a lot easier to retain them than it is to go get new ones. So maybe we need to figure out how to do more of this."
Michelle: Yeah. And even traditionally...I'm still very young, but traditional advisors, they bring in the money. And that's totally...that's what the game is, right? And a typical sales call or a sales meeting would be in-person, but now everything's virtual. Prospects, the first thing they look up is your website or your social media handle, and who do you work with, and what's your firm about, what's your culture? So the fact that I feel financial planners, or I think there is a benefit to a team approach, but they do want to see who's behind you and what you represent. It's not just the sales pitch anymore, it's so much more than that, especially as firms build more inclusive cultures as well.
Michael: And so do you...I guess, do you see or are you in conversations with others in similar administrative tracks that are trying to figure out like, "Do I stay on the operations side of the business? Do I go to the advisory side of the business?" How do I make that decision at that divide?
Michelle: Yeah, definitely. I've had conversations with paraplanners that are like on their second or third trial on the CFP and there comes to that stance where it's like, "Well, is the CFP really right for me? Is it really going to help me serve the clients I want to serve?" And it's just the honest conversation that I have with them. But in addition to my team, I think telling my story and why I made the decisions I make also plays into what they want to do as well. But I always say like, I never want to force them to go into a certain role. It starts with what they want to do because if they don't know what they want to do, I won't be able to help them.
Michael: So as you look broadly at the industry in creating more virtual assistant services in a world that may accelerate towards virtual a little bit more quickly now that we've all been forced to try it out a little from the pandemic, as you look at this going forward, like, I guess I'm just wondering, how do you see virtual assistant services playing out? Like, is this going to be widespread for everyone? Is this the way firms run in the future? Is this for a particular type of advisory firm owner or size or mentality? Like, who uses virtual assistant services in the advisor world going forward?
What Types and Sizes Of Firms Benefit From Using Virtual Assistants And How To Choose A Virtual Assistant Service [01:05:21]
Michelle: Obviously virtual firms, but just, everyone knows that the gig economy is growing because there's that desire to have a balanced lifestyle. But in addition, I think advisors will find more creative ways to grow their firms. They don't have to follow the traditional model. I think they will kind of center in on what they really want out of life, and to show that they don't have to kind of chase after this huge goal. If they want to, they can, but you can still have a small firm and be just as happy. And with the pandemic, and sadly with things going on, I think it has kind of put a reality check on everybody, not just financial planners, but people in general. I think people's values are changing just because of what's going on. And seeing that you don't have to go up this corporate ladder or whatever you might be chasing to be happy. And I think it's very nice to see. It's refreshing. But in terms of virtual assistants, I think virtual assistants will definitely play into that, whether it's industry virtual assistants or working with a general admin assistant firm. I think we're definitely in the playbook in the future.
Michael: So you make this distinction around kind of advisors who are focusing on what they want out of life and realize they can be quite happy and financially successful with the firm that stays small. So I guess your view in general, like, this is for advisors who are small or are staying small. If you're going to get big, at some point you just start hiring your own full-time staff. The niche around virtual assistant services are firms that maybe don't want to grow that big, or at least don't want to hire whole people at once because that's lumpy and expensive from a business perspective. If all you need is a quarter of a person, you can totally get that, and you don't even actually need to train them. You just go to a service that offers this.
Michelle: Well, it's kind of interesting, I have had calls with larger firms where they are reevaluating the structure of their operations team just because that lack of talent that I mentioned earlier, but maybe someone got fired or let go, and they just need temporary help, well, virtual assistance is there, right? The onboarding process is not long at all. But it's just always an option for those larger firms. It's up to them if they want it more as a long-term solution. But that's usually the conversation I have for firms that are interested in virtual assistants, even if it's training their team on a specific system as well because we most likely have familiarity with it already.
Michael: And so with all the different virtual assistant services out there, I think you mentioned earlier, we have industry-specific ones like what you're building with Nifty, there are sort of generalized virtual assistant solutions out there like Zirtual and BELAY, like, for an advisor that's trying to evaluate these, how do you even evaluate and choose and figure out which one you want to work with? Right? Like, most of us have not exactly done crisscross comparisons on multiple virtual assistant providers, like, how do you figure out which one you're supposed to pick? What are the criteria that actually matter?
Michelle: Obviously, if they can speak the same jargon as you. So a lot of advisors who come to us is because they've had issues in the past where they used to have support, but then they just had a lack of interest when they started to kind of push custodial work, account opening work. There was a desire for them to kind of train their support about the industry and have them grow, but there just wasn't an interest there. So I think figuring out whether that work requires industry knowledge or not. For Nifty, that's really all we do. But I always say, with most virtual assistants, they're usually monthly engagement. So I say, "Hey, just try it for a month. There's no commitment. It's very easy." Most virtual assistant firms like us, they have their get to know you and discovery process. But I think being open to that exploration phase and really figuring out... For those that have not used a virtual assistant before, there has to be some openness to kind of like a trial and error period because it's all learning experience. I'm sure we all know that as business owners too.
Michael: And how are firms supposed to evaluate, I guess, in essence, like quality? Like, how do I know if you're going to do good work? Like, how do I know if your paraplanners are going to write good observations or your client service team is going to give good follow-up to my clients because I might be used to being the only one who communicates with my clients? How do we evaluate quality as we're looking at potential solutions?
Michelle: Testimonials and referrals.
Michael: Because you can actually do that in your business. You're not selling financial planning.
Michelle: I know. So the great thing is that we're independent. So we're not an RIA, which is great, gives us more flexibility. But yeah, just testimonials. If advisors want...like marketing samples are very easy, but let's say if I'm planning to pair them up with somebody, or I already paired them up, they're more than welcome to ask the support person about their other advisors, get feedback from them. Totally open to that. But at Nifty, we don't assign help before signing on just because I don't like promising hours when there's never a guarantee. But yeah, just testimonials and a good word from the advisors that they're already supporting.
Michael: Is there anything that advisors don't ask when they're evaluating, vetting your service that you wish they actually did ask about?
Michelle: I think more so like how to use us. So when we go through our prospect call, we ask them, "Hey, have you used a virtual assistant before?" If not, it kind of gauges how much we need to hold their hand, which is totally fine. It just allows us to figure out how much we need to communicate with them and really be proactive on them delegating to us. Because while we do monitor the retainers, it's still a two-way street, they still have to assign us tasks, but we do a pretty proactive job about pulling work and seeing like, "Oh, what has the advisor mentioned in the past that might have fallen through the cracks that we can work on now?" Those types of things.
Michael: Can you give, I don't know, I guess more examples, like, what else do advisors end out delegating once you've got a virtual assistant? Like, what do we not delegate that we should that we totally can that people end out giving you once they're on board for a while and realize that they can?
Michelle: I know, like tasks that don't make money for them. Usually, recurring tasks are the easiest. But what we do is we evaluate their workflows in the beginning. And then once we review and audit the workflow, we'll give feedback, obviously, but then we'll say like, "Hey, Nifty can help out with step four, six and seven, we could take that off your plate immediately." I feel that's the easiest way to get items off their plate, but depending on the advisor or business stage that they're in, which we also capture during the prospect call. So we'll ask, "Hey, are you a startup? Are you even registered yet? Have you been an RIA for maybe one to three years or maybe five years? Are you currently prospecting or are you just trying to maintain your client base?" I feel like that gives us a really good picture of what their day-to-day might look like. But, of course, if they're maybe breaking away from another firm, there's a lot of heavy lifting in the beginning. So the work is going to look very different. It's going to look more like bulk work. But then if the advisor is just getting started, they might need more marketing work upfront versus someone who might not even be taking any new business. They're just trying to maintain their current client base. Every picture and story is different between advisors, but I think it's just nice how just the diverse talent that we have on the team, we're able to cater to different stages of every RIA.
Michael: What's too much? Like, what's the point where it's like, "No, this isn't a virtual assistant thing, you need someone else to do this?" Is there a line on the other end of when is it too much, when is it not a good fit for a virtual assistant solution anymore?
Michelle: I would say when they need a lot of direction. So when they don't want to plug in at all and they're looking more for like a consultant to build everything out first. It's nice because some operational consultants that refer work to us, they'll actually build out the workflows and automation, but then from a recurring perspective, they'll pass them on to us to kind of manage that implementation. It's a very interesting relationship the way that we kind of blend in with consultants that they might already be working with because we do have that technology experience to cater to them. But then a lot of consultants, they don't normally have an implementation team or ongoing support in that nature, where a virtual assistant would definitely be the right solution for them in that instance.
Michael: Are there particular consultants that you work with for the advisors that are like, "This sounds great, but I don't have any workflows, I haven't made workflows, so I don't really know how to give you a workflow and let you do steps four, six, and seven?" Are there consultants you like to refer out to for advisors that need that level of help?
Michelle: Yeah, definitely. So I refer Charesse Hagan from Level Best. I work very closely with her. She's great. There's also Arielle, she works more on the automation side. She is great as well.
Michael: Arielle...
Michelle: Arielle Minicozzi.
Michael: Okay.
Michelle: And they all...everyone has their own strengths and own offerings and different price points. So I always say find the best fit for your firm. I'm always more than welcome...even when advisors come to Nifty, if we're not exactly the right fit, I'm more than happy to relay out other solutions that would be a better fit for them.
Michael: Okay. And so as you've gone down this journey, what surprised you the most about being in the world of building your own business?
What Surprised Michelle The Most About Building Her Business and What Does Her Typical Week Look Like [01:16:25]
Michelle: I think the hardest part for me is dealing with business transitions, whether they're team transitions or advisor transitions, just because those types of changes are very unexpected. So making sure that the advisor is happy, but then also that the team is happy, and preparing for those types of items that are kind of thrown at you last minute most of the time. But managing expectations is one of them while going through that transition, which has been challenging for me.
Michael: What about in terms of building and growing the business itself, like, the actual process of building a business?
Michelle: I would say human capital. I didn't realize how much we kind of grew as an agency because we were definitely structured as an agency, right? So pretty much every hour is filled. Anytime a new advisor wants to come on or comes on, we usually have to find a new body. I did not know that I would be hiring so much as I am. But maybe that's a good thing too. I don't know it's a good or a bad thing. There's a challenge, especially with minimal talent in the industry and finding the right people.
Michael: What's your process for figuring out if someone is the right person?
Michelle: Yeah, we've developed our team values as of recently, but developing that, and also, we send out a team questionnaire in the very beginning. What it looks like, on our career page, we developed three different applications for, obviously, our different service offerings. And we actually created scenarios for each application to kind of test whether they have the right acumen to work with us because there is this desire to have them have some industry experience before starting with us. So with those scenarios, whether it's a paperwork scenario or a planning scenario, it really helps us gauge whether they're really the right fit and if they really are speaking true to their word on their resume. But then once they come on, we send a team questionnaire to them to ask them like, "Oh, what's your Myers-Briggs? What are your strengths? What are your weaknesses? Why are you excited to work with Nifty? How do you train best?" Learning about other people's communication skills and how they work is very important to me. And I think by asking those questions, at least the feedback that I've gotten, it shows a different level of care with my team and how I choose to pair them with advisors.
Michael: And so, what does a typical week look like for you at this point?
Michelle: Crazy. Just kidding. Slightly.
Michael: That happens when your business is growing. Yeah.
Michelle: Yeah, of course. So what it looks like is I implemented a time blocking schedule. So right now it's a balance of obviously client work. I still support some advisors on a one-on-one basis as their virtual assistant. But then there has been this growing need to support the team and the business. I'm trying to get better at that, at least in terms of business growth. But in the morning is usually when I focus on client work, because obviously, everything is urgent, so I usually knock that out of the park. And then up until maybe 1 or 2 is I'll work on that and then kind of switch to a break mode. So I'll try to stay away from the computer for a couple of hours at least, or try to. And then in the afternoon/evening, I'll work on the business or really existing projects that I've been working on for a while. But then it's cool. So as of recently as well, I do not take meetings on Fridays. I call Saturday streamlined Saturday and then Sunday is strategic Sunday. So, because I'm able to kind of focus each of those days on different goals, it allows me to make sure I'm using my time more intentionally. So that's the schedule I'm trying to stick by, but it doesn't always work all the time.
Michael: All right, so I've got to ask, what exactly do you do on streamlined Saturday and strategic Sundays?
Michelle: Yeah. So if I could show you my calendar, on streamlined Saturday, it really revolves around any systems internally that I feel like could obviously streamline. So I'll work on automations, or maybe I got feedback from a team member that something's not working properly, just figuring out ways to save time not just for myself, but then also making my team's lives easier. But all of those changes are technology-driven. On strategic Sunday, I either prepare for...I usually have strategy meetings, complimentary strategy meetings every six months with each advisor just to make sure they're doing okay and that we're meeting their expectations. So I'll prepare for those, or just coming up with new ideas that I can implement in marketing, and also figure out how to cater to more outreach in terms of marketing our services.
Michael: So what was the low point on this journey for you?
What Was The Low Point In Her Journey, What Advice Would She Give New Advisors, And How Does She Define Success [01:21:53]
Michelle: I would say the low point is dealing with my anxiety. I feel as if everyone has anxiety to a certain point, right, but it's learning how to manage your mental health at the same time. So the good part about it is when I started Nifty, my mental health has gone a lot better. I think it's just from flexibility. But the part I try to balance is just getting too tired. I deal with a lot of social anxiety, and people are actually surprised by that when I say it. So just keeping Zoom meetings very minimal throughout the week, and making sure that I'm not getting too exhausted because it does take a lot out of you. What, they call it Zoom fatigue after every Zoom meeting? So I totally felt that this week.
But that's the biggest part, is just dealing and keeping my anxiety in check, which is something that you only can deal with personally, it's not something that people can say, "Oh, don't feel anxious." It doesn't work that way. But I constantly get like panic attacks when I get too stressed out, my heart just starts beating, like heart palpitations, it gets really bad. But people don't really see that and the toll that being an entrepreneur can do on your mental health. And that stigma that, "Oh, you're an entrepreneur, you should be staying up to 6 a.m. cranking out business." I don't think that's a very healthy way to go. You might get a lot of work done, but then it's like, is it your best quality work? Is it really worth it and you're sacrificing time with your family and friends as well? So it's a trade-off, and it varies between people. But that's the biggest challenge for me, I feel like.
Michael: And so what else do you do just to try to keep the sanity and the balance? I've noticed like you've talked about the work-life balance dynamic, but you also did articulate something scheduled for all seven days of the week. Like, how do you look at work-life balance and try to keep your stress and kind of mental health in good order?
Michelle: Yeah. So what I've learned, especially working with advisors, is that there's this natural tendency that everything is urgent. Like, everything has to be a quick turnaround time. But what I've learned is what my dad kind of taught me, asking, is the world going to end? And it's not going to end if something's just a little later. I think it's just figuring out how to prioritize your items and figuring out or being able to ask that question like, "Hey, is it really urgent? Is the world going to end?" And then prioritizing items from there. Normally what I do is I started to block out weeks. So I look at my schedule probably a month ahead of time, or maybe two to four weeks ahead of time. And if I feel a week is getting too busy, I'll just block it off to make sure that no one else can schedule meetings during that week, just because I start feeling overwhelmed. And if I feel overwhelmed just looking at my calendar, I'm sure during the actual week, it would feel much, much worse. So anything I can prevent in terms of meetings.
I do realize that I do need breaks between socializing with people. So I've recognized that. They're kind of like buffer days on usually two days out of the week. So if I see that oh, this Monday of next week hasn't scheduled any meetings and I don't want any meetings to be scheduled on that day, I'll make sure to block it out on my schedule. But usually, it's two days out of the week that I have to kind of just take things at my own pace that day, not feel as if I have to get dolled up and ready for a meeting and the added pressure of having to be perceived a certain way during the Zoom meetings. It's a lot. I'm not sure if it's just a female thing or everybody feels that way, but meetings can definitely get very tiring.
Michael: So what do you know now that you wish you could go back and tell you from a couple of years ago as you were coming into the financial services world and considering career paths and journeys? Like, what do you know now that you wish you knew back then?
Michelle: I wish I did this sooner. I always had a natural tendency to start my own business. And the thing is when I was employed, I think it's just Asian culture, we have this natural tendency to want to respect authority. You don't speak up as much as you should. And I think that definitely hindered my growth as a professional, even though many people knew I'm very passionate about professional development and helping others. I was very active in like volunteer leadership positions at the time. So I think with Nifty...I know, I've always had little businesses here and there. I think with Nifty, I was really able to spread my wings as much as I wanted to and be as creative as I would have liked. But then also just getting more involved in the industry and being able to be shown as a leader versus in that traditional role where you kind of feel like you're in the bottom of the fish tank, which isn't totally fun. But finding a business that really reflects my goals and values as a person and being able to support others that feel the same way I think is the best feeling. And I'm so glad to be able to share it with everybody.
Michael: So what advice would you give new people looking to come into the industry and figure out their path?
Michelle: I would say think outside of the box. Don't take everything with a...or take everything with, what, with a grain of salt? It's a little hard because you don't know what you don't know. So not just interviewing or finding a mentor with a financial planner, but then also maybe finding a mentor in other roles within the industry that you find interesting because you're never really going to understand the full aspect of the job or the role without really seeing what people are doing on day-to-day. Because, again, you might think that you're the right fit for a role, or you might enjoy something or you might not necessarily enjoy it at all, whether that's you want to be in servicing, you might not like servicing, so you want to be a planner and vice versa. And I think it's just really figuring out what makes you happy and not have others dictate what you think should make you happy.
Michael: As we wrap up, this is a show about success, and one of the themes that always comes up is just the word "success" means very different things to different people. And so you're on this incredibly successful track of building Nifty and hiring up a growing team and providing services to advisors, but how do you define success for yourself at this point?
Michelle: I define success when I see other people succeed. I know that's a very weird answer, but I love team management and kind of getting into my team's head but also others in the industry, figuring out how I can support them. But that's really my idea of success, is figuring out how to help others. And I always say service leadership is really important to me, but seeing the impact from that level in my eyes is success.
Michael: Well, I love it, and I think it's certainly reflected in just the business you're building and the direction that you've taken it. So I'm excited to see what comes next for you.
Michelle: Me too. Thank you so much.