Executive Summary
In a world where most advisory firms are relatively small businesses, having a formal business plan is a remarkably rare occurrence. For most advisors, they can "keep track" of the business in their head, making the process of creating a formal business plan on paper to seem unnecessary.
Yet the reality is that crafting a business plan is about more than just setting some business goals to pursue. Like financial planning, the process of thinking through the plan is still valuable, regardless of whether the final document at the end gets put to use. In fact, for many advisory firms, a simple "one-page" financial advisor business plan may be the best output of the business planning process – a single-page document with concrete goals to which the advisor can hold himself/herself accountable.
So what should the (one-page) financial advisor business plan actually cover? As the included sample template shows, there are six key areas to define for the business: who will it serve, what will you do for them, how will you reach them, how will you know if it's working, where will you focus your time, and what must you do to strengthen (or build) the foundation to make it possible? Ideally, this should be accompanied by a second page to the business plan, which includes a budget or financial projection of the key revenue and expense areas of the business, to affirm that it is a financially viable plan (and what the financial goals really are!).
And in fact, because one of the virtues of a financial advisor business plan is the accountability it can create, advisors should not only craft the plan, but share it – with coaches and colleagues, and even with prospective or current clients. Doing so becomes an opportunity to not only to get feedback and constructive criticism about the goals, but in the process of articulating a clear plan for the business, the vetting process can also be a means to talk about the business and who it will serve, creating referral opportunities in the process!
Why A Business Plan Matters For Financial Advisors
There's no end to the number of articles and even entire books that have been written about how to craft a business plan, yet in practice I find that remarkably few financial advisors have ever created any kind of formal (written or unwritten) business plan. Given that the overwhelming majority of financial advisors essentially operate as solo practitioners or small partnerships, this perhaps isn't entirely surprising – when you can keep track of the entire business in your head in the first place, is there really much value to going through a formal process of crafting a financial advisor business plan?
Having been a part of the creation and growth of numerous businesses, I have to admit that my answer to "does a[n individual] financial advisor really need a business plan?" is a resounding yes. But not because you're just trying to figure out what the basics of your business will be, which you may well have "figured out" in your head (or as the business grows, perhaps figured out in conversations with your partner). The reason a business plan matters is all about focus, and the ability to keep focus in proceeding towards your core objectives, and accountable to achieving them, even in a dynamic real-world environment full of distractions.
As the famous military saying goes, "no battle plan ever survives contact with the enemy", because the outcomes of battle contact itself change the context, and it's almost impossible to predict what exactly will come next. Nonetheless, crafting a battle plan in advance is a standard for military leadership. Because even if the plan will change as it's being executed, having a clearly articulated objective allows everyone, even (and especially) in the heat of battle, to keep progressing towards a common agreed-upon goal. In other words, the objective stated in the battle plan provides a common point of focus for everyone to move towards, even as the (battle) landscape shifts around them. And the business plan serves the exact same role within a business.
Essential Elements Required In A Financial Advisor Business Plan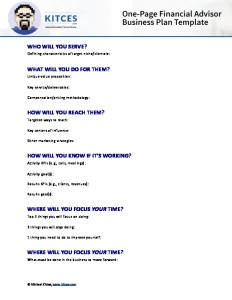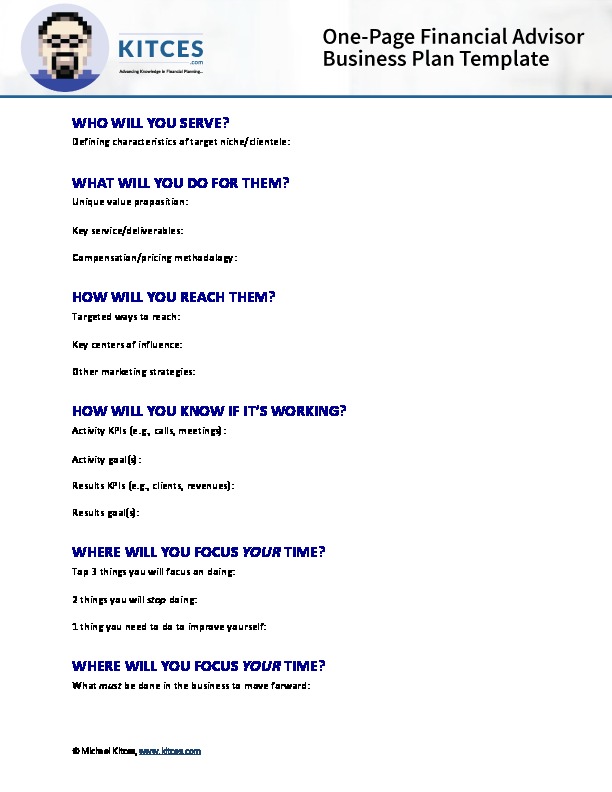 Because the reality is that in business – as in battle? – the real world will not likely conform perfectly to an extensively crafted business (or battle) plan written in advance, I am not a fan of crafting an extensively detailed business plan, especially for new advisors just getting started, or even a 'typical' solo advisory firm. While it's valuable to think through all the elements in depth – the process of thinking through a business plan is part of what helps to crystallize the key goals to work towards – as with financial planning itself, the process of planning can actually be more valuable than "the plan" that is written out at the end.
Accordingly, for most financial advisors trying to figure out how to write a business plan, I'm an advocate of crafting a form of "one-page business plan" that captures the essential elements of the business, and provides direction about where to focus, especially focus the time of the advisor-owner in particular. In other words, the purpose for a financial advisor business plan is simply to give clear marching orders towards a clear objective, with clear metrics about what is trying to be achieved along the way, so you know where to focus your own time and energy!
Of course, the reality is that what constitutes the most important goals for an advisory firm – as well as the challenges it must surmount – will vary a lot, depending not just on the nature of the firm, but simply on its size, scope, and business stage. Financial advisors just getting started launching a new RIA face very different business and growth issues than a solo advisor who has been operating for several years but now hit a "wall" in the business, and the challenges of a solo advisor are different than those of a larger firm with multiple partners who need to find alignment in their common business goals. Nonetheless, the core essential elements that any business plan is required to cover are remarkably similar.
Requirements For An Effective Financial Advisor Business Plan
While there are many areas that can potentially be covered, the six core elements that must be considered as the template for a financial advisor business plan are:
6 Required Elements Of A (One Page) Business Plan For Financial Advisors

1) Who will you serve? This is the most basic question of all, but more complex than it may seem at first. The easy answer is "anyone who will pay me", but in practice I find that one of the most common reasons a new advisor fails is that their initial outreach is so unfocused, there's absolutely no possibility to gain any momentum over time. In the past, when you could cold-call your way to success by just trying to pump your products on every person who answered the phone until you found a buyer, this might have been feasible. But if you want to get paid for your advice itself, you need to be able to demonstrate your expertise. And since you can't possibly be an expert at everything for everyone, you have to pick someone for whom you will become a bona fide specialist (which also provides crucial differentiation from other advisors the potential client might choose to work with instead). In other words, you need to choose what type of niche clientele you're going to target to differentiate yourself. And notably, this problem isn't unique to new advisors; many established advisors ultimately hit a wall in their business, in part because it's so time-consuming trying to be everything to everyone, that they reach their personal capacity in serving clients earlier than they 'should'. Focusing on a particular clientele – to the point that you can anticipate all of their problems and issues in advance – allows the business to be radically more efficient. So who, really, do you want to serve?

2) What will you do for them? Once you've chosen who you will serve, the next task is to figure out what you will actually do for them – in other words, what services will you deliver. The reason it's necessary to first figure out who you will serve, is that the nature of your target niche clientele may well dictate what kind of services you're going to provide them; in fact, part of the process of identifying and refining your niche in the first place should be to interview a number of people in your niche, and really find out what they want and need that's important to them (not just the standard 'comprehensive financial plan' that too many advisors deliver in the same undifferentiated manner). For instance, if you're really serious about targeting retirees, you might not only provide comprehensive financial planning, but investment management services (for their retirement portfolios), a specific retirement income distribution strategy, assistance with long-term care insurance, and guidance on enrolling in Medicare and making decisions about the timing of when to start Social Security benefits. On the other hand, if you hope to work with entrepreneurs, you might need to form relationships with attorneys and accountants who can help facilitate creating new business entities, and your business model should probably be on a retainer basis, as charging for assets under management may be difficult (as entrepreneurs tend to plow their dollars back into their businesses!). If your goal is to work with new doctors, on the other hand, your advice will probably focus more on career guidance, working down a potential mountain of student debt, and cash flow/budgeting strategies. Ultimately, these adjustments will help to formulate the ongoing client service calendar you might craft to articulate what you'll do with clients (especially if you plan to work with them on an ongoing basis), and the exact business model of how you'll get paid (Insurance commissions? Investment commissions? AUM fees? Annual retainers? Monthly retainers? Hourly fees?).

3) How will you reach them? Once you've decided who you want to reach, and what you will do for them, it's time to figure out how you will reach them – in other words, what will be your process for finding prospective clients you might be able to work with? If you're targeting a particular niche, who are the centers of influence you want to build relationships with? What publications do they read, where you could write? What conferences do they attend, where you might speak? What organizations are they involved with, where you might also volunteer and get involved? If you're going to utilize an inbound marketing digital strategy as an advisor, what are the topics you can write about that would draw interest and organic search traffic, and what giveaway will you provide in order to get them to sign up for your mailing list so you can continue to drip market to them? In today's competitive world, it's not enough to just launch a firm, hang your (virtual) shingle, and wait for people to walk in off the street or call your office. You need to have a plan about how you will get out there to get started!

4) How will you know if it's working? Once you've set a goal for who you want to serve, what you want to do for them, and how you will reach them, it's time to figure out how to measure whether it's working. The caveat for most financial advisory businesses, though, is that measuring outcomes is tough because of the small sample size – in a world where you might have to reach out to dozens of strangers just to find a dozen prospects, and then meet with all those prospects just to get a client or two, it's hard to tell whether a strategy that nets one extra client in a quarter was really a "better strategy" or just random good luck that won't repeat. As a result, in practice it's often better to measure activity than results, especially as a newer advisory firm. In other words, if you think you'll have to meet 10 Centers Of Influence (COIs) to get introductions to 30 prospects to get 3 clients, then measure whether you're meeting your activity goals of 10 COIs and 30 prospect meetings, and not necessarily whether you got 2, 3, or 4 clients out of the last stint of efforts. Not that you shouldn't ultimately have results-oriented goals of clients and revenue as well, but activity is often the easier and more salient item to measure, whether it's phone calls made, articles written, subscribers added to your drip marketing list, prospect meetings, COI introductions, or something else. So when you're defining the goals of your business plan, be certain you're setting both goals for the results you want to achieve, and the key performance indicator (KPI) measures you want to evaluate to regarding your activities along the way?

5) Where will you focus your time in the business? When an advisory firm is getting started, the role of the advisor-as-business-owner is to do "everything" – as the saying goes, you're both the chief cook and the bottle washer. However, the reality is that the quickest way to failure in an advisory firm is to get so caught up on doing "everything" that you fail to focus on the essential activities necessary to really move the business forward (that's the whole reason for having a plan to define what those activities are, and a measure to determine whether you're succeeding at them!). Though in truth, the challenge of needing to focus where you spend your time in the business never ends – as a business grows and evolves, so too does the role of the advisor-owner as the leader, which often means that wherever you spent your time and effort to get your business to this point is not where you need to focus it to keep moving forward from here. From gathering clients as an advisor to learning to transition clients to another advisor, from being responsible for the firm's business development to hiring a marketing manager, from making investment decisions and executing trades to hiring an investment analyst and trader. By making a proactive decision about where you will spend your time, and also deliberately deciding what you will stop doing, it also becomes feasible to determine what other resources you may need to support you, in order to ensure you're always spending your time focused on whatever is your highest and best use. In addition, the process can also reveal gaps where you may need to invest into and improve yourself, to take on the responsibilities you haven't in the past but need to excel at to move forward from here.

6) How must you strengthen the foundation? The point of this section is not about what you must do to achieve the goals you've set, but what else needs to be done in the business in order to maximize your ability to make those business goals a reality. In other words, if you're going to focus your time on its highest and best use in the business, what foundation to you need to support you to make that happen? If you're a startup advisory firm, what business entity do you need to create, what are the tools/technology you'll need to launch your firm, and what licensing/registrations must you complete? Will you operate with a 'traditional' office or from a home office, or run an entirely virtual "location-independent" advisory firm? What are the expenses you're budgeting to operate the business? If you're an advisor who's hit a growth wall, what are the essential hire(s) you'll make in the near future where/how else will you reinvest to get over the wall and keep moving forward? At the most basic level, the key point here is that if you're going to execute on this business plan to move the business forward from here, you need a sound foundation to build upon – so what do you need to do to shore up your foundation, so you can keep building? But remember, the goal here is to do what is necessary to move forward, not everything; as with so much in the business, waiting until perfection may mean nothing gets done at all.
Creating A Budget And Financial Projections For Your Advisory Business
In addition to crafting a (one-page) financial planner business plan, the second step to your business planning process should be crafting a budget or financial projection for your business for the upcoming year (or possibly out 2-3 years).
Key areas to cover in budget projections for a financial advisory firm are:
Revenue

- What are the revenue source(s) of your business, and realistically what revenue can you grow in the coming year(s)?

- If you have several types of revenue, what are you goals and targets for each? How many hourly clients? How much in retainers? How much in AUM fees? What commission-based products do you plan to sell, and in what amounts?

Expenses

- What are the core expenses to operate the business on an ongoing basis? (E.g., ongoing salary or office space overhead, core technology you need to operate the business, etc.)

- What are the one-time expenses you may need to contend with this year? (Whether start-up expenses to launch your advisory firm, new hires to add, significant one-time projects to complete, etc.)
An ongoing advisory firm may project out for the next 1-3 years, while a newer advisors firm may even prefer a more granular month-by-month budget projection to have regular targets to assess.
Ultimately, the purpose of the budgeting process here is two-fold. The first reason for doing so is simply to have an understanding of the prospective expenses to operate the business, so you can understand if you do hit your goals, what the potential income and profits of the business will be (and/or whether you need to make any changes, if the business projections aren't viable!). The second reason is that by setting a budget, for both expenses and revenue, you not only set targets for what you will spend in the business to track on track, but you have revenue goals to be held accountable to in trying to assess whether the business is succeeding as planned.
Vetting Your Business Plan By Soliciting Constructive Criticism And Feedback
The last essential step of crafting an effective financial planner business plan is to vet it – by soliciting feedback and constructive criticism about the gaps and holes. Are there aspects of the financial projections that seem unrealistic? Is the target of who the business will serve narrow and specific enough to be differentiated, such that the person you're talking to would clearly know who is appropriate to refer to you? Are the services that will be offered truly unique and relevant to that target clientele, and priced in a manner that's realistically affordable and valuable to them?
In terms of who should help to vet your financial advisor business plan, most seem to get their plan vetted by talking to a business coach or consultant to assess the plan. While that's certainly a reasonable path, another option is actually to take the business plan to fellow advisors to vet, particularly if you're part of an advisor study (or "mastermind") group; the reason is that not only do fellow advisors have an intimate understanding of the business and potential challenges, but if their target clientele is different than yours, it becomes an opportunity to explain what you do and create the potential for future referrals! In other words, "asking for advice on your business plan" also becomes a great opportunity to "tell you about who I work with in my business that you could refer to me" as well! (In fact, one of the great virtues of a clearly defined niche practice as an advisor is that you can generate referrals from other advisors who have a different niche than yours!)
Similarly, the reality is that another great potential source for feedback about your business plan are Centers of Influence already in your niche in the first place. While you might not share with your potential clients the details of your business financial projections (which is why I advocate that those be separate from the one-page business plan), the essential aspects of the business plan – who you will serve, what you will provide them, how you will charge, and how you will try to reach them – is an area that the target clientele themselves may be best positioned to provide constructive feedback. And in the process, once again you'll effectively be explaining exactly what your niche business does to target clientele who could either do business with you directly, or refer business to you, even as you're asking for their advice about how to make the business better (to serve people just like them!). So whether it's people you're not yet doing business with but want to, or an existing client advisory board with whom you want to go deeper, vetting your plan with prospective and current clients is an excellent opportunity to talk about and promote your business, even as you're going through the process of refining it and making it better!
And notably, the other benefit of vetting your business plan with others – whether it's a coach, colleague, prospects, or clients – is that the process of talking through the business plan and goals with them also implicitly commits to them that you plan to act on the plan and really do what's there. In turn, what this means is that once you've publicly and openly committed to the business plan with them, it's now fair game for them to ask you how it's going, and whether you're achieving the goals you set forth for yourself in the plan – an essential point of accountability to help you ensure that you're following through on and executing the business plan you've created!
So what do you think? Have you ever created a formal business plan for yourself? If you have, what worked for you – a longer plan, or a shorter one? If you haven't created a business plan for yourself, why not? Do you think the kind of one-page financial advisor business plan template articulated here would help? Have you checked out our financial advisor business plan sample template for yourself? Do you have a financial advisor business plan example you're willing to share in the comments below?