Executive Summary
Over the years financial planners have had a love/hate relationship with marketing. In most of those years, though, it's more of a hate/hate relationship. The traditional methods of outbound marketing - from cold calling to traditional advertising - have had so little benefit for the overwhelming majority of planning firms, that most don't even have a budget for marketing in the first place. To the extent any business development occurs, it's strictly from referrals, and any "marketing" expenses don't extend much further than paying for social events with clients or centers of influence to cultivate more referrals.
But as the digital age reaches financial planning, an entirely new marketing opportunity emerges: inbound marketing. The basic principle: instead of blasting out solicitations hoping you happen to hit a prospective client like finding a needle in a haystack, create content that is useful, relevant, and interesting for your target clients, and let them find you.
Inbound Marketing For Financial Advisors
The inspiration for today's blog post is an extension of an article I wrote last week, entitled "3 Ways the Digital Age Will Change Financial Planning in the Next 10 Years", which began to explore how key aspects of financial planning practices will change in the coming years. In terms of marketing, the digital age creates a tremendous opportunity for planners to thrive in the digital age, as inbound marketing techniques can be especially effective for professional financial planning practices.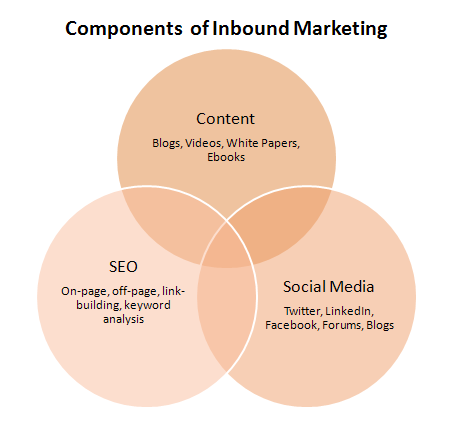 The key to success for inbound marketing is creating content that is useful, relevant, and interesting for your target clients. The content may take many forms, from blogs, e-books and white papers to videos, webinars and pinboards. Once created, the content is made public and available, so that your target market can find your materials when they search the web (the process of making your content more searchable is called "Search Engine Optimization"). These key elements are summarized in the graphic to the right from Hubspot, a popular platform used to support inbound marketing efforts.
The biggest challenge, however, is that inbound marketing only works if you have a clearly defined target market. As I've written in the past, I believe that eventually every financial planning professional should have a niche, as it's crucial for everything from effectively targeting the services your business delivers, to your referrability with your clients, to your marketing - especially your inbound marketing.
The Importance Of Having A Niche
For example, imagine your target niche is working with families that have young children. The content on your website might have tips for everything from the best 529 plans for babies to videos explaining how to figure out the right amount of life insurance to buy when your first baby arrives. In addition, your content might also includes a quick video about how to soothe a baby that's teething, or a guide you found with tips about how to childproof the house when the baby starts to crawl.
The point is just not to be pushing financial information; the point is to be a resource for your target clients with whom they can build trust and a relationship as you impart wisdom and sharing interesting content in any number of areas relevant to their world. At some point, when your readers have a question that is financial and you make it clear that you're available and ready to help, they'll contact you when it's right for them. In a meantime, they may even start sharing with their friends where they're finding all that great information... which means your base of prospective clients is growing. (For an example of a planner targeted at new parents, check out Kristin Harad at VitaVie Financial Planning; another example of inbound marketing techniques for a target clientele is Brittney Castro's Financially Wise Women.)
However, if you haven't defined your target market, you can't create content that's relevant for them. And no, people who can afford my services, or meet my asset requirements, or pay my minimum fees, is not a target market. Because you can't create relevant content that attracts new clients and prospects with a target that broad. In fact, a good tip is that if you can't think of what kind of non-financial content would be relevant for your target market, you probably haven't defined it well enough yet.
Remember, in the digital world of the future, where technology allows us to connect and communicate regardless of geography, people won't simply work with the best planner that's recommended in their area. They'll work with the best planner in the country who can solve their problems. Which means that by being unfocused in your target market, your clients will slowly be taken away by competitors from across the country who are each individually more relevant and expert in the needs of any particular one of your clients... until you have few left.
Inexpensive Content Marketing
Another upside of this approach is that in the digital world - where you can work with anyone, regardless of their geography - the techniques of inbound marketing are remarkably inexpensive. Creating a blog and a website costs almost nothing; most social media accounts are completely free. Creating content - not to mention sharing content you find that others have created but is relevant for your target market - is also free. At worst, you may spend a little bit of money having your website properly designed, especially to optimize it for web searches so your target market can actually find you when they search for information. But compared to outbound marketing techniques like traditional advertising, these kinds of "content marketing" strategies cost pennies on the dollar in cost, with a very high potential return on investment.
The bottom line is that as the digital age transforms financial planning, simply relying on referrals generated by relationships will become more and more challenging. Clients don't simply want to work with someone they're referred to; ideally, they want to work with the person who's the best at handling their particular needs and situation. In the past, clients have settled for working with someone nearby who was recommended to them, because the alternatives were limited. As technology and the digital age advances, the limitations and barriers to those alternatives are breaking down.
So what do you think? Do you work with any clients who are not in your immediate geographic area? How did they find you? Have you heard of inbound marketing before? Do you have a blog or use social media to attract "inbound marketing" prospects? Are you thinking about trying it in the future?