Executive Summary
For its entire history, financial planning has been about sitting down across from clients, face-to-face, and talking them through solutions to their financial planning challenges. Finding clients was about in-person meetings, getting clients was about in-person meetings, and serving clients was about in-person meeting.
Yet the rise of technology is creating a new service model for financial planning – the "virtual" advisor, who uses web-based tools and technology to serve clients, regardless of where the client (or advisor) happens to be. And these "location-independent" advisors are able to serve new and different types of clientele, thanks to both the cost savings and efficiency of using technology in lieu of a traditional office, and the potential to craft an especially focused business serving a niche clientele that becomes feasible in the world of content and inbound marketing.
In point of fact, the growth of online financial advice (not just via "robo-advisor" but delivered by human advisors using technology) is already underway – fueling the growth of platforms from Personal Capital to Vanguard Personal Advisor Services – and an increasing number of existing advisors are beginning to use more technology tools to serve their clients as well. But as a new e-book entitled "The Virtual Advisor" by Alan Moore points out, the new location-independent virtual advisor model may be most appealing to the next generation of financial advisors, who will have the opportunity not to just create a life around the business of financial advice, but instead to create an advisory business around living their own great life.
The Appeal Of Being A Virtual Advisor – The Location-Independent Business Model
One of the great challenges of building an advisory firm is that with a physical office presence, it's difficult to stray far from the office. The advisor must be there regularly to meet with clients, or at least to be available to them. An office infrastructure gets built around it, that in turn must be managed as well. And suddenly the advisory firm that was created to be financially fulfilling and eventually – hopefully! – lead to financial freedom, has instead become a financial tether, punctuated by occasional vacations (if feasible!). The advisor is forced to build his/her life around the business.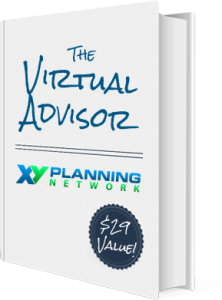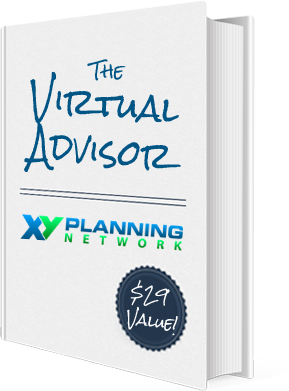 By contrast, a recent e-book from XY Planning Network co-founder Alan Moore, entitled "The Virtual Advisor", makes the case that the best way for advisors to avoid this challenge is to adopt a 'location-independent' virtual advisory practice. In this context, a "virtual advisor" is one who works virtually – i.e., online – with clients. Meetings are conducted by the increasingly acceptable means of video chat, other client communication is handled via email and/or telephone, and no clients meetings occur in person at all. And without meeting in person, there's no longer a need to even have an office.
In fact, if client meetings can occur 'virtually' using technology, the reality is that it no longer even matters where the advisor is in the first place. After all, anywhere there's a viable broadband internet connection, the advisor can conduct a video meeting with a client – whether it's from a home office, a vacation home, or just on vacation. In other words, the location of the advisor and/or the firm becomes entirely independent of where the clients happen to be. It is a "location-independent" virtual advisory firm, where the advisor doesn't have to build a life around the business, and instead can build a business around his/her life.
Required Technology To Operate As A Virtual Financial Advisor
In the past, operating a location-independent advisory firm wouldn't have been possible, because the required technology simply wasn't portable enough in the first place. Essential advisory software tools required servers, and a server is not exactly something you can just pack up and take with you wherever you go.
In today's environment, however, accessing "the cloud" via the internet really does make it possible to have access to the key information and software necessary to run an advisory firm, without actually taking that information – or the servers to store and operate it – with you. Instead, everything lives on servers housed in secure server farms, and the advisor simply uses the internet – thanks to the widespread availability of broadband connectivity – to access the requisite software and information wherever he/she happens to be. It's like having a personal server with all the tools and technology necessary to run the practice, and a flexible extension cord that reaches anywhere in the world to plug in and access it!
In this context, key software and technology tools include:
- Cloud-Based File Storage. Available options include solutions like Google Drive, Dropbox, Box, and more.
- Virtual Meeting Software. The rising popularity of virtual communications across a wide range of industries has created a boom in virtual meeting tools, from simple and free solutions like Google Hangouts and Skype, to 'premium' (but still relatively inexpensive) options like GoToMeeting.
- Client Information/Reporting Tools. Account aggregation tools like Blueleaf, ByAllAccounts, and Yodlee allow advisors to provide clients with an online portal to access their own investment (and often other information as well) whenever they wish, eliminating any need for the advisor to create and print physical reports.
- (Virtual) Phone System. Options here include an entire virtual phone system like Grasshopper, to a free forwarding and voicemail service like Google Voice, to having a virtual receptionist as part-time staff support via Ruby Receptionist.
In addition, The Virtual Advisor also includes recommendations in other key software areas, including Accounting/Payroll systems, advisor CRM software, eSignature solutions, and financial planning software, along with other efficiency tools that are important for the 'mobile' advisor including meeting scheduler tools, password management solutions, and software backup services.
Of course, perhaps the most important tool for the virtual advisor is simply to have a high-quality computer to use in the first place. Those who are still based primarily in a physical location that just happens to not be a traditional office (e.g., a home office) may simply purchase a high-quality desktop computer. On the other hand, those who truly intend to use their "location independence" as a virtual advisor to engage in more travel and meet with clients from anywhere may prefer to invest into a high-quality laptop that can live up to the stress of travel. Purchasing a mobile hotspot to have 4G internet connectivity from anywhere may also be appealing (if not already built into the laptop).
Notably, while a virtual financial advisory firm will generally be entirely paperless – to facilitate accessing and managing information virtually – in some cases, physical paper documents do still need to be mailed to the advisor. For those who actually intend to be not just location-independent, but actually location-mobile (i.e., traveling and meeting with clients virtually from anywhere/everywhere), a 'virtual' mailing address may be appealing to collect mail and digitize it – services like Traveling Mailbox will actually collect mail, scan it, and upload it to a secure online portal for advisors to access (and without ever being required to give out a personal address or maintain a physical office location!).
(Content And Inbound) Marketing As A Virtual Financial Advisor
One of the greatest virtues of structuring an advisory firm to operate virtually, is that without relying on in-person meetings, the virtual advisor is no longer constrained to just his/her local market to find clients. Instead, the virtual advisor can theoretically work with anyone anywhere in the world. Which in turn means one of the greatest challenges of being a virtual advisor is figuring out how to market and stand out in an online world, where anyone can work with anyone else anywhere!
In practice, though, the key to successfully marketing online is all about one word: differentiation. By having a clear niche and/or some kind of specialization, the virtual advisor has an opportunity to establish themselves as a recognized expert for a particular type of clientele. Which means now the power of the internet begins to work to the advisor's favor, as the advisor's prospective clients search online for solutions, and find their way to the advisor.
This type of approach, dubbed "inbound marketing", works especially well for advisors with a focused niche or specialization. The advisor can create a blog, share his/her expertise via writing, or video, or a podcast, and create the opportunity for consumers to find their way to the advisor, through that content. And the advisor can further establish his/her expertise by sharing that content out via social media, engaging (virtually) with other centers of influence in the target niche, creating the opportunity for further (virtual) referrals. And with the media increasingly using social media platforms like Twitter to find sources, the virtual advisor who is a recognized expert in a particular area can even gather the attention of the traditional media, too.
Notably, though, some advisors who work virtually may still actually focus in a local market as well. After all, in a busy metropolitan area, being able to meet with clients virtually – and save them the 2 hours of round-trip driving in traffic that's necessary just to accomplish a 1-hour in-person meeting – can still be a huge benefit for the client. Especially if working with those who are especially time-constrained, but busy executives and entrepreneurs, to harried Gen X parents. Even if those clients are referred by being involved in a local networking group to begin with, or even from other advisors who serve a different type of clientele and want to refer a mismatched prospect to someone else who's a better match (like the virtual advisor!).
Adopting The Virtual Advisor Approach And Alternative Advisor Business Models
For advisors who are already accustomed to serving clients in-person, the transition to a virtual advisor model can be gradual. It doesn't have to be all-or-none, nor does it have to be done all at once. In fact, the easiest way for an existing advisor to transition to a (more) virtual model is to start with existing client relationships, and only focus on getting new (online) clients second. In other words, as an existing advisor, don't worry yet about how to get new clients online (and then figuring out how to serve them virtually); instead, simply focus on starting to work with some existing clients on a virtual basis using the available tools and technology, and expand the service over time to eventually be available for new clients too.
For new advisors starting a firm, though, the appeal of the virtual model from day one is that it allows for the advisor to launch a less expensive and lower-cost model from the start - a trend that several large firms have already begun to capitalize upon, from Personal Capital to Vanguard Personal Advisor Services. From the perspective of an independent advisor just getting started, though, the virtual advisor model gives a new advisor the opportunity to make their website their "first impression" for clients and their virtual office storefront, maintaining credibility while eliminating any need for the cost of physical office space (including not just the office lease, but all the ancillary costs including utilities, internet, cleaning, furnishings, and liability insurance!). In turn, the lower cost to maintain the business (without an office, or perhaps just using public spaces or an inexpensive co-working space) puts less pressure on the "income gap" that new advisors struggle with (those early years of low income until there are enough ongoing clients to maintain the advisor's standard of living).
Though as some of the advisor case studies illustrate in Moore's "The Virtual Advisor", the benefit of operating virtually is not just that it's possible to launch a new advisory firm at a lower expense to the advisor, but that it becomes more feasible to serve clients with new and different business models, opening the door to new types of clientele that advisors have not traditionally served. For instance, many of the advisors profiled in Moore's e-book work with niches like Gen Y, young families, and the military – client segments that have been traditionally underserved by comprehensive financial planning, on the belief that "they can't be served profitably"… at least, until they're served with a lower cost virtual business model!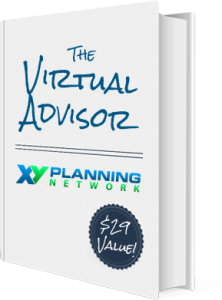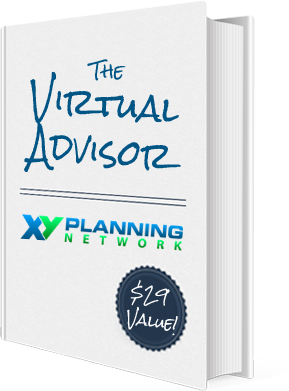 Ultimately, though, Moore's key point is perhaps a simpler one. As advisors, we often counsel clients to use their human and financial capital to get the best "Return on Life", or as Moore puts it: to help clients live their great life. Accordingly, then, the real purpose of operating as a location-independent virtual advisor is to allow the advisor to take the advice and live his/her own great life, too.
In the meantime, you can download a copy of Moore's "The Virtual Advisor" e-book directly on the XY Planning Network site.
Disclosure: Michael Kitces is a co-founder of the XY Planning Network, which was mentioned in this article.