Executive Summary
Getting started as a financial planner is difficult.
Although not quite the ugly environment of decades ago, where every prospective advisor was simply thrown out into the cold to fend for themselves trying to find clients in a brutal demonstration of natural selection and survival of the fittest, the fact that financial planning is still dominated by small firms with limited experience in hiring and training makes formal career paths rare.
Sadly, financial planning still has quite a ways to go to create the sorts of clear career progression paths that exist in the fields of medicine, law, and accounting. Nonetheless, there are certainly ways to increase the likelihood that each step you take in your early career will be a positive step forward.
10 Tips To Improve Your Journey Down The Financial Advisor Career Path
In this blog post, I give my own top 10 tips for new financial planners looking to maximize their own progression down the financial advisor career path.
1) Get Your CFP Certification
Fortunately, most people looking to get started on a finanical planning career today have already gotten this message, but in case you haven't, you heard it here first - go get your CFP certification.
Sadly, the reality is that CFP certification is still not a requirement to hold yourself out to the public as a financial planner, financial advisor, or financial consultant. Ultimately, though, getting your CFP certification from a quality educational program is still crucial for two reasons: 1) if you want to give comprehensive financial advice, you need to know what you're talking about in the first place, and the CFP educational curriculum is a fantastic starting point to ensure you're competent; and 2) the CFP certification is increasingly becoming the baseline standard that any firm serious about financial planning expects to see you have, or at least be working on.
Notably, if you're just getting started in the business, you won't be able to actually use the designation, as you'll lack the Experience requirement; nonetheless, get enrolled in a CFP Board registered program and start your education. And yes, this applies even if you already have another professional license in law or accounting or a graduate degree like an MBA; those professions and degrees have a lot of overlap to financial planning, but do not provide the same comprehensive education (although as background they'll certainly make a few sections of the CFP exam very easy for you!).
2) Get A(ny Financial Planner) Job
Yes, I realize you may already be looking to get a job in a financial planning firm, but let me emphasize this: get A job. It doesn't have to be THE perfect financial planning career job from day one. It needs to be a job that gets you some experience related to the financial services industry.
I don't want to belittle the importance of taking your time to find a good firm where you can learn and train (or working with a firm that can help you find such a job), and you should certainly be cautious not to take a position that will require you to go out immediate and get your own clients to survive unless you really want to take on that kind of entrepreneurial position.
But don't spend too much time trying to find that perfect position from the start, as it's kind of like trying to hit a home run your the first time at the bat - trying to swing harder for the fences may increase the odds you hit it out of the park, but it also increases the odds you strike out entirely. And you may not even realize exactly what direction you want to take your financial planning career until you've been doing it for a few years, and really find what you enjoy.
The key aspects you should look for when trying to get that first financial planning job: make sure it's a firm that is really serious about doing financial planning, that you're a good fit for the person you will be working for, that you can focus on learning and getting some experience (that includes operations and administrative experience!), and that you will have an opportunity to be involved in the process (even if it's just behind the scenes for the first year or few).
If the firm has a sophisticated advisor career path laid out for you, that's great, but it's not essential your first time out. And if you really want to hang your own shingle and start your own firm, don't; make that your second job, not your first.
3) Don't Stop Learning With Just CFP Certification
Notwithstanding the importance of getting your CFP certification to ensure basic competency in providing comprehensive financial advice, earning the CFP marks should be considered a starting point, not an end point, for your education.
So what to do after you're done with your CFP educational curriculum? The good news is that there are a growing number of post-CFP educational options. Personally I think the best default option is to pursue a Master's degree in Financial Planning, which provides a broad but more in-depth financial planning education, and can be done through distance learning with a light courseload through a number of organizations, including the American College and the College for Financial Planning. Alternatively, if you have a particular interest in specializing in a certain niche area of financial planning, there are many focused advanced designation programs to consider, including the CLU for life insurance, the CFA for financial and investment analysis, the CPWA for private wealth management, and more.
In the long run, you're going to want to pick a particular niche or area to specialize, but early on you'll be focused more on learning and getting some experience in your first financial planner job (especially if you're working as a staff member in a financial planning firm, and not out trying to get your own clients from scratch).
Also, while it's important to continue learning, don't delay on the prior step - get a job and get some experience, both because you'll need it to get your CFP certification, and because it's frankly easier to really learn the information when you're doing it anyway! Work on your education part-time while you are working.
4) Join A Professional Membership Association For Financial Planners
If you want to be treated like a professional during your financial planner career, you need to be a part of a professional membership association. Your primary choices are the Financial Planning Association (FPA), or the National Association of Personal Financial Advisors (NAPFA); the primary difference is that the latter is for advisors compensated only by fees, so you can only be involved there if you work for a fee-only firm.
If you're eligible for both, try out a meeting or two with each (if there are local groups for both in your area), and see which one is more comfortable for you. (If you are coming to financial planning as a CPA, the Personal Financial Planning section of the AICPA is also a good option in this category.)
5) Join A Young/New Financial Planner Community
The financial planning membership associations all have a group for young planners to join, which gives them the opportunity to network and get to know other young planners at a similar career stage.
For the FPA, it's NexGen; for NAPFA, it's Genesis. The early years of your career will have challenges, and it's good to have a group of peers going through similar difficulties, with whom you can relate, commiserate, and get some friendly advice.
If you're a career changer who is new to financial planning but not "young" (as both NexGen and Genesis have age limits), consider the FPA's MPACT (Mid-Profession And Career Transition community) group instead. And if you're really serious about going out on your own as an independent advisor, check out XY Planning Network.
6) Get A Mentor To Help You Advance Your Financial Planner Career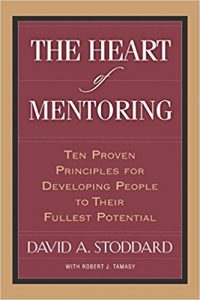 In continuing to build out your peer and support network for your early years as a financial planner, get a mentor (or several).
Mentor relationships can be formal or informal. For a formal mentor relationship, check out the mentor programs available through both the FPA's MentorMatch and the NAPFA Genesis Mentor Program. Alternatively, if there's a particular person you want to work with as a mentor, reach out to him/her directly as well.
Bear in mind that mentoring means different things to different people, though, so if you reach out yourself you may need to give the relationship some structure; I suggest buying yourself, and your requested mentor, a copy of "The Heart of Mentoring" by David Stoddard to help set a roadmap for expectations.
For an informal "mentor" relationship, just keep it simple - reach out to anyone you think you can learn something from, offer to buy him/her lunch, ask a lot of questions during your time together, and then just listen and learn! You'll be amazed at how much most fellow planners are willing to share, especially with someone who's new to the business.
7) Go To A Financial Planning Conference
As a part of both continuing your education, expanding your network of relationships, and overall professional development, go to at least 1 conference per year outside of your local area to gain some new perspective.
Every year I provide a list highlighting the best financial planning conferences (which you should certainly consider!), but if you're a newer planner, there are two others you should seriously consider: the FPA Residency program, and NAPFA University (if you're a NAPFA member).
The FPA Residency program is a standalone intense training program - so intense, in fact, that the week you spend there is eligible for 3 months towards your CFP certification experience requirement! It's not cheap (although there are sometimes scholarship programs to help), but if you're planning to attend, the FPA member discount alone makes it worthwhile to join the FPA.
If you choose NAPFA University, you'll attend one of the main NAPFA conferences, but simply participate in the NAPFA University track; although not quite the intensive and immersive experience of FPA Residency, the upshot is that you'll get a bit more opportunity to interact with practitioners at all levels across the conference itself.
If you're looking for something in a larger conference setting like NAPFA University, but aren't eligible for NAPFA membership itself, there is a Nexgen track at the FPA National conference that's worth considering as well.
8) Volunteer On An Association Committee
Now that you've spent some time engaging in one of the membership associations, volunteer and give back. Join a committee for the local chapter or study group, or volunteer to contribute some of your time to the national organization.
Volunteering is not only a positive for the simple chance to give back to your profession, but it becomes an opportunity to meet people, network to future jobs, build relationships with future colleagues, and find additional mentors. If you're thinking of starting to build your own business and clients someday, begin to volunteer and establish relationships with the community you someday hope to work with, whether that's joining the local Chamber of Commerce or a specialized association in your target market.
9) Tackle Your Demons
You're not going to be perfect at everything coming right out of the gate when you start down the financial advisor career track, and you are probably aware of some of your weaknesses. Tackle them.
Are you afraid of public speaking? Join Toastmasters. Looking to hone or start building some leadership skills, or learn to network better? Check out Dale Carnegie training. Are your technology or typing skills behind where they should be? Find a class for it.
In the long run, you're going to be most successful by focusing on your strengths, but at some point you'll have to shore up some of your weak points as well, and there's no time like now to get started.
10) Have Some Patience
Building a successful career in financial planning takes time. Accept this.
No, this doesn't mean that you should stay in a dead-end job with a firm that isn't growing, but it does mean that it's unrealistic to expect that the firm will hand you a bunch of clients of your own in your first year.
Realize that every job you can do within a financial planning firm will teach you something - yes, even those administrative tasks, because the reality is that paperwork matters and botching it for clients is a great way to lose them - and there's nothing wrong with that, as long as next year you get to spend a bit more time on bigger and better tasks and job duties.
If you're not happy with how things are progressing, ask to sit down with your boss and then ask for more responsibility, but accept that sometimes the answer will be "eventually, but not right now" and that you'll need to ask again in 6 months.
Most of those successful planners you see took 7, 10, or 15 years before their firms got to a comfortable point of providing a stable income to them, so be happy that in today's world you may get to a similar place in only 5-10 years.
---
So what do you think? Did I miss anything important on my list here? Is there something you'd disagree with? Do you have tips for new planners from your own experience? Or any regrets you'd suggest someone else not repeat? Please share your thoughts in the comments below!