Executive Summary
At the close of week's eMoney Advisor Summit, the financial planning software company made a 'surprise' announcement that it will be integrating with its financial planning software competitor MoneyGuidePro.
Yet the reality is that this announcement wasn't actually new – it had been previewed earlier this year at the T3 Advisor Technology conference – and the integration is actually between MoneyGuidePro and the new eMx Select platform, a comprehensive client Personal Financial Management (PFM) solution plus advisor dashboard that eMoneyAdvisor seems to be positioning as a new central platform on which an advisor could run his/her entire business.
From the MoneyGuidePro perspective, its users will likely be happy to have a new and more robust PFM solution to use with clients, and the integration plugs a gap in the MGP client experience. But in the long run, the pressure is now on MGP to continue to stay one step ahead of eMoney Advisor's own financial planning software, or risk finding that their integration is a form of Trojan horse strategy that gives eMoney Advisor the chance to showcase its own software to MGP users and then solicit them to come over for the entire eMoney Advisor solution.
More generally, the decision of MoneyGuidePro to integrate with a perceived competitor certainly makes the point of the rapidly increasing importance of having a PFM portal that delivers a strong financial planning experience for clients. Though ultimately, the real news of the eMoney Advisor decision to unbundle eMx Select is that it is shifting from being "just" financial planning software to instead becoming an increasingly open architecture central advisor platform suggests that Fidelity may even be positioning the software to compete against TD Ameritrade's Veo and Envestnet's emerging platform solution. Which may well have been Edmond Walter's vision all along.
eMoney Advisor's eMx Select Integrates With MoneyGuidePro
The announcement of the new eMoney Advisor integration with MoneyGuidePro came as the eMoney Advisor Summit in Orlando wrapped up earlier this week.
Specifically, the announcement was that MoneyGuidePro will now be integrated into eMx Select, which is eMoney Advisor's "Performance Financial Management" (PFM) dashboard for advisors to use with their clients. According to the joint press release, with this integration both advisors and clients will now be able use a single-sign-on access point from within the eMx portal directly to the client's financial plan in MoneyGuidePro. In addition, account-aggregated client investments connected into eMx Select will flow directly into MoneyGuidePro, allowing for the automation of financial plan updates.
Pricing was announced as being "just" $150/month for the eMx Select solution (plus advisors would still need to pay their MoneyGuidePro licensing fee, which starts at $1,295/year for a solo advisor). Or alternatively, advisors can still pay the full $300/month licensing fee for the full eMoney Advisor financial planning software, and then "also" pay the $1,295/year MoneyGuidePro fee (ostensibly for situations where MGP's goal-based tools would be a better fit for the client than using eMoney Advisor's more cash-flow-based planning software tools). Ironically, for advisors trying to choose between eMoney Advisor or MoneyGuidePro, the cost of the integrated eMx Select plus MoneyGuidePro (at $150/month + $1,295/year) is actually less expensive than buying the comprehensive eMoney Advisor platform on its own at $300/month!
eMx Select Integrations Previously Announced At T3
Strictly speaking, the decision that eMx Select would become available for integration with other software providers, including MoneyGuidePro, was not new – it was previewed as an announcement earlier this year at the T3 Advisor Technology conference, which even included a 'sneak peek' demo video of the new eMx Select.
In the aftermath of the T3 conference, eMoney Advisor announced a long list of prospective integrations that would tie into the eMx Select portal, including not only MoneyGuidePro, but CRM platforms like Salesforce, Redtail, Junxure, and Wealthbox, portfolio accounting solutions like Orion and Tamarac, investment research and data services including Envestnet, Hidden Levers, AdvisoryWorld, and Morningstar, and Riskalyze, and even client document management and sharing tools like Dropbox, LaserFiche, and Laser App.
Notwithstanding the long list of prospective integrations, though, the decision of eMx Select to integrates with MoneyGuidePro was somewhat 'unique', given that the companies are nominally viewed as being in competition with each other as financial planning software providers, raising the question of why they would choose to integrate.
Impact Of eMx Select Integration For MGP And Its Users
For MoneyGuidePro users, the good news of the eMx Select integration is that it provides the robust and popular eMoney Advisor PFM solution for their clients – an area that has arguably been a weak point for MoneyGuidePro, which made a decision early on to not build their own PFM solution but instead to simply integrate with any/all others.
Yet unfortunately, their prior Yodlee integration, while reasonably effective for basic account aggregation data updates, was a relatively weak PFM experience for clients, and other PFM integration partners like Wealth Access were priced too expensive to be appealing for small-to-mid-sized independent advisors (which until recently had a minimum fee of $6,000/year [for up to 10 advisors] before rolling out a $200/month version for a solo advisor). In this context, while eMx Select isn't "cheap" at $150/month (in fact, it's more expensive than MGP itself!), it has a better portal than Yodlee and a lower price point than Wealth Access.
In other words, eMx Select plugs the PFM "gap" that MoneyGuidePro has struggled with – the availability of their PFM solution has been eMoney Advisor's primary differentiator in the marketplace that allowed it to gain significant market share in the first place. Faced with a decision about whether to build its own PFM solution, or integrate with another client portal and stick with its financial planning software core competency (an increasingly common strategic decision most advisor software companies are facing), MGP has made the decision to keep to its core focus.
Notably, the eMx Select deal also helps to relieve any concerns that may have loomed for MGP as their current account aggregation partner Yodlee will soon close on its acquisition deal with Envestnet, which in turn owns competing financial planning software provider FinanceLogix. On the other hand, the issue was only resolved by integrating with a different account aggregation and PFM portal solution produced by a different financial planning software competitor!
From the perspective of MoneyGuidePro users, who have wanted more/different PFM solutions but didn't want to leave MGP for financial planning, the good news is that a new and rather robust eMx Select client portal now becomes available, which existing MGP users can reportedly begin to roll out for clients immediately next week (as rumors are coming in that the MGP-eMx integration is not working properly at launch today, and will require a bug fix being deployed in a patch over the weekend).
Why eMoney Advisor Financial Planning Software Would Integrate With MoneyGuidePro Financial Planning Software
For some, the idea that the eMoney Advisor financial planning software would integrate with a 'competitor' financial planning software may seem odd. Yet the reality is that while eMoney Advisor is often framed as financial planning software that includes a nice client portal, in practice it has been bought by advisors as a client PFM portal that includes financial planning software. In other words, it's the eMoney PFM portal (and increasingly its advisor dashboard capabilities) that have been its defining characteristic, and financial planning analytical tools were simply part of the package.
In this context, the integration decision should make more sense – eMx Select represents the central client PFM portal and advisor dashboard capabilities that were already eMoney Advisor's primary value proposition, and its integration with MoneyGuidePro simply means it now has 30,000+ MGP users to which it can potentially sell its defining feature set.
On the one hand, the decision to unbundle eMx Select may suggest that eMoney Advisor is finally embracing this fact – that its unique value proposition is client portal and advisor dashboard tools that don't actually even require its own financial planning software. And by unbundling, eMoney Advisor opens up a significant additional marketplace opportunity, into which it couldn't sell its PFM and dashboard solutions if they were only bundled with its own financial planning software. In point of fact, I've lamented for years that eMoney Advisor insisted on only bundling its PFM solution with its own financial planning software, and had left a giant gap in the availability of advisor PFM tools.
On the other hand, it's also possible that the decision to allow MoneyGuidePro to integrate into eMx Select is nothing more than a giant Trojan horse strategy – where MoneyGuidePro users adopt eMx Select, see the capabilities of the eMoney Advisor software, and then get solicited to just use eMoney Advisor for everything (PFM/dashboard tools and full financial planning software as well). After all, while the software solutions will be "integrated" to move seamlessly from one platform to the other, they are still designed with a very different visual look and user experience, which may feel awkward and jarring for some advisors and clients who switch from one to the other. The seamlessness of the user experience within eMoney, as opposed to across a blended eMoney and MoneyGuidePro, is also why eMoney probably has more opportunity to gain MGP users with this integration, than it risks in cannibalizing eMoney users who migrate away to MGP for financial planning and just keep eMx Select as a dashboard.
Thus, eMoney Advisor may find that by unbundling, it gets a unique access to show its software capabilities to MoneyGuidePro users, and therefore an opportunity to win them as not just eMx Select users, but full users, especially as the improvements to the eMx Decision Center have made its planning software increasingly viable as an MGP competitor. The potential for eMoney Advisor to gain market share is perhaps even more significant, given that the biggest blocking point for most advisors to switch from one financial planning software to the next is the ability (or lack thereof) to migrate client data between the platforms; yet when MoneyGuidePro users adopt eMx Select, they will also increasingly be loading and importing client data into MoneyGuidePro, which will make it easier than ever for eMoney Advisor to convince advisors to switch away from MGP altogether.
Notably, in the enterprise marketplace – where it's already quite common for large firms to have enterprise licensing agreements with both eMoney Advisor and MoneyGuidePro – the future deployment of the eMx-Select-plus-MoneyGuidePro integration allows eMoney Advisor to cement a more central and controlling position in the enterprise marketplace (as both planning software and the central platform through which all other financial planning software routes as well!).
How Does The eMoney Advisor Platform Integration With MGP Fit Within Fidelity Strategy?
Notably, a "complicating" factor to all things eMoney Advisor is the fact that earlier this year, the company was acquired by Fidelity, which immediately raised questions of Fidelity's strategy for the software (and whether non-Fidelity advisors may someday be restricted from using it).
The announcement that eMx Select will now be available to integrate with MoneyGuidePro should help to finally put those concerns to rest, as it signals not only a desire of Fidelity to see eMoney Advisor's market penetration continue to grow, but a willingness to allow it to function as an increasingly "open architecture" platform.
In fact, it appears that Fidelity may be positioning eMx Select to become not merely financial planning software, but the central platform upon which an advisor builds his/her entire practice. In this context, eMoney Advisor is no longer "just" financial planning software, nor merely a client PFM portal solution, but an increasingly comprehensive central advisor dashboard platform similar to TD Ameritrade's Veo, and what Envestnet appears to be building with its high volume of software acquisitions this year. In a world where Fidelity hasn't historically used a very "open architecture" approach, the rapid growth of eMx Select integrations are increasingly positioning the solution as Fidelity's version of Veo for independent RIAs.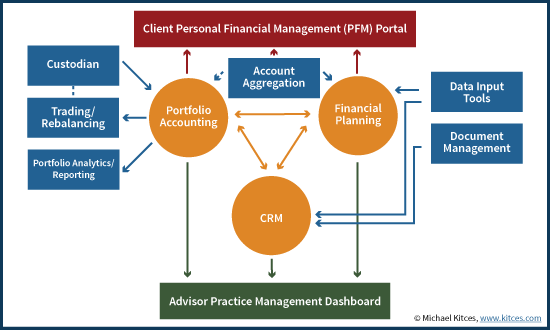 On the other hand, it's also worth noting that this presents something of an internal conflict for Fidelity, which didn't acquire eMoney Advisor solely for its advisor division, but for its entire enterprise. As noted earlier this year when the deal was announced, I suspect that ultimately we'll see the eMoney Advisor PFM solution distributed to every Fidelity retail client, including those who use its online brokerage platform, and its incredibly wide reaching 401(k) solutions. At that point, Fidelity would effectively be executing the Personal Capital client acquisition strategy – distribute a PFM solution to retail clients, see who has how much in assets and where they are, and then reach out to qualified prospects and invite them to do (more) business with the company. With Personal Capital, that solicitation involves outbound calls to work remotely and virtually with a Personal Capital advisor. With Fidelity, it would be an invitation for the consumer to visit any one of the company's hundreds of retail branches, where any Fidelity advisor can load up the client's data in eMoney Advisor and begin doing live, real-time collaborative financial planning immediately on the spot.
The possibility that Fidelity appears to be executing very different and somewhat competing strategies for eMoney Advisor – a comprehensive platform on which advisors can run their business with clients, and a direct-to-consumer client acquisition for the Fidelity enterprise – may even shed some light on the kinds of conflicts that led Edmond Walters last month to abruptly depart the company he founded.
Advisor FinTech Industry Implications Of eMx Select And MGP Integration
Ultimately, the decision of eMoney Advisor to unbundle eMx Select appears to signal a substantive shift of eMoney from being "just" financial planning software, to building an entire advisor platform solution, as more and more major players see the opportunity in building a comprehensive platform for advisors.
To say the least, the decision of MoneyGuidePro to integrate with a perceived competitor signals the rapidly ascending demand and importance of having a client portal and PFM solution. It's no longer about just having account aggregation to automate data flows, which MoneyGuidePro already had with its Yodlee integration. Instead, it's about the entire client portal experience as a part of the financial planning experience, forcing MoneyGuidePro to come to a competitor to fill its own gap at the risk that eMoney Advisor will solicit its users from a stronger position. Which means MoneyGuidePro now has both an opportunity and a sheer survival necessity to keep rapidly iterating its financial planning software to stay one step ahead of eMoney Advisor's own financial planning solution (which it so far seems to be doing successfully as it prepares for the latest G4 release, and today [separately] announced the wide release of its MyMoneyGuide prospective client marketing and engagement platform).
More generally, the eMx Select integration also marks yet another uncomfortable example of the strange criss-cross partnerships forming within the industry, where companies own software that they use for themselves and offer in partnership with/for others. Envestnet owns FinanceLogix for financial planning software and is acquiring Yodlee for account aggregation, but has stated Yodlee will still partner with other financial planning software as well. eMoney Advisor will now integrate with MoneyGuidePro, even while continuing to build its own financial planning software. And notably, Envestnet itself is an integration partner of eMx Select, too!
The fact that eMx Select is becoming available as an unbundled solution also raises the stakes for other PFM software platforms as well, which increasingly run the risk of being edged out of the market altogether. After all, in the advisor context, a PFM solution cannot stand alone; it must tie back to financial planning software somehow. Which means the pressure is now on for standalone PFM solutions to find an available financial planning software to partner with (or alternatively build or even buy their own). Conversely, for financial planning software providers without a PFM solution, eMx Select now creates the potential of an integration partner to solve their own PFM shortfall, albeit at a 'cost' of risking the same Trojan horse strategy that MGP now faces, and a surrender to the rising dominance of eMx Select as an entire advisor platform. Some financial planning software companies may decide to build their own PFM solution, simply because they don't want the 'risk' of putting eMoney Advisor between their software and their clients – yet, again, that may require building a PFM solution that relies on Yodlee anyway, which means simply partnering with a different competitor (Envestnet instead of eMoney!)! It will be interesting to see if eMoney announces additional financial planning software integrations to eMx Select in the coming months.
In the meantime, the eMoney Advisor team has indicated that some additional announcements about eMx Select and integrations will be coming next month, at the T3 Enterprise conference. Expect to see the ongoing ascendance of eMx Select as a comprehensive advisor platform on which an advisor could run their entire business – the continuation of Edmond Walters' vision of eMoney Advisor, still being fulfilled even after his departure.