Executive Summary
Yesterday, Envestnet 'surprised' the FinTech world by announcing that it was buying data/account aggregation company Yodlee for a whopping $590M, at a 70% premium to Yodlee's valuation at its IPO less than 12 months ago. Yet looking at Envestnet's apparent strategy of building a "Holy Grail" technology platform solution for advisors, that includes CRM, portfolio accounting, and financial planning software, it's not entirely surprising that Envestnet decided they wanted to own the data that feeds the engine, too.
From the broader industry perspective, though, Envestnet's acquisition of Yodlee may make some competitors nervous. There are relatively few data sources for quality account aggregation data in the first place, especially ones that include a holistic picture of household cash flows (and not just investment account/performance data). And with Envestnet now owning one of the top two players (the other is the Intuit API that powers Mint.com), and having its own financial planning software given the recent FinanceLogix acquisition, it raises the troubling question of whether competing financial planning software providers like MoneyGuidePro (which relies solely on the Yodlee solution) could someday be left in the lurch.
More broadly, though, the Yodlee acquisition marks a massive uptick in what has already been an incredibly hot technology category. Just under two years ago, I predicted that account aggregation and Personal Financial Management (PFM) solutions would become the hot new category of advisor technology, and earlier this year (before any major deals had yet been announced) that 2015 would be the year of Advisor FinTech. Now it's not even the end of summer, there have been over $1B of account aggregation and PFM-related providers in just the past 6 months alone, and suddenly the biggest problem may be that there are almost no players left to acquire… unless someone new comes along soon?
Envestnet Buys Yodlee For Net Value Of $590M
According to the press release announcing the deal, the Envestnet acquisition of data/account aggregation company Yodlee was valued at $660M, a combination of $10.78/share in cash and $8.10/share in Envestnet stock (for a total purchase price of $18.88/share, or a nearly 50% premium over yesterday's Yodlee closing price of $15.60!), financed from the Envestnet side with a combination of balance sheet cash, Envestnet stock, and up to $200M of debt financing. Given that Yodlee had approximately $70M in cash on the books, the "net" value of the deal is $590M. Notably, the deal comes less than a year after Yodlee had its own IPO, and at a significantly higher valuation (the IPO valued Yodlee at $340M in the fall of 2014).
The deal marks the second big purchase by Envestnet in just the past few months, after it bought financial planning software maker FinanceLogix in a deal estimated to be worth upwards of $30M. While the Yodlee deal is a whopping 30X larger (and more than twice the size of the Fidelity acquisition of eMoney Advisor), this is probably as much about the much-larger revenue size of Yodlee's existing business lines; with nearly 1,000 employees worldwide, the company had over $90M of revenues over the past 12 months built on a base of what the acquisition press release reports to be over 20 million paid users as sold through 850+ financial institutions. Although notably, at a $590M valuation, this means Yodlee was bought for over 6X revenue (and a profit multiplier of 'infinity', as the company has not even been profitable since its IPO).
Envestnet and Yodlee will continue to operate separately until the transaction actually closes in the fourth quarter of 2015 or the first quarter of 2016.
Envestnet Continues To Build Its Fully Integrated And Unified Technology Platform For Advisors
As noted after Envestnet's acquisition of FinanceLogix back in May (which in turn followed its purchase of robo-advisor-for-advisors Upside in March), the company appears to be building the proverbial "Holy Grail" of advisor technology – a fully integrated combination of CRM, portfolio accounting and reporting, and financial planning software for advisors. (This integrated combination is called the "Holy Grail" because virtually all other companies that have sought to achieve it over the past 20 years have failed in their quest!) Envestnet's progression towards building such an integrated technology platform for advisors, which appears to have started when the company bought the Tamarac portfolio accounting/reporting/rebalance tool in 2012 for $54M, would represent a significant transition from its roots as an investment outsourcing platform for advisors.
In fact, as noted back in May, an account aggregation tool was one of the few remaining items that Envestnet appeared to be "missing" – the data feed that would power the recently-acquired FinanceLogix PFM solution for clients, FinanceLogix financial planning software for advisors, and integrate to the portfolio accounting software. And so in retrospect it's not entirely surprising that just a few months later, Envestnet filled that gap, too.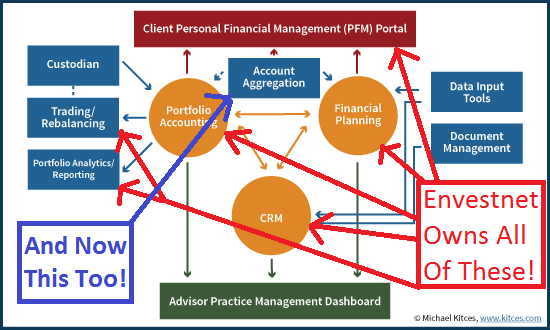 Still, overall the pace of Envestnet's change is crucial to recognize. Just over three years ago, it owned none of the key technology solutions in the advisor technology stack illustrated above. Now, it owns all of them, as the company transforms from investment outsource provider to integrated technology platform for advisors.
Why Buy Yodlee Instead Of Just Licensing The Data?
Of course, the option already existed for Envestnet to license data from Yodlee as a client – and in fact, Envestnet CEO Jud Bergman noted as much in his interview with RIABiz after the acquisition was announced. Accordingly, then, the fact that Envestnet chose to go even further by acquiring Yodlee raises the question of what else (or what more?) it hopes to accomplish.
The first angle appears to simple be crafting a more holistic experience for its unified platform. Getting a license to the Yodlee API is one thing, but Envestnet's history with most of its recent acquisitions has been integrating at a far deeper level, to improve the user experience for its advisors. This is what Envestnet has already done with its integrations between Tamarac for portfolio accounting and rebalancing and Microsoft Dynamics CRM, in its Advisor Xi platform. It already seemed likely that FinanceLogix would become the third pillar of Advisor Xi, as that solution becomes the Holy Grail trinity of CRM, portfolio accounting software, and financial planning solution. Now it also appears likely that Yodlee data will eventually power the entire Advisor Xi system, giving the clients of Envestnet advisors a far more holistic PFM experience, and the advisors themselves a far deeper perspective on their clients' financial lives.
The second angle for Envestnet's decision to buy Yodlee is likely the data itself. Earlier this year, Envestnet announced the launch of Envestat, its industry analytics platform to study industry and client trends. Given Envestnet's incredible reach across advisory channels and platforms, the company arguably already had one of the broadest cross-channel data sets of advisors. But with the acquisition of Yodlee, Envestnet has the potential to go far deeper in its data analytics. In fact, Envestnet's eagerness for getting access to existing data relationships helps to explain why Envestnet chose Yodlee, and not another cutting edge alternative account aggregation provider that might have been had for less (e.g., Quovo). For Envestnet-based advisors, this includes the potential to see client assets held away at other institutions, for what Envestnet calls "cross-selling potential and market expansion" (advisors expanding wallet share by soliciting client assets held elsewhere).
But notably, there's also potential for Envestnet to use Yodlee account aggregation to get better perspective on advisor assets not held at Envestnet – after all, to the extent that the clients of advisors who have non-Envestnet assets use Yodlee/FinanceLogix as their PFM solution, Envestnet itself will begin to gain market intelligence on what its advisors do outside of its purview. Not to mention, what clients of advisors are doing outside of their advisors' purview. In turn, this information may yield strategic insights for Envestnet as it gets even better perspective of the industry as a whole, along with potential outright competitive intelligence data!
It's also worth noting that the Yodlee data may also make possible a whole new level of practice management analysis and statistics on the Envestnet platform, formulated into an "Advisor Dashboard" that will provide users real-time insights on how their business stacks up to their colleagues/competitors. With a growing number of data deals, expect to see advisor benchmarking studies potentially go to a whole new level, when the analysis can be done based not on self-reported data through studies, but a raw feed from the underlying advisor data itself!
Will Envestnet Buy A Custodian Next?
Notably, perhaps the one key element that is still missing from Envestnet's acquisition of "everything" into a holistic platform is the lack of a custodial platform itself, but arguably this may be the one piece that Envestnet really can ignore. After all, the reality is that once the company has a "holy grail" technology solution for advisors that is already cross-platform (across any existing custodians or broker-dealers), the company can be custodian (or broker-dealer) agnostic anyway, allowing those companies to keep what is actually the commoditized low-margin business, while Envestnet maintains a position with the higher margin value-add components!
Will There Be Technology Growing Pains For Envestnet?
Of course, the significant caveat to all of this is that, notwithstanding Envestnet's prior successes in integrating technology, Yodlee represents the company's largest technology acquisition yet, and if the company must wait until 2016 just to close the transaction and begin the real process of integrating, it's not entirely clear how many years it will be until Envestnet can really begin to leverage the technology effectively.
To say the least, the Envestnet technology team has some exciting but challenging work ahead.
Will The Yodlee Acquisition Leave Competing Advisor FinTech And Financial Planning Software In The Lurch?
A notable challenge of Envestnet's acquisition of Yodlee is that a number of Envestnet's direct and indirect competitors also use or rely on Yodlee data data flows its API. After all, Yodlee is one of the leading providers of data flows for most account aggregation solutions (the other big provider is the Intuit API that powers Mint, with a number of smaller [in relative size] players that follow, from FiServ's CashEdge to Morningstar's ByAllAccounts to the latest 'upstart' Quovo).
The dynamic of how advisor software tools get access to account aggregation data flows is particularly notable when it comes to financial planning software, which increasingly is expected to not just be an analytical calculator tool for advisors, but a collaborative tool for the advisor-client meeting, and a PFM solution for the client to use directly. As noted earlier this year, Fidelity's acquisition of eMoney Advisor appears to have been driven heavily by the fact that the company had built its own data flows (which in the future will likely power a growing number of Fidelity enterprise solutions), and Advicent (makers of NaviPlan) acquired Dutch financial planning software company Figlo last fall and will likely bring Figlo's PFM solution to the US in the coming year. Wealthstation has a PFM solution under the Sungard umbrella, called Ambit MyMoney. FinanceLogix had its own PFM solution, which will now likely get enhanced further with Envestnet's Yodlee acquisition.
The most significant "odd company out" in the category: MoneyGuidePro, which has taken the strategic position of focusing solely on its financial planning software for advisors, and not building its own PFM solution for clients. Instead, MoneyGuidePro had announced last year to much fanfare that it was partnering with… Yodlee (building on the Yodlee MoneyCenter solution) to provide account aggregation. Which means MoneyGuidePro now relies on a Yodlee data solution for its advisors and clients, which is owned by Envestnet, that also produces one of MoneyGuidePro's key enterprise competitors for financial planning software, FinanceLogix.
All of which raises the question of whether at some point Envestnet will apply pressure to MoneyGuidePro – or any number of other competing Advisor FinTech solutions that rely on Yodlee for account aggregation data flows, which Advisor tech guru Bill Winterberg cites as including Blueleaf, CircleBlack, Orion Advisor Services, Wealthminder, Wealth Access, and Wells Fargo (not to mention Northwestern Mutual's PFM acquired through its LearnVest acquisition) – and threaten not to renew their data contracts. On the one hand, the reality is that Envestnet's purchase of Yodlee was no doubt supported at least in part by Yodlee's actual core business of licensing data flows, which produced almost $100M of revenue in the past year, and there is no evidence that Envestnet intends to wind down any of Yodlee's licensing business. And if Envestnet doesn't "play nice" with even just one company – like MoneyGuidePro – it risks spooking many more of Yodlee's clients, which could be destructive to the current Yodlee business lines.
On the other hand, given that Envestnet generates about as much revenue in a quarter as Yodlee does in a year (and Yodlee wasn't even generating a profit yet on its nearly-$100M of trailing 12-month revenue), it's conceivable that Envestnet sees so much potential in using Yodlee data and services to support its own proprietary/platform solutions, that it could be willing to wind down Yodlee's third-party licensing of that data in the future (although ironically, Envestnet gets the most data from third parties by getting Yodlee more widely adopted, not shutting it down!).
We'll see what happens, but to say the least, companies like MoneyGuidePro that have been relying on Yodlee data flows and services may be seriously re-considering whether those partnerships make sense to continue into 2016 and beyond. The recent announcement at T3 Advisor that eMoney would offer its PFM solution on a standalone basis - dubbed eMx Select - and might even integrate with MoneyGuidePro likely seems more appealing than ever. At a minimum, extent that most providers currently using Yodlee will at least be looking for backup alternatives for account aggregation data sources just in case (one has to imagine the phones of the Intuit API team have been ringing off the hook since the Yodlee deal was announced!?). Yet the reality is that finding alternative data sources may be surprisingly difficult in an increasingly sparse space (due to acquisitions!), especially where key competitors have built their own data feeds directly to control their own destiny (e.g., eMoney).
The Shrinking Landscape Of PFM Solutions
Just under two years ago, I predicted on this site that Personal Financial Management (PFM) solutions for advisors would be the next hot category of Advisor FinTech, an area that had tremendous potential for advisor value (as a good PFM solution facilitates far deeper collaborative financial relationships with clients) but was very weak and underdeveloped.
It's amazing what has happened in just two years. Since that time, over $1B of PFM-related mergers and acquisitions have occurred in the Advisor FinTech space (almost all of which have been in just the past 6 months!). The acquisitions include Morningstar's purchase of ByAllAccounts for $28M in 2014, and since February of this year all of the following occurred as well: the eMoney Advisor purchase by Fidelity for over $250M (where eMoney's PFM solution and its own proprietary data feeds were a key factor); the Northwestern Mutual acquisition of LearnVest for over $250M (with a valuation that appears to have been driven heavily by LearnVest's PFM solution and its treasure trove of 1.5 million existing users); the prior $30M Envestnet purchase earlier this year of FinanceLogix for its financial planning and PFM solution; the John Hancock purchase of PFM provider Guide Financial for an undisclosed amount; and now the Yodlee deal.
As I wrote in 2013, PFM solutions for advisors was the great business opportunity that Intuit completely missed out on with its acquisition of Mint, which has tried to monetize the platform by selling lead generation opportunities to product companies, rather than license it to advisors as a relationship-building and relationship-enhancement solution. Now, perhaps ironically, Mint and the APIs from Intuit that power it remain one of the few independent players (and with the size of the Yodlee deal, at 6X revenue and "infinity" times its zero profits, one wonders whether an Intuit spin-off of Mint to prepare it for sale could be next??).
In the meantime, the number of remaining independent players in the advisor PFM space is shrinking to an astonishingly small level. The most data-centric player remaining is relative newcomer Quovo, and as noted earlier the only reason Quovo may not have been Envestnet's acquisition target is that it lacks the existing customer base (and therefore existing data sets) that Yodlee brought to the table (even though Quovo is rumored to be far superior in its actual execution of analyzing and drawing insights from such data sets). Wealth Access is now one of the only remaining independently owned advisor PFM solutions that provides a holistic look at the client's investment accounts and cash flows, with investment-centric solutions like Aqumulate or Blueleaf remaining for those who just want insights on investment accounts alone. Given the sheer size and magnitude of interest in PFM solutions, from increasingly big financial services firms (note that all the buyers this year have been established mega-firms, including Fidelity, Northwestern Mutual, John Hancock, and now Envestnet), and the relatively few number of players remaining, it seems only a matter of (not much) time before the next deal is announced.
As predicted back in January, 2015 has definitely become the year that Advisor FinTech became a serious technology niche unto itself!