Executive Summary
The big news today is that Personal Capital, the financial advisory firm that offers human advisors available to interact virtually with clients utilizing the company's proprietary Personal Financial Management tools, has crossed the $1B AUM mark.
While often dubbed a "robo-advisor", the reality as noted above is that Personal Capital does not really belong in the category, as the company actually offers one-to-one relationships between clients and a personal financial advisor (an actual human being) who simply happens to engage with the clients using digital communication tools, making the solution closer to a part-technology part-human "cyborg" advisor than a true "robo" solution.
What's most notable about Personal Capital, though, is that not only does it function as a technology-augmented human advice platform, but that because it also charges more "traditional" AUM fees (with a starting cost of 0.89% for the first $1M under management), it actually generates significantly more revenue than its pure robo competitors. In fact, while Personal Capital may not be larger than the other "robo-advisor" platforms as measured by AUM, it has in the span of only 3 years actually grown more revenue than all other robo-advisors combined!
Revenues Of Robo-Advisor And Cyborg Advisor Competitors
Thanks to the SEC's Investment Adviser Public Disclosure tools, it's easy to look up the AUM and client details of any Registered Investment Adviser, including the robo-advisors. And according to their latest Form ADV filings, the current AUM of the leading robo-advisor platforms are:
| Firm | Clients | AUM | Average Client |
| --- | --- | --- | --- |
| Wealthfront | 18,800 | $1,702,872,811 | $90,578 |
| Betterment | 53,792 | $1,105,081,259 | $20,544 |
| FutureAdvisor | 1,700 | $232,124,148 | $136,544 |
Given their average client sizes, the typical client pays approximately a 0.25% AUM fee to Wealthfront and Betterment (or actually slightly less to Wealthfront, given that the first $10,000 of AUM is free), and 0.50% to FutureAdvisor, which would lead to the following gross revenues:
| Firm | AUM | % Fee | Revenue |
| --- | --- | --- | --- |
| Wealthfront | $1,702,872,811 | 0.25% | $4,257,182 |
| Betterment | $1,105,081,259 | 0.25% | $2,762,703 |
| FutureAdvisor | $232,124,148 | 0.50% | $1,160,621 |
| Total | $3,040,078,218 | | $8,180,506 |
By contrast, at a 0.89% AUM fee, Personal Capital's revenue on $1B would be approximately $8.9M!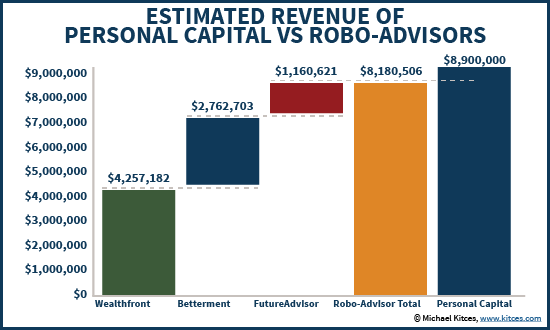 Of course, Personal Capital will face higher expenses to deliver its services over time – after all, they do have human advisors to pay! – so this is not necessarily a look at which company is more profitable (at least at this point). Nonetheless, for a company that's been around roughly as long as the other true robo-advisors, it's notable that in a similar period of time, the human-advisors-plus-technology solution has been able to grow more revenue than all the other robo-advisors combined! Which continues to raise interesting questions about just how much demand there really is for pure robo solutions.
On the other hand, it's also notable that (based on its latest Form ADV filing, which has not yet been updated for the recent $1B AUM mark), Personal Capital is also squarely in the middle of the mass affluent market, with an average client size of $344k. This means the "typical" Personal Capital client is roughly quadruple the size of a Wealthfront client, and 17X the size of the average Betterment user, suggesting once again that pure robo solutions are not in competition with human financial advisors (even the ones delivering their services in a purely online format), but that such virtually-based human advisors are in competition with in-person financial planners!
Source: Personal Capital Now Manages Over One Billion Dollars