Executive Summary
The news this morning is that Fidelity Investments has agreed to acquire financial planning software company eMoney Advisor for an undisclosed sum. The eMoney software is still expected to be available to advisors outside Fidelity – and the company says external integrations and custodial relationships will remain – though it's not hard to imagine that the tools will likely become available at a discounted rate to advisors who custody with Fidelity in the future.
But the real news of the eMoney acquisition is that from the strategic perspective, it's not clear if Fidelity was really aiming to acquire financial planning software, or if instead what they really wanted was eMoney's best-in-breed Personal Financial Management (PFM) tool – a Mint.com style portal that clients can access to see all of their financial information in one place, with the capability to use the portal collaboratively with their advisor. And Fidelity's new PFM solution can be leveraged in many others ways as well, including offering it to their retail clients, and mining it for a potential treasure trove of big data insights!
In fact, what the eMoney acquisition may ultimately highlight is how woefully far behind other financial planning software tools have lagged in their own capabilities in producing a quality PFM tool for advisors to use with their clients – a PFM solutions gap between eMoney and other financial planning software that has sadly existed for years now. Perhaps with companies like Personal Capital (which built its own high-quality PFM solution) on the rise and now the eMoney acquisition, advisors will finally get the PFM solution we've wanted and needed for so long?
Fidelity Acquires eMoney Advisor – For Financial Planning, Or PFM?

With Fidelity's announcement that they are acquiring financial planning software maker eMoney Advisor (in a deal now rumored to have been for more than $250M, or over 4X revenues), the company has instantaneously taken a giant step into the world of financial planning tools; according to the recent Financial Planning Magazine Advisor Tech Survey, eMoney is the #2 financial planning software solution behind MoneyGuidePro.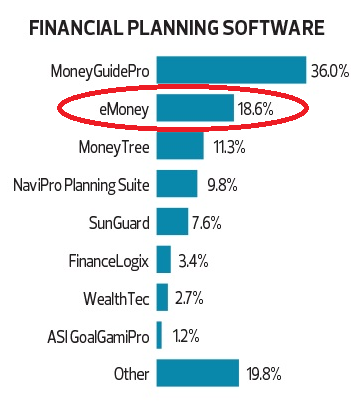 Source: Financial Advisor Tech Survey 2014 by Joel Bruckenstein & Financial Planning Magazine
Yet the reality is that while eMoney Advisor has been a "fine" financial planning software tool – with significant recent improvements with its new EMX update released last month – it's not entirely clear why Fidelity would necessarily choose eMoney's financial planning software in particular, nor what the strategic value is to do so. There are other 'reasonably competitive' financial planning software platforms out there if Fidelity just wanted the calculation engine, and alternatives that could have been had at a far cheaper cost (while the terms of the eMoney Advisor deal have not been made public, there are clearly other much smaller financial planning software companies that could have been acquired for financial planning software alone).
Instead, it seems the reality is that the Fidelity acquisition of eMoney Advisor may have far more to do with its popular Personal Financial Management (PFM) dashboard, than its planning software; in point of fact, the story I've repeatedly heard from eMoney Advisor users for years is "the financial planning software is 'fine', but I use it for the great client portal". And as I've written in the past, I've long lamented for our own firm that we couldn't buy the eMoney Advisor PFM portal separate from their financial planning software for those who are happy with their existing financial planning software but want the PFM capabilities.
Which means ultimately, the reality is that while eMoney Advisor is often marketed as financial planning software with a great PFM dashboard for clients thrown in, the reality may be that Fidelity purchased a great PFM dashboard for clients with financial planning software thrown in!
The Rising Value Of Advisor/Client PFM Tools
So what makes an advisor/client PFM tool like the one offered by eMoney Advisor so valuable to a company like Fidelity? Given current trends in the industry, there are a number of strategic opportunities for Fidelity to have a robust PFM solution, including:
- It's a strong value proposition for advisors to offer their clients (as evidenced by eMoney Advisor's "street reputation" and their rapid growth/adoption over the past several years), and Fidelity may well decide make it available at a discount for advisors on the platform (similar to how TD Ameritrade acquired iRebal and made it available on a discounted basis [and now free for the online version] for advisors who custody there, and Schwab purchased Centerpiece, the predecessor to PortfolioCenter, over a decade ago).
- It better positions Fidelity advisors to compete with robo-advisors. Continuing the flow of recent partnerships that Fidelity has announced with Betterment Institutional and also with LearnVest, offering a PFM tool for Fidelity advisors allows them to craft an advisor-client collaborative portal very similar to how Personal Capital uses its PFM solution with its clients. And if Fidelity wants to ever launch its own virtual advisor platform, similar to Personal Capital or Vanguard's Personal Advisor Services, it now has a strong central PFM dashbaord to facilitate the client collaboration.
- It gives Fidelity a PFM solution to offer directly to its retail clients. Notably, the Fidelity acquisition of the eMoney Advisor tool may not be "just" about its institutional advisor business, but also about its direct-to-consumer channels. Personal Capital uses its PFM tool as a free giveaway to build a connection to prospective clients, and then reaches out directly to those who have potential assets to invest (which are known because clients connected that information into the PFM tool!). Fidelity may be preparing to employ a similar strategy. In addition, just as major banks have been crafting deals with Intuit (Mint) and Yodlee to license their APIs and offer PFM tools to customers as a way to identify cross-selling opportunities, Fidelity may also be looking at PFM as a way to expand wallet-share opportunities, especially in its massive retirement plan division.
- It's a big data treasure trove. The reality is that with the sheer volume of accounts that can be connected into a successful PFM, adoption by clients because an immense "big data" opportunity for a PFM provider… and eMoney Advisor's existing adoption and the big data it already has may be a key reason why Fidelity chose to acquire eMoney, as opposed to a smaller (and cheaper?) PFM solution, or simply build one from scratch. Similar to the acquisition of ByAllAccounts by Morningstar, Fidelity's purchase of the eMoney Advisor PFM tool gives it a live, real-time view into the assets and dollar flows of a large number of clients spanning a wide range of financial services providers and institutions.
Implications Of The Fidelity Acquisition For Advisors And Software Companies
From the advisor perspective, the big question in the near term will be "what happens if I'm an existing eMoney Advisor user" – especially for those who do not custody at Fidelity? In the short-term, the answer is nothing; in fact, Fidelity has already stated that it intends to allow eMoney to continue to operate independently and maintain its integrations with other technology firms and relationships with other custodians. And advisor tech commentator Joel Bruckenstein has pointed out that the eMoney Advisor is technically under the Fidelity Enterprise Services group (which spans all of Fidelity), not "just" the Fidelity Institutional (RIA servicing) group. This makes sense if Fidelity's acquisition was primarily about adopting the eMoney Advisor PFM tools to adapt them for its direct-to-consumer channels and as a big data opportunity (where they actually want more data from advisors across a wide range of platforms); and given that eMoney Advisor was already one of the pricier financial planning software packages out there, it seems most likely that Fidelity advisors might get a discount at some point in the future (as a 'value-add' for being on Fidelity), and that Fidelity might craft deeper integrations between eMoney Advisor and WealthCentral for its Fidelity advisors, but not that non-Fidelity advisors will be driven away.
For financial planning software companies, though, the Fidelity acquisition may be a wake-up call that the industry has lagged far too long on providing quality PFM solutions for advisors to use with their clients; while some platforms have made attempts (FinanceLogix has had some capabilities for several years, and MoneyGuidePro announced their initial Yodlee offering last year, with a deeper Yodlee PFM solution just announced), given that Mint was acquired by Intuit for $170M over 5 years ago, eMoney Advisor was a standout in regards to PFM, and its reflected in their acquisition.
In fact, arguably the basic takeaway from the eMoney Advisor acquisition for software firms is that the strategic priorities for financial planning software going forward should be:
Financial Planning Software Strategic Priorities For 2015:

1) PFM

2) More interactivity/collaboration tools with clients

3) PFM

4) Better User Experience

5) PFM
And to the extent that the financial planning software companies fail to step up, the door remains open for third party PFM solutions to step into the mix, and provide their own PFM solutions for advisors, possibly as a standalone portal interface between the advisor's financial planning software and the client themselves.
The bottom line, though, is simply this: the eMoney Advisor acquisition reflects the reality that it's not just about financial planning software as an engine to calculate a client's financial projections. Financial planning software is increasingly shifting to become a real-time collaborative tool with clients, and that means advisor software providers need to step up in providing not only a robust calculation engine for advisors, but relevant tools and a genuinely good user experience for their clients as well.