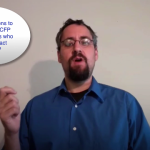 Historically, financial advisors were primarily salespeople. Their role was to sell the insurance or investment products of their companies, and later, only after they proved themselves to be good at sales, did they have the opportunity to earn their CFP certification and do financial planning. But with the rise of the AUM model, the financial advisor career track is changing.
In this week's #OfficeHours with @MichaelKitces, my Tuesday 1PM EST broadcast via Periscope, we look at how the financial advisor career track is evolving today, where increasingly financial planners can get hired without sales skills... but have to worry about whether they'll hit a wall in their career progression in the future if they can't learn to prospect for new business.
The good news of the ongoing growth of recurring revenue business models like the AUM model - which should only grow further after the new Department of Labor fiduciary rule drives even more advisory firms towards Level-Fee Fiduciary compensation - is that the opportunities for non-business-development employee advisors are better than ever, with even more opportunity down the road. Simply put, we're seeing the ongoing separation of being the person who gets the clients, versus the one who services them with great financial planning. Just as sales and service are separated in most other industries as well.
Of course, the caveat is that because it's harder to get a new client than to serve and retain an existing one, those who can do business development and get new clients will likely earn better compensation, and have more opportunities to become a partner with their advisory firm (as it's easier to offer a slice of the pie to a potential partner who's helping to make the pie bigger for everyone). Which means there's still a good incentive opportunity to learn to do sales and prospecting. But at worst, it's not a skill that needs to be developed later in the financial advisor career track, and shouldn't prevent you from earning a reasonable living in the meantime!