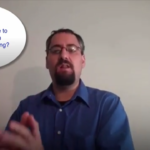 With over 75,000 CFP certificants, having an advanced designation is not the differentiator it once was in the marketplace. Instead, the successful growth of CFP certification, along with rising consumer awareness of the CFP marks, is turning the CFP into a minimum standard to be recognized as a professional, and those who really want to differentiate must pursue even most "post-CFP" certification instead.
In this week's #OfficeHours with @MichaelKitces, my Tuesday 1PM EST broadcast via Periscope, we explore whether getting a PhD in personal financial planning is a good way to differentiate as an advanced practitioner... or rather, why a financial planning PhD is probably a bad idea for even sophisticated financial advisors.
Because the reality is that a financial planning PhD is really not just the ultimate advanced designation in financial planning. It's really a research degree, with content that teaches students how to actually do real research, applying proper research methods and conducting the appropriate statistical analyses. A financial planning PhD doesn't actually teach much at all about how to do financial planning; in fact, most of the PhD programs will expect candidates to have already learned that before applying (and/or may have to take "pre-doctoral" courses just to get the requisite education first).
Instead, the real purpose of getting a PhD in financial planning is to teach financial planning (at a higher education institution), or to do real research in financial planning. The good news is that there are a growing number of opportunities in both - in fact, the whole purpose of the origin $2,000,000 seed grant that the CFP Board made to Texas Tech's personal financial planning PhD program in 2000 was specifically to help create financial planning PhDs who could go create and teach in other financial planning PhD programs (which is exactly what happened). And there is certainly no shortage of applied financial planning research opportunities.
But the bottom line is simply to recognize that practitioners who want "advanced" financial planning designations should seek out post-CFP designation programs, or perhaps a Master's in Financial Planning. But a PhD is not just a more advanced designation; it's really a teaching and research degree, and is best suited for those who really want to teach and do research, either in lieu of becoming a financial planning practitioner, or perhaps as a second career for those practitioners who are ready for a fresh new challenge!