Executive Summary
As the financial services industry slowly but steadily becomes more tech-savvy and technology-enabled, including the adoption of online models for the delivery and implementation financial advice, the line of where human financial advice ends and "robo" automation begins is becoming increasingly blurry. Or simply put, what's the difference between a "robo-advisor" providing online financial advice, and any number of human advisors who do the same thing virtually using online meeting and collaboration tools like Skype, GoToMeeting, and web-based financial planning software?
Given that both humans and robo-advisors can deliver advice in an online medium, ultimately the key distinction is not actually about being online at all, but about how the industry itself is crafted and delivered: in the end, does the advice the client gets come from a human, or a (human-designed) computer algorithm? The difference matters not only in terms of the advice itself, but also the underlying cost structure; as the robo-advisors themselves advertised in their early days, a key reason for their ability to deliver low-cost solutions to consumers was their elimination of "expensive" human financial advisors.
In the end, it remains to be seen whether or what forms of financial advice consumers will prefer to receive from an algorithm versus another human being (especially given some of the potential cost differences between the two), though what's becoming clear from the attempts of both in the online world is that building trust online to get clients in the first place is difficult in a low-trust industry like financial services; simply put, online financial advice is not an "if you build it, they will come" kind of business. Nonetheless, some of the lines about where each can excel are now being drawn, as robo-advisors increasingly focus on narrow, specific problems that can be addressed with technology and an algorithm alone - commoditizing those solutions in the process - while (virtual) human advisors are increasingly driven to financial planning as the "anti-commoditizer" by providing a more comprehensive financial advice solutions that delve into the complex realities that consumers face when viewing their holistic financial picture.
Human Advisors Delivering Online Financial Advice "Virtually"
With the ongoing rise of the internet and our transition into the digital age, going "online" is increasingly a medium for conducting business; over the past 10-15 years, it's been about buying products online, and increasingly it's about buying services online as well… including financial advice. In fact, as one recent industry study just showed, advisors are already beginning to meet with their clients less often by face-to-face in-person means, increasingly supplementing using online content and even online "virtual" meetings using tools (e.g., Skype and GoToMeeting).
Yet notably, the technology-supported delivery of financial advice "virtually" in an online medium really just represents a transition to a different means of communicating, interacting, and implementing that advice with a client. In other words, it's not about the replacement of the human being in the advice process, but simply about the replacement of delivering that advice in a face-to-face meeting. Or more accurately, the replacement of delivering that advice in an in-person meeting, as the reality is that the availability of video meetings means online interactions really are "face-to-face" – they just don't end with a physical handshake at the end!
From the human advisor's perspective, the potential for delivery of financial advice in an online medium breaks the historical link between the geography of the advisor and the geography of the client; in other words, finding a financial advisor – and running an advisory firm – becomes "location-independent" of the client. In turn, this creates a potential to simultaneously target a more focused clientele (i.e., a niche), yet have a wider pool of potential clients (being able to work with anyone, anywhere, regardless of geographic location), and these possibilities are beginning to change the way that advisors grow and market their firms in the digital age.
Yet at the same time, the potential for the delivery of financial advice in an online medium using technology has created another possibility as well: the delivery of financial advice using the technology alone, without the human being – also known as the rise of the "robo-advisor".
Defining The Robo-Advisor
While the "robo-advisor" platforms happen to be delivered online, that characteristic is not their defining feature. As noted earlier, a growing number of human advisors are delivering their services via an online medium as well!
Instead, the quintessential feature of the "robo-advisor" that makes it such is the fact that the advice itself is algorithmically derived and delivered by a computer. While often not literally anthropomorphized into a physical "robot" (in fact, meeting face-to-face with a physical manifestation of a robot would no longer be online!), the fundamental point of the robo-advisor is that the client's advice is crafted not with the involvement of a human being to analyze the client's individual facts and circumstances, but instead by a (human-designed) algorithm designed to determine needs and recommend appropriate solutions for implementation. (Perhaps a better description of the service would be "algo-advisor" rather than "robo-advisor"?)
The reason that non-human algorithm-constructed and online-delivered advice is so fundamental to the definition of the "robo-advisor" is not merely about the advice itself, but also about the potential efficiencies it seeks to achieve by removing human beings from the advice-construction-and-delivery equation. As robo-advisor Wealthfront noted when it launched in 2011, the removal of human advisors and the delivery of advice online was a key aspect of its 0.25%-of-AUM pricing model; similarly, when Betterment changed its fees in early 2012 to the current 0.15% to 0.35% structure, it also noted the ability to automate investing without using "flesh and blood money managers" was a key aspect of its ability to be a low-cost solution.
Parsing The Online And Robo-Advisor Landscape
Given these distinctions, it's important to recognize that while "robo-advisors" are certainly a subset of "online financial advice" solutions, so are human beings who work in an online medium. In fact, it was the humans who started delivering advice in an online format long before the first "robo-advisor" platform was ever seeded and launched. Simply put, it's not the mere presence of being available for service online that defines the robo-advisor category (or every human using Skype and GoToMeeting would automagically become a robot!?).
Accordingly, the reality is that – while the label is often misused – new financial services startup solutions like Personal Capital and LearnVest are not actually "robo-advisors" as an in-depth look at them reveals that the advice is crafted and delivered by human being financial advisors who just happen to work in an online medium (a point that Personal Capital has taken pains to point out itself). Similarly, the recent new Vanguard Personal Advisor Services solution is not a robo-advisor either – as the advice there, too, is crafted and delivered by human beings – although Vanguard is using its incredible existing size and scale to drive down its client acquisition costs to reach a wider market at lower minimums while trying to price its services similar to other true robo-advisor platforms. In other words, these are online "virtual [human] advice" platforms, not robo-advisors.
Given this context, the true robo-advisor platforms are those like Wealthfront, Betterment, and FutureAdvisor, and arguably services like JemStep and SigFig could be classified in this manner as well (though a notable difference in practice is that the former actually take control of the investments and implement on the client's behalf, while the latter simply provide algorithmically-determined guidance and recommendations that clients must then implement themselves).
The bottom line, though, is that not all "online" advisors are "robo"-advisors, and in fact many of today's new financial services technology solutions don't really belong directly in either category. The mere fact that something is "technology" and has to do with investment or financial advice don't make it "the next robo-advisor"!
Virtual Delivery Of Online Financial Advice In The Long Run
Ultimately, it remains to be seen which forms of online financial advice will gain traction in the long run or not. Certainly, the mere fact that advice is available online will not alone be the key to success; financial advice is not an "if you build it, they will come" kind of business, and the overall low trust that financial services has with the American public continues to limit how quickly new solutions can grow and how widely they can be offered.
If the current trends thus far are any indicator, algorithmically-based solutions may stay in the near term to finite, specific, concrete problems that they can tackle and solve, rather than the full breadth of complexity that is a "comprehensive financial plan." Nearly all of today's robo-advisors have been focused on tackling the specific challenge of how to implement an investment portfolio (or at least review for poor holdings), and some of the newest entrants like iQuantifi are trying to look at a slightly broader set of goals, but few are promising the full breadth of personal financial advice. A (rough) survey of the landscape, based on the breadth of advice and the crafter of the advice, is shown below.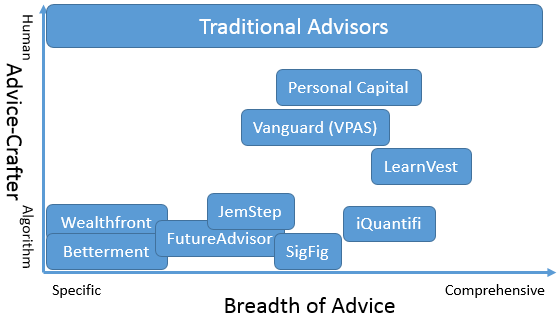 Even within their algorithm-driven specific domains, it remains to be seen whether the "robo" platforms will be able to actually drive behavior change to get people to improve their financial situation, or whether the solutions will be derailed by the emotional panic of a bear market or the sheer inertia that becomes apparent when trying to change financial habits.
On the other hand, progress has been limited for the human online financial advisors as well. Some of the earliest efforts to support the human delivery of advice online have struggled or closed their (virtual) doors entirely, and advisors overall are still struggling to develop their own skills at building trust online and fully utilizing the technology that is available. Though there is clearly some rise in the use of the web and online tools to deliver financial advice, best practices for execution are still not yet clear. However, it is increasingly evident that human advisors who attempt to get paid "full price" to deliver what is becoming a technology-commoditized solution - like constructing and monitoring a passive, strategic, asset-allocated portfolio - are becoming endangered, and that moving to more comprehensive financial advice solutions may be essential for human advisors to avoid having their business models totally commoditized. At the same time, an emerging crop of "TAMP/Rebalancing 2.0" solutions are emerging, from Betterment Institutional to today's just-announced UpsideAdvisor, that will give many of the "robo" capabilities to human advisors as well.
In the end, my own guess is that we'll find there are certain things that the computers and "robo" solutions do well – e.g., any task that has repetition and is conducive to automation – and platforms will emerge (and Betterment Institutional and UpsideAdvisor may just be the emerging edge of a new wave of advisor technology innovation) but that humans can't be removed from the equation entirely, both for the sheer complexity that arises in real world financial planning situations, because sometimes it takes another human being to delve into and help navigate clashes of real world trade-offs (the challenging reality for anyone who can't just easily afford all of their goals at once), and because in the end we are social creatures and just don't have accountability to a computer the way we do to another human being (which is crucial when it comes to habit and behavior change!). As a result, the best solutions in the long run are likely to be a combination of both – the part-human and part-computer "cyborg" solution that allows technology to do what it does best, and for humans to do what they do best, all in pursuit of bringing down the cost and widening the accessibility of financial planning for consumers.