Executive Summary
As a very active user of social media, I'm often asked what business results it actually produces. Do people really do business with other people over social media? Is it really possible to get a prospective client to give you $1,000,000 to manage by sending out the "right" tweet?
Well after more than 60,000 tweets, I will confess that I still haven't figured out how to master the "1-tweet close", and find the magic 140 character message that gets a client to turn over their life savings. But expecting that such a result could be possible actually misses the point; social media is no more likely to get an instant client than it would be to show up at a networking meeting, and expect someone to sign your new account paperwork on the spot.
Instead, the reality is that social media really does function more like a networking meeting or referral marketing – where the goal is not to "close" clients on the spot, but to begin to cultivate a relationship with them, so that eventually they will know, like, and trust you, and then you can have the opportunity to do business with them. In other words, social media is not about "doing business" and selling, it's about prospecting and finding those people you might someday do business with!
Except when it comes to social media, there is a potential to scale your prospecting efforts far beyond what can be accomplished by traditional networking and even a 'successful' referral marketing campaign. While the effort early on to produce online content that demonstrates your expertise can feel time-consuming, in the long run as a following builds the time to produce content remains the same, but the results become exponentially better!
Which means in the end, social media is simply an alternative to traditional networking and referral marketing, designed to accomplish the same kind of know-like-trust marketing effort to generate prospective clients, but with far more potential return-on-effort!
Social Media As A Means To Become Known, Liked, And Trusted
As the saying goes, "people do business with people they know, like, and trust." Accordingly, in the world of financial advice, if you want to "sell" people on actually doing business with you and get them to pay you for your services, you need to establish a relationship with them, so that they will know you, like you, and trust you (and therefore do business with you).
Historically, the path for financial advisors to become known, liked, and trusted has been all about networking and referrals. Going to a networking meeting and interacting with others is an opportunity to be known, having a follow-up lunch meeting with them is an opportunity to become liked, and doing social activities with them over time is the relationship-building path to becoming trusted. Alternatively, if you can get referred by an existing client or center of influence, that becomes the means to be known, trust is often conferred by the referral, and then it's just necessary to meet the prospect in person to make sure that you like each other.
By contrast – or actually, not that contrasting – the path to success via social media and blogging follows the exact same route. The only difference is that getting "known" isn't about going to a networking meeting or being introduced by a referral partner, it's content that demonstrates your expertise being Shared on Facebook, Retweeted on Twitter, or discovered via a Google search. Becoming Liked is about getting that stranger to connect to you via social media (or even email), which gives them an opportunity to observe how you act, what you talk about, and what you share, to determine if you're someone they would like. And as they become a regular follower of the content you share and create on your website to demonstrate your expertise, eventually you can become trusted.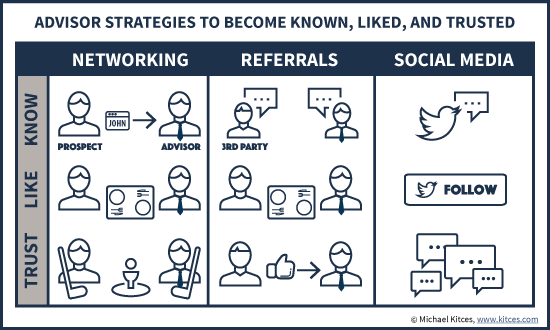 Thus, ultimately, social media operates in a nearly identical way to networking and referral marketing that most advisors are already familiar with. In both cases, the goal is to engage with strangers and turn them into bona fide prospects with whom you might someday do business, because you've connected with them and become known, liked, and trusted.
Know, Like, And Trust – Necessary But Not Sufficient To Get Business Done
A key point of the process of getting known, liked, and trusted – whether via 'traditional' networking and referral marketing, or through social media – is ultimately those conditions are necessary to get someone as a client who does business with you. But they are not sufficient. They merely turn a stranger into a prospect who might do business with you. You still have to "sell" them – whether it's selling your product, or selling your self and your services – and get them to actually make the decision to do business with you.
From the perspective of social media, then, it's crucial to recognize that the whole point of the process is not to "sell" the client on doing business with you. It's to get to be known, liked, and trusted enough that you can then have the opportunity to ask for their business. In other words, social media is not about selling to strangers. It's about tools and a process for turning strangers into prospects. And then you go through a sales process to turn the prospect into a client.
This distinction is crucial, because it helps to clarify what is and is not "appropriate" in the social media context, and what the ultimate goal is (or at least, should be). Using social media to "sell" is not the goal; just as in the context of a networking meeting, if the first thing you do when you try to walk into a room of people you don't know is to sell to them, before establishing a relationship with them, it won't work. It won't work in person, and it won't work digitally, either.
Instead, what you're really trying to accomplish with social media is nothing more than creating opportunities for people to virtually "meet" you (through your social media presence), so that they can get to know you, decide if they like you, and begin to form the basis of trusting you (through the "drip marketing" repeated demonstration of your knowledge and expertise via your website/blog and on your social media channels). It's about turning strangers into prospects. Selling, and turning them from prospects into clients, comes later.

Limitations Of Financial Advisor Prospecting Efficiency
Given that there are many ways to try to reach out to strangers and turn them into prospects, what makes social media more appealing than the other networking and referral alternatives? In a word: scale.
To understand why this matters, consider for a moment the challenge faced by most advisors who use the "traditional" networking and referral marketing approach. Early on for the new advisor, the "only" path is networking, and getting out there to meet people (and get liked, and get trusted). Such proactive outbound networking is difficult and time-intensive, but that "works" for the new advisor, who has few existing clients to otherwise occupy their time.
As the number of clients accumulate, the networking strategy becomes more challenging, because time is more limited. As the advisory firm progresses to the next stage of growth, suddenly the focus is on fewer people who can provide the highest volume of prospects: centers of influence. Because there just isn't time to meet and network with "everyone". In addition, generating referrals from existing clients also becomes highly appealing, because it takes far less time to see a prospect who's referred to you than go out to find new people to meet! In fact, it's not at all surprising that "most" established advisors say that most of their growth comes from referrals – because once established with a base of clients, there isn't enough time for much outbound networking, most advisors don't have the capital to do expensive outbound marketing… so referrals and "letting the prospects come to you" is the winner by default!
In this context, the value of social media and blogging for financial advisors becomes clearer – like marketing through referrals, it's an opportunity to reduce the time of "outbound" networking and increase the flow of "inbound" prospects. The difference, however, it that social media and blogging has the potential to scale far beyond what networking and referral marketing can do alone!
Scaling Your Financial Advisor Marketing – How Social Media Creates Highly Leveraged Prospecting
The challenge for most financial advisors starting a marketing strategy of blogging and social media is that it takes time. Not just because it takes time for an advisor to set up and configure social media platforms like Twitter, but more significantly because having a website/blog that demonstrates your expertise means creating content – whether written, as a video, or a podcast – and that can really take time!
Yet the caveat – and the real opportunity of marketing through blogging and social media – is that it takes the same amount of time to create the content, regardless of the size of the audience. In other words, an article that takes several hours to create in order to reach 10 or 20 people will take the same amount of time when the audience is 100, or 1,000, or 10,000. Content creation has a fixed cost for a growing audience that provides a growing return on the (time) investment – the very essence of scalability!
For instance, as a personal example, the typical article on this site usually takes somewhere between 2 to 4 hours to create. When this blog was first (re-)launched in late 2010, an article would only get a few dozen readers when it was published, and many of those just quickly skimmed the material and moved on. I might have literally gotten more prospects by just standing on a street corner handing out business cards to strangers, than those 20-40 readers to each article!
A year later, however, as I continued to monitor the traffic activity as a measure of success, the blog and social media audience had expanded. Now, a new article would generate 100 – 200 readers when it was released. I wasn't working any harder than the prior year; the audience was growing itself, as people who found the content valuable began to follow me on social media channels, and come back to the blog periodically to read the latest.
After another year, the site had grown further. At this point, a new article could generate several hundred readers, and a good day on the site generated more visitors than an entire week of traffic the year before! At this point, Google search engines started to become a material factor in traffic to the website. Not only were more people reading my new articles, but some people were finding their way to me by discovering old articles I'd already written, liking them, and deciding to start visiting my content regularly! This literally required zero additional work – the articles were already written, the effort had been expended, but the traffic was continuing to grow!
After yet another year – by the fall of 2013 – the traffic of the site had doubled again. While still taking roughly the same time to produce the same content, now 10,000 people every week were coming to read the content, and over a quarter of them visited simply as a result of searching for their questions on Google and finding my content as the answer!
And so the pattern continued. In the past two years, visitors to the site have tripled again, now reaching nearly 100,000 unique readers in a month, all from the same effort of a-few-hours-per-article that produced no more than 20-40 readers for an article five years ago!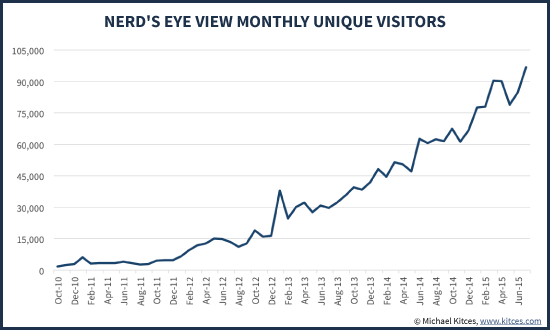 The key point from the business development perspective, though, is that there's absolutely no way for any individual advisor to simultaneously cultivate an effort to become known, liked, and trusted amongst 100,000 people by doing traditional networking, nor is it feasible even through the most aggressive of referral marketing efforts from clients. There would simply be too many people to meet and greet!
On the other hand, this is exactly how efforts in blogging and social media scale over time – the reach, impact, and potential for gaining prospective clients grows exponentially every year, even though the time commitment does not increase! (Although strictly speaking, when you see the successful results, you may choose to invest a little more time along the way!) More and more people come to learn about your expertise by finding it via Google and other search engines, having it shared from other readers who use social media, and/or because the readers find their way to you via social media and receive the content there. The objective with social media is still the same as traditional networking – to become known, liked, and trusted, in order to have the opportunity to do business with a prospective client. But with a size and scale that makes social media and blogging the ultimate prospecting tool for advisors!
Of course, this still doesn't change the fact that in the end, social media and blogging remain just a tool for prospecting to generate prospective clients with whom you might someday do business. You still have to make an effort at some point to ask at least some of them to actually do business with you. And of course, not all of them will choose to do business with you, nor necessarily even a slight fraction. Yet the reality is that with an audience that grows, even if only 1 out of every 1,000 (or just 0.1%!) of your readers do business with you, it becomes possible to generate an incredible amount of business activity in an incredibly efficient manner – so much, in fact, that the biggest problem may actually become figuring out how to filter the volume of prospects down!
So what do you think? Do you engage in social media and blogging strategies to grow your advisory firm business? Do you find it an effective tool for prospecting? Have you seen other benefits of social media? What's worked - or hasn't worked - for you?!