Executive Summary
In an increasingly digital world, an advisory firm's website is becoming an increasingly important part of the process in obtaining new clients. In fact, from the potential for prospective clients to find you through Google searches, to the fact that even someone referred to you may go online to check you out first, for many financial advisors their website will actually be the prospect's first impression of the firm!
Unfortunately, though, most financial advisors don't actually track and monitor the activity on their website, despite the wealth of available information. Tools like Google Analytics can show everything from how many people visit the website, to which pages are most popular, and the path they followed to come to the website in the first place.
By setting up Google Analytics, firms can begin to track the outcomes of their website, including goals like whether prospective clients are signing up for a mailing list and/or reaching out to the financial advisor to do business. Once you track the results and have the data, using tools like Google Analytics also makes it possible to make and measure improvements to the site as well. But it all starts with getting Google Analytics set up in the first place!
Making A Good First Impression With Your Advisory Firm Website
In its first evolution in the early days of the internet, the concept of a website for a financial advisor was relatively straightforward: it was the electronic version of the advisor's marketing brochure. It wasn't particularly intended to drive action or serve any function, and the content was static and rarely changed. It was basically just there to be available for anyone who wanted to read a little bit about the advisory firm and what it does.
Increasingly, though, as the internet is adopted more and more as a tool for gathering information, a financial advisor's website has the potential to be more than just a digital marketing brochure. For those trying to find for an advisor – often starting online with a Google search – the website of the advisory firm may be the client's first impression of the firm itself (so it's important to make it a good one!). Even firms that derive most of their new business from referrals may find that those who were referred check out the advisor online first – now widely accepted as a basic form of due diligence when selecting a professional to work with.
Yet the caveat is that, just as with a classic (physical) marketing brochure, it's difficult to know if a website is really "working" or not. Are there any prospective new clients contacting the advisor through the website? If not, is that because the website just doesn't attract any potential clients in the first place, or is because people are visiting the website but it's so bad or ineffective that they no longer want to follow through to become potential clients? And how can you tell, short of waiting to see how many prospective new clients do reach out through the website over time?
In reality, though, there actually is a great deal that can be measured on a website, beyond just the final result of whether a prospective client contacted you to potentially do business. And having that data is crucial to determine whether poor website results are due to a lack of interest (you need more people to come to your site), or a lack of effectiveness (the site isn't very good at making people want to do business with you!). But in order to get the data, it's necessary to have the right tools.
Measuring Website Traffic And Activity Using Google Analytics
When it comes to measuring traffic and activity on a website, the industry standard is Google Analytics. A free service from Google, its reporting tools can provide an astonishing range of data and information about what's happening on your website as people visit it.
The first thing to look at using Google Analytics is your "Audience" – the details about the traffic activity that occurs on your website. Audience is broken into 3 key metrics:
- "Users" – this is the number of unique people who visit your website. Notably, "Users" is unique over the time period being viewed. Thus, if someone visits the site once a day for 7 days, in a daily view that person will show as a [unique] user each day, but in a full-week view that person will only count as 1 user for the week as well.

- "Sessions" – this is the number of separate times your site has been visited by someone. If everyone comes exactly once, the number of sessions will equal the number of users. To the extent that someone comes to your site, leaves, and comes back again later, there will be 1 user and 2 sessions. A big gap between Users and Sessions indicates that people tend to visit the site multiple times, while when the numbers are close, it means that most people tend to visit once and not come back.

- "Pageviews" – this is how many individual pages of your site that were viewed. If a person comes to your site's main page, then goes to the "What We Do" page, and then goes to your individual "Bio" page before leaving, that will count as 1 session but 3 pageviews.
With these three core data pages, Google Analytics then provides supporting related data about your audience. For instance, a measure of Page[views]/Session indicates how many different pages people are reading when they come to your site. Similarly, the "Bounce Rate" is the percentage of visitors who show up on the site and leave (or "bounce") without every looking at a second page beyond the one they landed on. For people who view multiple pages, Google Analytics also records the time (duration) they spend on those pages. And given that many websites generate repeat traffic over time, the %age of sessions and users who are New are also recorded, as shown in the sample below.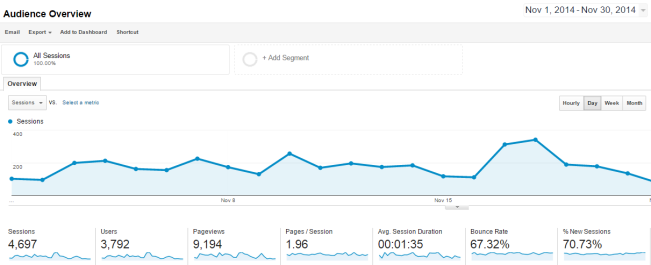 Beyond this core Audience report, Google can also show you data about the sources of your traffic – how many people arrive by Organic Search (e.g., they typed a search query into Google, Bing, Yahoo, etc., and clicked on your website as a result), as Referral traffic (i.e., they clicked on a link from another website that referred to yours), whether they came from a link in an Email newsletter (e.g., via MailChimp, Constant Contact, or a similar email marketing software tool), from Social media, or were simply a Direct visit (which means they typed your website address into a browser, or otherwise clicked on a link someone sent to them that wasn't otherwise tied to a category).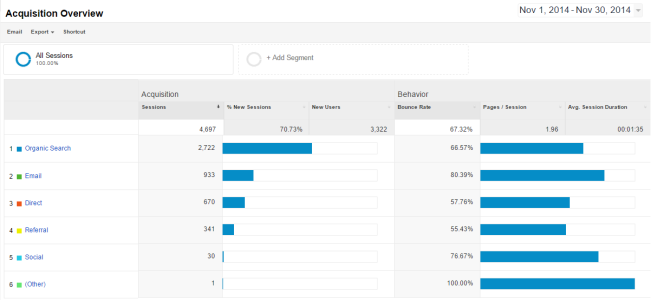 Other valuable reports from Google Analytics for financial advisors include:
- A "Behavior" report that shows what specific page content on your site people are viewing. Here you can see what pages people are actually checking out. Is your "Services" page most popular, or your Bio, or something else? A sub-report also lets you see the "Landing Page" of visitors – the very first page they arrive at, or "land" on – which can provide a further indicator of what pages/information from your site are being shared, or are showing up in Google searches.

- An Audience:Mobile report, that details how many of your visitors are viewing your website from a desktop computer, versus a tablet or a "mobile" device (i.e., a smartphone). If there's a significant amount of traffic from tablets or smartphones, you might want to check out anew how your site actually looks on a mobile device. (You can also see the Bounce Rate and Pages/Session from each type of device, which gives further indication about whether visitors find your site more useful/interesting from one versus another.)

- An Audience:Geo[graphic] Location report, that shows where your site visitors were located when they came to your site. Is your website drawing traffic primarily from the local region, or do you have people coming to your website from across the country who are looking for information?
Using Google Analytics Goals To Track (And Improve) Your Website Results
One of the most powerful (and underutilized!) features of Google Analytics is its ability to track "Goals" – specific actions or outcomes on your website that you want to track. In the context of business websites that sell products (e.g., a retailer) Goals tracking might monitor what products are selling, or how many people are checking out a particular product special. For advisory firms, Goals might track results like how many clients actually make an inquiry to the firm using the "Contact Us" page, or how often clients actually sign up for your (electronic) mailing list.
The reason why Goals tracking is ultimately important for advisory firms is two-fold. The first is that when a Goal is recorded, Google Analytics provides a way to separate out specifically what was unique about the visit of those people to your website. Do the people who actually contact you to do business get referred from a particular website, or do they come to you as Direct traffic (suggesting someone told them about you), or did they find you from a Google search? When they visited your site, what were they looking at before they actually decided to contact you? Do the people who reach out to you tend to view your Bio, or your Services page, or some other part of your site, more or less than others – which can provide valuable clues about what's really most important to those who do business with you, and alternatively what information they do not actually care about and don't read before deciding to take the next step.
The second reason why tracking Goals is so important is that it provides a starting point for measuring results in an effort to improve them. If your website generates 250 visitors every month, but only generates 3 client inquiries per year, you're "converting" visitors into bona fide leads at a rate of 0.1%. If you could improve your site to the point where you "merely" convert 1% of anyone who visits your site, you would suddenly be generating 2-3 potential client leads every month, which is a very healthy pace of prospective clients for most financial advisors (especially "just" coming from their website!). The reality of generating advisory business from a website – like most marketing – is that it's a "numbers game" where it takes a certain amount of activity (visitors) to generate a certain amount of results (prospective clients who make an inquiry), but the numbers can be large enough that rather small incremental improvements can generate big changes in outcomes!
By measuring and tracking Goals, your website becomes a testing ground for making improvements. If your inquiry rate is extremely low, look at your "Contact Us" page and see if it has an easy, visually appealing way to ask people to contact you. If not, change it and see whether the Goal results improve! If it turns out that the percentage of people who contact you from the Contact Us page is high, but hardly anyone goes to that page, consider adding a "Call To Action" on whatever are your most popular pages, prompting people who are interested and "Want To Learn More?" to go to your Contact Us page to reach out to you! By tracking Goals, you can determine exactly what's working and what's not, and test and adjust accordingly! (Michael's Note: For more sophisticated web marketers, the better method to try out changes is actually A/B testing, where various users coming simultaneously to your site are shown different versions, allowing you to test head-to-head in real time which converts more effectively.)
How Financial Advisors Can Get Started By Installing Google Analytics
Of course, the starting point to all of this data tracking is that you have to actually install Google Analytics on your site in the first place.
To do so, start by going to the main Google Analytics site (note: even if you have a web developer, you'll still need to do this part yourself!). If you already have a Google (i.e., Gmail) account, you can Sign In in the upper right corner (or if you're already logged into your Google account, you may see an "Access Google Analytics" button). If you don't have any kind of Google/Gmail account, you'll need to create one so you can be tied in to your website data.
Once your account has been created (and/or you've logged in to your Google account), you (or your web developer) want to log in to your Google Analytics account, select that you wish to track a Website using (Universal) Analytics, and get your Tracking Code. The Tracking Code is a unique digital code that you manually add to your website, that communicates to Google that your site traffic should be tracked, and provides a verification mechanism that the site is actually yours (as you would need access to your Google account, and your website, to get the unique Tracking Code and then actually add it to your site). Technically, the Google Tracking Code needs to be added to the <head> section of all the pages of your website; in practice, your web platform will often have a place in the site management tools to add this, or if you worked with a web design firm to create your site, their developer should be able to add this to your site in a few minutes. (If your web support team doesn't know what Google Analytics tracking code is, or how to quickly add it, run-don't-walk to find another web designer!)
While adding the Tracking Code is relatively straightforward (if not for you, then for your web designer), crafting goals can be a bit more involved. A starting point is to identify 2-3 target goals, such as getting someone to sign up for your mailing list, visit your Contact Us page, or actually contact you using a submission form on your website. Fortunately, there are a lot of tutorials and guides out there about how to set up goals in Google Analytics, and/or this may be a project to work on with your website developer in the coming weeks.
Because Google Analytics only works on a prospective basis once you've set it up – it can't look backwards – you won't see much data at first. But once you've set up your website with Google Analytics, and hopefully created a goal or two to track, make sure you go back to visit your Google Analytics in a few weeks to check out the activity, and begin to learn whether/how people are visiting your website, and what they're doing (or not doing!) while they're there. Once you begin to track the data and have something to measure, you have a benchmark for improvement.
So what do you think? Do you have Google Analytics on your site now? Have you ever actually checked out what the data shows!? Are there any insights you've gleaned, or changes you've made, based on that data? Will you be setting up Google Analytics going forward?