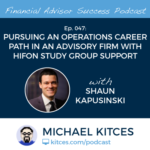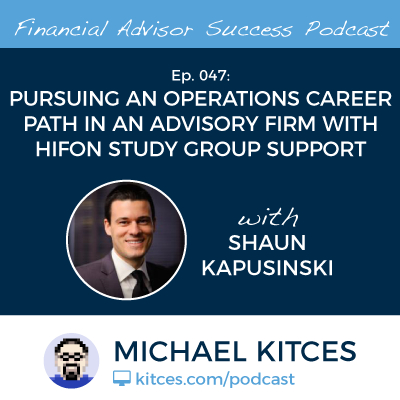 Welcome everyone! Welcome to the 47th episode of the Financial Advisor Success Podcast!
My guest today is Shaun Kapusinski. Shaun is the Director of Operations for Sequoia Financial Group, a hybrid RIA based in Akron, Ohio, that manages more than $3.7 billion across private client and institutional divisions spanning four office locations.
What's unique about Shaun, though, is that while he started out in the industry over 15 years ago like many advisors of the time – as a "financial advisor" selling life insurance for a career agent life insurance company – he made a shift early in his career to the operations side of the business, and has since been able to grow his career by following an Operations career track inside of an advisory firm, rather than the more traditional paraplanner, then associate advisor, then lead advisor career track.
In this episode, we talk in depth about the organizational structure of this mega advisory firm, how they split apart a division of "Shared Services" including centralized paraplanners, a centralized investment team, and centralized operations (all supporting advisors with local client service associates in multiple locations), the core technology stack of Tamarac, eMoney, and Microsoft Dynamics that Sequoia uses to run the business, and why the firm is looking to make a shift from Dynamics to Salesforce Financial Services Cloud for the next stage of growth.
We also talk about Shaun's own fascinating career track, from starting out as a life insurance agent, transitioning to an operations role early in his career, why he believes that getting an MBA is even more valuable for those in an Operations role at an advisory firm than getting the degree as a financial advisor, and Shaun's perspective on why "growth" is such an imperative for advisory firms – because it's the growth that creates the career track opportunities in operations in the first place!
And be certain to listen to the end, where Shaun talks about the study group he created, called HIFON – short for High Impact Financial Operations Network – which gathers together operations team members from advisory firms across the country. And in recent years, HIFON has grown to the point that it's no longer just a study group, but an emerging membership group for the operations staff of advisory firms, with not only study group opportunities, but also private discussion forums, private vendor webinars, and even shared data about what technology various advisory firms are using!
So whether you are trying to figure out how to grow the operations side of your business, interested in making a transition to operations yourself, or simply interested in learning about the resources such as HIFON that are available for operations team members, I hope you enjoy this episode of the Financial Advisor Success podcast!