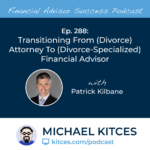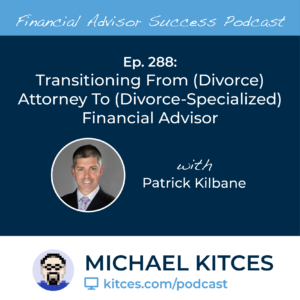 Welcome back to the 288th episode of the Financial Advisor Success Podcast!
My guest on today's podcast is Patrick Kilbane. Patrick is a Partner and the Director of the Divorce Advisory Group for Ullmann Wealth Partners, an independent RIA based in Jacksonville Beach, Florida, that oversees $800 million in assets under management for 350 client households.
What's unique about Patrick, though, is how he stepped away from a successful career as a family law attorney to transition into becoming a financial advisor who specializes in divorce, with a unique value-add of being able to work collaboratively with his former legal colleagues to provide support services for new clients going through a divorce process.
In this episode, we talk in-depth about how and why, after almost a decade of practicing family law and helping clients through divorce, Patrick made the transition to a financial advisor to better help his clients navigate the financial challenges that come with divorce, how Patrick leverages the professionalism, trust, and the connections he built as a lawyer to gain referrals for him and his advisory firm, and, while he doesn't give any formal legal advice to his clients, how Patrick is able to utilize his knowledge of the law to offer specialized assistance to divorcing clients so they can better prepare for meetings with their lawyers during divorce proceedings.
We also talk about how, after reading Rich Dad Poor Dad while in college, Patrick realized his interest in personal finance and the ways passive income can impact one's life (going so far as investing his excess student loan money into a Vanguard S&P 500 fund), how Patrick tired of the grind as a lawyer (especially dealing with divorcing clients when they're at their worst) and the immense pressure he felt as a lawyer to bill thousands of hours a year to clients (and be collecting on those bills), and why Patrick walked away from his law practice, just two weeks after becoming a partner at his firm, so he could pursue a career as a financial advisor… while still retaining his status as an accomplished lawyer.
And be certain to listen to the end, where Patrick shares why, even though he is appreciative of his years as a lawyer (as he could not be where he is today without it), he wishes he could have begun his career as a financial advisor much sooner in life, how Patrick understood that despite being an accomplished divorce lawyer, it was incredibly important to have a mentor who could guide him as he transitioned into his new career as a financial advisor, and how Patrick has lived a philosophy of trying to give his best effort every day to help his clients realize their financial goals, with the confidence that when you work hard and do your best each day for your clients, your own finances tend to get taken care of, too.
So whether you're interested in learning about why Patrick decided to change careers after many years as a successful divorce lawyer, how Patrick utilizes connections and trust he built in his former profession to build his financial advisory practice, or why Patrick feels he can better guide his clients through the worst of times as a financial advisor rather than as a divorce lawyer, then we hope you enjoy this episode of the Financial Advisor Success podcast, with Patrick Kilbane.