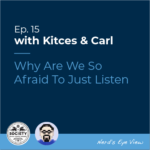 Although gaps in a conversation are often awkward and uncomfortable, when used effectively, they can become power tools for financial advisors to foster deeper connections with their clients. Because, beyond just hearing what financial concerns a client may have, advisors can use the opportunity to give space to the conversation, which helps to establish empathy and build trust, and in the process sometimes bringing to light the unique roadblocks clients may have in executing their plan.
In our 15th episode of Kitces & Carl, Michael Kitces and financial advisor communication expert Carl Richards sit down to discuss the value of really listening to clients, and how, by simply talking less and listening more in client meetings, an advisor can improve the chances that a client will stick to their plan.
In general, financial advisors are trained to be knowledge experts and to communicate that knowledge to clients. But even though clients seek out financial advisors for their technical expertise (after all, the main value-add financial advisors offer are the recommendations that help clients down the path of achieving their financial goals), what may not be so obvious are the reasons that clients will (or will not) successfully follow those recommendations. Reasons that can't be discovered… unless the advisor gives the client the space to reveal them.
Because no matter how perfect and comprehensive a plan may be, it will offer little value if the client does not know how, or is unable, to follow it. Like a swimming instructor teaching a fearful student how to swim, it may be very clear to the advisor what steps the client needs to take and how to communicate what those steps are. Yet it may be harder to see the doubts and fears that the client may be holding on to – or about whether they can even trust the advisor in the first place – which, in turn, can give rise to a client's hesitation and reticence to follow through… in essence, a "gap" between what the client knows (i.e., what you tell them), and what a client actually decides to do. But by encouraging clients to fully talk through their concerns – and by using silence as an opportunity for the client to reflect deeply on the questions asked – advisors can empathetically understand what a client's true priorities are, and particularly, what may be creating the knowledge/action gap for the client.
In the end, the key point is simply that it's okay, and maybe even potentially valuable, to have some silence during a client conversation, because it can lead to a better balance between the delivery of knowledge and the discovery of nuances that make the client a unique individual. Ultimately, by asking probing, relevant questions, and leveraging silence, advisors can become better listeners and strengthen their relationships with clients, and in doing so, may even identify the obstacles that are keeping them from sticking to their plan in the first place.