Executive Summary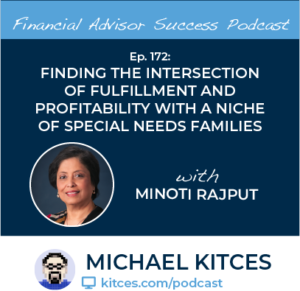 Welcome back to the 172nd episode of Financial Advisor Success Podcast!
My guest on today's podcast is Minoti Rajput. Minoti is the Founder and President of Secure Planning Strategies, a hybrid advisory firm based near Detroit, Michigan, that oversees nearly $300 million of assets under management for 350 client households.
What's unique about Minoti, though, is that she's built her advisory firm by crafting a deep specialization in working with families with special needs children, and creating a truly multi-generational clientele in serving both the parents of those children and supporting the special needs trusts for those children long after their parents may pass away.
In this episode, we talk in-depth about what it really means to work with a niche of special needs families. The way Minoti structures her fees with the combination of an upfront complexity-based planning fee that may be the entirety of the relationship for some clients, the ongoing AUM fee she charges to work with more affluent families for ongoing special needs clients, the limitations of doing niche-based financial planning in traditional planning software, the need to use Word and Excel to create more custom plans, and how Minoti has been able to systematize and create repeatable expertise to keep even her custom-written financial plans very efficient to create and deliver.
We also talk about how Minoti built her niche in the special needs community itself. How she gathered the requisite expertise, it takes to understand the myriad of Federal, state, and local programs available to support special needs families, the unique marketing opportunity she's been able to create working with school systems where as many as 10% of students have some kind of special education needs, where Minoti draws the line between giving advice to special needs families but not serving as their special needs attorney, and how Minoti handles the real-world compliance challenges in providing this kind of specialized advice while being supervised by a broker-dealer compliance department.
And be certain to listen to the end, where Minoti shares why even though she's gone deep into the specialization of serving special needs families successfully, she still keeps a client base where almost 50% of her clients are generalist and not niche clients, the most misunderstood aspects of what it takes to be profitable and grow scalably when serving a niche clientele like special needs families, and the resources she recommends, including books to read, organizations to join, and designations to pursue for other advisors who want to pursue such a rewarding and fulfilling niche as well.
What You'll Learn In This Podcast Episode
Minoti's Generational Practice And What It's Like Working In A Niche Of Special Needs Families [00:04:52]
The Unique Way Minoti Structures Her Fees [00:13:22]
How She Gathered The Expertise Needed To Support Special Needs Families [00:30:42]
The Marketing Opportunity Minoti Has Been Able To Create Working With School Systems [00:52:34]
Where Minoti Draws The Line Between Giving Advice And Serving As An Attorney [01:08:10]
How She Handles The Compliance Challenges That Come With Providing Specialized Advice And Why She Keeps 50% Of Her Clients Non-Niched [01:17:16]
Resources For Advisors Working With Special Needs Families [01:30:15]
The Low Point Of Minoti's Journey And What She Wished She Knew When She First Started Out [01:34:21]
What Success Means To Minoti [01:38:00]
Resources Featured In This Episode: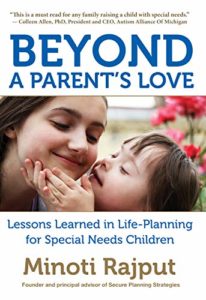 Never miss a Financial Advisor Success podcast episode! Get notified of the latest episodes (and all our research as it's released!) directly via email:
Full Transcript:
Michael: Welcome, Minoti Rajput, to the "Financial Advisor Success" podcast.
Minoti: Thank you, Michael. I'm honored to be here. I'm very pleased to be here.
Michael: I'm really excited about this episode and this discussion. We talk a lot on the podcast around the value of having niches and specializations as a way to differentiate in an increasingly competitive advisor landscape where everyone says they do comprehensive financial planning, customize the individual needs of their clients with these credentials and years of experience, and all the different things that we market.
But for a subset of people, forming niches or specializations is not just literally like, "I have a business strategy where I'm going to specialize in these clients that I can distinguish myself from the crowd." We do it for much more personal reasons and much more of a personal mission. And I know that you have been down this journey with a practice that specializes specifically into working with special needs children, or even special needs families, and all the challenges that happen for the whole family.
So I'm excited today to talk about what to me is just a really powerful niche, not just for the business opportunity that I'm sure we'll talk about as we go of differentiating yourself in a crowded advisor landscape, but to me, this is an area that gets into just the purest aspect of why we are advisors, why we try to help people and the incredible helping impact that you can have when you specialize into families that have some very unique and challenging and complex needs.
So tell us a little bit about the business as it exists today. Tell us about your advisory firm and just what you do in practice.
Minoti's Generational Practice And What It's Like Working In A Niche Of Special Needs Families [00:04:52]
Minoti: My company is Secure Planning Strategies that I started 10 years after I started in the business. So in 1990, Secure Planning Strategies was created. And today, we are three partners. We have two young advisory associates. In total, including our supporting staff, we are ten people in the office.
We are always generalists first. I always say that you cannot be a good specialist unless and until you have a very strong foundation of being a traditional or a generalist advisor. So we balance our special needs practice along with our general practice very well and yet very carefully. So over the years, both sides of the business have grown. And today I'm in the mode of my succession planning with one of my advisors who has been with me for 20 years, that's Mehul Mistry, who's also my nephew, but also Elinor Ho, who her practice and my practice, we merged about almost nine years ago as part of the bigger picture because we were reaching a level where two advisors were just not going to be enough to manage the capacity in the office.
And we take pride in being what we call a generational practice because I'm in my 60s, my one partner is in her 50s, another one in their 40s, a paraplanner in their 30s, and our advisor associates are in their 20s. So, we always like to tell our clients that, "When you are 85, I may be gone, but you don't have to change firms. Everything is going to be here. Our expertise is here to help you, but so are our advisors. And you will have peace of mind that you will be taken care of in our practice." So that's what the structure is. And there's a lot more detail underneath that goes on on a regular basis to make this practice successful.
Michael: Well, I love that framing around just being able to emphasize how the practice will move beyond the advisor. I think that's relevant almost across the board for any of us as advisors. If you're an advisor, I think particularly if you're an advisor in your 50s and 60s and saying, "Well, I work with retirees," at some point, some of your retired clients or some of your retired prospects are sitting across from you saying like, "I'm going to be retired longer than you're going to be working until you retire and I'm not quite sure what's going to happen when you retire. But I don't really want to have to find another advisor in my 70s or 80s because we worked together for 10 or 15 years, and then you left."
And so that lingering concern of what happens if you're going to tell me you're here for my retirement, what happens when you retire becomes an issue. But when you've got a focus around special needs families and literally working multi-generationally, because you may be helping parents and then need to be there for children for a long time to come thereafter, I would think it takes on a whole other level of, if you want to work in this space, you have to demonstrate your ability to continue the firm's services beyond the lifetime of the parents. That's literally kind of the point of why they need help with the planning.
Minoti: Right. You're right. It's also important for me to demonstrate to my clients that we are truly planners. If you have not done your own planning, how are you able to advise others why this generational planning is important? We have to take care of ourselves first in order to be able to take care of our clients.
Michael: It's a good point. And do you actually frame it that way with clients? Do you point that out?
Minoti: Yes, we do. Because we are managing assets for our clients in addition to doing their planning, which is where our network comes from, which is where our revenue comes from. All of that happens. And if you have not planned for our future, we will lose a lot of our clients if you're not connected with the next generation.
I may not know how to speak the next generation's language, I may not be as technically savvy, I may not know what the millennials' thoughts are versus the Generation X, Y, or Z's, but that's why I have the others in my office who can assist me while I'm there. And they don't have the maturity and experience that I bring to the table. So it's all part of the household. We are all in a team.
So many of my clients will say, "But Minoti, when you're gone, we may not feel comfortable just with working with others." So it's very important for me to naturally walk them through from one side of the fence to the other and gradually have them build confidence or feel confident with the other advisors as well.
Michael: And so, how is that done in practice? Is that through joint meetings? Is that doing everything in teams? How are you actually trying to promote that kind of cross-connection to younger advisors in the firm?
Minoti: Every single meeting has at least two advisors. And now that we have advisor associates, even though it may seem like a crowd, one of the advisor associates is also present. They are listening; they are taking notes. And then we are letting them do the planning. They're watching us how we are presenting it to them. So this is a process, but for the last three years, every single case is attended by at least two advisors.
Michael: And so help us understand the overall size and scope of the firm. I don't know if you measure by the number of clients, assets under management, or revenue, but how large is the firm overall?
Minoti: So currently we manage, as far as assets under management are concerned, we have somewhere around $370 million assets under management. Now, this amount also includes Elinor, who merged her practice with ours about nine years ago. She has about $60 million, $70 million of her own that she brought in. And then now she's merging with ours. But even before she came in, if I just take a look at what our practice was before, not counting hers, we still have over $300 million assets under management. That belongs to about 350 clients. And of those clients, 40% are that of special needs families.
Michael: Okay. So 40% of the 350 or so client households are special needs families.
Minoti: Correct. And then in addition to those 350, we also have another 100 or so clients, we have done their basic planning, we have helped them with their legal planning, with special needs planning. They may have purchased life insurance to fund the special needs trust, or we may have just done a base plan for a fee, but they haven't had any triggering moment in their life or an event in their life that has allowed us to take over their assets, such as retirement, such as receiving an inheritance, such as their parents dying, and the special needs trust is funded. But we keep a very close tab of those people. And we are in communication with them on a regular basis, especially whenever we feel there's a tax law change or any changes that are taking place that impacts their special needs planning. It could be the government benefit cuts or not having a housing crisis, things like that. So we are in touch with them so that they know that we really mean service to them and we have all intentions of helping them, and also to prove that we are probably the only name in town that does comprehensive special needs planning.
The Unique Way Minoti Structures Her Fees [00:13:22]
Michael: So talk to us a little bit about what this model looks like in practice. Are you still predominantly doing assets under management? Are you charging separate fees for planning as well? Do you have other fees for special needs planning? Are you also implementing the insurance and the trust and compensated for that? What does this look like from a business model perspective?
Minoti: We are a hybrid-practitioner financial planning firm, which means we have a broker-dealer relationship because of some of the products that we had used to implement our plans in the past, such as annuities and things like that. As far as investment management is concerned, we are strictly fees. We always do a basic comprehensive plan first, irrespective of whether it's a family with a special needs child or a traditional family. In terms of traditional planning, we still have certain specialties like pre-retirees, retirees with a certain net worth or assets available to manage, small business owners, or women in transition. Two out of three advisors here are women, and so we feel very strongly about educating women and making sure that they feel confident about money matters.
So wherever we have these clients approach us for planning, whether it is from a workshop or a referral lead or observation from just the community and so on, they get a questionnaire first, and then they send it to us completed. We go over that in the consultation, and we assess what's involved in that and offer to do a plan for them, then we quote a fee for them to do that plan. They give us all of the data, their existing legal documents, business plan, financial assets, tax returns, and all of that.
If there's a special needs child, we go into far more details about the family situation, about the disability of the child, the ability (and inability) of the child. And we can talk separately about just the special needs aspect of planning, but in general, we get all this data, and then we create a plan. So over the years, I have recognized that I can use a lot of different planning software tools and so on, but at the end of the day, what really works is a plain layperson's terms in the planning that's presented to them.
So our plan really incorporates their family description and their objectives. For their objectives, when they come in, they say, "Okay, I need to do special needs planning for my child," they don't recognize that all aspects of their family and financial life are connected with each other. So we lay out the objectives, what should be the objective in risk management, in cash flow, in the investment analysis, retirement projection, and estate planning with a focus on special needs planning?
And then we focus on their cash flow, what their current living expenses are, income is, and the discretionary income. It's very important to us to know what the discretionary income because if you make certain recommendations on a funding strategy for a special needs trust, we have to know their ability to do so. Or if they're not funding their retirement plan adequately, we have to know their ability to do so, because if in their retirement they are not taken care of financially, how are they going to extend the financial security to the next generation?
So all of this analysis is done, and then we present it to them. We make the recommendations, and we give them the options, "Do you get it? How can we help you?" We give them a few days to think about all these things, have them send us in detail any questions that we can answer for them.
They always have questions like, "How are the assets managed? What is your fee structure? How often will you see us? How often do we have to update our legal documents? Will you hold our hand on an ongoing basis?" We address all of those issues, and then they will say, "Yes, we want to move forward."
So the financial planning aspect has to be done first before we sit down with the attorney and say, "Now we are ready because they have identified how they want to distribute their assets or the estate to the heirs." And what is going to be going into the special needs trust? And are they going to identify a specific asset that's going to be designated for the special needs trust? Who is going to be identified as the successor trustees, advocates? Future residential options – should their house be deeded to the special needs trust? All of those things are discussed before we sit down with the attorney and tell them to do the documents.
Once the documents are done, we always get copies of the documents sent us electronically. Then we make sure that all of their financial assets are connected with their legal documents. And then we also let them have a meeting, wherever it's applicable, with their adult children to let them know what their role is going to be in the big picture. And then we meet with them on a regular basis.
If we take over the assets, we have to meet them in the first couple years, maybe once every six months, but after they have gotten familiar with the whole pattern, maybe once a year, but have a number of conversations per year or invite them to other workshops that we do. We always do educational workshops for our existing clients. So they are invited to that to keep them up to date on what's happening in the economic world as well as the special needs world. That is our process.
Michael: Interesting. So help me break down a little bit more, sort of what you do initially and what you charge initially versus ongoing, so everything from the initial survey and consultation until you present the plan it sounds like is stage one. And there's a planning fee for that. And then if they decide to work with you on an ongoing basis, that moves into an assets-under-management world if there are assets available to manage. And if not, they just stay separately tied to your firm through emails, communications, workshops, and then may become an AUM client in the future.
Minoti: The fees are charged based upon the complexity of the plan. That is not our primary revenue source necessarily, but we don't want a client to think that they can pick our brains, spend our time and walk away, say, "I don't want to do anything." So we charge a minimum of $2,000 for an average plan. Their investment analysis is done by taking their statements and running them through Riskalyze, or Morningstar reports.
We identify the challenges we see, whether they are just product-based asset management, just buying a whole bunch of mutual funds or target-date funds. We point out to them what their fees are. And because they are not retiring for just two people, how the long-term growth has to be primarily a focus, because they cannot just think about, "Okay, I have enough, and that's going to last me." Because they are planning for three people's retirement or sometimes more than three people, their objective has to be redefined, and their portfolios have to have risk management tools to overcome the volatility. So the analysis part is detailed, and we spend time with them.
Have we charged less than $2,000? Yes. If their situation is far simpler, then we have occasionally charged maybe $1,500 or $1,200. But whenever their situation has been very complex, like they have a business and their mentally ill son is involved but the mentally ill son is also receiving government benefits, so the parents, even though their son is part of the business, they cannot leave assets to this person.
So how do you do all of that? What kind of tax planning has to be done for the business succession planning and so on? And we have also charged $10,000 fees for that. It's the general planning, and then it's still focusing around the special needs planning that is done that way.
Michael: And so as you're doing this sort of complexity-oriented fee, how do you come to a number? Is this kind of a gut feeling from you, you see the information, the survey, spot some concern areas, and just having done this for a long time have a good feel for how complex it's going to be and what the cost is going to be or do you have like a specific structure? If you're a business owner, add $1,000, if you have this situation, add $500 and kind of complexity-calculator it up? How do you get to a number when you've got a range of $1,200 to $10,000?
Minoti: It's a combination. The estimate comes from the gut. And I've been in business 40 years, and I've handled a lot of different complexities and simple plans. So I'm able to assess how much time it's going to take, how much calculation it's going to take. Will I need to pick up the phone and call one of the attorneys who is also a tax attorney but also a special needs planning to pick her brain? We have reciprocity relationships. So I get calls from attorneys. I call them. But it's the time that we are spending and bringing other people's advice in the document that we present to them, all of that is taken into consideration and then quoting a fee to them. And sometimes, I may tell them, "Look, I need to sit down and assess the situation. I'm not able to tell you exactly what I'm going to charge, but I will give you the option of whether you should work with me. But this is what we'll bring to the table for this kind of fee."
Michael: And so you do this regardless of whether they're a special needs client or on the generalist side of the practice? Fees may be a little bit different because the complexity may be different, but the structure you're doing for both sides? And so if they decide to move forward after the initial planning process, then what does that look like? Do you have versions with ongoing fees for people that have ongoing special needs questions but don't necessarily have assets, or is it all an assets-under-management structure once they go through the initial planning process?
Minoti: We have, in 100 clients, a number who may have paid us a fee initially, and then they are on our communication list. Occasionally they'll call. But just a phone call, we are not going to send them a bill. But if they come because there has been a drastic change in their circumstances, there's been a death or inheritance or retirement, and now we are putting our heads together and redoing their plan, but they also intend to bring the assets, we'll give them a concession on the fee.
It's very important for us to convey to them that, "Look, if we give you a planning document, we recognize that you reserve the right to walk away from here and do nothing with us." So we want them to appreciate and respect the value of our time, our experience, and our knowledge. So for that, we charge a very nominal fee. But it's also telling them that we have the capability of doing all. And we work to prove that every single time. And so when they come over, then we charge a fee for the assets that we are going to manage for them.
If right in the beginning or even later on, if they have decided that, "I'm not very confident what's going to be left in my estate by the time I pass away. Even if I want to leave 100% of our estate to my special needs child's trust, 100% of $0 is still $0. So I wasn't very keen on buying life insurance, but as things are progressing or as we are getting older, I recognize the value of it, we're ready to buy life insurance now." We will get compensated for that implementation of that insurance in the trust, whether they did in the beginning or even later.
Michael: And so because of this varying complexity, even on an ongoing basis, do you end out with different AUM fees for special needs clients versus other clients, or is it a uniform fee schedule across the board?
Minoti: No, our fees are uniform across. For regular traditional clients, non-special needs clients, we have a requirement of a minimum of $1 million for assets under management. We will have a concession for the special needs family, but it's still a minimum of $500,000 or $600,000. The reason is, the strategies that we use, we can't do the right thing for small amounts of money. We need a certain minimum to do the right thing. So that fee is uniform. For the first $2 million, our fee is 1%. But we use strictly third-party managed portfolios. And the majority of our business is through the Envestnet platform, basically. So whatever is the additional manager's fee or custodial fees is in addition to that.
We bring value in terms of how we select the managers, what our diversification is, and also what our diversification and management style is. So we feel that over the years, having been through 2001 and 2002, 2008, and first of all, 1987, all of those and a whole bunch of clients retiring at the same time, facing the vulnerability of the market, we have stepped back and come up with a conclusion as to, in our minds, what works and what doesn't work and what we are comfortable with. So we are very happy with what we do in terms of assets under management and how we present it to our clients and what works for them as well as for us.
Michael: So I'm struck just by the discussion around, as there's more and more focus in our advisor world around fees and we start adding more layers, platforms have their fees, we may start seeing custody fees begin to emerge, third-party managers have their own fees.
So how do you talk through with clients this... I guess this layering effect? Like, "This is our 1%, oh, but that doesn't even cover the outside managers. Then you have to pay for them. And if there's a platform fee, you have to pay them." And so numbers start adding up from there. Is that a challenge? Do you get pushback? Do you have concerns around just what those fees add up to when all the layers go in there?
Minoti: Well, it depends. It's our obligation to explain everything to them. It has to be full disclosure. And remember, I live in Detroit; it's full of engineers who are very analytical. Okay? They do ask those kinds of questions, and we explain it to them that, "When you go to a mutual fund-managed portfolio, if the advisor is charging 1% or 90 basis points or whatever it is, the average fee, including the mutual fund management fee, could be 1.2, 1.3." And so if you have to pay 20 basis points, we are educating them to take a look at what the value is.
Because whether or not you have a special needs child, by just having this one bill to pay, which comes off from your assets under management, you're also getting these additional services of keeping you updated and holding your hand for all aspects of your life journey. So they get that very well once they come aboard.
And to be honest with you, we are not bending over backward to beg for their business. We say, "Listen, this is how it works. We get compensated, but we take care of you. And it's not always going to be about rates of return. Our goal is that you may not reach the very high top returns, but we also don't want you to fall very hard. We just want to make sure that the expectations are realistic, but we want to make sure that this portfolio is going to last a very long time."
How She Gathered The Expertise Needed To Support Special Needs Families [00:30:42]
Michael: And so when you do the planning work itself, what do you use for the planning software? Are you still in traditional financial planning software? Are you in spreadsheets you made yourself? How does special-needs planning get done? Because I don't know too many planning software packages that have a special-needs-planning module. Most aren't even that good at estate planning in general.
Minoti: Even if I had software to demonstrate special needs planning, I have come away from making a presentation of computer-generated planning. I take the software, I use the software to make my projections from my calculations, whether it's eMoney, Riskalyze, all of that, but we take the summary, and the majority of the times, our planning is in a Word document. The description of the family – every family member – is described. Their date of birth, who they're married to, how many children they have, and their profession. And believe me, when we're asking details of every family member, we discover so much that's going to be making an impact on their estate planning.
We have templates that we have created over the years, but it still is a Word document. The risk management, if the primary wage earner passes away, what is the source of income for the surviving spouse? We have cash flow statements. And we ask them to complete it, and it's translated into our planning document.
We say, "Your income is $150,000, you're paying taxes, and you're contributing in the 401(k) plan, so you should be left with about $100,000. When you're listing your expenses, you're only saying you can live at $60,000, where is the rest of the $40,000?" Ninety percent of people don't know where their money is going. My favorite quote is, "Financial planning is telling your money where to go instead of asking where it went." We make them redo their cash flow at least two or three times until they get it right because I want to use their discretionary income for future planning.
So we make future retirement projections. We do the investment analysis. The Morningstar report is very important. Riskalyze is very important. eMoney to do the future, what's going to be left by the time you pass away. And when the tax laws change, we have to implement that to make sure what the tax implication is. So it's a combination of tools that we use to make the presentation that's easy for them to understand. Sometimes the husband just gets it because he's savvier, but we want to design the plan for the partner who we recognize may not be that financially savvy.
Michael: Interesting. So it sounds like functionally, the planning software, eMoney is doing the number-crunching stuff, but for you, the plan is the Word document that you write up and the eMoney projections just kind of get slapped on the back of like, if you're an engineer and you want to figure out where that number came from, see page 72 of the eMoney printout.
Minoti: And almost all engineers ask that.
Michael: But you're building primarily custom Word documents.
Minoti: Yes, you're right. Every plan is customized.
Michael: So just out of curiosity, how do you actually bring that together? Have you made templated Word documents internally? Is there a certain standard structure about how you do it? Because that sounds very time-consuming of literally manually creating Word documents every time you go through a plan.
Minoti: It could be. My younger associates here occasionally do cut and paste. But special needs planning is not standard planning; it is customized planning. Each disability is different. So the description of their child, from Asperger syndrome to ataxia-telangiectasia to Turner syndrome, and their neurological deficiencies or their ability/inability is always different; I cannot have a template for that. Our planning is time-consuming, but it's worth every minute of the time that we spend, so I don't want to give them a template document.
When they see the description, and they're nodding because they didn't recognize that when they were describing all those things, we were making notes, and every sentence that they have said has an implication. This is when I'm meeting with you when your child is 17 years old. I'm meeting with you again when he's 26 about to leave high school here. And now, do we see any progress? Has he gotten a job? I need to be able to go back and see what the description was of the child and his ability or inability to do certain things.
But also the relationship. In these last few years, the older sibling was in the university, was calling on a regular basis to check how the brother or sister was doing now has moved on with his job to California. His wife is not a very warm person. And they were hoping that son to be the trustee, but now he lives far away. He doesn't even know on a regular basis what's going on with the Medicaid benefits in Michigan. Is the daughter or the younger sister more capable? I have to know all of these things in the beginning and on an ongoing basis. I may not be able to accomplish all of those things with a standard template planning document.
Michael: And so how do you manage this from a business end? That just you're emphasizing the sheer time-consuming nature of all of this work, particularly for special needs situations that have a lot of complexity associated with them, where you said your average planning fees still may only come in in the $2,000 range. How do you just handle this from a business perspective, all the time-intensive planning work for a somewhat limited dollar amount?
Minoti: So we are not necessarily taking 40 or 50 clients a year. We are very aware of our capacity issues. We are very profit-oriented. Our expenses are only 30% to 32%, not counting our drawers for expenses to manage this. We have, over the years, become very efficient. It takes me maybe a couple of hours to do a plan. If an advisor associate is doing it, it may take a little bit longer to oversee the plan. And the staff is very capable of running the Morningstar report. We just analyze it and put in our remarks and so on. But we have just become more and more efficient over the years to put it all together.
Michael: Well, and there is an interesting effect to me that emerges for firms with this level of depth and expertise around a specialization which just even as unique as every client's situation is, when you're seeing your 50th client with Asperger's or your 30th client with Turner syndrome, at some point, you are familiar enough with the issues and dynamics that are at play that there isn't much for you to research; there isn't much for you to look up. It's mostly just taking the client's information and applying all the knowledge in your head to start crafting observations and recommendations.
And so what may otherwise be an incredibly time-consuming process for the average advisor, because, in essence, we have to teach ourselves the solution and then figure out how to communicate it and convey it to the client, you effectively have shortcutted that process because this is repeatable expertise.
Once you learn how to deal with this particular special needs situation once, you're very familiar with the tools and solutions and the issues to handle it all the other times the clients come in in the future. And so it gets significantly more efficient because all the expertise becomes so repeatable.
Minoti: Correct. Perhaps this is a good segue for me to tell you that it wasn't that easy when I started, right? It may not be easy for anybody, but it's so different. So I started in the business here within four months from coming from India. I came here with qualifications. I had six years of banking experience, and I had an MBA in finance, but I was very young. And financial planning was an evolving industry in 1980, 40 years ago, and not too many women were in the business.
My experience was to do business planning for the business owners who were the bank clients. But I recognized here that for that aspect of planning, the banks were not necessarily doing it. And I found out that for me to be a financial planner, I had to start with either being an insurance agent or a stockbroker. None were areas I was very excited about, but reluctantly, I started in the insurance industry.
I recognized that I had the knack for being able to educate a client in order for me to make a sale. But, as I said, I was an immigrant, and the only thing that was in my favor was my determination that I had to get from one spot to the other. And I did not know a single person in this entirely new world except my husband. I needed clients. So it was cold calling and walking on the street and in industrial parks and things like that.
Well, one thing led to the other, and I survived in the business. And I did well. And my clients were young entrepreneurs or professionals, mom and pop, young families, and so on. But as I learned about planning and as I got my securities licenses, my CFP, and the business practice was working; I continued to feel very strongly that something was missing. I really needed to add another component that gave me a different level of satisfaction. I wanted to be separate from the rest of the crowd. I just did not know what it was going to be.
I kept on exploring, "Should I be specializing in divorces? Should I be specializing in more business planning?" But the average successful business owner in the Detroit area at that time was a male in his mid-50s and Anglo-Saxon. They were not ready to open up their doors for a young female from India at that time. I felt that I had to go on a different path. And sometimes you have to believe in providence.
So in 1989, almost 10 years later, in January, February, March, three months in a row, three different families came to me for regular financial planning. And during fact-finding, I discovered that each one of them had an adult child with special needs. One retired school principal had a son with schizophrenia, the second had an adult child with cerebral palsy and mental retardation, and the third one also had a child with cognitive impairment.
None of these families had any clue what was going to happen to their child when they were no longer there. That's the time I had my 'aha' moment. And the fact that my older sister who lives in England, she is a physician, and her firstborn has autism. But it's not that I saw her every day, but I knew what changes my sister had gone through in her life. And I put two and two together, and I said, "I need to specialize in this." Except there were no books written, no articles. And this was before the internet. So I did not know how to start.
There were three attorneys in my area who were doing legal documents, but they were not planners. So I found a person in Massachusetts, Phyllis Kramer, who at that time had been working in this area for a few years. She and I connected, and we agreed to work and start special needs planning in Michigan.
For the first two years, she taught me a lot. We shared revenue. And from there on, I took it to the level where we are today. Through my firm and myself, we have counseled over 1,800 families nationwide. And we do regular workshops on this topic, and I have spoken nationally on this matter.
But initially, just learning about the different disabilities involved going to the library, sitting down with pediatricians, psychiatrists, learning to know the medications, and all of that. It took me a long time. And the meetings are always emotional. You have to be able to demonstrate empathy, sympathy, and yet you have to know the special needs etiquette. You're never sorry for those families, but you have to demonstrate that you understand, yes, you have a challenge, and it has to be addressed. So today, with a lot of information available, one can search Google and figure out what the autism spectrum is, but none of the schools at that time had the AI program, autism impairment. Today, almost all schools have. When my niece was diagnosed, it was 1 in maybe 100,000 people that had autism. Now, after 45 years, it's 1 in 56 or 1 in 60 that has autism.
So people are more aware, and advisors are learning more. But even if you have the knowledge, you have to have a lot of other skills of being objective and still have a little bit of the psychology ability, social worker ability.
You're also a parent, maybe, so ability to hold hand and counsel. All of these things have to be put together. And still, at the back of your mind, you're a business owner, and you're objective enough to be a planner.
Michael: So how did this evolve for you going down the road of moving into this direction of specialization? I understand you talked to Phyllis early on; she gave you I guess some suggestions about how to go down this road. What did the model look like as you were getting started, and what were you doing for clients at that point?
Minoti: Well, the process was pretty much the same, but finding the clients was the most difficult challenge. So what Phyllis taught me was a lot, which is networking and finding organizations where you're going to go and have a gathering of parents and teach them. You have to create a presentation to educate them in layperson's terms as to what planning entails and how planning is done and what the legal documents are.
Why is it very important for your child to remain qualified for government benefits? Because no matter how wealthy you are, you still have to have a child qualify for the government programs because you cannot buy into that. You have to qualify for that. So I learned from Phyllis what the structures of these programs are and who you network with. I learned about the various special-needs-advocacy organizations. I learned about special-needs education structured in various school districts.
So the first two years, she even came down here every other month, and we did the workshops together. The first two workshops we did were for one of the organizations called, in that particular county, the ARC. Now, the ARC really stands for the Association of Retarded Citizens, but in special-needs vocabulary, we don't use the word "retardation" anymore though it's kind of stuck.
I remember that evening; we had 70 people who attended our workshop. The very next day, we spoke for the Association of Mental Illness, again, attended by 60 people, all older, people who are over 55, 65. They had never heard anything about long-term planning, and the majority of them had done no planning whatsoever. So again, the majority of them came for consultation. And at that time, I didn't know where this was going to lead. I couldn't do 100% special needs planning. I also had to remain a business owner, pay the rent, pay the staff, and still take a salary home.
So I continued to also do my general practice but worked very, very hard. I was working many hours those days to just establish myself but found out where I could get the list of various organizations, entities, understanding the school districts, the definition of disabilities, the American Disability Act, the meaning of the Education Act in different schools, and so on. What's an IEP school report? It was a learning process.
I would say it took me good four to five years to really feel confident that I could handle it all by myself. And it wasn't going to be just, "Okay, I'm going to get back with you. Let me read up a little bit more on that." So over the years, now I can pretty much, from the back of my hand, I can tell what the various disabilities entail. But every once in a while, I'll have something that I've never heard of, and then I may still have to look up. But so much is available now on the internet.
Michael: So, in the building years, it sounds like it was, "This is going to take a long time to build the expertise. I'm going to continue with my generalist practice while I'm also building deeper and deeper into this specialization and working with special needs families," because it took a long time to get ramped up between the planning strategies and I guess figuring out how you were going to market into the community.
Minoti: Right. So initially, any school district we approached that we wanted to do this presentation, we just got a yes right away. I remember from 1992 up until maybe 3, 4 years ago, we were doing 14, 15 workshops a year. We would have six or seven before June before the schools closed, and then September to November, we would pack in another six to seven.
Sometimes they would be attended by five people, sometimes by 30 people. We had a system to call them and to follow up. And after three or four calls, if they didn't come, they would just go back in our filing system and say, "Okay, we'll touch base with them in another year to see." And if nothing happened, we just closed that chapter.
Now, we are reaching a level where I don't feel that I want to do more than 5 or 7 a year, but there are organizations that we repeatedly do, and they're attended by 30 to 50 people. They're very successful, and our closing ratios are very high. It's a very successful special-needs practice and very well recognized, not just in our area. I authored a book in October 2018. You wrote a blurb on my cover on that.
Michael: Absolutely.
Minoti: Yes. It's not just a book about how to do planning, it's got a chapter on that, but it's a composition of several families' true stories. And each family is different. These are stories about families, their challenges in raising a child with a special need and their trials and tribulations. Each family has a different special-needs child, different diagnosis, and different economic status.
It also includes families or professionals who have dedicated their lives as physicians or special ed teachers and stories about families who have lovingly adopted special needs people. So that was my gift back to the community because I personally feel I'm very blessed to have entered into this specialty, but I've also accomplished a lot in terms of what I have received from them and what my career path has taken me over the years in this as recognition, emotional satisfaction. It has given me a lot of intellectual stimulation and also quite a bit of financial rewards.
The Marketing Opportunity Minoti Has Been Able To Create Working With School Systems [00:52:34]
Michael: I'm struck by just sort of the unique nature of what comes in marketing around this kind of niche and specialization. That when you talk about going into school districts and offering to do educational workshops around school districts, I think for most advisors, that is not necessarily a typical place that we would go to prospect or would be hard to get the foot in the door. It would be hard to convert people into business.
But the nature of having this particular focus like, yeah, I get it, the families with special needs children are often still in the public school system. They're very anxious about what they do and how they navigate the system to ensure their children are well taken care of. And so it has a very natural kind of pain point and challenge point for them that gives you an educational opportunity to work with the school district, to get in front of them, and just to genuinely educate and help them, because we know at the end of the day, many of them are going to need more help as well. And that's going to turn into business opportunities.
Minoti: Right. So the school districts were my beginning, and other than some of the advocacy organizations that provide services to this population. But every single child with an established diagnosis of disability, age 18 is a very important age because that's when they start the government benefits. You want to catch them before that.
Educate them as to what you need to be aware of in order for your child to qualify for SSI Medicaid. What are you going to do about health insurance? Because Medicaid is not going to pick up everything. You want to continue your child on your employer-provided health insurance, not just because they are a student, but because they have an established disability.
And then Michigan is very blessed to have special education until age 26. The federal government doesn't mandate special education beyond 21 or 22. So of all the other states in the union, the kids have to be out of the school at that age. And then where are they going to go and what are they going to do?
So the majority of the schools have what we call transitional living arrangements under which, for example, in the state of Michigan, Michigan rehab, join hands with the school system to talk about training for this now-adult children over the age of 18 as to what their job skills could be. What can they be trained for? How should they plan in case the parents had started... in those days, they would start a UGMA account, but oh my gosh, now it has $40,000. But if they want SSI Medicaid, they can only have $2,000 or under their name. So the school district becomes extremely important.
Now, also, the school district parents are young, they are going to be in their 40s, maybe early 50s. We cannot expect much in terms of long-term retirement planning. They are going to do their initial planning. They are going to buy life insurance. They are going to have legal documents, but we are going to watch them. We are going to continue to have a relationship. We are going to connect with them again before the child is leaving school because now they're 26.
Did your child get a job? No. My child is too severely disabled, does not have a job. So what are you going to do? Your child is going to be home. Both parents are working. Who's going to watch the child? How much is it going to cost you? There's a lot of different phases.
Are the grandparents involved? We have to look at the grandparents' legal documents because a majority of them will say, "We leave our assets to our children, but if they pass away before us, their share will go per stirpes." Per stirpes also means their special needs child. You have inadvertently just disqualified your child with special needs.
We have to see the parents' legal documents, the grandparents, I mean, and so they may say, "Hey, wait a minute. All this is involved, what can we do?" Well, sometimes we have bought the life insurance on the grandparents. Sometimes the grandparents will say, "Well, we will give the money to buy the life insurance. Oh, by the way, I don't have a financial advisor. Since we are all family, can you also look at our documents and our planning?" We have gotten so many indirect clients as a result of the special needs sources.
Michael: And I guess, again, that's part of keeping the balance between the specialized practice and the generalist and just the effect like, "If Minoti is this good with the complex situation for the special needs child, she's going to be great at mine. I don't even have that much complexity. It will be wonderful." I can imagine clients crossing over very comfortably on that dimension.
Minoti: Right. And you know, Michael, over the years, I have just learned my talk differently with different people. I don't have to make things this complex for a person who has a simple situation, but as we know, as time is going by, we are recognizing people are living longer and longer for their life planning. So special needs planning has given me the experience and the expertise of being a very good life planner, having the skills of making the complex into the simple.
I would say if at all one has to develop their skills in this kind of business, it's not how fast you can grow the portfolio or what the rates of return are going to be, but how you're going to take care of their challenging situations – how to identify and address them. And so almost like identify the problem, make it real, and try to solve them. And they recognize that we are problem solvers. It's not always about assets under management. They automatically flow in when you recognize them as people and identify their problems.
Michael: Help me understand a little bit more around just the business development and kind of the volume. You mentioned at one point you've collectively worked with 1,800 clients over the years. And I know you've been doing this for a number of years, but that's still a really big number for just the number of clients to go through and work with.
So help me understand a little bit more where the opportunities are coming from. Is this just all like 14 or 15 workshops a year, and you've gotten really good at them?
And because you're in school districts, kind of by definition, like, children graduate and move on, new children come in and go through the system. So there's always a steady flow of new people coming in. And just regular workshops in the school districts for several decades have produced all of these client opportunities, or are there other ways that you're getting chances to work with people in the niche?
Minoti: So let me correct myself. I have counseled 1,800 families. I haven't done planning for everybody, and I've kept them as clients. So a very large percentage of people will come for counseling. So I recognize the challenges. In a very simple situation, I can spend 35 minutes and tell them what to do. These are people who do not have practically anything. And they come, but they still have to do some basic planning.
On a yellow pad, I can draw a picture of what their legal document has to look like. And they have no finances to deal with, but they still have a child with special needs. And I will tell them what to do. And I also have relationships with various attorneys who will give them a deep discount and do a plan for them that is absolutely necessary. A lot of those are included in the 1,800 people. A lot of people also have a simple situation where it may take me an hour.
And although I have the ability to issue insurance, I may choose not to because it's time-consuming for my back office, but I will connect them with somebody who can do their insurance. Same thing if they have just $150,000 assets to manage, I have spent time with them, just tell them what to do, but handed them over to other advisors.
So those are included in the 1,800. As I said, in my office, in my books, I have 250 clients that have become clients that we have chosen to keep them as clients. Over the years, we have lost some clients, parents have died, the trust is funded, but maybe the son and daughter, other children live out of state. We have chosen not to work with them.
So we are very careful about what we take on. We don't want a whole lot of funded trusts with $250,000, which, when I am exiting, my office may not be able to manage. So those clients who are part of our office today, of our practice today are all clients who have a fair amount of assets or who will have a fair amount of assets eventually.
Michael: So I guess just part of the dynamic of working in this area is, look, there are sadly families with special needs children up and down the income and wealth spectrum. If they're more affluent and want and can pay for ongoing services and support from you, you may work with them as clients. If they're people that either don't merit that kind of relationship because they're not that complex or just don't have the financial wherewithal for it, your framework is, I will try to at least counsel you, we can have a brief conversation. I will give you everything I've got to get you on your way, but that's what I'm going to do, and then I'm going to free you out and then that's the end of the relationship because I just can't afford to do this from a business perspective to serve that client on an ongoing basis.
Minoti: I have defined what type of clients fit in my practice. I have to get emotional satisfaction from service every client I have to get intellectual stimulation, but also, they have to be financially rewarding. I will stay committed to the special needs population, irrespective of their financial status. I will hold their hand. I will direct you to a non-profit entity that can do work for you. I will give you that much time.
But I may not be in a position to take you on because there's nothing to take on at the moment. If you ever came back because you fit in my requirements because you got an inheritance or because things change, I'm not going to take you just because you have assets. Even for that, I have requirements, but our connection is going to be because you have a child with special needs, and other advisors may not be able to pay that much attention to small details, and we can.
Michael: And I guess, again, part of the...part of what facilitates the ability to do that up and down the spectrum is being so deeply into the specialization for clients that end out not having a very significant amount of complexity, you really can get a lot of very constructive advice out in a relatively short conversation because this is your specialization, this is what you do, and it doesn't take much research. So you can get them some actionable recommendations to move on from the conversation relatively quickly.
Minoti: Yes, yes.
Michael: But the three criteria you said are emotional satisfaction for working with them, intellectual stimulation for working with them, and that it has to be financially rewarding for the firm as well.
Minoti: At the end of the day, I'm still in the business. And I'm not a non-profit, although I give a lot of time away. I speak in places with no charges or fees for that. So those are my contributions to the community. But when it comes to people's planning who need the planning, are willing to pay for my expertise, I am the businesswoman here.
Michael: Interesting. And so is that how you think about this? Just kind of the balance, the tension between, this is a community in need regardless of wealth, but I need to run a business that has just certain financial requirements around compensation and ability to compensate staff in turn that you kind of balance out like, "These are the clients I'm going to work with for-profit to do the business and then these are the things that I will separately do for free or on a non-profit basis to balance out?"
Minoti: Yes. Because when I run the business, I want to make sure that we are paying the rent and we are funding our defined-benefit plans, and the staff is getting compensated correctly where everybody's benefits are intact, and at the end of the day, I'm maintaining the value of my company so that I can retire, ultimately, in a healthy way. For all of those things, I have to wear a business person's hat.
But I still want to give. And so I have a family foundation. Every year I give a fair amount to special needs organizations. I speak in many organizations and do pro bono work that is in addition to what I do for special needs families.
Michael: And so do you actually set goals or structure or time for yourself? Like I'm going to do this many clients on a pro bono basis, or I'm going to do this many engagements for free? Because I'm assuming the requests for your time never end, like, a lot of people in need.
So how do you draw these lines of how much you're going to do for free versus how much time you're going to spend on, call it the core business itself?
Minoti: So, Michael, I really don't need to identify it that way. For example, if I have done 5 workshops from February, March, April, and May, and there are 22 people who have signed up for consultation, maybe 5 will become clients. And those are the clients who meet our criteria. But all 17 others who have signed up, maybe 5 will not even show up. But the remaining people will get our time. So if at all somebody has come and I have quoted them a fee of $1,500, and I recognize that their planning was a lot simpler, I might just charge them $1,000. But then I also see a family who has very little means, but my just turning them over to an attorney or just drawing the chart on a yellow page and say, "Go do it" may not be enough because they still have some complex situation, I may still do a plan and not charge them anything. So I never know how many situations will be there, given what I call my seminar seasons. There may be five pro bono, and there may be none. There may be five profitable clients. It's just every time it's different.
Where Minoti Draws The Line Between Giving Advice And Serving As An Attorney [01:08:10]
Michael: And so what does this look like in interactions with special needs attorneys and other people in the system as well? I imagine, at some point, there's just kind of a legal challenge of when do you pass being a financial advisor and into what lawyers do in an authorized practice of law if you go way too far?
How do you draw the line between where does your work end and where does a lawyer's work begin? And for an advisor who's looking at this, how do you know where to draw the line, so you don't go too far into what the lawyers do?
Minoti: It's a very good question. So every planning document has a disclaimer page that although, because of our specialization, we had to bend backward to learn to read the documents and set apart from the wrong documents or poorly drafted documents to the right documents, we are not going to create your documents, but we will make recommendations.
In the estate planning section, we have a chart of what we see the trust documents are going to be like. And over the years, we have developed relationships with attorneys who specialize in this. There are different kinds of attorneys. And I can talk a lot about that, our good experience and our not so good experience. First of all, we only want to work with attorneys who respect what we do and our knowledge and our expertise. Because sometimes, an attorney may say, "Well, what do you know? You're a financial planner." So we want them to respect what we have earned in terms of our experience and the respect that we demand.
But honestly, every advisor in my firm, we have really worked very hard to be able to read a legal document and be able to identify where things are not right. And then from there, after identifying and now having worked with all of them who specialize in that area, we identify which attorney is going to be good for which law firm.
For some of the families, it's very important for us to identify attorneys who also know how the community mental health system works here. If they have to fight for the child's right, "Why did you discontinue the Medicaid benefit of this person," I want the law firm who have maybe social workers or are people who have Social Security experiences in their staff.
Where I have difficulty is with working with law firms; well, we are experts in special needs planning. You can do a decent document, but when a family is in a challenging situation after they receive government benefits, they really don't know much.
So there are different attorneys identified for different things. I have an attorney who charges very nominal, like $1,000 for a parent's joint trust and a separate standalone special needs trust and a revocable trust, the other powers of attorney and pour-over will, we give them a copy of the plan. So their attorney really doesn't have to do any additional fact-finding or have to think about what this planning entails.
Some of the other attorneys who have to do a little bit more may charge a little bit more, but most of these attorneys will meet with us in our office. And the initial planning fee that we are charging them includes our meeting with the attorney in our office. Because I have often found that when the clients go to the attorney's office on their own, the clients don't know what to ask or what to say necessarily, and the attorneys occasionally are not being financial planners. And they don't have to, that's not their qualification. They will not know necessarily that, "Okay, I did this legal document for this family where the special needs trust had the ability to stretch an IRA." So there was the stretch IRA provision with accumulation language.
Now, what are we going to do about the SECURE Act implementing in this planning? It's a game-changer because we had given very little to the special needs child. We had given most of the retirement assets to the other children. But now we may have to give a little bit of the life insurance that was dedicated to the special needs trust so that the other kids have a little bit of money to pay the taxes.
So financial planning dictates which attorneys we work with and what kind of legal documents have to be prepared. So the financial planning and the coordination of the legal documents, the financial planner really has to know the tax implication, general investment planning, retirement planning, and special needs planning in order to make a correct plan.
Michael: And so, help me understand, kind of going back to the earlier discussion, what leads you to be anchored in doing this in a broker-dealer or in a hybrid situation? Is part of the model also the implementation of insurance end, because
I'm assuming a lot of special needs trusts end out with insurance, or do you view that as part of the business model, or is the broker-dealer just from a legacy business of things that you did in the past? How does that fit in? What works for someone that wants to specialize in this space and still be able to build a business out of it?
Minoti: So it's a combination. There is some legacy business, but we still believe that annuities have a place if a family doesn't have pension plans, they need some guarantees. But sometimes we generate new business in annuity matters.
So, for example, recently, in the process of doing planning for this family, we made the presentation. This family has investments worth about $4 million. About $1.4 million is in annuities that he bought himself. And he had bought that just for tax deferral. So now he's saying, "How do I take this distribution because I have almost $800,000 worth of gain in there?" So he is struggling to see what he can do with us in terms of relationship, or is it just going to be a one-time planning fee and directing him to the attorney to do the legal documents? And he's questioning me, "Tell me what questions I should ask." And I gave him a long list. How do you want to divide your assets? His one son-in-law has made millions in the technology business. What asset do you want to give her? Your other daughter is doing well, but nothing like the older sister. And then you have a son who is bipolar who is living at home with you.
The simple thing that most people say, "I want to treat my children equally." Well, equal is not always equitable. Do you want to also divide the annuities to the special needs trust with one-third of the gain to be taxed by an irrevocable special needs trust when the parents die when everything about $13,000 gain is subject to the maximum taxation? Do you want to give that to your daughter, who already has a tax problem? What do you want to do with the annuity? Do you want to cash them in? That doesn't make sense. Well, there is one annuity company that can 1035 exchange all of that, and you can start taking a distribution.
But by making your special needs son as an annuitant and the beneficiary of the special needs trust, it can be like a pension plan in the trust. Some of the income will be taxable; some of the income will be the return of principal. So you have to know what products are available. And even though we are not going to get an upfront commission on that annuity, it still is a broker-dealer product. Okay? So we have to keep our doors open to see what will fit in.
And the second thing is, I really don't want to be dealing with compliance issues. I rather pay something to somebody who takes care of our compliance issues and also the approval of some of the managers that we use on Envestnet and so on. I don't want to be bothered with that additional work.
How She Handles The Compliance Challenges That Come With Providing Specialized Advice And Why She Keeps 50% Of Her Clients Non-Niched [01:17:16]
Michael: So I do have to ask from the flip side, though, how does broker-dealer compliance work when you are doing this level of analysis and counseling and advice in a special needs area? I know for a lot of broker-dealer departments, the only thing that makes them more nervous about advisors trading close to tax advice is advisors trading close to legal advice. You are really in-depth straddling all of those in a hyper-specialized area. So is compliance around doing this level of in-depth planning work in such a specialized area a challenge from a broker-dealer compliance perspective?
Minoti: Well, they are. They have to be. And we have to be very compliance-focused. We will not do anything that will be against the law or challenges compliance. So everything in the documents really says that this has to be verified by an attorney.
We are advising you based upon our knowledge, based upon our experience, but the taxes have to be done by a CPA. Also, the legal documents would have to be created by an attorney. We can only make suggestions and recommendations for you. We are very, very aware of this. And in our planning document, we have one full page of disclaimer on this. Any workshop that we do, any planning presentation we do, we have disclaimers on all of that.
Michael: Okay. Just recognizing that, at the end of the day, we are not lawyers. Like, "That's okay. We add value here. Here's the great stuff we do." But making it crystal clear to people like, "We're not lawyers. This is not legal counsel."
Minoti: Yeah. And the interesting part of it is that the attorneys have the J.D. designation, but so many times they know so little about the financial matters and the intricacy of that that they can create a document that may not necessarily work with the financial assets that these families have. So it's a team approach. It's a team approach of a good attorney, and wherever it's applicable, a good tax person. And sometimes, if you have to choose a non-family trustee, we have to make sure that their experience and knowledge are and what their commitment is going to be, matches with what the cost is going to be.
So we really work as a quarterback; that's the word that I like to use. Oftentimes will tell a client that, "In the absence of a person like us, you are the quarterback. But you do that best as either a physician or you do the best as a Ford Motor Company engineer, you're trying to fill in the role and juggle the role as a parent. And then you think that you're going to be able to focus on taxes and legal matters and remain an expert on government benefits and keep up with the changes?" Well, that's when they start to buckle down and say, "You know what, it really is beyond my capacity to do everything. I better have somebody like you."
Michael: And then what's the broker-dealer that you work with that's willing to work with you on this?
Minoti: We work with Securities America, but before that, we were with Capital Analysts. But wherever we have worked, they have appreciated what our specialty is. And we haven't had any issue in terms of because we provide all of the documentation that's necessary to stay compliant on these matters.
Michael: So help me understand from a broad perspective as you've gone deeper and deeper into the specialization. And I know for a lot of advisors, there's a trend that occurs where the deeper they go into a specialization, they often get to a point where they decide, "I'm just going to be all-in and solely on this niche or specialization. I'm not going to take the other folks anymore because it's kind of a distraction from this thing that I'm primarily focused on."
You seem to have a very conscious, deliberate focus to keep the business roughly 50/50 between special needs families and your generalist clients. So can you talk to us a little bit more about just the decision to keep the split, how you balance that or just how you think through keeping one foot on each side?
Minoti: For all of us, a person who works and has a family, we try to keep work-life balance. When you retire, you try to keep a balance between what you do in terms of activities and your volunteer work and so on. Life is always about balance, and more so in working with families who come with huge emotional baggage.
When you sit down with those clients, in order to demonstrate or feel empathy and sympathy, you really get very emotionally involved. At times, you're also dealing with difficult parents. They love their child, and they have accepted the disability, but many of them have a lot of sadness. Some people have anger. And this is a time we let them open that window and say it all and show us what they feel. And so if I have to do that five days a week, three appointments a day, that would be quite emotionally exhausting.
In addition to that, there is a distinction between families who have developmentally disabled children versus mentally ill children. A developmental disability will have children with Down syndrome, autism, Turner syndrome, Asperger or autism, and various disabilities. Those people, unless and until there is a dual diagnosis because occasionally, a person with autism can also behave like a person with mental illness, that versus a person with schizophrenia, bipolar or schizoaffective disorder are two different ballgames.
Mental illness will never be cured. They can be stabilized with medication and therapy. But some of these people are chemical engineers. They are University of Michigan graduates, but they cannot work. They're still living at home. The parents just start sobbing because this child was born this way. This child was very bright in school. What happened? Well, when you really dig deep, there were symptoms all along.
But these are also special needs mentally ill people whose siblings do not want to be the trustee. They love their brother or sister, but they really don't want to deal with them when it comes to caregiving from a distance or dealing with money matters and so on. Whereas if I have an older sister with a Down syndrome child, they'll say, "My brother is going to live with me for the rest of his life. I'm okay with that." So I can't see more than one person with a mentally ill family, only one family a day, not more than one. So having that variation, having that diversification, and the clientele keeps us sane in running this business also.
Michael: What do advisors that are looking at going in this direction with their practices not actually understand about what it takes to work with the special needs community? What are the biggest myths or misconceptions that you find?
Minoti: The advisors that I do know work in this specialty, they're few and far between, but many of them have been motivated because they have a child with a special need or a sibling or somebody in the family that have motivated them to be this way.
Whenever I have gone on financial planning conventions or meeting with other advisors, they will have, "But how do you make a profit?" Meaning their assumption is that special needs populations are poor people. One of my wealthiest clients that I did planning for was a business owner with two schizophrenic daughters and a son in the business. It was very complex planning for a very, very wealthy family. And in my book, there's an example of a family, an engineering firm, but the son had a diving accident and became paraplegic from the chest down, and he was in engineering school. And so yes, there are a lot of families who may not have assets, but we all have to recognize that special needs, there is no discrimination on families by assets, basically. So one has to recognize that there is tremendous opportunity in serving a population that really needs good advisors. And you can if you keep a balance, and if you take a handful of clients who can fit in your model and do a handful of clients' planning on a pro bono basis, you will feel very grateful to have served this population and still remain profitable.
So I feel that I have my level of success managing the assets we do, the revenue that we have, the valuation that we have created, and the national recognition that we have got. All of that is because of my specialization. I feel that I'm a better planner because of the opportunity that I got in working with this population.
Michael: What surprised you the most about the path of building your own advisory business?
Minoti: I would say the surprise that I have gotten is how grateful this population is to what we have done for them than the general population. And we have worked equally hard for the other population, the thankfulness that we get. And the gratefulness that they feel is tremendous. And how they talk about us is tremendous.
But I also am surprised by how big this population has become. Almost 10% of every school district is special education, including the learning disabled. How long they are living is surprising because of medical advancement. And how much it costs to take care of a child with special needs who lives this long, and how much it's become a huge responsibility for the government on their budget.
Medicaid has just expanded for the need of this budget, and yet the budget constantly goes down as how much the need is. All of those are surprising to me on an ongoing basis. And yet we are one of the wealthiest nations in the world, and we don't have enough that is happening to this population.
Michael: Well, I think you make a powerful point about just the sheer opportunity that maybe some still underestimate, just to point out like 10% of every school district is special education. A lot of those are specifically special needs families.
Multiplied across all the people in your neighborhood area school district, that's a lot of people for which I'm going to bet for most advisors in their school districts, there's probably literally no one from the advisor community that's in that school district working in that community, working with the local attorneys. And maybe even if there's one or two, the sheer size of the need is far larger than what one or two advisors can serve in a particular community.
Minoti: Yes. And I also want to caution the advisors who want to explore this possibility. The special needs population is very sensitive. They can see you through in a very short time whether you are there just to get them as a client and sell them life insurance and take their assets.
No, you have to know about disability. Do your homework and become a compassionate person and be there to hold their hands and guide them through and be a true planner, not just for assets under management. It'll automatically follow if you do the right thing for the right people.
Resources For Advisors Working With Special Needs Families [01:30:15]
Michael: And so for advisors that want to, as you said, do your homework, where do you go for this education and information today, aside from just googling everything that comes up as you start talking to people?
Minoti: Well, if you have an advisor nearby who knows this business, try and see if that person is giving enough to give you advice without feeling threatened by the competition. Read books that are written on this topic. Attend meetings, just general community meetings by the advocacy organization. There's the Autism Society; there's the Down syndrome group. There are chapters of The Arc in every county. And then find a special ed teacher and understand what an IEP is. If you know a special ed teacher, understand what's involved in the school. Learn to talk the talk.
And expect no results initially. Building every niche takes a lot of education. Whether you want to work with just podiatrists or whether you just want to work with a group of UAW, machine and tool guy, whatever your specialty is, you have to know what's involved in their benefits or who they are as human beings, what's involved in that, and then just make an attempt to work with that.
Even read my book to understand what goes into the families. And my book is "Beyond a Parent's Love." And it's available on Amazon. But it gives you insight into a family, what they go through. A lot of people who are older, people who had their child diagnosed in the '50s and '60s, they were embarrassed and ashamed of their child being disabled. They hit them in their house and didn't talk about that.
Versus today, children are diagnosed when they are one and a half, two years old, and they have early intervention programs. So there's a big difference between my parents' generation or my generation versus my children's generation. There's a lot more acceptance. But this population, the younger population is also very, very cautious who they want to work with. But they all have a need, and you can fulfill that need as an advisor.
Michael: So any other books that you'd recommend as well? We'll have a link out to yours. So for folks that are listening, this is episode 172. So if you go to kitces.com/172, we'll have a link out to Minoti's book. But any other books in this area that you'd recommend for just helping advisors understand the community and getting up to speed?
Minoti: So, I think in my book on page 271, I have written down suggested reading on special needs planning. There is John Nadworny and Cynthia Haddad. They have a book out, "The Special Needs Planning Guide: How to Prepare for Every Stage of Your Child's Life" by Paul H. Brookes publisher.
There is also Hal Wright, "The Complete Guide to Creating a Special Needs Life Plan" by Jessica Kingsley Publishers. So those are a couple of books that I would recommend. And then there's an organization called Academy of Special Needs Planners. One can become a member and attend their annual conference. Only 7% to 8% of members of the 150 members are advisors. The majority of them are special needs lawyers.
And then American College now has a designation called ChSNC, Chartered Special Needs Consultant. That will give you a lot of academic knowledge. But the people skills will come, one client at a time. Learning the details of the various disabilities will make you an expert one client at a time. So patience is important as well.
The Low Point Of Minoti's Journey And What She Wished She Knew When She First Started Out [01:34:21]
Michael: Awesome. And we'll have links out to all of that in the show notes for people who are interested, the American College designation, the Academy of Special Needs Planners.
So Minoti, as you've been going down this journey of just building the business itself in all these areas, what was the low point for you?
Minoti: The low point sometimes is a stubborn client who just doesn't admit that the child has a problem, especially with mental illness. They just cannot accept the fact that their child has a disability, and they have to do the planning.
And you rack your brain, "Why can't you get it? Your child has been suicidal. You have just been to the hospital." But the real reason is the parent also knows that this child is very smart, has gone to university. The non-acceptance of the child's disability, I just can't get it through them.
The other concern that I have here is that my partners are committed to doing special needs planning. They have the designation, and they work hard on that. They know the law, they know the planning. One always worries I started this from scratch; I have the compassion, I have the patience, and so on. Our business is getting very challenging.
The fee is always an issue, and there are a number of advisors who are competing for the business, and so on. My hope is that their commitment will be to continue to do well with this population, but I hope that they're not challenged to such an extent that it reduces the load of the work that they have. And once I have retired, I'll be gone, but it is my hope and wish that my firm continues to serve this population for the longest time that they possibly can.
Michael: So, as you look back on this journey of building the firm, anything you know now about how you built into this specialization that you wish you knew 20 and 30 years ago as you were getting going?
Minoti: Yes and no. To a certain extent, I feel that I know more about the various disabilities and people skills is because I didn't know anything. I forced myself to learn the hard way, and the information stayed with me. When you try to do a quick study, it can also evaporate very quickly.
But also, I feel that maybe I was a good planner from the beginning, and this specialization taught me how to be a better planner and taught me the legal part of it that I would not have bothered to know otherwise. So, as a result of this, this gave me the skills to be a well-rounded advisor and also a better life planner.
I feel that if I was starting now, I don't know how much patience would I have had because everything is just right available. Oh, I can get to it, and I can just read it. Because I learned it the hard way, I spent hours going over legal documents. I spent a lot of time reading in the library about what autism was in the beginning or what a galactosemia disability is. I had to have patience, which I fear somebody who wants to learn it quickly may not devote that much time to it.
What Success Means To Minoti [01:38:00]
Michael: So, as we wrap up, this is a podcast around success, and one of the themes always is just that the word "success" means different things to different people. And so you built what certainly anyone would objectively call a very successful advisory firm with hundreds of millions of dollars under management in this specialized area. But how do you define success for yourself at this point?
Minoti: Success in our business is often defined as how much AUM we have, how much revenue you have, the size of the practice, and what number of staff that you have and so on. I would say financially; this firm is very successful when you look at around what the average size of the firm is. Could it be more successful? Maybe, maybe not.
But I will walk away someday when I retire, look back, and feel a tremendous satisfaction of having great balance in my practice but also having served a population that nobody even knew once upon a time how to service them or recognize who they are.
And today I can say with great pride that I have serviced a population, and will continue to do so, that most people know very little about it, and have had the compassion to continue to serve them, and having written the book and given it to the community to know more about the disability and the population and knowing about my practice.
Michael: I think it's incredible. And again, we'll have a link out to the book in the show notes for anyone that wants to read it. It's very powerful because it's not simply a book about special needs clients in and of itself.
To me, it's that intersection of special needs clients and the ways that we actually get to impact them as advisors, or at least in...especially when you want to go in and focus your business in this way. So we'll include it, again, in the show notes, kitces.com/172 for anybody that wants to go click through to get a copy.
But thank you, again, so much, Minoti, for joining us and sharing the story and the journey.
Minoti: Well, I thank you for giving me the opportunity to speak about this specialization, speak about my practice and hope that somebody, even if one person who is listening to that and makes a decision that, "I need to look into this population," I would say that you and I both would have benefited from this opportunity.
Michael: Amen. Although I hope and suspect it's going to be more than one that will feel inspired hearing the story.
Minoti: And please, feel free... anybody who wishes to contact me and talk to me about and guide them in what they can do, I'd be happy to. That'll be my way of giving.
Michael: Wonderful. Well, we'll include links out to your website as well, Minoti, so people can get in touch with you. But thank you so much for joining us on the "Financial Advisor Success" podcast.
Minoti: Thank you, and you are very welcome.