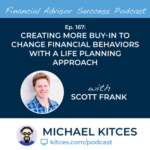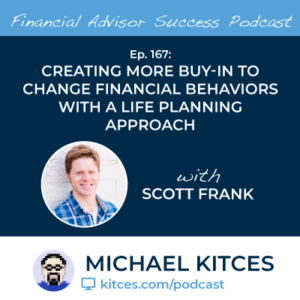 Welcome back to the 167th episode of Financial Advisor Success Podcast!
My guest on today's podcast is Scott Frank. Scott is the founder of Stone Steps Financial, an independent RIA based in Southern California that has quickly grown to 67 clients and more than $400,000 of annualized revenue in just 5 years.
What's unique about Scott, though, is the way he's evolved his advisory firm from a highly technical base as both a CFA charterholder and a CFP certificant to a financial planning approach with clients built around George Kinder's five-step EVOKE life planning process, which Scott helps clients implement using all his technical knowledge.
In this episode, we talk in-depth about how Scott incorporates life planning questions into the first three meetings of his financial planning process. The reasons why he finds some of George Kinder's life planning questions to be so powerful as a way to really understand clients' goals and objectives to plan towards, the way he creates buy-in from clients into the financial planning process to get them to actually implement the recommended strategies at the end, and where traditional financial planning software intersects with the life planning approach.
We also talk about how Scott has built a business around his life planning approach. The reason he chooses to bill on a client's holistic assets under advisement and not just the assets he manages directly, how he's simplified his pricing and billing processes with a flat fee schedule of 1% for the first $3 million on all assets under advisement and simply updates the pricing once every 2 years, and the way he's built his clientele with the combination of local search engine optimization and generating referrals from other advisory firms in the area that have even higher minimums than he does.
And be certain to listen to the end, where Scott shares why he hired a financial planner himself to work with his family, how he developed his own life planning goals that led him to take the leap and start his own independent firm after nearly 10 years in the business, and how he used that vision of his family's life planning goals to give himself fee confidence to start charging what his advice was really worth.