Executive Summary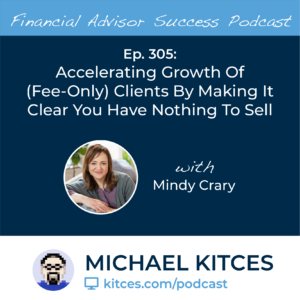 Welcome back to the 305th episode of the Financial Advisor Success Podcast!
My guest on today's podcast is Mindy Crary. Mindy is the owner of Creative Money, an independent RIA based in Seattle, Washington, that offers a unique 12-month financial planning engagement – or as Mindy puts it on her homepage, "financial planning that doesn't suck" – which has allowed her firm to work with nearly 400 client households just this year.
What's unique about Mindy, though, is how, by only offering financial planning advice without any ability to provide investment management, her "advice-only" business has been able to attract hundreds of inbound clients every year through organic Google search and Yelp who are just seeking an advisor to advise them without trying to sell them on anything else, and made it feasible for her to profitably and efficiently scale up to nearly $1M of revenue providing financial plans that cost just $1,800 to $3,200 per client.
In this episode, we talk in-depth about why Mindy attributes the success of her practice's structure to the realization that she does not enjoy selling products or investment management (or dealing with compliance that goes with them) and could more efficiently scale with an advice-only approach to one-year financial planning engagements that don't need ongoing relationship management, how, by implementing her 12-month engagement structure, Mindy has been able to employ a highly systematized process that gives her and her staff the flexibility and capability to be able to serve a large number of clients throughout each year, and how, even though Mindy spends very little on marketing, she's attracted nearly 400 new clients in the past year, with nearly 2/3rds of them coming to her firm from online Google searches and the positive reviews she's received (unsolicited) on Yelp.
We also talk about how, after selling her first advisory practice, Mindy moved to Seattle where she began consulting and found that by being a CFP without a practice, she was receiving a lot of inquiries to share her expertise (as people seemed to feel more comfortable asking her advice because they knew she was not in the business to sell them anything), which inevitably inspired her to launch her current financial planning business, how Mindy's use of 12-month engagements and not managing assets has made it feasible for her to charge lower fees than most other advisors and still scale up to nearly $1 million in revenue, and the unique payout structure that Mindy uses to compensate her advisors on a per-plan basis (which still provides her advisors a reasonable assuredness of their income potential because of the steady flow of financial planning engagements her firm receives).
And be certain to listen to the end, where Mindy shares how she navigated a lot of doubt early on from others in the financial services industry (along with her own internal doubts of whether she fit into the industry) but found that by sticking to her convictions, she could offer financial planning the way she wanted and stay true to herself, why Mindy advocates that the key to enjoying a career as a financial advisor isn't necessarily about building your own practice but finding whatever role in the industry best fits your core competencies (even if they're not entrepreneurial), and why Mindy feels that goals are a constantly moving target (as there is always the next goal to achieve), but success is about having systematized processes that creates stability in her business and gives her greater opportunities to focus on that future ahead… wherever it may lead.
So, whether you're interested in learning about how Mindy structures day-to-day tasks to create more efficient processes, why Mindy chose a 12-month engagement process for clients, or how Mindy maintains lower-than-average fees while serving hundreds of clients per year, then we hope you enjoy this episode of the Financial Advisor Success podcast, with Mindy Crary.
Never miss a Financial Advisor Success podcast episode! Get notified of the latest episodes (and all our research as it's released!) directly via email:
Resources Featured In This Episode:
Looking for sample client service calendars, marketing plans, and more? Check out our FAS resource page!
Full Transcript:
Michael: Welcome, Mindy Crary, to the "Financial Advisor Success" podcast.
Mindy: Thank you so much. I'm so glad to be here.
Michael: I'm really excited about today's conversation and getting to dig a little bit into the advisory firm that you've built. I was fascinated by your firm when I'd first come across it a little ways back, that you've got, to me, just a really interesting, wonderfully transparent fee structure in what you do. Everything's a flat fee for 12-month engagement. Starts at $1,800 for an individual, $2,000 for a young couple $2,500 if they're established family, $3,000 if it's a more complex review. But by most advisors' standards, a pretty moderate, affordable pricing structure for financial planning. And not because you've got a whole bunch of other stuff that you then come in and sell later. That's the whole engagement. And for a lot of advisory firms, I've found over the years, frankly, it's hard for most advisors to do that profitably. It's why we tend to also do investment management, or also do something to implement. And not because it's not necessarily profitable to give advice for clients at those price points, but that in order to do it and make the math work, you need a lot of clients.
And most firms actually just struggle to get enough clients to get the volume that it takes to then charge reasonable affordable fees. So, we tend to move up market, and charge higher fees, and lift our minimums, and do all the things that we have to do when you don't have very many clients. And so I was fascinated because you seem to have found this balancing point that you're setting the fees that you do and it works because you have hundreds of clients' engagements coming in. And so, I guess I'm sort of both excited to talk about where on earth do hundreds of engagements come from to be able to do this model? And how do you actually just manage and scale up to doing hundreds of financial planning engagements every year and not drowning along the way? So, I think to kick this off, if I could ask you just to share a little bit overall about the advisory firm as it exists today, just what you do, and who you serve, and the clients that are being served, just so we understand the overall context of the business. And then we can jump a little more into, how do we get these many clients? And how do we serve these many clients?
How Mindy Engages With Prospective Clients [06:04]
Mindy: Yeah. So, including myself, there's nine employees, six planners, total three admin back-office people. And yeah, we're going to probably get around 400 plans this year.
Michael: So, 400 plans for you is essentially 400 clients, right? Just a client's a plan, 400 clients coming through. I mean, for a lot of advisory firms, okay, we've got, call it, 400 ongoing clients. Every year we add 5, or 10, or 20, or whatever pace we're growing. We spend the time accumulating clients over time. Is these 400 ongoing clients? Is these 400 new clients? Is these 200 new clients and 200 ongoing clients? How does this break down?
Mindy: Yeah. So, I will say, let me just preface this with, I am fundamentally lazy. And part of the reason we don't sell anything else is because I came from the world where there was tons of compliance, tons of paperwork. And so, at the outset, I said, philosophically, I want to do this in a way that I'm here if you need me. If you don't need anything, then I'm not going to have to produce anything. And so, everybody has a 12-month engagement. And so, what that looks like is, it can be a deep dive like you were kind of talking about on the website, it can be an update. We don't publish all of the ongoing client scopes on the website because we want all new clients to do the deep dive. Probably 80%, 85% this year is going to be brand new engagements. And so, we take their data, we put it in the plan, we present the plan. We do any tweaks or adjustments. And then the 12 months is really what I call either the digestion process or adjusting and adapting the plan. And a little bit of accountability, making sure that people are doing their implementation because they're the ones responsible for it. I can't do trades for them. I can't open accounts for them.
So, I think the other thing about my practice, if you were to look at... I mean, the average demographics of most financial planning practices are a little bit older of a client base. Our clients are anywhere from age 30 to...I mean, honestly, age 65. We do get retirees, but the bulk of the people are...I always say tech workers, because we're in Seattle. And so they're people that are making decisions that are a little bit different than kind of the more retirement-focus things. They're looking at upsizing their home. They're trying to decide how much employer stock to hold. They're trying to figure out how to pay for daycare in Seattle. And so, there's a lot of the more fundamental things that we're looking at, like retirement and investment management. But also, a lot of times, we're just trying to make the short-term cash flow work for people.
Michael: So, I'm trying to visualize overall, 400 engagements, planning fees down to $1,800, as high as $3,200. Your middle point for couples and families is $2,200 to $2,500. So, does that really come out to 400 clients, average fee of around $2,500, and it cumulatively adds up to $900,000, $2 million of revenue across all these different engagements?
Mindy: Yeah, yeah.
Michael: Okay. So, in that context, I guess, help me understand just, what are one of these 12-month engagements? If I come to your website, I guess even before that, I come to your website, I see it. I'm a young couple with no kids, but we've got some stuff to figure out around buying a home and getting started on family in a year or two, right? So, big transition point where a lot of couples start having questions. So, this looks neat, I want to sign up with Mindy and get started as a client. So, what happens? Take me through this process of what clients get when they want to engage and then start through the planning process?
Mindy: Yeah. And I will say, we have a pretty standardized intake. And it's possible right now, they wouldn't actually get to book with me. So, I get on the phone with a majority of prospects and kind of walk them through what the practice is, who these people are. Make sure they have a chance to meet one of the other planners and get comfortable with it.
Michael: So, do you actually do an initial call with every prospect or every new client?
Mindy: Not every single one because I have several planners now and we want everybody to be able to talk people through that. But yeah, they can book with me if they want to.
Michael: Okay. Because again, I'm matching when you're going to do... I think you'd said 85% are brand new engagements. So you may end up with almost 350 new clients. That adds up quickly if you're going to do a brief call with every single client.
Mindy: I mean, I do between 6 to 10 consult calls a week.
Michael: Okay. And consult calls for you would be talking to a prospect?
Mindy: Right. Yeah.
Michael: So, how long is that call? What happens on that call? What's the purpose or function of that call?
Mindy: Yeah. It's usually 30 minutes. And it's typically, they want to make sure that everything that they're reading on the website is actually what happens. Because I think a lot of consumers are confused about the idea of fee based. And so they think that everybody that's fee-based isn't doing asset management. And so, a lot of times, I'm getting on that phone call... Well, first, I always want to confirm that they're in the right place that... And a little bit I always say that...if you give me a demographic, I'll usually say, this is typically what this kind of a client is looking for when they want to talk to us. And just confirm that I'm getting everything right. And then take them through the process, make sure they understand, what are the next steps? What is this going to look like? What does support look like for 12 months? And I send them obviously an email so that they can actually click links and go book their appointment if they want to do that. Or they can always circle back and ask for more information or ask to schedule another consult call or do whatever.
But the majority of them will then... I say we've got a booking rate of between...used to be 70% when I was the only one doing prospect calls, now it's 63% now that we've spread them out a little bit. But yeah, they book and then they go through the process. And so, they get a Dropbox, a shared folder so that they can upload data. I've already provided them with a list of things that we need. I have two data managers that then walk them through in case they need extra help, hands-on support, clarification about what we need. Those are the people coordinating the collection of data for us. They pay a deposit, they sign a contract. We like to get the data about three weeks before the meeting, that gives us enough time to kind of put together the plan, do a casework review. I review every single plan with all of our planners. Sometimes we do group casework calls if I'm bringing a new planner in. And then they have the strategy session.
And I call it a strategy session because my idea is that financial planning is dynamic. It's not actually a one and done thing. And that's different from how I was raised to do financial planning early in my career. In my career, at first, it was like, "Here, print this binder of information out and hand it to the client, but we aren't really going to focus on that." So, we're actually taking them through a lot of information in about two hours, but really trying to drill it down to, what are the tactical things that you need to go do? And what are the most important decisions that you need to make for the next couple of years? And part of it is, yes, we're telling people what to do. But the other piece that I think is important is that this has to be in alignment with everything that they want to see happen. Retirement is important. Absolutely. But if you're talking to somebody who's 35, who's just about to have a kid, that's not going to be in the top three at all. So, you really have to meet people where they're at philosophically, where they're at life wise, to make sure that they've got a workable plan. And it might mean that these are the three priorities this year, but in two or three years from now, when things get settled, then they can readdress things.
After all that happens, after we make sure that everybody's comfortable with the recommendations, they like the plan, there might be little tweaks here and there. But we send them the plan, and then we send them a list of everything that they need to do. And I always call it action items, because fundamentally, we've had the discussion in the meeting. So, we don't need to write a novel, we just need to say, "Go do this in this account. Go rebalance this. Hey, by the way, here's the tax consequences. Make sure you're setting aside money if you're going to sell that stock." All of that stuff. And then we start 12 months of support, because I just assume that we've given them something to think about. And I've seen that a lot of times people start to think differently about their finances once they have that kind of context. Other times, you can imagine in the Seattle area, they say, "We don't want to spend more than $700,000 on this house." And then three months later, "Crap, we have to spend $900,000 on the house we want now because we're getting outbid."
So, there's always going to be things that they're going to want to use us as a sounding board, they're going to want to circle back with us, especially with the market being volatile this year. It's not that we're having a ton of check-ins, but we do have people emailing and saying, "You're still sure that we should stay in?" Or, "You're still feeling confident?" And I'm like, "Well, no, I'm feeling confident the market's going to go down more, but I still think you should stay in." And so, making sure that they have access, I think is as important. So, that's another piece of that 12 months, is that, it doesn't necessarily have to be super formal. I might get on Zoom with people for a few times over that years. But a lot of times, it's just kind of check-ins, and us having kind of a format around that, making sure that people feel like that we're there, and have access, and can respond to any kind of thoughts that they have going around that.
And after that, they stay on our newsletter list until they don't want to. And so, they're always getting the economic updates, or the things that we're thinking throughout the year. And a lot of times, that just generates more business too. So, I always say like I said, that nobody needs to decide on any kind of maintenance model in any given year. They can just kind of skip a year, come back, or have a question. And we definitely do have all those smaller scope options if they want those.
Michael: Okay. So, I'm just kind of thinking through the steps here. So, all this kicks off with a consult call, your equivalent of a prospect call, a prospect approach meeting. It's 30 minutes, we're just trying to make sure we're all synched up about what the services are and what they're going to get by engaging. Seventy percent of the people who do consult calls with you end up moving forward to become clients. So that's your booking rate, your close rate. So, I guess, in part even, I'm just wondering, how do you coordinate booking 6 to 10 Consult calls every week? Just administratively, how does that actually happen? Because that's a lot of just scheduling to sort out.
Mindy: So, they fill out a form on the website, or they can just email. And we kind of chuckle because there's literally a form that says, "Hey, if you want to move forward, fill out this form." But some people just don't want to do that.
Michael: So, they contact you through the contact page and say, "I want to become a client," instead of clicking the form that says, "become a client."
Mindy: Right. Or somebody even contacted me through LinkedIn the other day. It's like, okay. But everybody...
Michael: You actually left my website to go to a social media platform so you could contact me not through my website.
Mindy: Yeah. We were all kind of like, really?
Michael: Bless human beings. Bless human beings.
Mindy: I know. Yeah. And so, this is kind of the funny thing that isn't automated. So, Erika, my wonderful admin operations manager, sees every single one of those come in. She eyeballs them, and if they're weird, she'll flag me. And sometimes we make the decision not to respond or to say, "This doesn't sound like what you're looking forward. Let us send you to some resources that might be more helpful."
Michael: So basically, just an initial screening of, let's just make sure it's not a complete waste of time to do this meeting.
Mindy: Right. Yeah. And we don't get it 100% right, but every once in a while, there's somebody that we can absolutely refer to another professional. Or even sometimes people just get confused between taxes, and attorneys, and financial planners.
Michael: So what information are you gathering on the intake form to figure this out? I'm assuming this is more than just a, enter your name and email address below and someone will contact you?
Mindy: Yeah. So, we actually do...we've added gender identity. Hey, where did you find us? Because we're finding that's more and more useful information. But it's really, I think, kind of simple. It's like, what's caused you to start considering moving forward with financial planning? What do you perceive to be a potential obstacle to moving forward with financial planning? Anything else you think is helpful for us to know. I just have an open ended one. And where are you from? Because we have to track that, because we can't get more than five clients in any given state if they're contacting us from out of state. So, pretty straightforward. But you get a lot of information with open ended questions.
Michael: It's an interesting framing, though. So, what led you to reach out for planning? And then, what obstacle would prevent you from moving forward? So, that's not a question I hear from a lot of firms on the intake process. What kind of responses do you get?
Mindy: I mean, a lot of times they'll say stuff like, "Time to prioritize this." Or "I need to get together the fee, or my significant other isn't 100% on board with this." I think it's interesting you say that, too, because I know a lot of places are asking upfront, how much do you have in assets for us to invest? And so, a little bit, I try to be as much in the opposite direction of that as I can, because it doesn't matter how much they have in assets to work with us. We can work with pretty much anybody and help them get clarity over their finances.
Michael: So, they go through this intake form. So it sounds like you don't give them an automatic scheduler link. They do the intake form. Erika, your ops manager, does an initial screening of their responses to help figure out, does this actually look like a reasonable fit prospect, or not, or any red flags, or if there's a weird situation. She calls you in. So what happens next? If they get the green checkmark from Erika, then Erika reaches out to say, "Hey, we'd love to schedule with you?"
Mindy: Yeah. Once she sees the intake, there's literally boilerplate that she just hits reply and paste and send. So, it takes her all of a millisecond to send it once she's eyeballed the intake form.
Michael: And at that point, are you using some kind of scheduling tool or coordinating just to actually get these many set up? Or does Erika still reach out, like, "We have three available slots Tuesday?"
Mindy: Oh, God, no. She would kill me if we did that. So we use ScheduleOnce. And ScheduleOnce, I will say is a monster of a system. Like, I have my own little slice of it that I am in charge of my schedule and my different booking pages. And the rest of it, I just leave to Erika to set up for the other planners, because basically, we're the only two people that can be trusted in there without blowing up the entire system.
Michael: Oh, interesting, meaning, you've actually got so much complexity built in to do what you do that no one else is allowed to touch the system in case they might break it.
Mindy: Pretty much.
Michael: What do you have built in that that's dangerously precarious?
Mindy: I know, I know. It sounds ridiculous. So every one of us has three booking pages. We've got our strategy session booking page, we've got our consult call booking page, and then we've got...I just call it a client slot or service slot. So maybe somebody just needs a Zoom with me for half an hour, or an hour. So everybody's got their three pages. But then we can organize all of those things into one link. So, Erika can send a ScheduleOnce link that a client can click on and see all of the consult slots across the practice or see all the planning slots across the practice. So, she does not manually schedule anything, she just sends the link, given what the thing is.
Michael: So the only manual part for you is that review the intake form and queue up the email that then kicks off the, okay, now you can schedule, and here's the link for Monday, or you can see all the slots if you want to book with one of the other advisors because Mindy doesn't have the time slot available that you wanted, so you can grab someone else. And then off they go down the process.
Mindy: And manually, though, Erika does then keep those... So we use Help Scout. And that just allows all of us to see everybody's inbox. And so she keeps all of those emails pending in her Help Scout until they book. And once they book, then they get to go into our Wealthbox CRM. So, there is a little bit of a manual follow up for Erika, which I mean, she does great because once people fill out that form, we have an 80% booking rate on that.
Michael: So wait, help me understand, what is Help Scout? And what is Help Scout doing? Because it's not a tool I hear a lot in the advisor world.
Mindy: Okay. So Help Scout is basically...I'll call it a hub for all of our emails. So, my email of the planners, our data managers, Erika's team email. And the reason I even mentioned that is because that's where Erika manages workflow sometime. Let's just pretend, she gets an intake form, and maybe it's a little shady. So, she can actually assign her email to me in Help Scout, and put a little note at the top and say, "Is this a person that I should offer a consult to or do they need another professional?" And then I can just write back another note and say, "No, it sounds like more they're looking for a tax attorney. Here's some referrals that we can provide to them." And assign back. And then she can write back to that person with all that information and send it directly from Help Scout. So, it's a way for people within the practice to have conversations about service, and scheduling, and other things, without right there attaching it to the email, even though the client or the prospect can't see the conversation we're having.
Michael: Interesting. So as opposed to internally forwarding emails back and forth, "Hey, forwarding this prospect, do you want to respond to this?" And someone replies back, "No, you take it." And now you've got the client's email and three different intra-emails back and forth…
Mindy: Yeah, that sounds like a nightmare to me.
Michael: …So, Help Scout is giving you an interface to have those conversations overlaid on the email from some central system. So does that mean you don't use Outlook, or Gmail, or whatever your email interface might be? Everybody on the team just uses Help Scout for all their business email?
Mindy: I mean, pretty much we are Gmail. So that's the system that we're in. And so everything coordinates through either our Gmail emails or our calendars. But for the most part, if we're searching... Let's just pretend one of my planners went on vacation for a few weeks, and her client gets a check-in email from Erika, "Hey, how's everything going?" It's been three months since you've done your plan. Haven't heard from you. Hope you're doing well. Let us know if you need anything." So they might email a question. But then if they have a question and the planner is on vacation, then we can actually search on that client in Help Scout and see all of the prior conversations in one place. And then respond appropriately to it. So, a lot of times, none of our employees are answering directly in Gmail, because they want to keep all of the information in Help Scout. But it copies to Gmail, though. So, if you're sitting on your phone or something, you can look it up and see the response in Gmail.
Michael: Okay. So, in essence, my Gmail inbox gets integrated or loaded into Help Scout, so I can do my emailing from Help Scout and then the rest of the team can see the emails or see the history to dive in. But I've still got my old Gmail inbox in the back end that I can interact with if I want to.
Mindy: Yep, you got it.
Michael: So out of curiosity, just for some people, email's a little bit of a private space. Does it feel strange to anyone, your business email is in Help Scout and anybody and everyone can see all of the email that you may be having?
Mindy: I'm trying to imagine what kind of conversations I would be having with clients or somebody else that I would be embarrassed. That really hasn't come up. I mean, everybody... And in fact, a lot of times, the planner might assign an email to me from a client and say, "I don't know how to approach this or answer this. Or how would you frame this response?" And so, yeah, a lot of times I'm coaching the planners behind the scenes to do that. So, yeah, I don't think anybody feels particularly nervous or self-conscious about that.
Michael: Interesting. And so, it sounds like the driving force for you on Help Scout though, is the fact that it creates a means where A, you've got central access to emails, so it's easy to assign them to other people without just forwarding them and creating the weird email chains. And it gives you this ability to talk about the email as an overlay within Help Scout. So, you can say, "Do you want to handle this?" "No, you handle it. But don't forget to mention this." And then someone can just literally grab the email and do their thing from there?
Mindy: Yeah.
How Mindy Onboards Clients And Prepares Financial Plans [29:51]
Michael: All right. Very cool. Very cool. So you go through the process, they decide to book, they decide to become a client. So, it sounds like the next step is, they get the initial onboarding link. So, if I heard right, a shared Dropbox folder so they can start uploading data and a list of the things that they're supposed to upload. An advisory agreement and a deposit that they need to pay. So, I guess, how does that come together? How do you handle contracts? How do you handle deposits? How much of a deposit do they have to pay? How does that engagement process work?
Mindy: Yeah. So, they basically...once they book, we have a confirmation email that says, here are the three things you need to be looking for. You're going to look for an email from Dropbox, and that's going to be our shared folder. You're going to see that you have the list of things to gather and the questionnaires that we want you to fill out already in there. We're going to send you an email from HelloSign, that's taking care of the financial advisory agreement. We're going to need your signature. And we're also going to ask you that you're okay with receiving information by email. So you'll initial there. And then the final thing that you're going to receive is an invoice from Square. And we collect a 50% deposit. If you decide that you're not going to move forward, as long as we haven't started working on anything or done anything for you, that deposit is fully refundable. But it's 50%.
Michael: Okay. So, 50% of the fee, but if they ultimately change their mind in the next week or two before you actually start diving in on the data, you will refund it.
Mindy: We've had actually a couple people just ghost us after signing up and doing everything, and even paying their deposit. And then we can't get any data from them. And they won't respond to email. And so, there's been a couple of times that I'm like, "Okay, refund their fee if they're not going to email us." And then they're like, "Wait a minute, I didn't mean it."
Michael: So, what kind of data do you ask for in the data gathering process? What's your version of data gathering?
Mindy: Yeah, everything. So, the way I explain it is... And if I know that they have a house, I say, "If you went through the mortgage process, it's very similar to everything that you'd be collecting for the mortgage process, except the mortgage people don't care how you're invested." So, we're going to want statements, we're going to want pay stubs, we're going to want tax returns, account information. And so, I usually just say, income, expenses, assets, liabilities. I always say we're not attorneys, but we're, a lot of times, the people that kick off that process. If you have wills, if you have those health directives, things like that, then we'll want take a look at those. But if not, don't worry about it. And so, one of the things too, that I will say that I think... And I could be wrong here, it's not like I network with a bunch of other financial planners. But one of the things that we do is we actually look at three months of cash flow, so that we can understand how are resources flowing through their situation on average, month by month. So, for us, we really are seriously asking, give us three months of bank statements, three months of credit card statements. Or if they're in some kind of a tracking system, then we'll coordinate getting the CSV for six months of data so that we can review that for them.
Michael: So, if they're in Mint or something similar, send us the CSV export from your Mint file?
Mindy: Right. Yeah.
Michael: And you mentioned that you've got someone on the team who's a data manager who supports this as well?
Mindy: Yeah. So, we've got actually two data managers, Sandy and Sophia. And so, they are in charge of initiating this process with the client. And so, imagine that... So right now, I'm actually booking for February 2023, my schedule. I think the soonest anybody would be able to meet with us at this point is six weeks from now, November. I think November, we've got some slots open. So, a lot of times, people are paying their deposit, signing their contract months before they're actually needing to gather data. And we tell them, "Don't jump in right away because we'd like the most recent three months of data from you." So it's Sandy's and Sofia's job to... And we have workflows established in Wealthbox to start all of this and remind everybody. But it's their job to initiate that outreach and say, "Hey, it's about three weeks before your meeting. We'd love to start getting data. And here are some ways that people have found that it's helpful to break it down to make this more accessible, because we know that that list can be overwhelming." And so it's their job to get all of that data for us. And then we're just starting them, having them kind of do our data sorts and start to expense-sort for us now, too.
Michael: So, as they start sending in things like bank statements and credit card statements, you're manually digging into that stuff to try to actually organize their spending and cash flow information?
Mindy: Yeah. So, a little bit, when our planners are in training, it's up to them to do it. I have somebody right now that...she's just doing one plan a week through the end of the year. She has to do her own data sorts. But if anybody's doing two or more plans a week, then they will have Sophia and Sandy running it through a macro that helps us sort that we keep adding to. So, they're actually converting PDFs to Excel, and downloading the information, checking the data, making sure we can merge it. And then we have a sorting program that pulls it together for them.
Michael: So what's the sorting program?
Mindy: It's just an Excel lookup table.
Michael: Okay, of all the different expenses you've seen over the years that people have, and just how to categorize it for reporting and for budgeting purposes?
Mindy: Yeah. When new restaurants open up, we have to add the name and expand. It's this monster file that we keep adding on to. So, yeah.
Michael: So just literally, client's got an expenditure from such and such restaurant, you tag that as, that's a restaurants thing. And so now any client in the future who comes in who has also eaten at that restaurant and has that show up on their expense, it will now auto-categorize into restaurants, because you've seen this before. And when you're doing hundreds of clients a year, and mostly in the Seattle area, I guess, eventually, a very large number of the expenses are kind of consistent and start repeating after a while.
Mindy: Yeah, yeah. It's pretty straightforward. But it's funny though, because I do have a financial planner who is based in Illinois. And so, she was pretty unfamiliar with the Seattle restaurants and stuff. It was pretty funny, while we were training her.
Michael: So, I was struck as well, you said, you may be booking out weeks or months out just because of capacity. So, people may sign on and say, "I'm signing up to get started, except I won't actually start the planning process for two or three months because of capacity."
Mindy: Yeah. I mean, it's kind of funny. So, this is one thing that we're always looking at, because if they signed up this week, they could meet with somebody mid-November. But what I'm finding is, they maybe don't want to meet with somebody besides Mindy. And so that's why a lot of times... Well, I want my other planners to have that prospect call so that prospects can like these people that they're meeting and feel comfortable moving forward with somebody else. But also, these are my employees and I'm the owner. I want to reassure them that you don't have to meet with just me, you can meet with anybody, and you still would have access to me. I want to make sure that you have a good experience. But yeah, that's part of the challenge right now, is... And everybody's getting booked. I've noticed in my practice with my planners, the real sign of success for them is to be booked three months in advance, and then they feel like they can relax. But if they're only booked six weeks out, they're like, "Oh, I got to work hard." And they can't do anything about it, it's just a matter of the bookings.
Michael: So, do you worry that you're going to get clients that change their mind, right? Was raring to go now, but by a month or two or three months out, the shine is off, they've lost their motivation and they change their mind?
Mindy: I mean, not really. I guess, initially, I will say that if you'd asked me that question maybe four years ago, I was like, "Oh, my gosh, I have to take on every single client. And I have to meet with them.
Michael: That's what I was wondering. I think that's most of our mentality. Like, oh, my God, somebody actually said yes and they're willing to pay me a fee. I will do anything I can to make sure that I get them and keep them. Whatever you want, we're going to do it. Tell me the timing, I'll bend over backwards. So that's why I'm struck that you don't seem to be at that mindset now.
Mindy: Well, I mean, yeah, you can only be anxious for so long until you wear yourself out. Right? Okay, so one of my other metrics is, on average, we book 32 meetings per month. So obviously, more in some months, less in others. So I keep my eye on that average. And if we're still booking that, then I know that it doesn't matter where are those meetings end up. They could end up six months out. Or I expect, October is usually a higher booking month than September. A lot of people are still kind of getting on their schedule with kids back to school and things in September. So October ends up being a higher booking month. So, a little bit, I'm like, "Yeah, we still have some availability in November, but that's going to be gone probably in three weeks."
And then we're in the Christmas season anyway. So, I mean, I get what you're saying, but it's just been consistent long enough that at some point, you just run out of anxiety. And you're just like, okay, this is how it is. And if I really wanted to keep that client, I could always just try to make more space for them. I feel like through COVID, especially, at first, I was super scared that this was going to go down, but it actually grew in COVID. So, once I realized it's like, oh, I just need to kind of keep my eye on average bookings, and look to see where we're at year to date, how does that compare year over year. And as long as we're on track, I kind of don't worry about it anymore.
Michael: So, you gather the data, clients upload all their various stuff, you get some the budgeting stuff sorted out. So help me understand the rest of whatever your plan preparation process is. What's happening in this time window between when the data managers make sure that the data is gathered, and when you're going to present a plan?
Mindy: Yeah. So I make everybody do what I call just a data organization tool. And to me, there's very much a separation between, what are the numbers of this person's situation versus what are their thoughts, and desires, and goals around it? And so, the data org process allows us all to just look at the data, record the data, understand and map out the different kinds of data, cash, versus retirement accounts, versus investments, versus pensions, versus income, etc. And then once you have the data, then you start applying the data to the planning model. And once you've gotten all the data in the planning model, that's when you bring in the...I always say the software side of finance, and you look at, okay, what do they actually want to get out of this? What did they put in their intake forms? What are some major things coming up? And so, that's the actual casework, is, how do we make this work for them given what their priorities are?
And then once that is put together… So, every planner is in charge of doing that for themselves, and then we have casework. And that's where I will go through with every single planner, and they'll have questions, obviously. Or they'll say, "How do you approach this?" Or "How would you look at this?" But then also, I'm trying to be an advocate for the client and look at everything that the planners put together and say, "Okay, are we honoring their requests and everything that they said was important? Or did we go down a sidebar here that's not necessarily relevant to them?" And just refine, and streamline, and make sure that what they are getting ready to prepare or present to that client is all relevant and good information for them.
Michael: So, help me understand this as you'd framed it, this data organization tool. I mean, is this a piece of software? Is this a spreadsheet? What is it?
Mindy: It's Excel. So this is going to be the crazy thing. Most, I have found, consumers don't really like financial planning software. And so, early on, I sort of abandoned it. And even when I was at Ameriprise, we would have the planning software and we'd have the output, but then I would actually turn the output into a presentation in either Excel, or PowerPoint, or something else. And so that's just what we do. And so, of course, that means that there's no kind of statistical Monte Carlo simulation. But we're giving them a plan that we can play around with assumptions, and returns, and inflation rates, and kind of build something that if they have that interest, they can play with it. But then also, it's showing all of the connections between, hey, if you buy this much house, your cash flow is going to go up by this much. You can actually see over a five-year period that you're going to drive yourself into the ground. So you can't get that big of a house, or whatever it is, whatever the connections that are important for that client.
Michael: And so, in essence, for planning analyses, some combination of every advisor does their own analysis in Excel, or you've just done enough of these with volumes that you've got templates that advisors can use to drop numbers in to do the retirement projection, or the home purchase analysis, or whatever the thing is.
Mindy: Yeah, we've got templates. And actually, because I could see that I was going to just continue hiring people, I actually created videos as to how to put together every single aspect of the plan. So, they get me in training, they get to observe casework calls when they're in training, but then they also get these videos to refer back to. And so, sometimes a new planner will even be like, "Oh, I've never illustrated a rental before, what should I do?" So, they can go into our video library and see me put together that kind of an analysis, and what would be important in that analysis.
Michael: And what did you use just to build and manage the video library?
Mindy: I just used Zoom. It happened over COVID.
Michael: Okay. You would record yourself in Zoom in a screen share, and then just put all these in one giant file folder with all the different lessons?
Mindy: Yeah. And my data managers did, too. So, if we ever hire another data manager, they're good to go.
Michael: So, for you, the planning is just all these Excel templates that you've built to show the various, I guess, just planning modules that you want to dig into. So, I'm envisioning in my head, an Excel spreadsheet that's got 27 different tabs of all the different analysis modules that you've built. Is that a reflection of what this looks like? Am I over imagining this?
Mindy: I mean, it could get to 27 if you make every single account its own tab. I mean, this is tempered by what people can digest in a sitting. So a little bit… I mean, just go through all of the major financial planning areas, and then add on more for real estate and each account. And yeah, you have a pretty good idea of how many tabs there are.
Michael: So, I just got to ask. Do you worry that this is a really manual or time-consuming to just have to build and maintain all these different financial planning analysis spreadsheet templates?
Mindy: I mean, you would think, but I don't really do a lot of maintenance. Because really, what most people want is they want the understanding. They want you to paint the picture of that global financial situation. But at the end of the day, everybody's busy. They really just want to know, okay, now that I understand this context, what are the next steps? And so, yeah, I mean, there might be some clients that I'll go in and tweak their... Maybe I'll get two or three different versions over the 12 months. But most people are then more focused on what implementation looks like. And I get many more questions about implementation than I do maintaining a financial model.
Michael: And then help me understand this framing that you've given around...you're calling it, I think, casework, where the planners have built the plan in Excel. But then you're reviewing all of them, and you're giving them feedback. I guess just help me understand the structure, I suppose, since you've got so many clients and so many planners going through the firm. Is this, like, on Thursdays, there's four hours, and you just go through 12 plans in 20 to 30-minute increments, one after the other with the advisors? Is it that kind of thing? How does casework work?
Mindy: I mean, pretty much, yeah. I'm in case work like five hours a week. I give an hour to every single planner. My newer planner, they usually need more like an hour and a half to two hours. So it probably ends up being more like six hours a week. Most of the time, people are getting things ready and they have enough resources to just show up to case work with their questions. But yeah, every once in a while, if there's something weird or something that they're not familiar with, we'll have extra casework. So, yeah, I just consider that there's a day a week that I just devote to everybody else in the practice and making sure that they're prepared for their meetings, that they understand all of the things that they're trying to present or talk about, and ask questions about it, and make sure that they've covered all their bases.
Michael: Does that squeeze time for you? I mean, just a day a week's a lot of time committed for doing reviews on all the advisors in the firm.
Mindy: I mean, so I will say one thing about me, if I'm going to toot my own horn, I am probably more organized than the average bear. And so, I will say that I can do that that day, and I don't need to necessarily. And like I just said, I'm actually trying not to book new appointments right now until next year, so that I get everybody else filled out through the end of the year. But honestly, if I needed to, I could probably do three plans a week and still do casework. That starts to tax my data managers more than it taxes me. So you can imagine, I've been doing this for a while, I can actually pull a plan together pretty fast, relatively speaking. So, I mean, I will say that that's not my ideal mode. I would really enjoy...especially now that I've got so many people in the practice. I mean, part of the goal is life balance. So it's not like I want to work 50 hours a week. But if I needed to, yeah, I could do five hours of casework and then also see two to three plans a week too.
Michael: So, the other piece I'm wondering in this process is, where do you get up to speed on just what the client's goals are? I mean, for a lot of advisors, the goal of discovery meeting is a whole meeting unto itself. And it sounds like you don't really have a separate data gathering goal discovery kind of meeting. So, how does that part happen for you?
Mindy: And I'm laughing a little bit because sometimes, I think that people aren't quite sure of their goals until they see the context of their situation, too. I will say, I feel like I get a lot out of that consult call. If they have a consult call with me, they're also having another call with whatever planner they book with. And vice versa, if somebody had a consult call with one of my other planners, but they booked with me, I'm going to get on the phone with them and ask them specifically, what are you hoping to get out of this? What's important to you? They fill out a questionnaire that asks all of those things too. But also, in addition to that, I think personal touch is important. So, yes, they get that, we have the strategy session. I remember that kind of goals meeting, and then a data meeting, and then a plan presentation meeting.
And I think some of that is about that kind of emotional anchoring stuff that gets...you get happy when you think of that stuff. And that makes the sales conversation easier. We don't need to have a sales conversation. And not to sound like I don't like my clients, but I don't care if they're happy up front. I'm here to give you financial clarity and context. And I would rather have more follow up meetings after you've had a chance to think about the numbers and think about the implications of those numbers, than to have this kind of unanchored goal conversation, and I'll say untethered even, because at that point, I have no idea what your finances look like. I don't know how realistic any of this is or not.
Structuring Financial Plans Through A 12-Month Engagement Process [52:35]
Michael: So, then you get to your strategy session, which, I guess, is essentially the, I'll call it, the plan presentation meeting. Like, here's where we're going to present all this stuff that we've been working on. So, help me understand what they get, or what you deliver in that meeting. Since for a lot of advisors, it starts with the output from the financial planning software, which you don't use. So, what are you delivering and presenting in the strategy session?
Mindy: I mean, it is output, it's just output from Excel. And I always say that, fundamentally, we're trying to map how do resources flow through their entire situation, short-term, mid-term, long-term? How does that look relative to goals? So, they get cashflow, they get, what do the next five years look like? What are the major spending decisions like home purchases, rentals? What does that look like? College planning, retirement planning, investment planning, risk management planning, long-term disability, life insurance. So, we take them through all of those scenarios. And it's a non-paper experience since COVID. So, if we're having an in-person meeting, we actually have... What does Microsoft call their iPads, Surfaces? So that we can play with the model as we're having the meeting. Or we do have virtual meetings, and we're just on Zoom, which makes it super easy to play with the model. So yeah, so we're taking them through all that.
Michael: So, meaning, you'll put the Excel projection tool on a Surface tablet, or a screenshare for a virtual client, and start adjusting it or tinkering with the projections on the spot so they can start seeing, if you do this, this happens, if you do that, this other thing happens. But that kind of modeling?
Mindy: Exactly. Yeah.
Michael: And so, do you print a plan? I was thinking The Plan, capital T, capital P. Is there The Plan, or is the whole thing ultimately built around they're interacting with it live, but we're not printing and stamping a thing?
Mindy: I mean, we send them the Excel file, and we write up all of their action items. So they get a document that says action items. So that's the plan. Here are the numbers. And so, I remember, at Ameriprise with the planning software, I'm supposed to document observations, assumptions, strategy, recommendation. And so, a little bit, we're skipping the observation, assumption, strategy, because we're having those conversations in the meeting. And then we're documenting, here's based on... And it's not like I'm that blunt. But based on what we talked about, here's what you need to do for this area. So they get a very succinct list of things to go do. I do write it up to with the expectation that if I don't hear from this person for three or four months, I can pull this up and look at it, and remember everything we talked about. So I do that a little bit for me, too.
Michael: So how long does this whole process take for you? I mean, do you track and measure, like, we get through the whole planning process in 5 hours, or 10 hours, or 20 hours, or whatever it is?
Mindy: So, for the most part, everything... And I don't include data collection because Sandy and Sophia are doing that. But from starting the data review, the data org, putting the plan together, casework, meeting with the client, writing up the summary, sending all of that, I would say it takes me less than eight hours. It takes the average planner about 8 to 10 hours. And so, I would imagine that throughout that year, maybe there's two more hours at most responding to emails or hopping on Zoom with that client.
Michael: Okay. And so, cumulatively over the span of the year, you're, I guess, 8 to 10 hours and maybe 10 to 12 hours for some of your other advisors. Plans average roughly $2,500, so you end out right in that $200 to $300 an hour range depending on whether they're a lot higher, or lower, a little more or less time intensive?
Mindy: Right.
Michael: And so, help us understand a little bit more what these 12 months of support part looks like. The planning process you're through in three or four weeks once you're getting underway for getting their data in, doing the analysis, preparing the Excel template, getting to the strategy session, delivering it. So, help us understand a little bit more what the next 11 to 12 months looks like afterwards, since you've... I'm conscious you didn't frame this as, it's a flat fee for a plan. You framed this as, it's a flat fee for a 12-month engagement.
Mindy: Yeah. Well, and I think the reason we even started doing that is because I didn't want people to feel like they couldn't circle back with me, or they couldn't ask an extra question, or they couldn't clarify something. And I felt like early on people were just like, "I don't know if this is going to be more... Are you going to charge me more if I ask you this?" And I'm like, "No, just ask me." Because what I found is, the more I could just be responsive, the more referrals we get. And so, like I said, the average client doesn't really trouble us more than a couple of hours for the rest of the year. Now, we also do have the Wealthbox, this is a workflow. It's after plan client maintenance. And we're checking in with them with email. We have Erika do outreach and say, "Hey, it's been X number of months since your plan. It'd be a good idea for you to review your action items. But let us know what questions you have, or any thing's come up, or if we need to adapt anything."
And so, a lot of it, I think, is just us being proactive, and letting clients know that if you need something, we're here for you. To me, it's not that much of an effort to really put that forward. Now, every once in a while, of course, we get somebody that's a little bit more high maintenance. And that's just a little bit... So, one of the things that we have done is, we've said, this is what we expect to do on average with you over the year. And we're happy to email and we're happy to hop on Zoom here. If you want a higher level of either financial coaching, if you want accountability calls, if you really want to formalize that process more, we will basically give them a discounted rate to do a coaching call with a planner. And so, we don't offer... I always tell people that, let's just get through the plan, and let's get through the action items and see where you're sitting with all of this. Because it might be that you just don't need as much kind of help as you think you do. And then if you do, then we'll just hop on Zoom again and talk through it and find out what you want, and make a plan for that, too.
So, I mean, I don't feel like the 12 months of support is that laborious for us really. It's more about just making sure that clients know that we're here for them, and that we'll be accessible and responsive to any kinds of questions that they have throughout the year.
Michael: And so what happens after 12 months? I mean, do clients tend to come back and re-up? Does this turn into an annual engagement, they just buy one at a time? Or are clients mostly one and done, like, "Thanks, Mindy, you set me straight. I'm good now. Have a nice life." Help me understand what ongoing looks like?
Mindy: Yeah. Well, I will say because we do deep dive pretty hard, they don't need that same deep dive a second year. And so, we do have clients that just come back every two to three years and just say, "Yep, let's just do a new strategy session. Enough has changed." We've got other clients that will do... So we've got plan updates. Plan updates are $1,200. We don't go crazy on everything. So basically, we say, what do you want to review? And for the most part, we're not doing the data sorts. We're not kind of deep diving and looking at employer benefits or anything. We're really just kind of updating the relevant areas for them. Other clients maybe just want to hop on Zoom. So if they want us to do review their accounts with them, and give them some recommendations, or kind of, I always say, in-Zoom calculations for mortgages or renovation funds, then we'll charge $350 for a Zoom and for the write up afterwards with the calculations. So some people just hop in and do things like that.
I do find that a lot of client... Well, there's always going to be people that are one and done, of course. There are people though, like, I've had some clients this year that did a plan seven or eight years ago, and now they're coming back and they're like, "Okay, now we're ready to retire." So you don't know what that turnaround is going to be. I mean, I always say though, that the whole reason we do it this way is because I felt like at Ameriprise, when I was there, they really wanted everybody to do annual planning. And coming up with new things to talk about that second year was like, ugh! I mean, of course, we can review investments, that doesn't mean I'm going to tell you to do anything. Or we could look at other things. But what I found is that you just don't need to deep dive every single year. We make people... I will say that, if somebody's gone more than two years without doing a strategy session, then we'll generally say, "Okay, we want to look at everything again because you changed jobs, you've had a kid, you've moved houses. So we can't advise you because too many things have changed in your life from the last plan."
Leveraging Yelp, Online Searches, And Referrals To Increase Firm Growth [1:02:53]
Michael: Well, I'm struck by…Look, I think for a lot of us, as advisors, candidly, part of the reason that we push to re-up the plan every year. Look, I need to re-up the plan every year because I need to justify my fee every year. And I need to justify my fee every year because if you don't keep paying me every year, I have to go find more new clients. And who wants to do that? We get stuck in this realm where you assume advisor won't get very many clients, then run business model. And the business model you end up with is, you really need recurring revenue clients, and you really need to... Anyone that you get, you need to do stuff for on an ongoing basis. You can generate the value ongoing because if you don't have a lot of clients, you need to generate a good amount of dollars per client to make this work as a business. And to me, there's a lot that gets sort of built around this underlying assumption that I think I was going to say we take for granted, although it is a reality for most advisors.
Which is, I just don't get that many new clients in any particular year. So I really need to get enough dollars per client or I'm going to go broke and run out of money before this adds up to a career. And the interesting sort of estrous to this in the context of your business is, except you're getting 350-plus new clients each year. So let's talk about that a little bit. Where are hundreds of new clients coming from every year, especially since as you're framing here, you're doing a lot of plans, you're doing a lot of client work, you're doing sometimes multiple plans a week, plus a day a week of casework, plus 6 to 10 consult calls. This doesn't sound like you're in the realm of, oh, well, we have all these clients because I spend 70 hours a week on marketing, and networking, and all the things that advisors do. So, where do 350-plus new clients come from?
Mindy: I mean, so word of mouth. Just keep in mind, Seattle has 3.5 million people, so I don't even have to have that much market penetration to do okay.
Michael: Well, okay, but a lot of us live in cities with dense metropolitan areas and do not have hundreds of people beating down our door every month. So, where are all these people coming from?
Mindy: So, a lot of them come from the tech world. U-Dub, University of Washington's here. We've got U-Dub people. But we are the headquarters for Amazon, Facebook, Microsoft, Google. Well, one of the ongoing things that I always hear is, yeah, we started talking to somebody and he seemed cool. But then everything that he was recommending was about life insurance. Or this one guy was like, "Yeah, I was going to work with this guy because he really wanted to diversify me out of Amazon. And one of my coworkers told me that if he had just hung on to Amazon from when he started, he would be a multimillionaire now." And so, I hear in my prospect calls, that kind of nervousness about being sold to, is a thing.
And I will say that when I was just not quite sure that what I was going to do... The whole reason I came up with this business was because I was a CFP without a business, moved to Seattle. And people were like, "Oh, you're a CFP, you're a financial planner? Who are you working for?" I'm like, "Nobody. I don't know what I'm doing right now." I was consulting actually with Ameriprise and LPL after I sold my practice in Ameriprise and moved to Seattle. And so I was like, "Yeah, I'm just kind of consulting right now." So, they're like, "Oh, I want to pick your brain. I want to sit down with you and pick your brain." And so I found that if I have nothing to sell, but I have expertise, that just takes away one of the layers of caution that people have about this. So that's the reason I have all of these prospects is because they know that I'm not selling anything.
Michael: And do you track just how they find you? I mean, I get it, but I know a lot of family advisors who clearly put on their website, like, "I'm family. I have nothing to sell you. I don't sell the products. I don't accept any commissions." They're not getting 30 new clients a month. So where do yours come from? Or how are they finding you to be so compelled once they get to the website and find out that you're not going to sell them anything, you're basically going to give them advice?
Mindy: Yeah. So I was enormously lucky that several of my clients early on in this business put reviews on Yelp. So last year...
Michael: On Yelp? Okay.
Mindy: Yeah, Yelp. So, 35% of my business last year came from Yelp, 30% just came from online search engine. So, googling financial planner Seattle, stuff like that. Repeat business in 2021 was 15%. It usually trends more like 20%, so I don't know what the reason was there. But then referrals, just word of mouth from existing clients was 20%. And referrals are the only thing that I even work hard at. I literally send a thank you note to every single person after their planning meeting saying, "I wanted that to go well. I hope it went well for you. We really appreciate your business. I'm always here if you need anything. Please reach out to me if you have any concerns." So everybody gets a thank you after their plan. So that's the only thing I'm working at. It's still not as effective as Yelp.
Michael: Like, a handwritten thing or?
Mindy: I mean, I can't handwrite anymore. It just cramps my hand up. So I have Postables. So Postables is just an online...
Michael: I'm not familiar, what are Postables?
Mindy: Yeah. So postable.com. You just choose a card and write your sentiment. Obviously, I've got the sentiment pretty much down now. So, I cut and paste it, and you can make the script look different. And then they send it. It's a third party thank you letter sending system.
Michael: Okay. Well, I'm just struck that all that proactive thank you notes to everyone and it's still not even half the impact of Yelp.
Mindy: Yeah. Or online search engines, yeah.
Michael: So, I guess, help us understand a little more just what the Yelp experience looks like? I mean, are you doing anything? Or is it literally just like Yelp does what Yelp does, and business shows up?
Mindy: Yeah. I mean, we gussied up our profile. So, once I was like, oh, there's... So, we claimed it, we made it pretty. I would have to check, but I think at some point, Yelp started... I always feel like Yelp is vaguely threatening, like, we're not going to show your profile to anybody. So I think we pay something to end up in search results or something. But it's not like, oh, my God, we have this huge marketing budget. So, yeah, I don't do much more than just the basics of Yelp. And I know that we're constantly getting phone calls of people that want us to do more, the Yelp salespeople, and we just ignore them, and run away, and delete their voicemails.
Michael: Interesting. And so, are you trying to drive Yelp reviews and get people to post stuff and navigating all the regulatory stuff that goes with it? Or you think you just claimed your page and some subset of clients found their way to it, and that was enough?
Mindy: Yeah. We are hands off because state of Washington is like, nope. So I do not encourage anything. And yeah, some clients just have decided that they want to express things on Yelp. And so, it's kind of fun actually, every once in a while, we'll kind of go look at our Yelp profile, and a client will have left a review. And it's amazing, and we love it. But yeah, it's not...
Michael: But I guess there's an interesting effect that once that flywheel starts, if some people leave you reviews on Yelp, and that makes clients start finding you on Yelp, the people who find you are people who use Yelp, which means they're fairly likely to go back and leave a review on Yelp, because that's what Yelpers do. So I could sort of imagine, once that gets going, the flywheel kind of gets going at that point, where you get more business from Yelp, from people who tend to leave reviews on Yelp. So after they have a good experience, they go back and leave a review on Yelp, which then boosts the Yelp algorithm. So more comes and off it goes.
Mindy: Yeah.
Michael: Interesting. But your dividing line, you claimed the profile, you put your information there, and I think as you put it, gussied it up. But you're not trying to actively solicit people to leave reviews and engage there because you don't want to trigger all the testimonial stuff that goes with it. It's there. I mean, for the regulatory, I can't stop people who just leave third party reviews on third party websites. Like, I didn't do it, I didn't solicit it.
Mindy: Yeah, exactly.
Michael: They went and did it.
Mindy: That's prohibited in Washington, so, no.
Michael: And then what about from the search engine end? Did you do search engine optimization stuff to try to make that happen? Has it just found its way on its own? How have you driven so much search engine activity?
Mindy: I'm kind of laughing because we had a guy a few years ago that was kind of the web guy. And he worked on a bunch of stuff for search engine optimization. And I really tried hard... This was before COVID. I really tried hard to kind of see what he was doing and tried to understand. And I just couldn't see a correlation between what he was doing and the traffic. And so, sure, we tried to inexpertly try to do search engine optimization at one point. Erika knows enough because she's done...that's in her background, that she'll be like, "Yeah, this is effective. No, this isn't effective." So she does a little bit of optimization for us. But it's not like intentional strategic SEO. I honestly think, like with many things, that we just got lucky.
Michael: So how do you think about growth going forward from here? Are you just at, it's just flowing and it's going well? Is it still growing and compounding for you? Are you at sort of a steady state with several hundred coming through and that works for you? Where does it sit at this point?
Mindy: I would say I'm pretty happy I kind of made the decision this year, because a little bit, adding two people in 2022, I'm just this month being starting to feel like, oh, okay, now I know what a normal schedule looks like again. Because a little bit getting two people up to speed in one year, that was a little bit of a nightmare. So, a little bit... I mean, bottom line, I just want everybody to be happy with what they're making. And so we just went through... Before the end of September, every single year, we make everybody kind of map out their 2023, whatever year is coming up. So that we know when are people going to be taking vacations. What kind of capacity can we expect for next year? Everything else. And so we have enough capacity next year that we could still grow at probably 10% and it would be fine. And so I'm always trying to build a little bit of excess capacity in. But unless we completely just blow it out of the water, that's probably going to be fine for another year or so. And then maybe end of 2023, start of 2024, I'll add on somebody else again. But yeah, I mean, we grew a lot 2019, 2020, '21. So I feel like we're finally... And we've worked really hard. So I feel like we finally have enough people that we don't have to kill ourselves to kind of accommodate the people that are coming in.
How Mindy Structures Compensation For Employees [1:15:20]
Michael: And how do you think about... So I guess two questions. One, it sounds like for capacity for you, not all the advisors in the firm are 100% time trying to max out what they're doing, how they're spending time. It sounds like you've got some people that are more hours, and some are fewer hours, and they can work with you on that to set what their time and income targets are.
Mindy: Yep, totally.
Michael: So how does that work from a compensation end? Are they salaried? Do you split planning fees with them, and they get a portion of what they get? How do you manage that as a business owner?
Mindy: Yeah, everybody gets a 40% payout.
Michael: Okay, of the planning fees that they work on?
Mindy: Yeah.
Michael: Okay. And so, then they can come to you to say how much capacity they've got, how many plans they would like to do. And as you get the flow, you try to assign it accordingly and manage the flow, so everybody's getting a reasonable load, and then a reasonable payout opportunity.
Mindy: Yeah. And I mean, I've never had a situation where I haven't been able to fill somebody's capacity yet. So, that's another reason why I'm only planning for 10% growth, is because if I bring on another person too soon, I might have people sitting around twiddling their thumbs and not getting the income that they want.
Michael: Right. And from their end, sweet gig. Just you've got a growth engine and a flow of clients. So, they just have to, not trying to oversimplify the job, just sit there, take the clients that are handed to you, and be awesome planners and then benefit from 40% of the planning fees for the work that you do.
Mindy: Yeah. Yeah. And I mean, for full time people, they get their health insurance covered. I cover their CFP fees for the year. I pay for their continuing education. They all have a membership to your website for that.
Michael: Appreciate that.
Mindy: Yeah, I thought you would. Yeah. So they get technology reimbursement fees. I buy them computers. I feel like I'm a pretty good boss looking at, you know, they can take vacation when they want to. All they have to do is kind of set up when can we book you for meetings. And I don't really worry about much beyond that.
Michael: So is there a base salary component? Or just it's all variable, but there's so much planning volume flowing that you know they're going to get at least pretty close to their targets anyways?
Mindy: Yeah. I mean, my rule of thumb, and I haven't done the math in a while. I'm working on fees for next year, because I've raised the fees every single year. But my rule of thumb is that, if you only see two plans a week, you're probably going to be making like $75,000 a year. And so, that's a pretty good rule of thumb. But I have planners now that are like, "You know what, I'm going to be having a really busy year next year. I really just want to do one plan a week." And I'm like, "Okay." I've got enough capacity, I can allow that. But there have been years when I'm like, "Oh, my God, I that's going to kill me. I'm going to need to take on another plan." But yeah, I have enough people now that people can pretty much decide what their schedule looks like. And yeah, we might pressure them here and there. "Oh, this person really wanted to meet with you. Can you make room in your schedule?" And yeah, and they'll do it. But we don't abuse that privilege.
Michael: And when you talk about fee increases, I guess for you, because every client is a discrete engagement, year by year. So it's not like you're going back to existing clients and repricing. It's just like, here's the new pricing structure in the new year. How much of a fee increase are you looking at or do you increment? I mean, is this like a, we move it up $50 some years? Or is this like, I'm moving it up hundreds of dollars? How far of a fee increase are you thinking about?
Mindy: I mean, I'm kind of laughing because some years you're just like, "Wow, I've done a whole bunch of this engagement and I feel like I'm not getting paid enough." So, sometimes we're just bumping something up a few hundred dollars. Because it's like, you know what, this is more work than we actually thought it was going to be. Other time, we're just... I mean, you kind of listed out the packages. We're just kind of shifting everybody up a little bit year over year. I will say one of the things I am considering in the new year, but I haven't implemented yet, is setting my fees as the owner, 15% above everybody else's fees. So, we'll increase everybody at least, like... All of the scopes will increase by probably 5% to 10%. And then I will increase 15 or so percent, so that I'm 15% above the new fee. And I haven't decided to pull the trigger on that yet. A little bit, I'm waiting to see how the end of the year shakes out. I usually don't increase fees until December 1st, before we get into annual renewal time. But yeah, that's one thing that I'm considering, is, making myself special. And that way, potentially, then driving more business. If somebody is driven by price, then they'll go with one of the other planners, and that will help everybody get their bookings more quickly.
The Surprises Mindy Encountered On Her Journey [1:20:30]
Michael: So what surprised you the most about this journey building an advisory business?
Mindy: That this worked. I mean, you hear every single person in financial services that are like, "This is crazy. This will never work." And early on, I used to get a lot of people that were like, "Oh, you're not going to make any money. Do you just care about people so much that you're just doing planning?" I'm like, "Well, no, I'm going to see if this works." And a little bit, I think, for myself, I never felt like I fit into financial services. If this failed, it was just like, this was potentially another place I didn't fit. But what I discovered is, by doing the way I felt like doing it, I got to be more down-to-earth more like me. I didn't have to pull off that prestige image or come off as that super slick asset manager. Yeah, so I don't know.
Michael: And then that turned into a million-dollar practice anyways?
Mindy: Yeah. So, whoops. I mean, every once in a while, I do think I'm like, "Oh, maybe I would go back to asset management." Because some clients, they just want me to do it for them now. If they've been clients for any amount of time, they're just like, "What are we doing? What can I do? Can I just have you do it?" And I'm like, "No. No, you can't. That's illegal. That's bad, bad, client."
Michael: So, I guess, like, why not? I mean, I get you don't certainly want to sell it. If they're literally asking you to do it, how do you think about saying yes or no, at that point?
Mindy: I mean, I have this thing that every single person should know how to place a trade. And every person should be getting more understanding, more comfortable with that area of their life, regardless of where they start. And so, it really bugs me, the clients... And these aren't the clients necessarily that are asking, but sometimes new clients coming in. They're just like, "I don't want to think about any of this. I just want somebody to take care of this for me." And I'm like, "That's crazy. This is an important part of your life. You should at least have a passing understanding of how it functions and how you can affect it." So, I mean, a little bit, yeah... I'm like, "No, you go do your own thing, because it's important for you to understand how to do this. This is one of these core competencies that everybody needs to understand how to do in their life." But yeah, every once in a while, I do think it's like... I think there is a little bit of the entrepreneur in me that's like, "Oh, was this just like kismet that this all worked out the way it did? Or could I actually then go..." And this would be my third practice. Ameriprise first, and then consulting was good, and then this as financial planning. And can I go do that fourth thing and be successful at it? So that's really what it is, more about actually managing assets for somebody.
The Low Point Mindy Experienced On Her Journey [1:23:39]
Michael: So what was the low point for you on this journey?
Mindy: I think the low point was early on at Ameriprise. And really feeling like I did not fit into that world for whatever reason. I mean, not necessarily because of planning philosophy at that point, but just also feeling like I couldn't be myself, and say what I wanted to, and the way I thought about things were not the way most people working there thought about things.
Michael: In what regard?
Mindy: I mean, just being… I think about…You share office with people. I would merge business with some of the other planners, because if you merged the business, you get more from the company. And I would just think back to what some of the other planners would do, or what they would think would be okay, or selling a 35-year- old an annuity. I mean, not to get all into it, but they didn't really see women as equal planners to men. Everybody was like, "Oh, are you going to go become a paraplanner for somebody now that you've sold your practice?" I'm like, "No, no, I'm not." And even though I did consult with them for several years, it really was one of those times where you just feel like you're treading water. And you're looking for where is my place in the world, and not really finding it. And so that was part of the reason I moved to Seattle, and was doing consulting and kind of spread my wings out to LPL. And was trying to really understand where do I fit in. And a little bit kind of just stumbled into this, and basically decided that I'm just not going to worry about fitting into that kind of traditional financial services. And I'm going to offer what I want to offer and see where it gets me. I mean, I talk about it, and it feels like a big leap of faith. But I was also consulting and doing other stuff. So it wasn't like I jumped off a cliff. I've always had other stuff going on in the background to support myself.
The Advice Mindy Would Give Her Past Self And Younger, Newer Advisors [1:25:59]
Michael: So, what do you know now you wish you could go back and tell you 15-plus years ago, as you were starting down this path?
Mindy: I would probably tell myself to cut ties with Ameriprise faster. Just go do your own thing. Don't worry about what other people in financial services tell you. Because the more I've distanced myself from that, the more successful I've been.
Michael: And why do you think that is?
Mindy: Because I started listening to what consumers wanted, instead of what people in financial services thought I should be offering.
Michael: And what was the difference? Where was the gap?
Mindy: So, people in financial services think that the plan is incidental a lot of times to asset management or the product sale. And what consumers are saying is, "I need real help in making these major financial decisions in my life, that might have nothing to do with an account or an investment. Can you help me with that?" And yeah, so I will say that I'm having a...
Michael: It's the demand of advice for people who don't have investments or need to buy a product. They just literally need financial advice.
Mindy: Right.
Michael: Which most of the industry has always said, but you can't serve them profitably. And so, how do you respond to all the people that still say the model doesn't work without having some an investment or implementation opportunity?
Mindy: I mean, that's kind of the beauty of this. I don't have to convince anybody.
Michael: Fair enough.
Mindy: I can just keep doing my thing here, and hiring more CFPs, and building my little business. I think I only have one direct competitor in Seattle. And there's plenty of business for us.
Michael: As we noted, 3.5 million people. Not running out of clients anytime soon.
Mindy: Right. Exactly, exactly.
Michael: So, what advice would you give to younger, newer advisors looking to come into the industry today?
Mindy: I mean, I would love to say that I have some big picture vision-y thing to tell them. But I think one of the big things is, make sure you know what you want to get out of this. Because not everybody is an entrepreneur. And you don't have to be. Because there's plenty of ways to work in financial services as an employee and getting what you need out of it. But when I started in the industry, it was all marketing, get your clients, do all of this, and see who still was around in a year. And then understanding how to actually run a business. So, I think to a young person, there's a lot of elements there that, if you really care about the work, you don't necessarily need to be there. And so, I would encourage anybody that's thinking about this industry or getting started in this industry, to just be really clear what your core competencies are, and make sure that you're taking advantage of those, and not putting yourself in a situation that this stresses you out, or that maybe isn't a great fit for you to that point in your life.
Mindy's Plans For The Future [1:29:22]
Michael: So what comes next for you?
Mindy: Oh, I think life balance. Like I said, I've grown the business a lot in the past couple of years. I've never had a negative growth year, I've only had one flat year of growth. But most years are at least 10% growth. So, I would just personally like to feel like I have the infrastructure in the business now that I can do my thing, but then also free up... I always think about all of the potential fun projects that there could be. I would love to design personal finance software simulation for high school kids, or even have my own podcast, or even finally get content right on the website. Because I honestly think that my blog posts don't necessarily match my client base. So, there's so many little things that I could do, but I feel like next year is finally the time where maybe I have time to actually address some of this.
What Success Means To Mindy [1:30:27]
Michael: So this is a podcast about success. And one of the themes that always comes up is just the word success means different things to different people. And so, you've had this incredible journey for building a nearly million-dollar revenue practice with a model that a lot of people say doesn't work, notwithstanding the fact that you've built a million-dollar practice doing it. So the business is pretty objectively successful. How do you define success for yourself at this point?
Mindy: You know, I think it's a little bit of a moving target. Because I think as an entrepreneur, one of my definitions of success is stability. So, finally out of the years have crazy variable income and feast or famine. Like I said, success is a moving target, because like I said, you can't help but thinking about what's next. And I think success is the ability to be able to do that, move out of that survival mode and actually feel like you have enough equilibrium in your practice to look ahead and maybe not even know. Like I said, I don't even know what necessarily is next, I've got some ideas. But yeah, having that equilibrium, to me, is success.
Michael: Very cool. Very cool. Well, thank you so much, Mindy, for joining us on the "Financial Advisor Success" podcast.
Mindy: Yeah, it was my pleasure.