Executive Summary
Historically, financial advisors have worked with any and every client they could (or at least, any client who was interested in buying their company's products or could afford to pay their fees), and in turn, advisor websites (and other marketing collateral) were developed to be appealing to anyone and everyone. The caveat, though, is that in an increasingly competitive advisor landscape, it is more and more difficult for advisors to differentiate themselves amongst a sea of sameness, leading to an increasing focus on developing niches and specializations as a way to stand out and attract ideal clients. Except for advisory firms that have already built a broad-based "generalist" clientele, creating a more focused niche offering – and updating the advisor's website and other marketing materials accordingly – can make existing clients who may not fit the advisor's more specialized future question their own fit with the firm today. Which raises the question: how exactly can an advisory firm start to focus more on their niche specialization of the future, without alienating existing clients in the process?
The starting point of making a firm's marketing more niche-focused – without alienating existing clients – is simply to recognize how ineffective most generalist-based advisor marketing is today. Because in practice, most advisory firms struggle to get more than a few hundred visitors to their website each month, and even amongst those visitors, few get more than 1-2 prospects per month from their website (and many get none at all!). Which means, ironically, that by trying to avoid alienating any existing clients or prospects by being so broad-based, the firm is already losing out on most or all prospects who visit their website. By contrast, "just" having a message that connects with a mere 1% of prospects – with several hundred website visitors each month – could actually produce 3 qualified leads every month. Which means the approach doesn't alienate… it's actually a significant improvement from the status quo!
In the process of actually becoming more niche with an advisor's marketing, there are several factors to consider, depending primarily on the size of the existing firm, how many advisors it has, and how focused it already is (or not). For solo advisory firms, the reality is that once the founder/owner/advisor decides to go niche, that's all the buy-in it takes, and solo advisors who want to get started simply have to choose whether they want to rebuild their current website into their new niche, or alternatively create a "microsite" that is separate from their existing website, target that very specifically to their niche, and over time as their new niche grows, shift to make the new niche-focused site their primary business website over time (while keeping their existing website to avoid making existing clients feel alienated).
When it comes to larger multi-advisor firms going niche, though, determining a niche often requires consensus from multiple advisors willing to narrow their focus and excel in one area. If the multi-advisor firm can come to a consensus, the firm can begin to rebrand accordingly. More often, though, multi-advisor firms end out with multiple niches – rather than choosing just one – which requires the firm to adopt an approach more akin to regional law or accounting firms, which create "Practice Leaders" to lead each niche within the firm, and the firm's website then highlights its list of specialized "Practice Areas" (not just a list of all types of clients, but a menu of dedicated services each specifically crafted for a particular type of client, with a dedicated Practice Leader with specialized expertise to lead it). Alternatively, for firms that can't even decide or commit to a particular group of niches – or even whether to niche, because some advisors wish to and others don't – a multi-microsite approach is more effective, where each advisor specialization creates its own microsite targeted to its own clientele, as a standalone offering "Powered By" the parent firm.
Ultimately, the strategic shift of becoming niche is not an easy or simple one—gaining marketing momentum, experience, and trust takes time. However, transitioning into a niche can – and often is –accomplished incrementally anyway, precisely because it takes time to be known, liked, and trusted in a new area of specialization. And the framework of developing Practice Areas and/or microsites allows advisory firms to make the transition as gradually as they want or need to. Though ironically, the reality is that for firms that already serve their clients well, the risk of alienating existing clients with a new niche focus is low, as in practice it's more often the clients who are concerned about whether they will be rejected by the firm, and upon being told of the new niche focus, won't declare they're leaving and instead will simply ask "will we still be allowed to keep working together, too?"
The Niche Imperative – Getting Real About What's Already Not Working
According to the latest Kitces Research Report on Advisor Marketing, most financial advisors literally get less out of their websites than they put in, with the average revenue generated by their advisor website only $0.40 for every $1 of time and hard dollar cost expended on their website.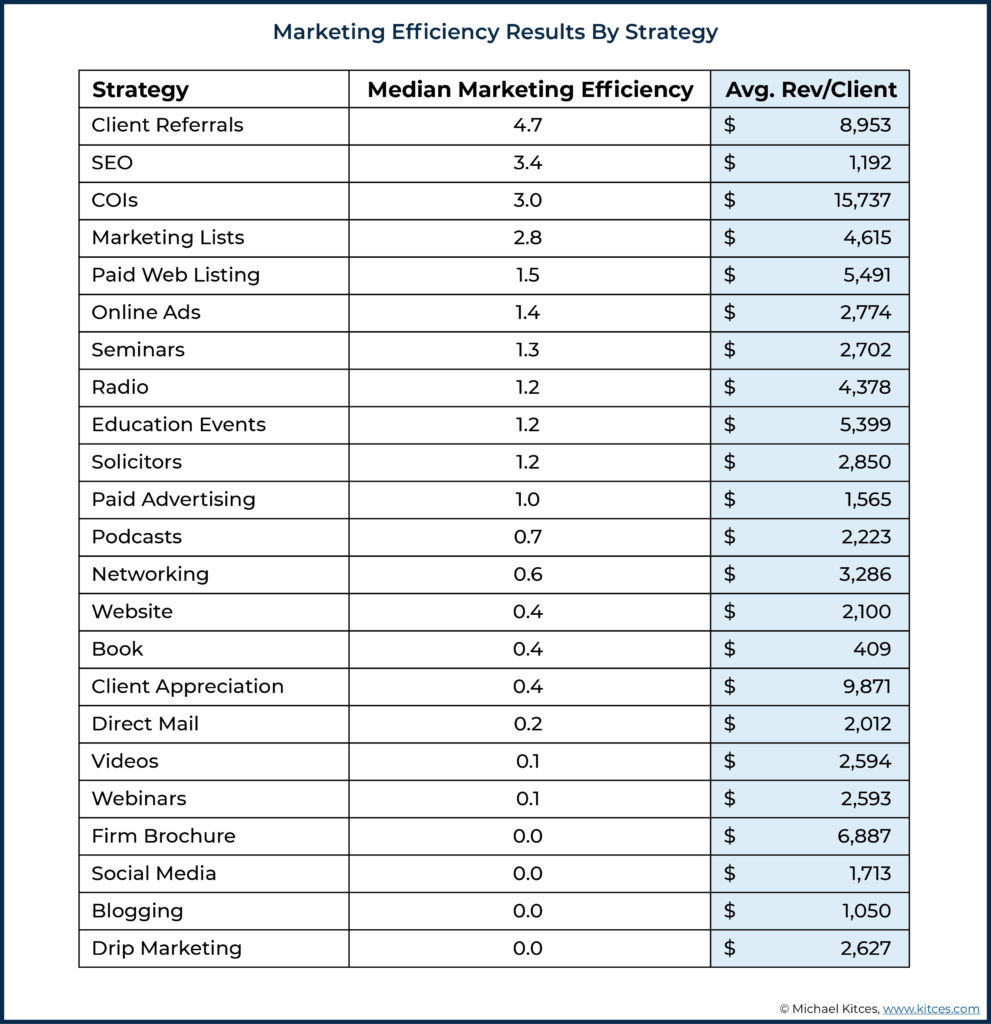 The issue, simply put, is that most financial advisor websites are not effectively converting visitors into prospects who ultimately become clients. As a result, even when advisor websites do generate some traffic – which Twenty Over Ten estimates to be an average of 300 visitors per month, for a 'typical' advisor website – at best, most advisors are lucky to generate a single prospect in any particular month who contacts them through their website. With the caveat that few financial advisors ever even realize how many people come to their website and don't reach out for an initial meeting (if only because not many have configured and regularly log into their advisor website to look at their metrics!).
Yet consider for a moment the equivalent outcome in an 'analog' marketing world. Imagine an advisory firm where a prospect opens the front door, walks in and looks around, nods silently to the person at the front desk, picks up the firm's marketing materials or brochure on the front table, browses the materials for a few minutes… and walks out without saying a word.
Then, imagine that this process repeats itself – where the prospect walks in, looks around, reads the firm's marketing materials, and walks out doing nothing – once every hour of the business day, every day of the week, every week of the month. That amounts to almost 300 visitors per month who take the time to visit your office, look around, learn a bit about what you do… and then walk away feeling unmotivated to take action.
And the same thing happens with the typical advisory firm website. Even for the advisory firm that does get a dozen prospects through the year – or 1 per month – it still amounts to only a 0.3% conversion rate, and 99.7% of visitors to the office who walk out the (virtual) door without taking action.
Now imagine, for a moment, what would happen if the firm stood up and shouted from the (virtual) rooftop that it was highly specialized and targeted to work with one particular type of client. Still irrelevant – even intentionally irrelevant – to the rest, but very focused on one type of client in particular.
Consider, for instance, the following two real-world advisor websites: Corcordia Wealth, and Integrated Planning & Wealth Management.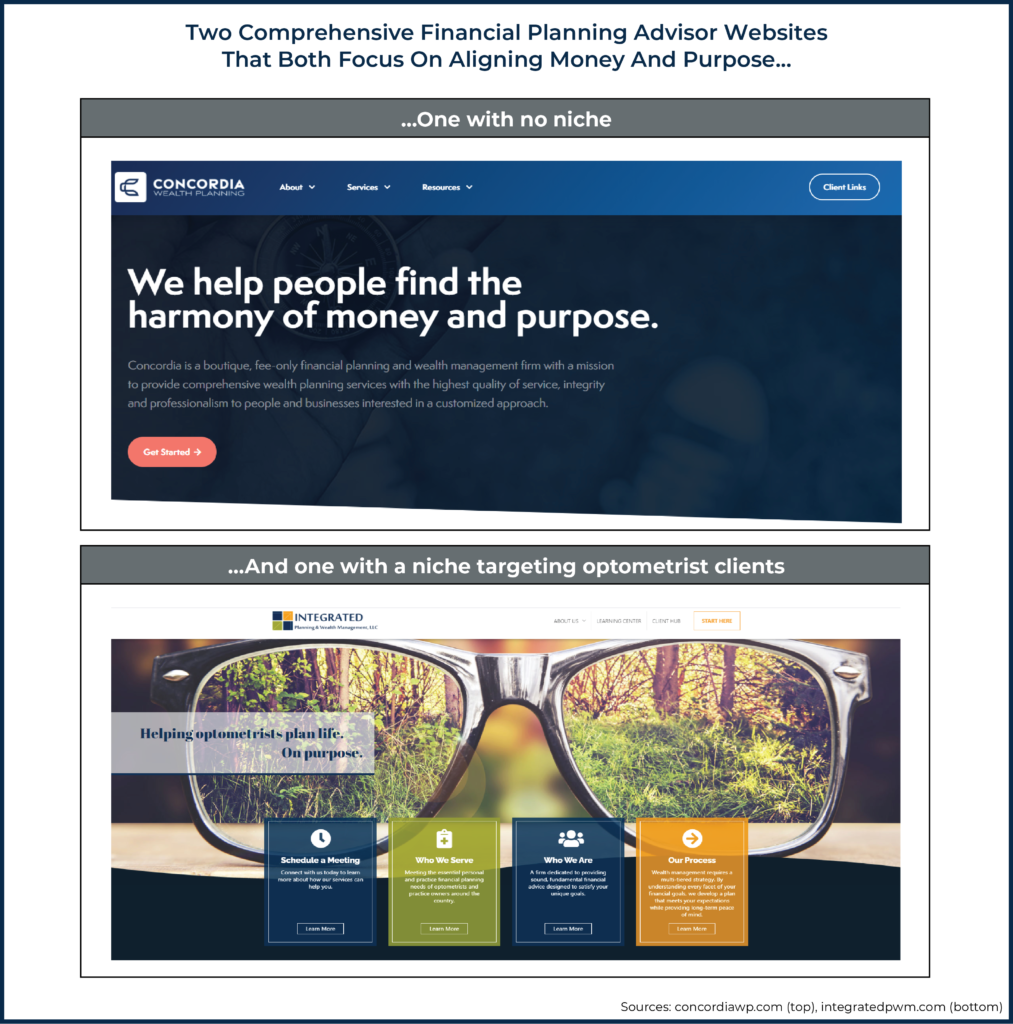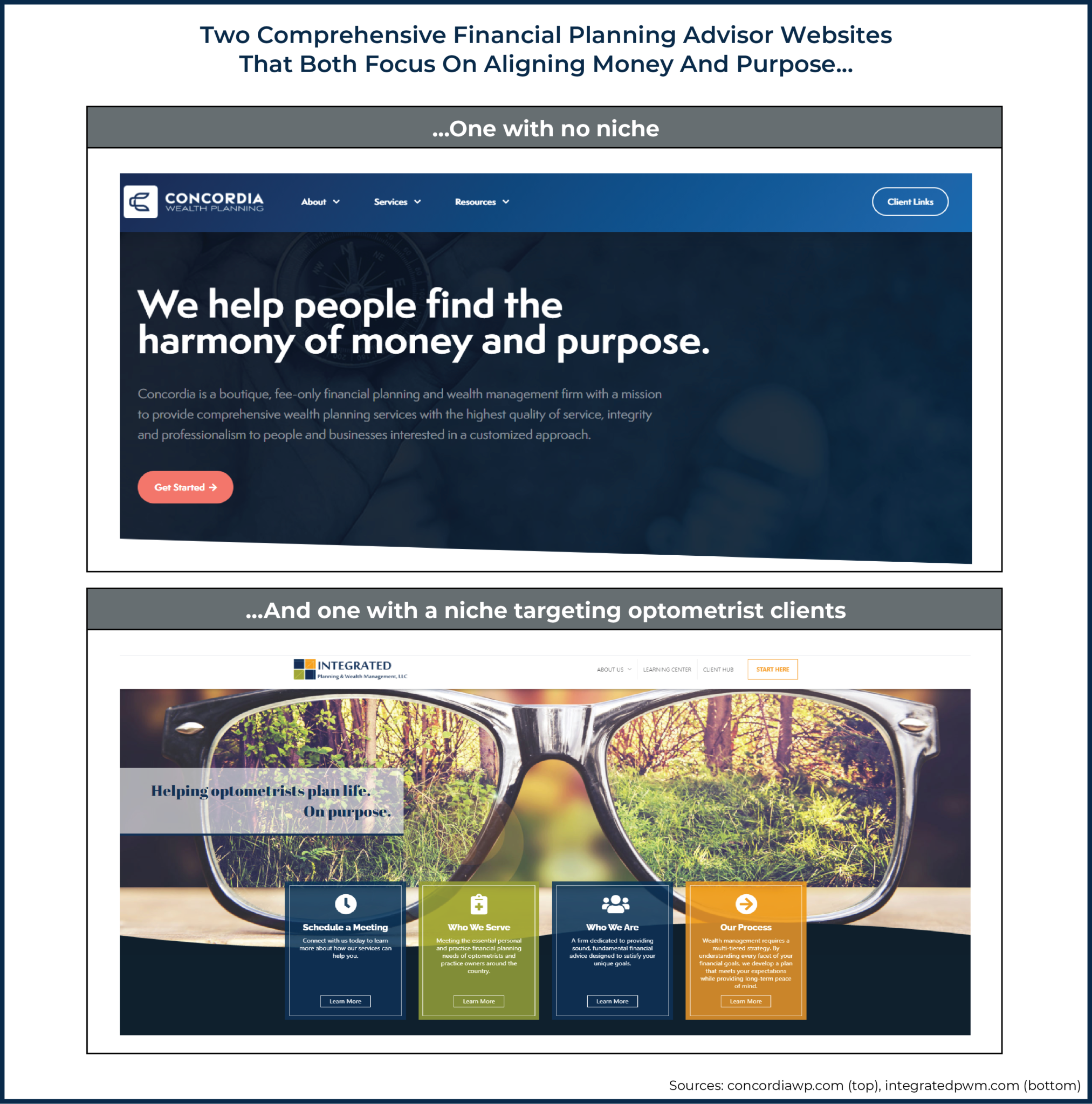 Both highlight advisory firms that provide comprehensive financial planning advice, with a particular focus on aligning money and purpose. But one stands up and specifically states that it does so for optometrists.
And so if you were an optometrist, in particular, looking for a financial advisor, which site would you reach out to? Which advisory firm feels most likely to understand your specific needs and concerns, and be able to truly tailor a customized, individualized approach that's most relevant and valuable to you as a busy optometrist? (Not to mention that if you were an optometrist searching for "financial advisor for optometrists", guess which advisor website comes up at the top of the organic Google search results, and which one doesn't show up at all?)
Of course, not all prospective clients are optometrists, and the astute advisor might note that Concordia may still have a compelling value proposition to all the other prospective clients. But now consider a dentist who is searching for a financial advisor instead. Could Concordia work with dentists? Absolutely. But for the dentist who searches for "financial advisor for dentists" – a clientele that Concordia could serve – what firm actually shows up in the search results? Dentist Advisors, with a message just for dentists, highlighting that they are uniquely specialized to serve the needs of (exclusively) dentists.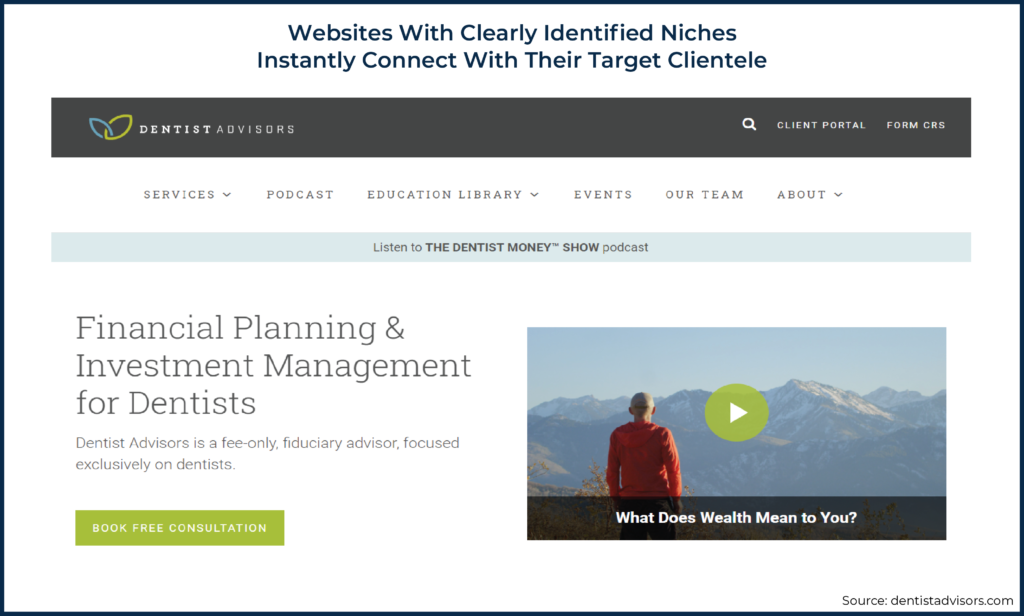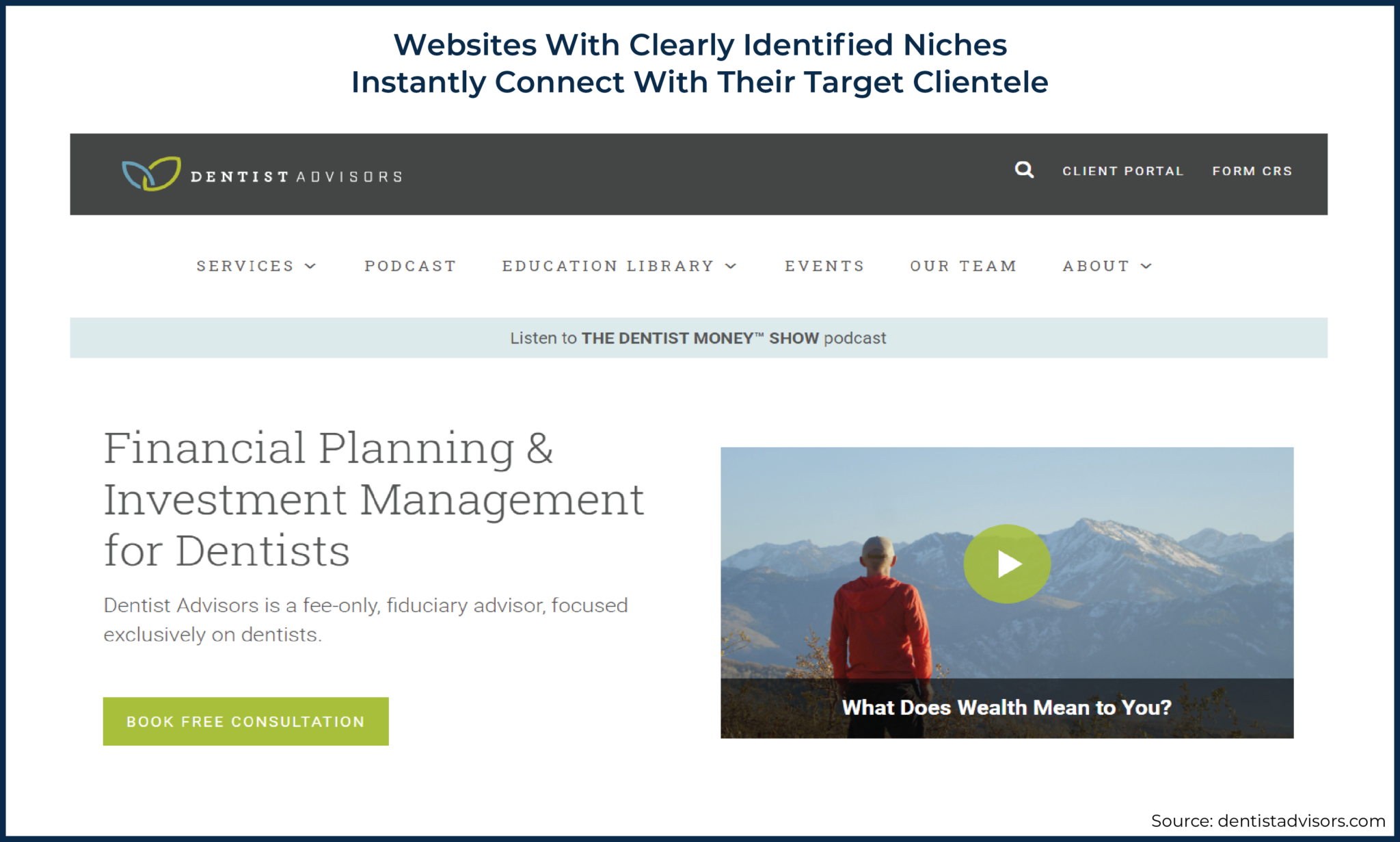 (Editor's Note: Lest anyone think we are randomly 'picking on' a particular advisor's website, Concordia Wealth submitted their financial advisor website for a makeover in our recent Members Section Office Hours, and received live feedback on how to optimize their website further. Which, in point of fact, does have a niche – for young physicians – which they will be elevating in their website design soon! ? )
And even for the prospective client who is a young physician, the fact that Concordia's website could serve young physicians – and anyone else, too, because it's not specific – means if a young physician is actually finding a few minutes in the hospital break room to search around for a prospective financial advisor who can help young physicians, they still won't likely find and connect with Concordia, but instead with WealthKeel, an advisory firm explicitly focused on the needs of young physicians!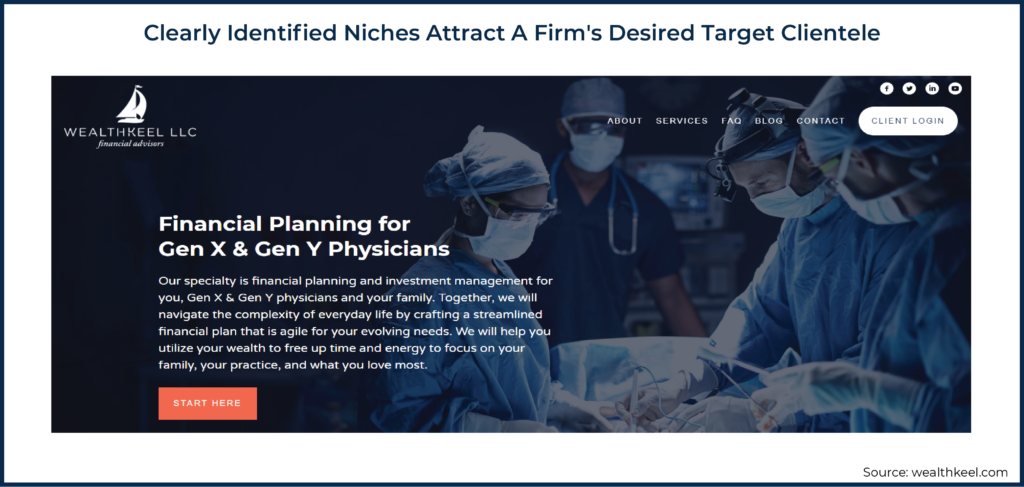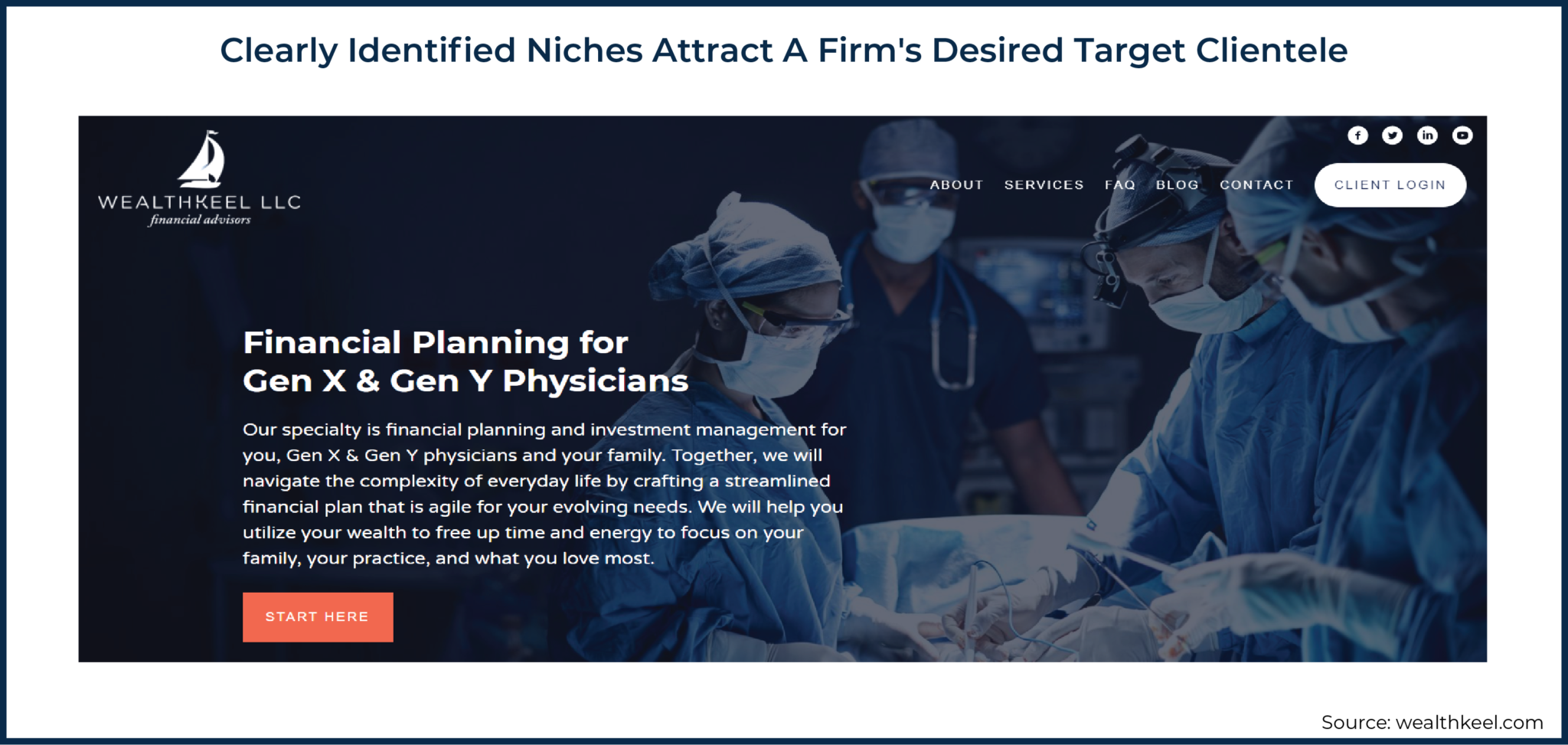 Which means in the end, while Concordia could work with optometrists, dentists, or young physicians, the fact that it does not specifically stand up and say it does means that any optometrist, dentist, or young physician seeking a financial advisor and scanning advisor websites is likely to end out with Integrated P&WM, Dentist Advisors, or WealthKeel instead. And the more 'generic' financial advisor website will be the one ending out with 300 visitors who mill around the front lobby for a few minutes and then leave without ever setting up a prospect meeting.
In fact, the irony is that, because most financial advisor websites have such a low rate of inquiries and converting visitors into prospective clients, a more focused "niche" website – that only converts 1% of those who come to visit the website and that fails to resonate with the other 99% – would actually be an improvement over results of a less focused 'general' website! Which is precisely the point. Because it's not actually about getting focused to turn away the other 99%. It's that a website that only repels 99% of visitors and attracts the other 1% would actually be a dramatic improvement for most. (If you don't believe me, load up your Google Analytics, see how many visitors come to your website in a particular month, count how many qualified prospects you've had that came from those website visitors, and do the math for yourself!)
Or stated more simply, the goal of having a more focused niche clientele isn't about alienating those who aren't a good fit… because the reality is that they're already not signing up to do business, even if they could be a good fit, as they're instead even more likely attracted to another advisor's more focused website instead. Instead, the goal is simply about trying to ensure that at least some small segment of those visitors who come to the website definitely do take the next step forward in engaging the financial advisor (with a feeling that the firm is truly unique in providing individualized customized services for people just like them).
Which still raises the question, though: how, exactly, does a firm make the shift from a generalized advisor website to a more specific niche focus, without alienating the firm's existing clients (and whatever limited-but-not-zero flow of prospects the firm may still be getting already)?
3 Strategies For Converting An Existing Advisory Firm Into A More Specialized Niche
From a practical perspective, the process of converting an existing advisory firm into a more specialized niche offering depends on the size and scope of the firm's existing clientele, and, more importantly, its existing advisor(s) or firm owner(s).
Because there's a big difference between an individual advisor and firm owner deciding to change the focus of their advisory practice, and a larger ship (e.g., a multi-advisor ensemble firm) trying to make the same turn.
Individual Advisors Pivoting From Generalist To Specialist
For individual financial advisors, the reality is that the hardest part of converting into a more focused niche is selecting which type of clientele to focus on. Which ultimately is beyond the scope of this discussion, though advisors still stuck should delve further into the 6 types of advisor niches and how to go about selecting a niche based on their existing clientele and personal network.
Once a new specialization is chosen – most commonly in a direction where the advisor already has some personal connection or affinity, or a segment of existing clients – the most straightforward approach is simply to re-design the advisor's website to speak to that new target clientele.
As again, if the reality is that the firm is getting more focused because it's not growing at the pace it currently desires to grow – because there are few to no prospective clients coming through its website and other marketing channels – then there's actually little to lose by simply re-focusing the website on the intended new clientele. Or stated more simply, if the advisor's conversion rate of digital prospects is already near (or at) 0%, there really aren't prospects left to alienate. The only path is up!
Instead, the biggest issue for an individual advisor converting from a generalist to a specialist focus is communicating with existing clients about the change. Because clients will not only likely notice the change at some point, but ideally the advisor should proactively communicate the change to them – clients and their referrals, after all, are still one of the most effective marketing channels! – so clients understand who is a good referral (or not) with the advisor's newfound focus.
Yet the irony is that while most financial advisors fear that communicating a new niche focus will alienate their existing clients, the truth is that when such a change occurs, it's usually the clients who are afraid they're going to be terminated by their advisor! In other words, when the financial advisor says "We're taking on a new focus for our firm, and have determined that going forward, we are most effective at serving the needs of doctors looking to facilitate a succession plan and exit their practice to retirement", the typical client doesn't think "Oh, well, then this advisor I've been working with for the past 5 years is no longer able to service my needs"… instead, they think "Oh, well, then I guess I'm going to have to start looking for a new financial advisor because it sounds like my current advisor is about to terminate our relationship since I'm not a doctor getting ready to retire!"
To which the remarkably simple solution to avoid alienating clients is simply to tell them that you are still committed to working with them as an existing client!
Because in the end, if the client has already been working with the firm for several years, they likely already are a satisfied client who feels well served. And there's no particular requirement to stop serving them well. Converting from a generalist to a specialist is about improving growth for the firm's new clients. If the firm also wants and intends to continue serving its existing clients, just say so.
Mr. and Mrs. Client,

I've greatly enjoyed working with you over the past 4 years and value our relationship together.

Because of that, I wanted to let you know that we are in the process of expanding our business to serve even more clients up to the standards that you have become accustomed to. And in doing so, we've decided that, going forward, we're going to take a particular focus on doctors that are looking to facilitate a succession plan, retire out of their independent medical practices, and figure out what's next in retirement.

However, as a couple we've already been working with in retirement for the past 4 years, you will continue to receive our full commitment to serving your needs as an ongoing client, and you don't need to anticipate or worry about any change in the quality of service you receive. In the coming years, as we become better known in the medical community, we are prepared to expand the team to serve a growing number of clients up to the same standards you already receive.

I look forward to continuing to work with you. And if you know any doctors who are preparing to make their own unique retirement transition out of a medical practice – with all the complications that come along with facilitating a succession plan, transitioning their patients, and harvesting the value of what they've built – I hope you'll take a moment to introduce us, and give our growing team the opportunity to serve them as well as we've served you!
From Generalist To Specialist For Individual Advisors With An Existing Flow Of New (Generalist) Clients
When it comes to many (or even most) financial advisors who might make the transition from generalist to specialist, often the driver is a lack of existing growth. Which, in the end, makes it easier to transition and re-brand/re-focus the advisory firm's marketing to a new clientele. Because there isn't much to lose from the firm's existing marketing presence that wasn't generating the desired results, anyway. Unless, of course, it is generating some positive results already!
In the case of individual advisors who do have some existing flow of new clientele – that they don't necessarily want to tamp off by substantively changing their existing marketing and branding – the most straightforward solution is to create a microsite.
In essence, a microsite is simply a second website, typically operated as an extension of a primary business website, that is smaller and narrower and intended for one specific purpose (e.g., one particular target clientele). This creates a framework for an existing advisor firm with an ongoing flow of prospective clients to keep their current website and develop a new website that is more directly targeted at the firm's (new) target clientele.
For instance, while maintaining the firm's primary/existing website, a second microsite might be created on a separate domain – e.g., "SmithFinancialPlanning.com" could also create a "PlanningForYoungDoctors.com" microsite. The language on the new website would speak explicitly to the intended target audience (in this case, young doctors), with content that is relevant for young doctors, examples of the firm's expertise that is specific for young doctors, and an appropriate call-to-action (from "Sign up for our mailing list" to "Schedule an introductory appointment now") targeted to young doctors. For those who want more information about the firm (beyond the microsite targeted specifically for young doctors), it may explain that "PlanningForYoungDoctors.com is brought to you by SmithFinancialPlanning.com"… with a link back to the firm's main website.
The point of creating a microsite is not to split a prospect's attention across two websites or to market to them simultaneously from more than one site, or necessarily to have an entirely separate brand and business registration (in practice it may be structured as a DBA, or may simply note that it is a service offered by <firmname>, but communicated via the standalone microsite).
The goal is simply to have a standalone (micro-)site that is clearly, specifically, intentionally targeted to the exact niche clientele that the advisory firm wishes to specialize in going forward, in the same manner as it will likely do in the long run by rebranding the entire firm to focus into its new niche. But doing so in a manner that, at least for the time being, also allows the firm to maintain its existing website presence (and existing flow of prospects through that website).
Going forward, any young-doctor-related marketing will go to the new microsite, and existing prospects and referrals for the existing firm will continue to go to the existing website that remains undisturbed. And when the niche grows successful enough, either the main firm website can be updated to mirror the microsite (which can be consolidated in at that point), or alternatively, the microsite may eventually become the main site with the firm's new brand and focus, while the original site is eventually wound down when it's no longer driving the majority of the growth and new prospects.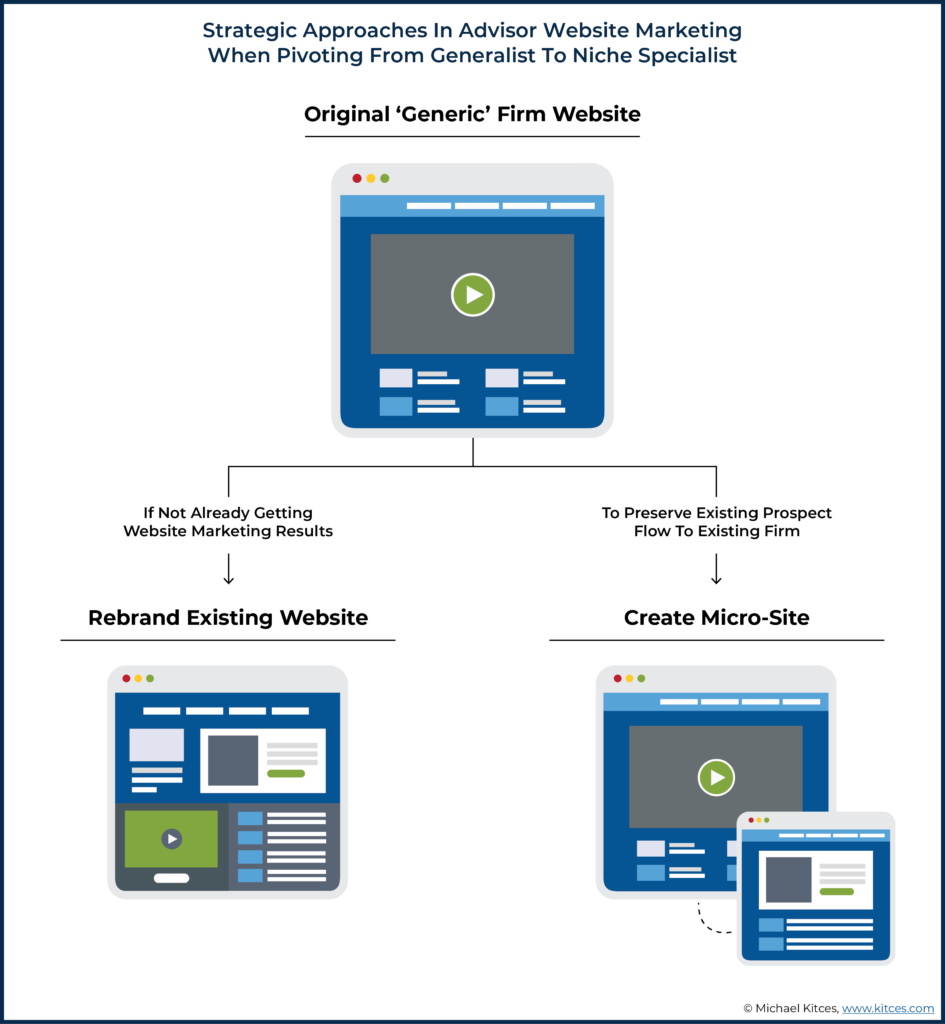 Getting More Specialized With A Multi-Advisor Firm Of Generalists
When an advisory firm is operated by an individual advisor who is making the shift from a generalist to a specialist, then for better or worse, success is simply defined by that advisor's ability to select a particular target clientele to pursue, and then taking the steps to pursue them (either by pivoting their entire advisory firm's marketing or by creating a microsite that may grow into the main site over time).
In the case of a multi-advisor firm, though, the process can be exponentially more complex, because there may not even be agreement about whether it's even necessary to make a change from generalist to specialist in the first place, and especially not when it comes to the particular type of target clientele to pursue.
For multi-advisor firms that cannot come to a consensus about choosing "just 1" niche or specialization to pursue, the key is to implement a strategy that can accommodate multiple niches under a single umbrella.
The Family-Of-Specialists Approach To Multi-Advisor Niching
The challenge of figuring out how to take a professional services firm that has multiple experts who each have their own expertise for a particular target market isn't unique to financial advisors. It is a commonplace occurrence in the world of professional services firms like lawyers and accountants. Which in turn provides a guidepost on how to strategically tackle the one-firm-multiple-niches approach.
For instance, Paley Rothman is a Washington DC-area "regional" law firm with more than 40 attorneys. On the firm's homepage, it highlights "The Paley Perspective", an explanation of the law firm's overall philosophy in approaching legal issues and representing its clients across a wide range of legal matters.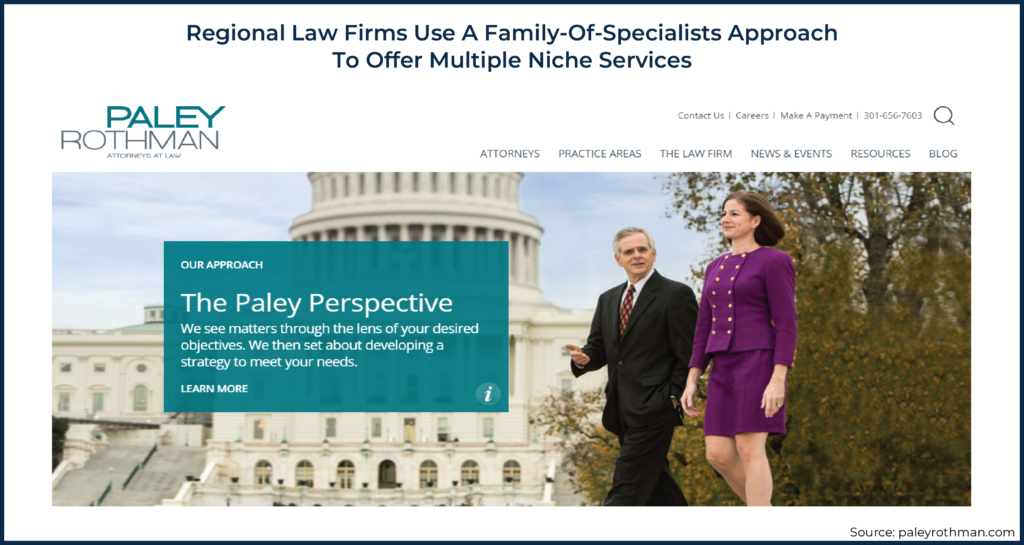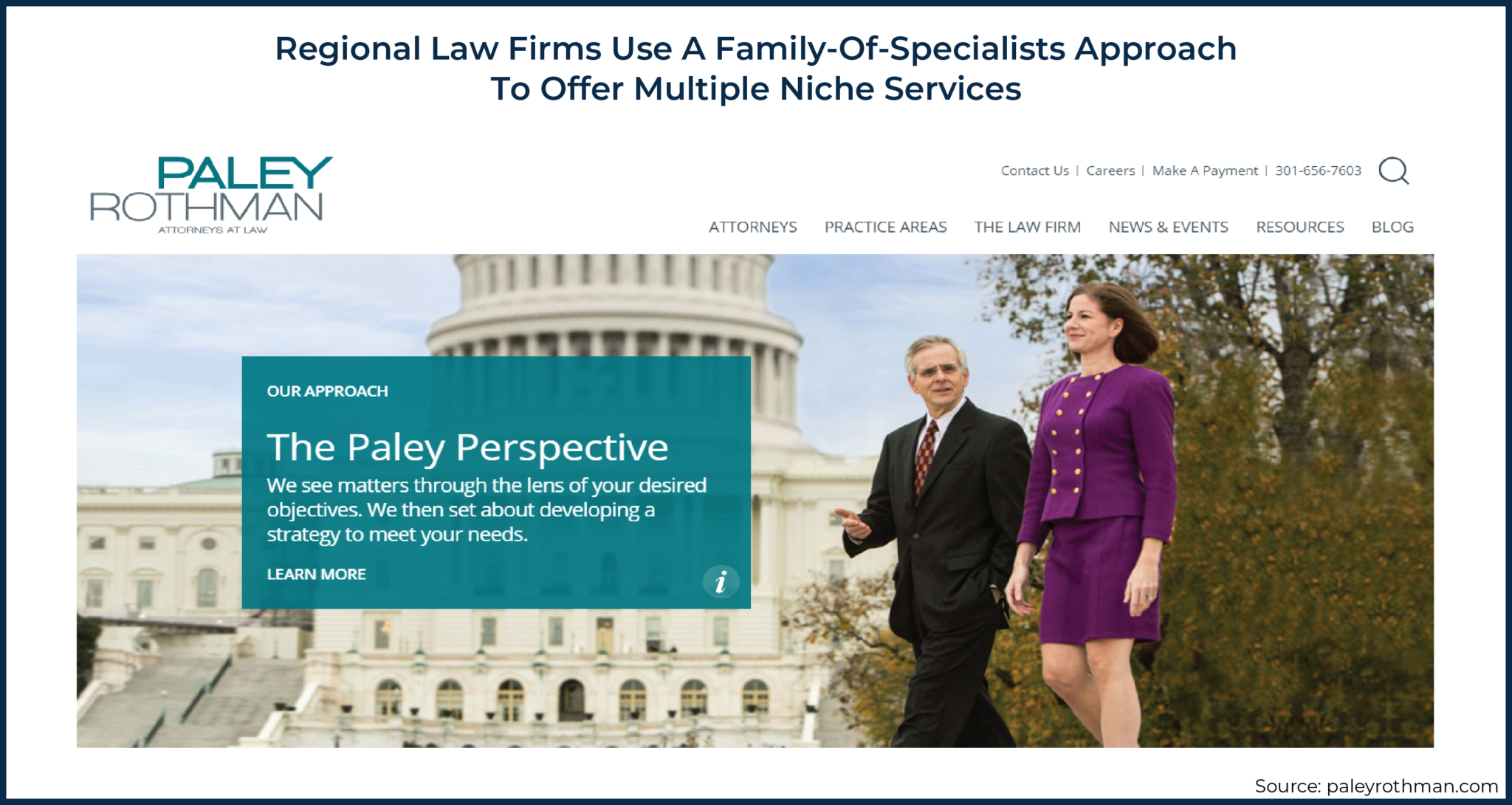 Within Paley Rothman, though, are a series of "Practice Areas" representing a variety of different specializations that the firm has in representing a variety of different clients with particular needs. In practice, Paley Rothman has attorneys specializing in everything from Estates & Trusts (for advanced estate planning and settling the estates of high-net-worth clients) to Family Law (for those going through a divorce), Employment Law (for businesses that get into hot water with their hiring and firing practices) to Non-Profits (and all the sticky technical issues that arise in maintaining non-profit status). Or stated more simply: Paley Rothman is a single law firm with more than 40 attorneys who span more than 20 different niches!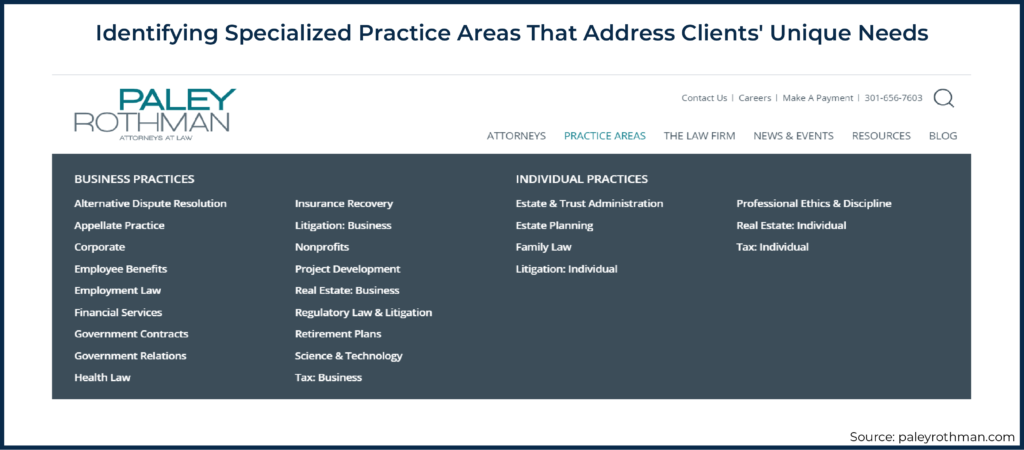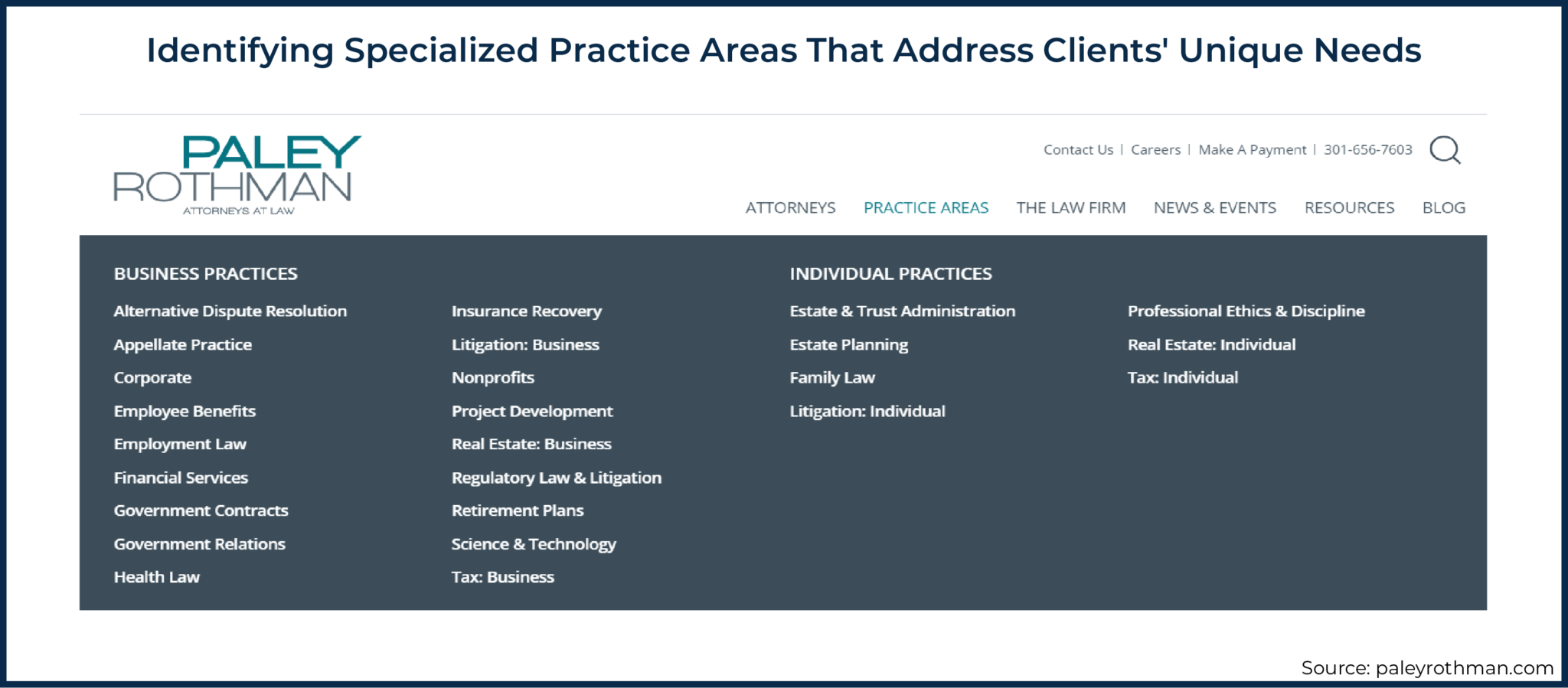 Prospective clients of a particular niche type with a particular specialized need – for instance, a high-net-worth beneficiary who needs assistance litigating against a trustee who is misusing their trust assets – can easily navigate to the firm's Practice Area (i.e., niche specialization), and find more information about the firm's specialized services in that area, and the expert(s) who lead that niche under the broader Paley Rothman umbrella.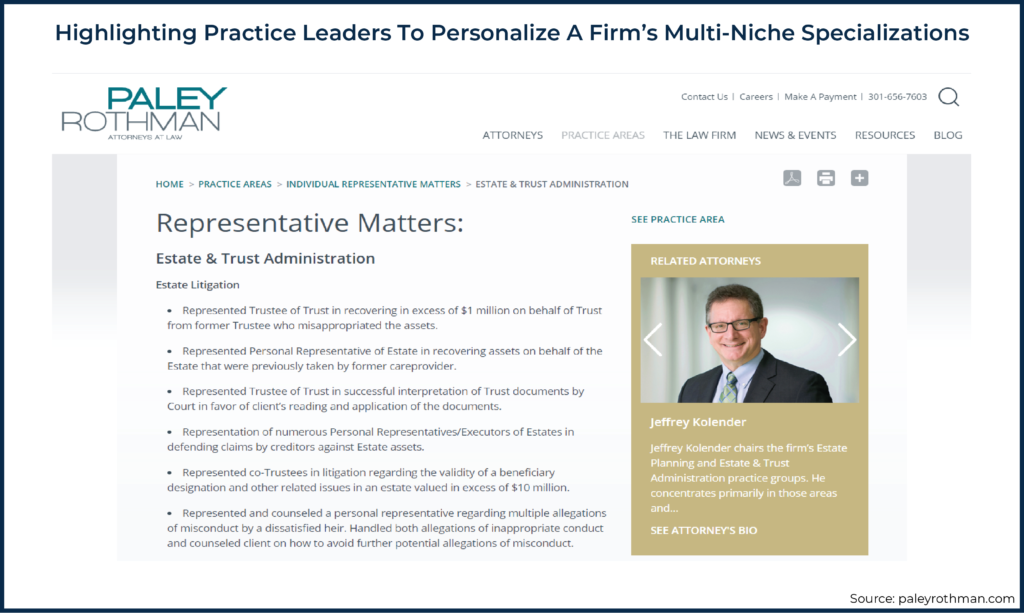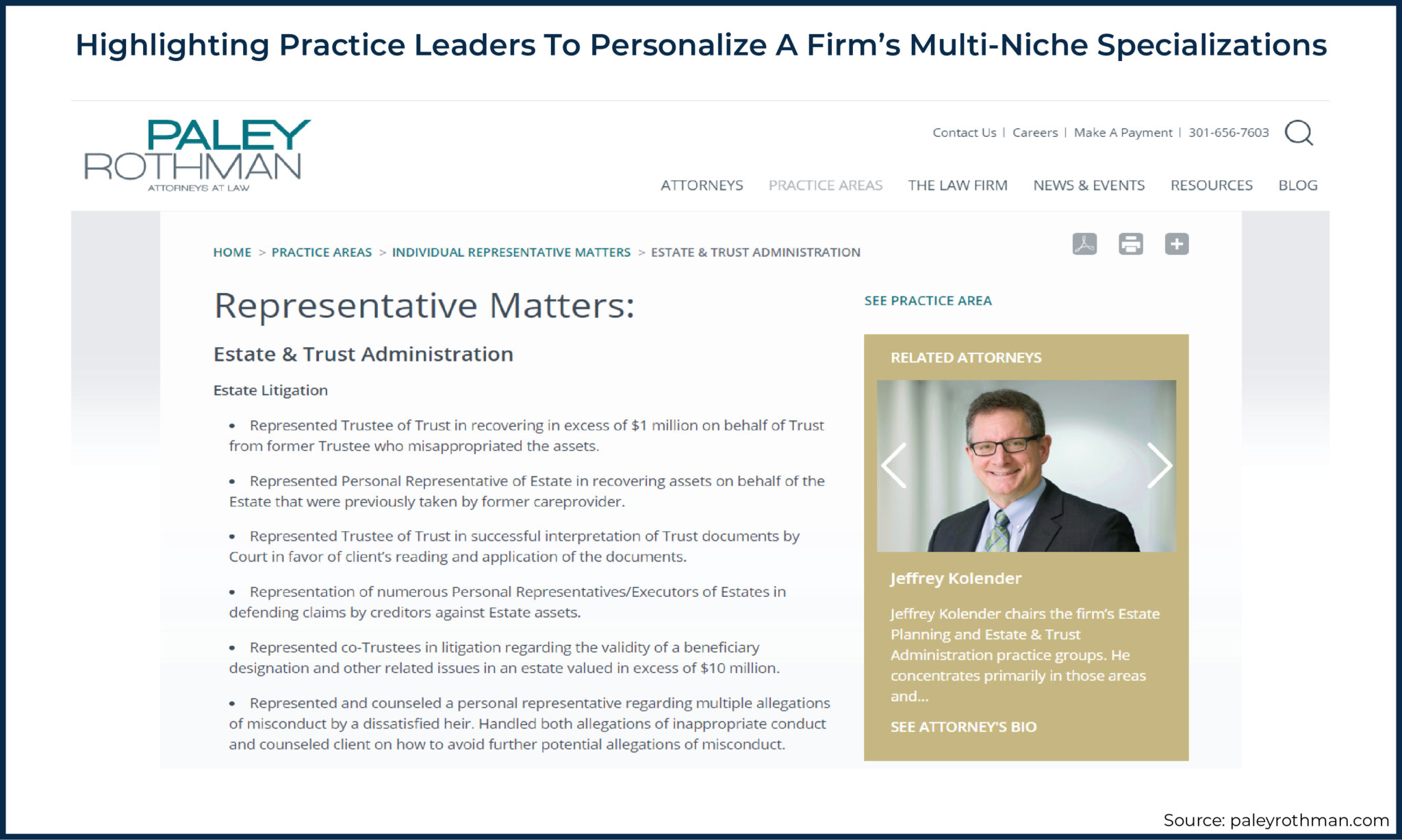 In essence, the strategic approach of regional law (and accounting) firms is to brand a 'parent company' that drives overall awareness of the firm and the depth and breadth of its expertise. And then the firm's website highlights the members of its "Family Of Specialists" under that umbrella, each of whom has their particular Practice Area (i.e., niche or specialization) in which they focus. And each Practice Area then has its own marketing – a microsite within the main website – that still highlights that particular niche service, its ideal clientele, what it does for them, and who the experts are that will deliver those specialized services.
From a growth perspective, the Family-Of-Specialists strategy allows the parent firm to build its regional brand as a place where consumers can find a wide range of deep specialists to meet their needs. And in practice, this approach often forms 'clusters' of specialist services that interrelate and can generate cross-referrals (such as an Estate Planning specialization in a firm that also has a Trust Administration specialization, a Family Law specialization, and an Individual Tax specialization, allowing it to provide a wide range of related services to a particular high-net-worth client or family). But at the same time, the specialists within each Practice Area can also build out their own niche presence by marketing their specialized expertise (under the umbrella of a regional firm that conveys an additional level of credibility).
Building Specialty Brands Powered By Shared Services For Siloed Advisors
For many 'mid-sized' financial advisory firms, the reality is that the firm isn't large enough, and doesn't have sufficient marketing resources, to build a 'regionally known' brand to house its family of specialists. After all, even a 'regional' law or accounting firm is often comprised of 30-50+ professionals.
In an advisory firm context, a 30+ advisor firm would be a multi-billion AUM firm, and there are only a few hundred wealth management firms in the country at that size (amongst tens of thousands of advisory firms in total). Most advisory firms simply aren't large enough to build and market a strong regional brand.
In addition, the reality is that within existing advisory firms, it's often difficult even to get alignment around whether the firm should be more specialized in the first place, given that many advisors already have practices and a client base established enough that they don't need to change (because they don't actually need to grow much beyond where they are today!).
And in many cases, multi-advisor firms don't really operate as a shared-vision 'ensemble' practice, but instead are really just a cost-sharing arrangement with individual advisors operating in 'silos' but sharing centralized resources (e.g., splitting the cost of renting office space and shared trading and client service support staff). Which means they may not even want to build a centralized brand and operate as a family of specialists under that brand (as, in the end, they really want to maintain their own separate brands for their services to their client base).
In such situations – whether the firm can't build a regional brand, can't agree on how to pivot towards building a bigger regional brand, or are actually still too independent to align around the strategy to build a regional brand – the alternative strategy is to build out separate more specialized brands more intentionally… that may all be 'powered by' the shared firm and resources.
In other words, siloed advisors who are not ready to build a shared brand of sub-specialties can (and should) begin to build their own microsites, featuring their own specialty brands, instead. Similar to the microsite approach of the individual advisor who doesn't want to eschew their existing firm and brand, the microsite approach for the multi-advisor firm would entail each advisor – or at least, each advisor who wants to build towards a more niche focus – creating their own microsite to highlight their specialized services to their more targeted clientele. While still acknowledging and recognizing that their offering is 'powered by' their (shared) advisory firm.
Notably, in the multi-advisor context, it's entirely possible that the firm will end out creating multiple different microsites for each advisor's Practice Area (unlike the microsite approach for an individual advisor, which typically just entails a single microsite to highlight services to their 'new' niche while maintaining their existing firm website for their existing prospect flow). This allows each advisor to better focus the messaging of their emerging niche and speak to their target clientele. At the same time, they won't run the risk of undermining any generalist marketing of the existing company brand (e.g., if the firm has existing Center-Of-Influence relationships or other referral sources), conflicting with other advisors at the firm that may wish to stay generalists, or undermining each other's messaging, if multiple advisors are all starting to build towards their own respective niche specializations.
A key distinction with siloed advisors building out specialty brand microsites – as opposed to the "Family-Of-Specialists" approach – is that with a Family Of Specialists, the centralized brand of the company is still anticipated to drive overall awareness of all the firm's specialists and their particular areas of specialization (and the clients who may be served by them). While the Specialty Brands approach used by siloed advisors builds independent microsites because the marketing impetus of the firm is expected to build primarily with each of the Specialty Brands directly – with marketing and messaging targeted to their ideal clients – while the firm's main website continues to exist in parallel for its existing marketing/referral channels (but is not where individual advisors necessarily focus their own time and effort going forward).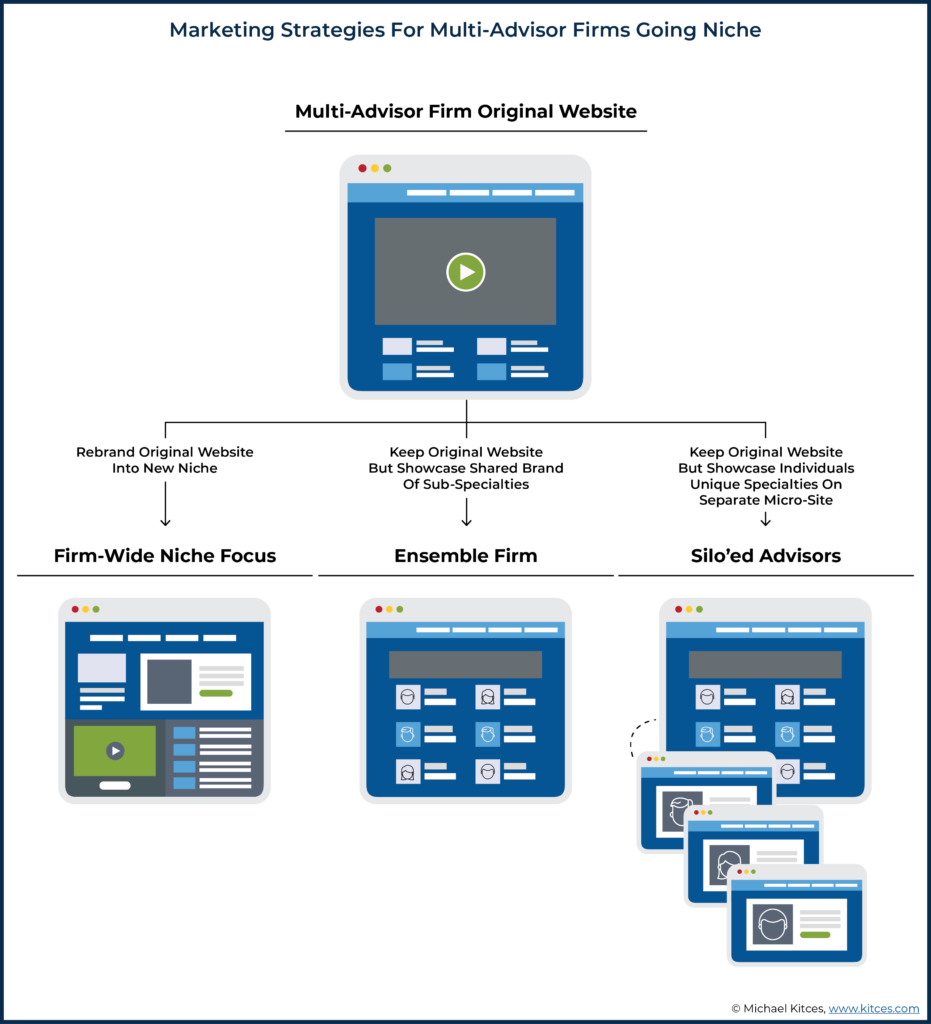 Making The Strategic Shift From Generalist To Niche By Identifying Lead Specialists
For advisory firms that have decided they're ready to make the transition from generalist to niche, and that have gone through the process of learning the different types of niches, selecting a particular niche to pursue, and formulating a marketing plan to reach that particular target clientele, the question remains of how exactly to get from here to there when the firm as it exists today has non-niche marketing for a non-niche clientele. The first step forward is to choose the strategic approach itself.
For a solo advisor, the driving question is whether the firm currently has any organic marketing processes already in place that are driving a material number of leads and prospects through the firm's existing website.
If the answer is "yes", then a microsite approach as an extension of the firm's main website may be preferred. If the answer is "no", then the reality is that there's really nothing to lose by simply redesigning the existing website to speak more directly to the type of clientele the firm hopes to begin attracting more effectively in the future.
In the case of a multi-advisor firm, the core questions are 1) can the advisors of the firm come together to agree on a shared focus; 2) if not, do they still want to (and can they) invest sufficiently in creating a shared vision? If the answer to the first is "yes", the firm will have a single firm-wide niche to build around. If the answer to the first is "no" but the second is "yes", the firm will build a "Family Of Specialists" approach. If the answer to both questions is "no", the firm is operating as a series of silos, and should begin to build out specialty brands as microsites for whichever advisor(s) want to take a more niche-oriented focus.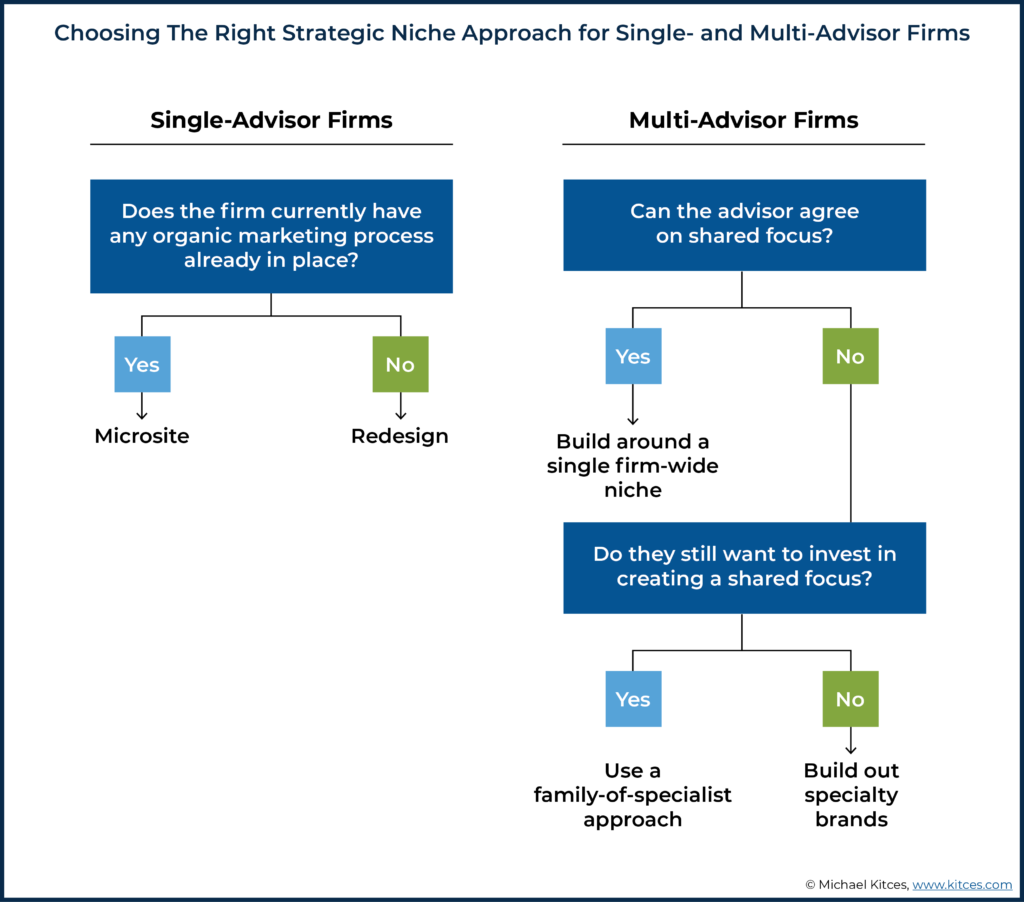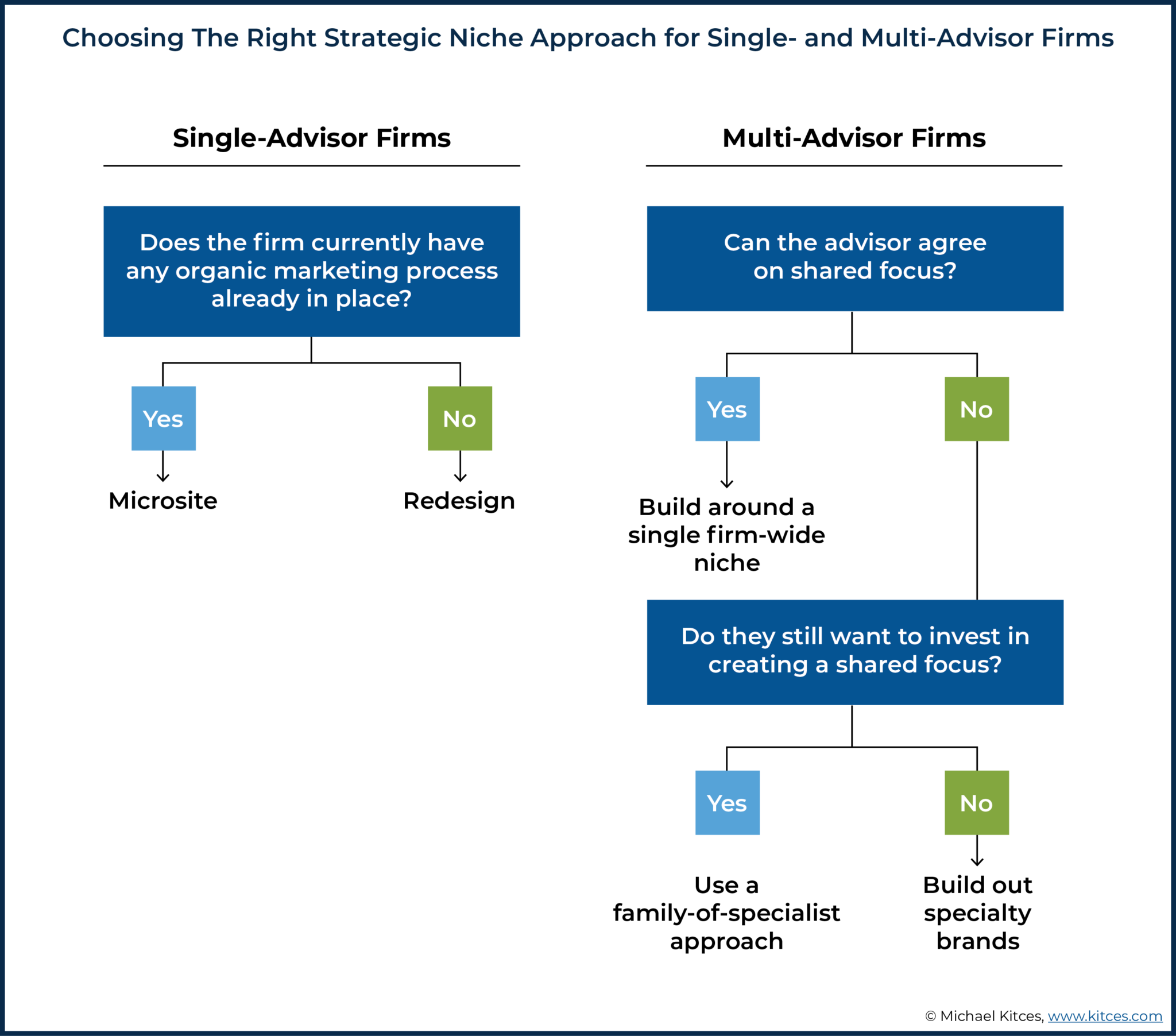 After choosing the strategic approach to the transition, the next key step is to identify who the 'Practice Leader(s)' will be – the advisor(s) who will actually lead the niche services and expertise of the firm (to adopt the label of law and accounting firms with multiple niche specialties). As in the end, someone has to become the expert in serving the needs of a particular target clientele – or in the case of a multi-advisor firm that operates as a Family Of Specialists with a series of Brand Specialties, multiple someones have to be ready to take the lead in each area of specialized practice.
Beyond just having someone to be 'the expert' in the firm's area(s) of specialization, having a clear Practice Leader is important because that individual must also have the willingness and capacity to take on more clients (in the niche), and/or a willingness and capacity to expand the advisor's team in order to do so. Otherwise, the firm transitioning into a niche for growth won't succeed, for the simple reason that the firm isn't prepared to grow in the area it's specializing in for growth!
In fact, when it comes to multi-advisor firms, in particular, one of the primary reasons a firm ends out operating as a series of siloed advisors (who build specialty brand microsites) is precisely because the firm doesn't have individuals who are ready, willing, and able to step into the role of being Practice Leaders to drive the growth of a particular niche focus.
Notably, becoming a Practice Leader doesn't necessarily require already having the expertise of the niche, as depending on the niche there are numerous post-CFP designations to form deeper specializations, and/or emerging Practice Leaders can go through the process of identifying and learning about the needs of the prospective niche they will serve. But again, in the end, a niche growth strategy only works if the firm has a leader (or leaders) who are prepared to do what it takes to grow.
The last step in the strategic transition from generalist to niche specialist is to allocate the resources that it takes to be successful in the transition – given what will typically involve either a redesign of the firm's website or the development of new microsites, along with the associated development or redesign of the firm's other marketing collateral… and then a subsequent investment into the marketing of the new specialization.
It's crucial to remember, though, that consumers don't suddenly flock to a specialist because, one day, the specialist suddenly stands up and declares that they're a specialist. It often takes 3 years for a new niche to really gain marketing momentum, which means, on the one hand, that it's crucial to at least get started – sooner rather than later – to begin the process (just as the prospective accumulator savings for retirement makes far more headway by starting with just a little at age 25, rather than waiting until age 35 to begin).
But, on the other hand, it also means that advisory firms have to be cautious not to over-resource how much they invest into a new specialized niche marketing strategy all at once. Even for a firm that has an existing client base and COI and other relationships to market to, it still takes time to be known, liked, and trusted in a new specialization, for which money and resources can only go so far to accelerate the process. Successful niche marketing plans are laid out over months and years, not days and weeks.
And of course, when it's time to make the change, it's important to communicate the change. Internally, the advisory firm's team needs to be clear on what the strategy is and who the firm's new ideal client(s) are. Practice Leaders need to be prepared to drive their specialty and become the leader/face of that niche for the firm (as the firm leader, as part of the family of specialists, or as a specialty brand). And externally, it's crucial to communicate to clients the firm's new focus.
But again, it's equally important to remember that when existing clients hear about the firm's new niche focus… it's not about the firm, it's about the client. The question of the client is not "Who is your firm working with now, and why?" It's "Does this mean we can't work together anymore because your new focus is with a different type of clientele?"
So if the answer is "Yes, we can still work together", address that with the client upfront and alleviate their concerns. Once it's clear that they will be staying on board… then it's time to tell them about the new ways you'll be able to help the very specific people that your niche(s) can serve who they might know and can refer! ?