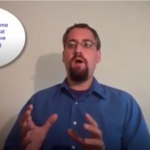 For most of the past several decades, getting started as a financial advisor meant "smiling and dialing", reading cold-calling scripts while sitting in a cubicle, trying to convince the person on the other end of the phone to buy something. The bad news is that cold calling was a brutal numbers game full of rejection. The "good" news was that at least young advisors didn't have to worry about age bias from their prospects, who couldn't see them and had no idea how old they were. But as financial advisors shift to actually giving face-to-face financial advice – and with the rise of the Do Not Call list – it has become an even greater challenge for young financial advisors to get credibility with prospective clients and overcome (young advisor) age bias.
And so in this week's #OfficeHours with @MichaelKitces, my Tuesday 1PM EST broadcast via Periscope, we look at the steps that young advisors can take to overcome the inevitable age bias they will face in meeting with prospects and clients, particularly as the advisory industry increasing focuses on Baby Boomers (who in many cases are old enough to be a new advisor's parent or even grandparent!).
The first key to success is simply building confidence as a young financial advisor. Because if you're not confident that you can deliver value to your (older) clients, they won't be confident in you, either. For some, it might be enough to "fake it until you make it". For others, it's necessary to get certifications like the CFP marks, or even additional post-CFP designations, to really establish their credibility and find their confidence.
Second, recognize the impact of first impressions… and the ability you have to control it. How you dress, and the impression it gives, is something you can control. As is the way you communicate with clients by telephone or email before you meet with them. While you can't eliminate the fact that you're young, you can at least give the impression that you're an especially competency and well put together young man or woman!
Third, consider taking classes to build your skills of active listening and empathy. Because the truth is that clients won't really trust you, until they truly feel that they're being heard and understood. Doing that well is a skill that takes time and effort to develop.
But the bottom line is that if you're a young financial advisor struggling with age bias, it doesn't have to be crippling. Find what it takes for you to be confident in yourself, and do your best to manage the first impression that prospects and clients form of you… and if necessary, ask your mentors and senior financial advisors to support you and your credibility in front of clients as well!