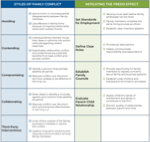 In the movie The Godfather, Michael Corleone, the youngest of three sons, is chosen as successor of the New York mafia family throne, after his eldest brother is slain and over his older brother Fredo. While tradition generally designates the eldest child as successor in most family businesses, Fredo Corleone, less intelligent and weaker in character than his younger brother Michael, is superseded by Michael. The incendiary family dynamics that ensue, sparked by Fredo's anger and resentment toward his own family, end with betrayal and in the tragic demise of Fredo himself.
In real-life family businesses, similar dynamics (though typically not as grave) can arise in which children may get overlooked for leadership positions or roles of successorship because of their lack of experience or skill. And yet, business-owner parents often feel obligated to 'take care of' their children, and sometimes end up giving them inconsequential roles in the business because they want them to at least still be involved (which can sometimes also include a disparately high level of compensation because they want to provide what they can for their child). Alternatively, children can at other times be given roles that they are outright ill-equipped to handle (i.e., nepotism), which can result in bad decisions that cause harm to the company itself.
Thus, while these business-owner parents may only have the best intentions for their children, the behaviors and family dynamics that result can be counterproductive, arising in circumstances that can ultimately hurt the family business. This situation is called the "Fredo Effect", and refers to the damage that results from the dysfunctional interactions between parents and children in the context of a family business.
The primary cause of the Fredo Effect often boils down to "role ambiguity", in which parents have difficulty separating their role as business owner from that of parent. The child, too, can have role ambiguity challenges, as they often have unclear guidance about their role in the business, complicated by (often unfair) overcompensation they might receive, and may thus struggle to understand what specifically is expected of them.
Not only are parents and children affected by the Fredo Effect, but other employees and family members involved in the business are also impacted. Seeing a child-employee get compensated and otherwise rewarded for a job-not-well-done can be demoralizing to workers who are diligent and dedicated to their jobs, but who get none of the recognition or benefits that "Fredo" gets. Over time and left uncorrected, the situation can lead to severe erosion of employee morale and working conditions.
The most effective way to mitigate (and potentially prevent altogether) the Fredo Effect is to ensure that formal, well-written job descriptions are in place, which clearly define the standards and expectations for each role in the company. Establishing a "family council" can also provide a forum to facilitate open communication between family members, which can help them work through role ambiguity challenges by identifying (and delineating between) personal and business concerns, and talking them through with family members.
Financial advisors can help their clients by offering services to assist them implement these solutions. For example, an advisor can assist their family-business-owner clients in reviewing job descriptions to ensure that they clearly define the role, requirements, and expectations for each job; that a sensible reporting structure is in place; and that growth and development opportunities exist for all current employees. Advisors can also participate as an objective expert in family council meetings (and also facilitate the participation of other subject-matter experts as needed). And finally, advisors can help family-business-owner clients establish their own support system with each other, by coordinating introductions and hosting instructional events around issues relating to the Fredo Effect.
Ultimately, the key point is that many family-business owners struggle with role ambiguity issues when it comes to their children. The children, too, face role ambiguity challenges that can lead to dysfunctional behaviors, which can be potentially harmful for the business itself. Financial advisors with family-business-owner clients are in a unique position to serve as an objective third-party expert to help the family mitigate the effects of Fredo, and ideally prevent them from arising at all in the first place.