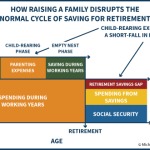 Despite decades of encouragement to save a percentage of annual income, the national savings rate has been in decline for decades, and a disturbing number of today's 50-somethings are seeing their children off to college, only to turn to their own financial situation and realize there's a significant shortfall in retirement preparedness.
Yet given the reality that it's very expensive to raise children – including the ballooning cost of college – arguably this transition into the empty nest phase provides a unique opportunity for households to play "catch-up" for retirement… simply by taking the money that was once being spent on the kids, and saving it instead!
In other words, perhaps the idea of saving a steady percentage of income throughout our working years was never a reasonable approach to begin with, and that a strategy more sensitive to the spending realities of the child-rearing versus empty-nest phases of accumulation is both more realistic, and what many households will end out doing anyway.
Which means the real key to retirement success may not be about saving early and often for the long term at all, and that instead a significant post-child-rearing-phase "catch up" sprint is the normal path to retirement success. In turn, this suggests that the most crucial phase of retirement saving is not figuring out how to save during the early working years, and instead is about ensuring that the transition into the empty nest phase is used as an opportunity to catch up on retirement savings – after all, just 15 years of saving 30% of income once the kids are out of the house is still enough for an astonishing number of households to stay on track for retirement!