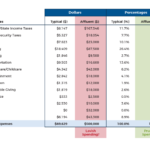 "Try to 'live within your means'" is a staple of prudent financial advice – recognizing that not everyone earns the same income ("means"), and therefore not everyone can afford to spend the same. It prescribes that rather than trying to keep up with the Joneses – and their lifestyle spending – you should live within your means, instead.
Yet the challenge is that as income rises, living "within" your means can produce what is, to most other people, an outsized and larger-than-life standard of living. In other words, while it might seem like prudent advice for those who are of struggling means – and therefore, must constrain their spending down to their income means – those who lift their spending up to live within their (much greater) means may be viewed with disdain.
A case-in-point example is a recent article that profiled a high-income young couple with two children living in New York City, who felt that they were living "paycheck to paycheck" on their $500,000/year salary, even as they lived in a $1.5 million home, drove a BMW 5-series and a Toyota Land Cruiser, and took three $6,000/year vacations. Yet relative to their income – in trying to live within their means – the couple was actually spending 40% less on housing that the typical US household, 50% less on food, and 75% less on their cars (high-end though they were). In other words, relative to their means, this affluent couple was arguably doing a better job of "living within their means" than most.
Which raises the question of whether "live within your means" is actually the right advice for anyone – regardless of income – or if the reality is that the strategy breaks down as a prudent spending recommendation at some point. Especially given the research suggesting that there is a "happiness threshold" – beyond about $75,000 of income (and associated spending within its means), more income and spending doesn't appear to actually improve our emotional well-being.
Of course, some would argue that those who earn might have a "right" to spend more. And that as long as they're continuing to spend within their means, it remains reasonable and prudent. Nonetheless, the question remains: what does it really mean to "live within your means", and is there a point where that advice is no longer relevant or prudent?