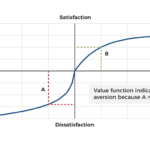 Loss aversion—the idea that losses hurt more than gains feel good—is one of the most well-known insights of behavioral economics. Originally developed by Daniel Kahneman and Amos Tversky in the late 1970s as a component of "prospect theory", loss aversion has since come to be seen as the driving force behind a wide range of phenomena such as the endowment effect, status quo bias, the disposition effect, and even the equity risk premium. However, a new article forthcoming in the Journal of Consumer Psychology makes the provocative claim that despite widespread belief to the contrary, losses are not actually more impactful than gains as a general psychological principle.
In this guest post, Dr. Derek Tharp – a Kitces.com Researcher, and a recent Ph.D. graduate from the financial planning program at Kansas State University – takes a deep dive into this provocative paper… examining the evidence on why losses may not truly loom larger than gains, and why it may be better to look at loss aversion as a concept that applies (only) in some specific circumstances.
In their forthcoming paper, researchers David Gal of the University of Illinois at Chicago and Derek Rucker of Northwestern University examine the history of loss aversion research, beginning with Kahneman and Tversky's seminal paper and growing into one of the most widely accepted ideas in social science. Developed out of a need to address anomalies which could not be addressed by expected utility theory, Kahneman and Tversky provided a clever explanation for why loss aversion could result in people being risk averse when evaluating gains and risk seeking when evaluating losses. However, based on Gal and Rucker's review of the research that has emerged since the development of prospect theory, as well as some of their own research which has attempted to isolate the effects of loss aversion relative to alternative explanations, the authors conclude that loss aversion has been greatly overgeneralized. Instead of being a general psychological principle, loss aversion appears to apply more or less based on the specific circumstances of a given situation, and it cannot be said that losses simply loom larger than gains.
As a result, financial planners should be careful not to assume that loss aversion applies in situations in which it may not. From career considerations to portfolio management strategies and even retirement income planning… clients may not actually be as loss-avoiding as we once believed, and the research suggests there really are situations where they may prefer to seek gains than to simply minimize risk of loss. Some more nuanced perspectives related to perceptions of losses and gains also provide potential insight for financial planners relevant to topics ranging from clients chasing gains to the ways in which financial planners sell and package their services. But ultimately, the key is to acknowledge that, despite conventional wisdom, losses may not truly loom larger than gains!