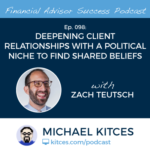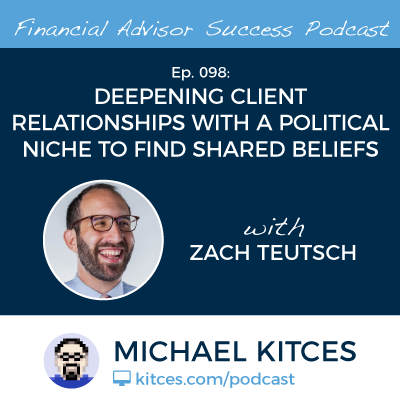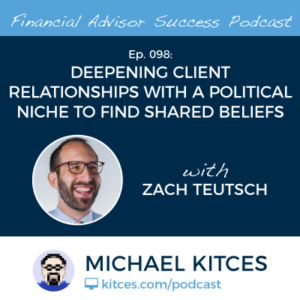 Welcome back to the 98th episode of the Financial Advisor Success!
This week's guest is Zach Teutsch. Zach is the founder of Values Added Financial, an independent RIA in the D.C. area that has quickly grown to more than $300,000 in recurring retainer fees since launching under 18 months ago.
What's unique about Zach, though, is that, in a world where we as financial advisors are typically trained to never talk about religion or politics with clients, Zach has specifically formed a niche in working with progressive Democrats, which undoubtedly drives some prospects away, but has also quickly accelerated the growth process for his firm in reaching the primary clients he wanted to work with anyway.
In this episode, we talk in depth about how picking a niche, even based on politics, can actually be quite effective, precisely because it helps to deepen the relationship with clients by having a shared set of beliefs. The kinds of clientele that Zach has been able to attract by focusing on a political niche, the way he's created a sliding scale retainer pricing model specifically to fit his target clientele, and how he's now developing his investment process specifically to combine impact and ESG investing, tax-loss harvesting, and an additional layer of charitable giving that his clients are uniquely engaged in.
We also talk about the rest of Zach's financial planning process with clients, which isn't just about working with progressives, but also simply the fact that most of his clients are high-income professionals in their 30s and 40s. The way he's developed a list of what he calls financial planning interventions that he uses to demonstrate why his average financial planning retainer fee of $10,000 a year is still so worthwhile to his clients, how Zach has developed a unique exercise of helping clients prioritize with a deck of custom cards with financial planning needs and goals written on them, the kinds of career-related advice that he often talks about with his clients, and the way that Zach handles budgeting conversations with his younger clientele.
And be certain to listen to the end, where Zach talks about how he balances out his own needs to generate income from his practice while giving back to his community with pro bono services, and how the way that he's chosen to structure his firm has, in his own words, gotten him to the point where he no longer feels like he has to choose between work that feels good and being financially successful.
So, whether you're interested in how Zach builds trust and by being upfront about who his ideal client is, how he helps his clients achieve their values-based goals, or why his "interventions" help demonstrate the value of his services, then we hope you enjoy this episode of the "Financial Advisor Success" podcast with Zach Teutsch.