Executive Summary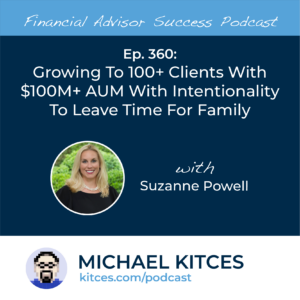 Welcome back to the 360th episode of the Financial Advisor Success Podcast!
My guest on today's podcast is Suzanne Powell. Suzanne is a Senior Financial Advisor at Meridian Wealth Management, an RIA based in Lexington, Kentucky, where she oversees approximately $110 million in assets under management for nearly 150 client households.
What's unique about Suzanne, though, is how she grew to more than $100M of AUM by intentionally organizing her schedule from month to month throughout the year, clustering client and nearly all of her prospect meetings in the Fall and Spring, allowing her to spend the remaining 6 months away from the office and with her family, while still not needing to spend much time on prospecting by leveraging (and almost fully automating her responses to) a steady flow of SmartAsset leads.
In this episode, we talk in-depth about how Suzanne has been able to drive client growth through the lead-generation service SmartAsset and dials the lead flow up or down depending on how busy her month is, the way Suzanne has set up a series of email and especially text message automations that allow her to convert a very high percentage of her SmartAsset leads into clients without needing to be available to immediately to inquiries reply herself, and how Suzanne has customized the targeting of which leads she buys from SmartAsset to ultimately generate nearly $70M of new assets over the past 5 years for less than $100,000 in cumulative marketing spend.
We also talk about how Suzanne structures her weekly meeting schedule to balance the need to have 5 to 6 meetings a day during her busy seasons while still having time to prepare for each meeting and complete follow-up tasks, how Suzanne uses a standardized client meeting agenda to stay on track and ensure each meeting fits within the allotted 1-hour time block, and how Suzanne leverages technology – including a large, retractable television monitor located next to her desk – to present and adjust her clients' financial plans during the meetings instead of presenting them with a physical plan (which saves essential meeting prep time during her busy meeting season).
And be certain to listen to the end, where Suzanne shares how she entered the financial advisory industry without a Bachelor's degree and how she earned her degree 20 years later by taking college courses while working full-time as an advisor and will now officially be able to become a CFP certificant, how bringing her own consistent and authentic presence has allowed Suzanne to convert prospects into clients several years after their first contact with her (because as Suzanne notes, the fact that someone doesn't become a client today doesn't mean they aren't still watching and keeping up with you!), and why Suzanne has taken an approach of not trying to work and save for retirement as a time to enjoy when she gets there, but instead has structured her busy-season-light-season approach to client meetings to allow for more space to enjoy trips and time with her family now, instead.
So, whether you're interested in learning about how to use a compressed meeting schedule to free up time away from your business, how to structure those meetings to effectively provide value to clients, or the tools Suzanne uses to automate the process of converting SmartAsset leads to viable prospects, then we hope you enjoy this episode of the Financial Advisor Success podcast, with Suzanne Powell.
Never miss a Financial Advisor Success podcast episode! Get notified of the latest episodes (and all our research as it's released!) directly via email:
Resources Featured In This Episode:
Looking for sample client service calendars, marketing plans, and more? Check out our FAS resource page!
Are you a successful financial advisor, or do you know of one that would be a great fit for the Financial Advisor Success podcast? Fill out this form to be considered!
Full Transcript:
Michael: Welcome, Suzanne Powell, to the "Financial Advisor Success" podcast.
Suzanne: Thank you for having me. Happy to be here.
Michael: I'm really looking forward to today's episode and getting to talk a little bit about, I guess as I view it, just building our practices with more intentionality. One of the fascinating things to me about the financial advisor world, and particularly for those of us that choose to go out in more independent channels and really get to hang our proverbial shingle, is you get to decide how you want to make the business. And for some of us, that's a function of, "There's certain tech that I want to use, and I want to be able to control my tech", or, "There's a certain client experience that I want to create and serve clients a certain way, and I choose to run my own practice so that I can make it the way I want it and not have to do it the way the parent company tells me".
But for some of us, I find it's almost a more personal level that I want to be able to structure client meetings the way I want. I want to be able to stack meetings the way that I want. I want to be able to manage my time and what hours I'm spending at the office and what hours I'm not spending at the office in a way that we can control more. I know you have created a practice with, as I would frame, a lot of intentionality around what time you spend in the business, where you spend it, and what you're doing. And so, I'm excited to talk about how that takes shape, how you even figure out what you want it to look like because sometimes we're not even sure what we want it to be when you can make it anything. It's actually really hard to pick, sometimes, what it's going to be when you can make it anything. So, just the journey that you've been on in how to shape your practice to live the life that you want to live, I think is absolutely fascinating.
Suzanne: Thank you. I appreciate that comment. I'm not sure that I'd determined that it was fascinating, but apparently, it's been definitely the discussion point when I meet with other advisors.
Michael: I think to kick off, why don't you start out by painting a little bit of a picture of just your advisory practice as it exists today just so we can understand, overall, where you're situated now?
What Suzanne's Business Looks Like Today [05:27]
Suzanne: So, when I was at my old firm, which was Chase, they had a practice they would intentionally implement where you called the clients for their birthday. And that was who you would meet with that month as your ongoing meetings because they always want you meeting with people. And what would happen is, over time, any of those, June, July, August babies would cancel, reschedule, not want to schedule mostly because they're summering and having vacations, living their life. And then, something similar would happen to me, November, December, and January, where between holidays, life stuff, weather, new year, just, "Sorry, you're not my priority right now", they would not schedule. This has been going on for 13 years now.
Back in 2010, I realized that that birthday review system was not working, and I started pushing all my meetings to basically March, April, May, with the goal of being done by Memorial Day weekend. And then, September, October, November, with the goal of being done that Friday before Thanksgiving. And so, I have basically been meeting with 6-7 clients a day in those 6 months of time, which now has been deemed "surge meetings" and has become a very popular trend and format for a lot of advisors. And I've been doing this for 13 years because it's just what worked for me. And then, of course, because I'm meeting with clients in that 6-month period, I don't client-face in November, December, January, and June, July, and August.
So, I basically have 6 months where unless I have a client referral, I'm not purposefully marketing, I'm not client-facing, and I have freedom, which with having children is important. So, it worked out, but it was also a function of how clients wanted to utilize me and that's when they wanted to see me, and it just works.
Michael: So, help us understand the size of the practice overall. How many clients are you doing this with? What's the overall client count, asset-based revenue, however you measure?
Suzanne: My households?
Michael: Yeah.
Suzanne: Yeah. Currently, obviously, the market's down in September, so your millions peel away just a little. But if I count all my assets and annuities and clients that pay me for planning, which I don't even count their AUM, but they do count as a client with time, I have about 150-ish households, somewhere in there. But I would say at least 2 dozen of those folks are either super, super young, and they don't organically meet with me twice a year, or on the other end, a couple of them are in assisted living and near the end of their life, and they don't necessarily meet with me either. So, I would say most of the meetings are happening in a block of about 120 households, and I meet with them twice a year.
Michael: Okay. And in that spring and fall cycle?
Suzanne: Yes. And if for some reason, because it does happen that I let a few fall through, if they fall through in spring and I don't see them, then by fall, we're holding them to the meeting, like my assistant's calling.
Michael: To make sure like, "You need to come in. We need to do our meeting. You missed the last one. You need to come in".
Suzanne: Yes, yes. Yeah. Minimum of once a year. That's the SEC standard of care when you're a fiduciary, and I would like to operate from that model. And in fact, I even had a client say, "Is this an absolute? Can you show me where that once-a-year guideline is?". And I actually sent her a little screenshot of the SEC paragraph that suggested that when you have a fiduciary advisor, you meet at least once a year to make sure everything's the same. And she said, "Oh, okay. All right, then I'll come in". And I was like, "All right. Yeah, I need to meet with you".
Michael: So, what is the asset base or revenue base for the practice at this point?
Suzanne: I'm nearing a million. I was actually telling your folks that based on this quarterly billing, of course, with the September drop, I'm probably a little off, but based on money that I get in for my UL's, annuities, and then my planning fees on top of my billing, I'm near a million. My goal was to get over a million in this trailing 12. I'm hoping I still get there because I just presented a plan package to a new prospect on Saturday. So, we'll see. We'll see how I end up the year.
Michael: Yeah. Pesky markets keep throwing us off when we try to get to those milestones.
Suzanne: Yep.
How Suzanne Manages To Only Meet With Clients During 6 Months Of The Year [11:08]
Michael: So, as you go through these meeting cycles, you said you're basically trying to go through all 120 households that are in the active ongoing phase every meeting cycle with, I'm sure, the caveat that a handful are unavailable and really can't meet, so you push them out to the spring to fall or fall to spring. But that's a lot of meetings. So, what does the meeting structure look like for you when you're in these March, April, May, and then September, October, November meeting cycles?
Suzanne: It's a deluge. It's an onslaught. I do this to myself on purpose, though. My assistant all the time is like, "I don't know how you do this. I don't know how you do this." I fast. I don't eat lunch. I fast all the way to dinner. So, I will have 6 or 7 meetings a day. I try to be done by 3, keep that block from 3 to 4 open for my notes, trading, and all this stuff I need to sort through by the meetings that I've had that day. But it will start early. And then, on occasion, of course, it peels off onto Saturdays. There are Tuesdays where I will willingly work later for some of my clients that are in the government or can't make it during normal operating hours. So, my Tuesdays can be till 6, 7, or 8.
So, yeah, it's back-to-back. I'm walking one client out while the other one is sitting in the chair, my assistant's entertaining them. I say goodbye to that one, and I pull the next one. And like a doctor, though, I'm trying not to run over. I'm really trying to cut the meeting off at like 58 minutes to where I'm not organically going 2 minutes over, then 4 minutes over, and then 6 minutes over, and 8 minutes over. And some are Zooms now. They used to be all in-person, and now I can't seem to get some of my clients back. I begged them to come back. We have even a new office we just moved into. I'm like, "Come see the new space. Let me hand you my new book. Come in!". And they're still on Zoom, which helps.
Michael: Is there any pattern for you of who is insisting on staying on Zoom and not willing to come back?
Suzanne: I think it's more to do with their health and mobility. Some of my clients, one lives out of state, and he used to drive into Lexington [Kentucky], we would go to lunch together. He can't anymore. And then, I have another client, couple in Frankfort, they're in their late 80s now. It's just not worth the drive for them if they've got the technology and they've been used to using it.
Michael: Interesting.
Suzanne: So, it's mostly just aged clients that struggle with that. It's not the younger people, it's the older people. But they had learned through COVID that Zoom and FaceTime was how they could stay connected to their family, which they were typically used to seeing and couldn't see, so they had to...the learning curve with COVID is they had to learn, and now they get to apply it to different scenarios, which I'm the benefactor of, I guess. And I'm appreciative of it because before that, nothing like that would've been an option.
Michael: So, help us understand more how this flows during meeting seasons. You said you have these really intense days that you get started early and you're just stacking like 6-plus meetings consecutively. So, are these all one-hour meetings like just 9:00 a.m., 10:00 a.m., 11:00 a.m., 12:00 a.m., 1:00 p.m., 2:00 p.m., like those are my six slots, and I run from 9 to 3, and that's my day, and then I've got meeting notes and trading and wrap up at the end of the day?
Suzanne: Exactly. And if for some reason, because I always block that 3 to 4 time slot off, like to where if you go on my Calendly link, you don't get that option. And my Calendly is defaulted to be on the hour. So, 2 years ago, I would let people do half an hour. And then, what was happening was some of them would pick the half hour versus on the hour, and I'd only have maybe 4 meetings that day and it wasn't very efficient. So, I control to where now it's just on the hour. And if for some reason someone says, "Hey, I really need a Wednesday", or "I really need a Thursday", then I will free up my 3 to 4 for that person to where I'm overflowing to a seventh meeting, and then I can just do meeting notes and trade after hours to have them settle at open.
But yeah, it's full-blown. I have an agenda. I send the agenda out ahead of time. I ask them if there's anything that we're not going to cover on the agenda that they'd like to add to the agenda. And then, if they have outside accounts, which some do, I ask if they can send me just updated statements and values so that I can get that into the plan if I have time before the meeting. But most of the time, they got my email, they looked at the agenda, they had nothing to add, and they walk in with the updated values to where part of that time I'm committing, which is also in the agenda, is updating the plan, updating the assets, making sure that all the tickers are right because some of them trade, and we used to own Boeing and now we own Clorox, whatever.
Michael: So, you're actually doing plan updates, and let's look at the updated numbers in the meeting. That's not a meeting prep thing for you, that's an in-the-meeting update.
Suzanne: Yeah. If I can, I try. But most of them show up with it. I'm not sure if that they're just not trying to have homework, or they don't want to put any thought into it till beforehand. But if I can, I do take some time at night or in the morning before I start at 9 with my meetings to get what I can in to where that's not part of our hour. But most of the time, yes, it's happening and it's like the second line item on my agenda, review plan, update assets, discuss income. It's part of what they're used to seeing. I start with the plan up on my screen at their success rate. And then, that way, they see where they are because I use MoneyGuidePro. So, they see their "gas meter".
And then, "Hey, is there anything that's not on the agenda? What do you want to talk about if it's not on the agenda so I can write it down?". And then, immediately, we go into, "How's your money? How's the cash flow?". And then, I back into their goals. I click back, go to goals, and say, "Oh, look, you're going to do a home improvement this year. You're going to do the RV this year. You're going to buy the car. Is any of that happening?". Yes. No. Ping it down to the next year. If they did, I'll say, "Okay, great. How much was it?". Because what if my math was wrong? In that meeting, it's an organic process where we're updating goals, spend, making sure the cash flows are right, making sure the assets are accurate. I-bonds, for the first time ever, I'm having to add I-bonds onto their asset page. I'm asking them specifically about them, "Hey, by the way, did you buy the I bonds after that email I sent?". "Oh, yeah, we did". "Okay, great. How much?".
Michael: So, on the agenda, it sounds like you have a standing template agenda, and then they add their stuff to it when they've got things they want to cover. So, what else is on the agenda by default for you?
Suzanne: So, reviewing the plan, that starts at the beginning, update it, talk about income, upcoming expenses, making sure I have them the money they need. Then we go into their portfolio allocation based on their risk questionnaire. Are they off? Are they on the right percentages? If they are off, hypothetically, let's say we were overweight large cap and we're underweight international by MoneyGuidePro standards, we have a quick conversation, "Are we okay with that? Are we comfortable with that? Should we just leave that alone? Or should we rebalance because you're supposed to be a growth and income model, but you're really scoring more towards growth? So, really, maybe you're supposed to be a 60/40 and you're verging on not just a 70/30, but an 80/20. How do you feel about that? Do we need to do something?".
Of course, it depends on the time of year and just the expectations overall with clients and the state of the market, state of the world. Then we go into product-specific stuff. So, if they have annuities with me or other people, if they have life insurance, IULs with me or other people, we talk about how their taxes panned out for the year because, typically, by especially this meeting, they have their taxes done, not always by their spring meeting. Do they have them done? But if we're not withholding enough, I'd like to know. If we're over-withholding, I would like to adjust. And then, we're going into conversations about trusts if they've gotten it done because I keep track of who keeps saying they're going to and who actually does.
And if I have to send them attorney names again for the third time, or they're like, "Oh, no, guess what? We finally did it, we finally did it". So, that's just a check. Beneficiary designations happens at that point where I go into Schwab, which is who I clear through, and check their beneficiaries, make sure I have them right, make sure the percentages are right. Usually, I wrap up with, "Oh, hey, by the way, are you getting my Tuesday talks? Do you open them? Do you look at them? Do you read them?". Because I send a weekly email with just some topic of conversation. And then, we wrap. My wrapping language is, "Oh, did you park in the parking structure? Okay, great. Did you bring your parking pass with you?". Because that's part of my email, my confirm is to make sure they bring it up with them. "Great. Can I have it?" I validate it with my phone and walk them out as I'm validating. That's just my closing statement. "Hand me your parking, it's time to go".
Michael: That's the good verbal cue when you're trying to figure out just that dynamic of, "How do I wrap up this meeting because I really need the client to wind down because I've got another meeting coming up, but I'm trying to do it kindly and professionally?". It's like, "So, did you park in the parking structure? Let's get that parking pass validated". Good way...
Suzanne: And the Roth conversions are in there too. And then, if people have moved, life's happened, someone's lost a parent, some money's come in, that all is happening as part of reviewing the plan, typically, because as I go in to look at assets, we're talking about, "Oh, by the way, my parent passed and I've got 60,000 more in my savings, I need to know what to do with". So, there are other subtopics that are happening inside of some of those broader topics, but that's basically the flow overall.
Michael: So, I'm struck by just where and how you're using planning software, how you're using MoneyGuide in the process, that the meeting starts with MoneyGuide results up on the screen, I guess screen-shared if you're Zoom on the big screen, if it's in-person, in the conference room. And so, you're looking at success rate, you're looking at whether goals are on track. If they've brought statements with updated numbers, you're literally just punching in updated numbers there, and then we all get to look right there on the spot of, how are we doing? Are we still on track? Is there anything veering off track that we need to talk about? And that just happens right there in the meeting.
Suzanne: It does. Yeah. I used to print them. So, back at Bank One/Chase, when I was a financial advisor and you were doing plans to gather assets, you would print out basically a PDF of a report, and you would hand it to them, and you would have a copy for yourself, and you'd have a copy for them at the other side of the table, and we'd flip through the pages together. But here's what was happening. My clients were throwing it on their backseat when they got into the car, and they were never looking at it again. And that's just a point in time. That was just your assets today. By tomorrow, you're going to make some other amount of money than what my software's hypothesized. And so, it was wasting paper. No one was looking at it.
They were purposefully using our time together to be those temperature checkpoints. Otherwise, they have other things to do. They want to go live life and spend the money. They've talked about spending and spend time with their family. They don't want to commit traditionally, unless you're an engineer, they don't want to commit a ton of brain power to reviewing the pieces of paper. So, I learned, really, 10 years ago to quit printing them. That is not relevant. Keep it on your screen. It makes it easier for them. It's more like a living, breathing document. And it just saves everyone the stress because sometimes I think even my clients thought, "Oh, should I have been doing something with this?". It felt like homework.
I even had a client tell me that she almost felt guilty that she didn't look at it. "Isn't that why I have you, Suzie? Isn't this what this is for? Am I supposed to be looking at this?". I was like, "Good point. Good point. No, it doesn't matter. If it doesn't matter to you, then don't look at it". It's just something we were supposed to do. It's what we were told we were supposed to do in order to make ourselves look more professional to where you buy in and work with us. I've already got buy-in, and I think they actually prefer seeing it all online and seeing it up and going through this stuff together, the goal spend together, like, of course, four years ago what I had thought out for a car. So, most of my clients are trading in cars about every six to eight years. And what I had is their goal spend for a vehicle was $25,000. That math is not the same now. I'm having to go in that input and go, "Ooh, 25, that's not going to do it. How about 45?". Now, I have to change it to 45, which has been the last couple years. So, when I do those things in the moment, then they're like, "Oh, yeah, yep, that's exactly right. Okay, great. That looks right. That spend looks right. Home improvements look right". And so, they like having the dialogue, not worrying about what's on the paper.
Michael: Yeah. Well, I'm always fascinated by how these things add up as well, particularly for those of us that are just really good and rigorous about our client meetings and doing what we do for all the clients uniformly. If it takes like 10 minutes to input the data, print the plan, actually get it properly printed and put it together however you're going to staple it or bind it together, if it takes 10 minutes to prep that, times 120 clients, times 2 meetings a year, is 40 hours. When we do the math, it's 40 hours of prep time for the meeting, which is basically... When you stop printing the plan in advance and you put it on the screen instead and just make it part of the meeting, you get back a week of vacation.
Suzanne: Yeah. And it's more relevant.
Michael: It really adds up.
Suzanne: Yes. Now, it doesn't necessarily mean I'm not looking at some stuff on occasion here and there as they email me something, or say, "Hey, we did this, we did that". I'll go in that day I get an email from somebody, "Oh, by the way, we did the roof and it was $13,000", and I will make sure that I've cash-flowed it properly. But 95% of the updates are happening in the meetings. And they also have client access. I can see when someone's logged in. I have about six clients that are really good about going in and editing on their own to take that load off of me, but that's not, obviously, the majority.
Michael: Yeah. 6. Like, "Yay. Thank you."
Suzanne: Yeah, not a lot. But they like playing with it. They like the nuances of it. One of my clients started a pension. She went in and edited it because the amount that we were assuming was slightly different. I was like, "Okay, sounds good". Not that the $50 mattered, but all right.
Michael: So, as you are doing these meeting clusters at 6 a day, do you do this all 5 days a week when you're in meeting mode, or do you still have like a day or more that you're prepping or just taking a breather for yourself? How many days in the week do you stack these?
Suzanne: It was five until the fall. So, my husband and I, we have six kids between us.
Michael: Wow, that's...
Suzanne: Yeah. Unfortunately, his 4 children lost their mom over the summer. And because we used to have some time together during the week, we now are with children all the time. And I determined just recently, like last month when I started my first week of surge meetings, that I missed him. I was pretty sad because we're coming home to kids coming off a bus now when that didn't used to happen. So, there's a lot of changes in our inside-the-family dynamic. And I have now set aside my Fridays to where I can still work from home, get stuff done, catch up on notes, but at least I get to occupy his presence, spend some time together, and connect a little. So, I block Fridays off. It never used to be that way. It was a full 5 days plus some Saturdays, plus Tuesday nights, and I've now protected Fridays.
I have some clients that have reached out to me and said, "Hey, only Fridays will work. And I actually say, "I'm sorry, I am not available Friday. What does Tuesday night look like? What does Saturday morning look like?". Because I want to protect...the kids are basically off into school between 8 and 3. So, I'm like, "I need to just protect this little slot of time so I can spend time with my husband". Even if we're just sitting next to each other doing work together, at least it's something.
Michael: So, how many weeks does it take you to get through those? When you're at as many as 6-plus a day, plus some Saturdays and Tuesday nights, if you were stacking these 5 days a week, it sounds like it wouldn't take that long to get through everyone just when you're cranking 20 to 30 meetings a week. You can get through 100-plus clients in 4 or 5 really intensive weeks.
Suzanne: Yeah, yeah, you can. So, when I send the email, the way Calendly works, say I send an email out late August, my client would click on the calendar and they'd pop up and it would say, "Sorry, no available meetings this month", and you'd have to purposely click a button to scroll to September. So, I learned pretty quickly to stop sending my, "Hey, it's time to schedule" email in August with the intent of meeting by September 1. Now, my emails go out on September 1, 8:00 a.m. and on March 1 at 8:00 a.m. So, they see that full month without an extra click. And this is logistical stuff, but it made a difference. People were giving me feedback, "Hey, there's nothing available in the calendar". I'm like, "Go click the arrow, scroll over.". So, September gets really full really quick, all the time slots are gone. I'm usually sending them...
Michael: Even though you're trying to fill September and you don't send it until 8:00 a.m. on September 1st, it sounds like you don't have a problem getting clients to quickly fill the calendar and the gaps that are there.
Suzanne: Immediately. I think I have a 24-hour block to where if they pulled it up on September 1, the earliest they could schedule would be September 2nd. They can't schedule that day, but they could literally schedule the next day. So, yes, immediately they're getting in and I'm getting emailed with every appointment that's scheduled. So, it's just boom, boom, boom, boom. My inbox is stuffed with 37 emails by noon. And they've picked various days, some September, some October, I don't know, it's up to them. But by mid-October, I'll start getting a little light. I'll notice I'm not 6 a day, I'm like 2 or 3 a day, and I'll send a reminder email out because I've head-counted who's in, who hasn't showed up yet. And I'll say, "Hey, you haven't scheduled yet, and here's the link again".
And then, it hits hard again that 2 days where all of a sudden I'm boom, boom, boom, boom for end of October, early November. And then, I have a couple of stragglers that I have to call or purposely get ahold of that will fill in usually like that second week of November. Usually, by that week before Thanksgiving, I'll go through the list with my assistant, and say, "I really need so-and-so in, I'll really need so-and-so in. Can you go ahead and call them?". But if for some reason there's been some people who just didn't commit, if I had met with them in the spring, and I know enough about all my people to know where they are in life, what they did this summer, I know everybody. A lot of them are even my Facebook friends. So, they know what I'm doing, I know what they're doing.
So, if for some reason I know that someone's out of town or they're on a cruise or they're just really busy, I'll leave them alone. I'll just let them ping to spring. But there's usually about half a dozen calls that Connie needs to make with some people where, "No, no, I really do need to see him". They don't just get to not schedule.
Michael: Connie's your assistant, I presume.
Suzanne: Yes. Yes.
How Suzanne's Office Setup Supports Her Back-To-Back Meeting Schedule [35:28]
Michael: So, when does the prep work happen for all these meetings? Is there anything that you prep and come in with from reports or deliverables or anything? How do you even mentally prep for like, "Which client is this and what things was I supposed to be talking about," when you're just stacked straight up, like, "I'm wrapping the prior client at 58th minute on the hour, and the next one's already sitting there in my waiting room"?
Suzanne: Well, there's a couple of things I do. As we're winding down, because I take my laptop and I bring it onto this big screen, I have a lift cabinet to where the screen goes up and down, so, I'll take the screen down with maybe...
Michael: A lift? I don't think I've seen this. A standing desk that goes up and down, but it's your monitor screen that goes up and down?
Suzanne: Right. So, I have this really...I want to say it's about a 6-foot-long beautiful wood encasement around a 55-inch TV screen that when I push a remote, the screen comes up and turns. And when I push a remote, the screen goes down. So, it's hiding the screen, and it's on the side of my desk. And I keep it up for the meetings, I turn my screen on, I bring their MoneyGuide up, I bring the Schwab accounts up, I bring Advyzon up, which I use for our contact management software. And then, Chaikin Analytics is something I also use, so sometimes I'll have that up. And so, the screen will be up when they walk in and their plan will be up. And then, as we're winding down into the accountant part of the conversation, the estate part, and I've already touched on beneficiaries, I'll click my remote and I'll bring the TV down to where I get to turn and face them better. So, I'm not on an angle.
Michael: This is an up-and-down height, so you're looking up at the screen versus having an eye level...pulling it down means it's hiding itself inside the desk? Is this a...?
Suzanne: Yeah.
Michael: It comes up out of the case and then it retracts itself back into the case?
Suzanne: Exactly. They do have to look up a little to look at the screen, but it's not above my head on a wall super far away. Because some of my clients don't have the best sight, I was trying to make the screen as big as I could and close to them to where they could actually see what's on the screen without trying to pretend.
Michael: But why not just leave it out? Why the hidey screen?
Suzanne: Well, I actually did. So, pre-COVID, they used to sit at my desk on the other side of my desk where we were sharing the same 20 inches of desk, and I would just turn my monitor. And then with COVID, I had to social distance. So, I got some really comfy big high-back chairs that rotate, and they're further away from my desk. They're about 6.5 feet away, maybe 6. And I put a big TV screen literally on my desk. And then, I was working off this 18 inches at the end, very awkwardly. But two feedbacks I got, which was, "These are the best chairs ever. I never want to go back to those things you had at your desk". And, "Oh my goodness, Suzie, this screen is so much easier to see. We were always so embarrassed that we couldn't see your monitor, and that we really couldn't see what was on it. It was so consistent.".
And I was like, "Why didn't you say something? I thought my 17-inch monitor was great." And they're like, "Yeah, no, please." But it was really inhibitive to me. When I wasn't client-facing, I have this giant heavy old monitor on my desk. And so, I was like, "There's got to be a thing". You see celebrities, their TVs, their houses, and some of them have these lift TVs where they were coming out of the wall, or they were coming out of the floor, or they were coming off the foot of their bed. And so, the foot of the bed one, I was like, "I know I can find something like that." And there's this family in Tampa, Florida, and it's TVLiftCabinet.com or something, I don't know what the URL is, but I ordered one. And it's amazing, and they love it. And it also looks professional, and I can bring it up and put it away intentionally. So, for instance, if I'm talking with a new client, and I know that we're not really going to get into packaging, and it's just an informal conversation, I don't have a screen out at all. I make it feel homey, like they can just talk.
Michael: So, am I understanding, the base of the TV that it's retracting into basically is your desk?
Suzanne: No.
Michael: So that when it's retracted, you have your desk space back?
Suzanne: It's separate. So, my desk is a typical L. One part of my L is that standing desk piece, and then the front part doesn't move. That used to be where they sat. And then, this lift cabinet is literally parallel to my desk. It runs long along the whole backside of my desk. So, when the TV comes out, it's parallel to my desk and then it turns and it faces them. And it's really cool, and not loud. And they think it's amazing, and they're like, "Wow, this...". All the guys in the office, all the other advisors are like, "Whoa, your presentation is spot on".
Anyway, the lift cabinet is its own thing now. But the way that I transition my clients when I put the cabinet down, I kind of wrap up the conversation. While I'm talking, I am closing out their screens, and I'm bringing up the next person's information, but they're not privy to it because they're no longer looking at the screen to where I'm not bringing up John's information as I'm walking Jonie out the door. That would be very tacky. But by the time I walk John out and bring Jonie in, her information's on my screen, and then I can just bring the TV back up. So, there's a whole transition that happens where I can make sure that the information on the screen belongs to only the person and that they're not inadvertently looking at someone else's information because I haven't had a chance to toggle over yet.
How Suzanne Preps For 6 Meetings A Day [42:11]
Michael: So I get that for just transitioning the information that's on the screen, it's so the next client sees the next thing. I guess I'm just trying to understand, how do you do your portion of the prep, with that many clients one after the other, just keeping track of, "Who am I meeting with next?" and "What's the issue that we need to be covering here?". Often, clients have something we've been working with them on that we need to be revisiting and digging into further. Are you able to keep all that in your head? Is there a separate prep process you go through? How do you get in the mental state of remembering who's who and what's what when you have this many client meetings stacked?
Suzanne: I have a killer memory. I do. It was so creepy when I worked at the bank, I would remember people's Social Security numbers and telephone numbers and addresses. It's not as good as it used to be because I also have more people to keep track of, but I do use the time between 3 and 4 to mitigate, trade, do the things I needed to do for that day. I'm also emailing Connie in the meeting. So, if we decided to do...like for instance, 2 weeks ago, I was doing a conversion for a client, it's going to be about $70,000. I have to pick the tickers, I have to pick the quantities. And I am composing the email to Connie while we are meeting, just like a doctor would while you're in the meeting.
So, the doctor's there, and he's sending the scripts to the nurse, and he is sending this order to this specialist, and he's doing all these things, and he is working on his iPad. I pull the agenda up on the screen, I type in the notes as we're talking. To some degree, I do really try to be forward-facing and engaging as best I can. So, I'll listen, listen, listen, listen, not type, pay attention, pay attention, pay attention. And then, there will be a point where I pivot, type really, really fast, and dump it onto the screen. And I'll tell them ahead of time. I used to have to write things on a folder back at Chase. They wanted everything written. And now with this contact management software, I need to have it all input. And if I let the clients get away from me, it's really hard by 3:00 to remember the specifics of each note.
So, I type it all into an agenda, and then I go and I basically print a PDF, name it, whatever their name is, and I immediately email it to Connie and say, "Hey, upload this to Advyzon". And then, I've emailed Connie if we need a beneficiary change because I need her hurry up and bring me the form while we're in the meeting, addresses. If we need money, which is always a constant thing, how much we need money, when we need it. And so, sometimes that's all in one email, just, "Here's our to-dos." Sometimes it's a couple of different emails because it's, "Oh, wait, hold on," and then I have to send something else, something else. But if for some reason I can't do that, then I use that 3 to 4 block of time to do those things.
But then, I'm also using that block of time to look forward at next day, get all my emails out if I need to. I do have automations for some stuff. Ask some specific questions to clients, remind them of where to park, pull files. If clients have annuities and insurance products, there's files. I keep notes still in folders. I know which clients I keep notes on and which clients are electronic. And so, I'll give Connie the list of, "Hey, for tomorrow's meetings, 3 in-person, 2 are a Zoom, 1 is a conference call. I need folders for so-and-so, so-and-so, and so-and-so. Can you also have this form ready because I know they've moved? Can you have this thing ready for me because I know they're going to need this and we don't have a MoneyLink set up".
All of that's happening before she leaves at 4:30. So, then when she walks in at 8:30, she's got from 8:30 to 9:00 to do those things if she didn't do it before she left the day before. And that's how I keep up with it. And then on Mondays, for the client meetings Mondays, I'll use the time on Friday that I've blocked off to do any other projects. And there is an occasion where I need to still finish some planning, look at the model, determine percentages of asset classes, and I'll use my time on Friday for that.
Michael: So, what if you have prospects? How does the growth, new client part work, A, if you're buried in this meeting cycle for 2 to 3 months, a year, twice a year, or if you're already stacked to the brim with 6-plus meetings? I'm envisioning, certainly, there's no more time for marketing activities. It's hard to even have time to meet with a prospect. So, how does growth work? What happens if prospects are showing up during these meeting cycles?
Suzanne: So, I SmartAsset-lead, and I've been doing that since October of 2018. In my leads, I turn on and off with the surge meetings. I don't prospect in the summer, and I turn my lead flow off December 1. I'm usually about 2 weeks out. There's, organically, a few time slots, inevitably, that never got filled in a week. There are some weeks where they're stacked through, and I can tell I'm not going to have any time for a lead meeting if I got a SmartAsset email that said we matched. But I can free up time on that 3:00-4:00 if I want to, and I often do. I can also push to Saturdays. But most of my energy right now is prospecting in The Villages since that's where I opened up my second office. And I know I can travel there in October, November.
And so, when I turn my SmartAsset lead flow on for that zip code, I basically meet with those clients on Saturdays, some of it on Sundays. They're totally great and happy and cannot believe that I'll meet with them on a Sunday. And they trip over themselves to get in on Sundays. And my Calendly for client reviews are Monday through Thursday availability only. And so, when you're a prospect, you have a different link. Those Florida leads have a different link, and they see my availability on Saturdays and Sundays once I've booked my flight and I know when I'm going to be out there. For instance, I was there this past Saturday on the 7th, 9 meetings. I did not finish until 6:30.
Michael: Nine meetings on a Saturday?
Suzanne: I had 9 meetings packed back to back, did not finish until 6:30, just in time to grab some chicken lo mein from the Chinese place next door and sit down to watch the UK football game, which was atrocious. But I do this to myself. I enjoy it. I like it. It's my tempo. And I had 3 prospects on Saturday from SmartAsset leads, and I had 6 client reviews.
Michael: So, I'm trying to understand, I guess the SmartAsset... Well, all right, so, two things. One, part of what I'm hearing here is you don't live a cadence where there's 6 months that are client meetings, and then in the other 6 months, you do marketing and growth stuff. Your SmartAssets and lead activity is stacked on top of the client surge meeting time. You put all of that in one intense meeting zone. Am I understanding that correctly?
Suzanne: I intentionally do not want to work 6 months of the year currently with my kids at 12, 14, 16. I believe at some point, once I get the littlest off to college, I'll really ramp it up and go longer and maybe not block so much time off. But yes, you're right, 6 months of the year, I'm working, and basically six months of the year, I don't want to have to be in the office unless I get a client referral. I can't control when those come in. They do happen, thankfully. My clients are happy, they love me. And so, there may be a month where I've gotten 1 referral, there may be a month where I've gotten 3. And so, then I do make the time for those.
Michael: Okay. That might literally be like a 1-hour meeting in the off-season.
Suzanne: Yeah.
How Suzanne Uses Automations With SmartAsset To Generate Leads [51:12]
Michael: I want to come back to the off-season in a moment, but first I want to understand more on the SmartAsset end because my understanding for SmartAsset, most advisors who've been active in the system because SmartAsset shares leads to more than one advisor at a time for whoever's in the zip code, in the area where the prospect is, there's a lot of pressure to respond to them quickly. Whoever tends to get the first outbound follow-up to the client has a drastically greater likelihood of actually getting the meeting with them. And you are in meetings 6 hours a day through most of the days of the week, so how do you respond to SmartAsset leads in a timely manner? How do you stay on top of them? How does that work when your SmartAsset time is on top of these high-intensity meeting flows?
Suzanne: That's a great question. So, when I first, first started, which was in October of '18, it was still me trying my best to send a text, get on the phone as quick as I could in between a meeting if there was an opportunity. Sometimes I wouldn't get to them till the end of the day. They were still converting, it still worked. I had a really good experience with SmartAsset right off the bat, which possibly I've heard other advisors with maybe a less than stellar experience, that just wasn't my experience. But I actually have a friend/peer who runs an insurance company, and we were talking in a networking group about his Dave Ramsey leads, my SmartAsset leads, and he had built out an automation to help his insurance reps with the volume of leads they were getting based on his budget.
And so, he basically just said, "Look, I'll just mock up what I have". Of course, I paid him to do it, but I built out an automation, I think within 3 months of the SmartAsset lead flow to where... It used to be a Slack, RingCentral automation. It's now a software called AgencyZoom, which is basically just for insurance people. And I'm using it off-label for me, but I automate it now. I used to do text, voicemail drop, email, and then they banned voicemail drops. So, now it's just a sequence of text messages that go out. They're very conversational. It sounds like as if I myself actually was messaging.
In fact, one of mine, the third one says, "Hey, just want to make sure you got my last text?" And of course, all of this is assuming that they haven't replied back. At the point that they reply in an email or a text, the automation sequence stops. It automatically unenrolls because it knows that you have to start the conversation at that reply. So, for instance, last night, I got a SmartAsset lead, and it's at 6:00, and I'm at my daughter's volleyball game. My automation's happening through RingCentral without me even knowing it. And then, I go and I was actually working the concessions. I signed up the concessions at volleyball.
So, I'm working the concessions, and I go and I look at my phone, and there's all these RingCentral messages that have happened where he basically replied to my automation and said, "Sure. I can talk between 2:00 and 4:00 tomorrow". So, then I said, "Okay. Sounds good. I'll call you at 2:15 because I do have a client who canceled for today". And so, I plan to call them today at 2:15. But my automation does everything. Now, for some reason, if RingCentral…the text messages don't go through, where it says, "Not delivered, not delivered, can't deliver", that tells me it's a landline, which is more common in The Villages. Even though everyone has cell phones, when they're filling these surveys out, they tend to default to a junk email address and a landline that they know they'll never answer because they're just trying to see what results they get and maybe they're not serious.
So, if I can tell it's a landline because my messages aren't going through and I have time, I'll call it. If for some reason I don't, I still put the email into my Tuesday Talks through Constant Contact. So, every week, I'm pushing the leads in to where I'm at least dripping on them with that email. My emails will still go out, which I go out for an entire year. At first, it's more, and then it's like a 2-month email, and then I send a 6-month email, and then I send a 1-year email, so it's not obnoxious. And that's it. I win some, I lose some. I don't have a ton more energy to put into it other than that. And I don't love getting on the phone. So, I really try my best to just let my automations take over. And if they're serious, they'll reply. And if they're not, they won't.
Michael: I want to make sure I understand these automations, just literally how it works. So, just walk me through a little bit more step by step. Literally, you get a lead from SmartAsset, which as memory serves, it basically comes through as an email. You get an email in a standard templated form that says like, "Here's the name, here's the phone number or email address", and whatever information they provide. That comes in as an email lead?
Suzanne: Correct.
Michael: Where does that email go for you? Does that come to your personal email inbox, or is that already going someplace else special that's starting some sequence of things?
Suzanne: It does go into my inbox. The mechanics of the automation are what I'm not as familiar with because I paid a guy to do it, but I know I have 2 separate emails. I have suzanne@, and then I have spowell@ because Lexington zip codes get a specific email worded for Lexington, and The Villages, Florida zip codes get a specific email worded for The Villages. And in order to distinguish those, just like an insurance company would with different insurance guys, I have to pull the zip code to this email, pull the zip code to this email to where the text messages are identical, but the email they're getting is specific to the city.
Michael: So what's the first thing that comes? The email comes in from SmartAsset. It's either to spowell@ or suzanne@ because one basically means it's a Lexington lead, one means it's a Villages lead down in Florida so now at least you know which locale they're at. So, they get the Lexington, Kentucky, sequence or The Villages, Florida, sequence. Do these emails forward someplace? Is it literally like Outlook is, or whatever you use for email is making automation things happen? How do the emails get from an email inbox that you're not present at because you're at the kids' sports games into a place where automation things are happening?
Suzanne: This is the magic of Slack and AgencyZoom. They use a company called...I think it's Zapier. I can see it. If I go to my Sent folder, I can see what automations triggered that day from old leads and new leads. So, I see them as if they have went out by me, but the logistics is a little beyond my pay grade, which is why I wrote the check to have it done.
Michael: And is RingCentral just literally where your office phone line is in the first place so they're tying to RingCentral because that's just where the company phone number is to text people and communicate that way?
Suzanne: No. Our company uses some IT company for the phone. RingCentral is how we get the text out the door and how we used to get the voicemail to drop. The email I believe is still happening within AgencyZoom. I don't think RingCentral has anything to do with that. RingCentral appears...the text messages stay in RingCentral. I have to go in on my phone and text back through RingCentral, but they're what's getting me the cell phone part of the dialogue. So, if for some reason, let's say I didn't text at all, I probably wouldn't even need RingCentral. If all I was doing was say a sequence of emails, AgencyZoom would probably stand alone at that point.
Michael: And so, ultimately, these things come in, and so AgencyZoom now has created a series of essentially automatic follow-ups. So, the SmartAsset lead gets some combination of an email and/or a text message, "Thanks for reaching out. My name is Suzanne Powell. I would love to explore your situation further. When can we call or meet?"
Suzanne: Yeah, "I want 10 minutes to chat. When do you have time?". And then by the third or fourth one, I'm sending them a Calendly link, which is just an intro call with a 15-minute block.
Michael: Okay. But you don't have to be there for them because, "Hey, thanks for reaching out. I'd love to connect with you to learn more about your situation", you can basically just have as a generic template, that doesn't need to be specific for them. So, that's queuing up...immediately AgencyZoom makes that happen automatically, so the moment the lead comes in, they are getting a response "from you", but you don't have to be there at the keyboard or the phone to do it. They get the first contact immediately through AgencyZoom. And then, the moment they actually reply or engage, now you're to a more manual process. But presumably at that point, you've made first contact. You don't have to be super instantaneous response anymore, now we're down to normal human interactions.
Suzanne: Exactly. And then because I'm texting, I look human. It's weird, but so many people prefer text now. And because iPhone and Androids have gotten really good with the spam blocker service, AT&T is offering the spam blocker service, if I try to call, most of the time I'm getting not even a ring. It's just going direct to voicemail because my number is not in their contacts, therefore, I'm blocked. The texts still go through. Of course, they can unsubscribe, they can opt-out. If they reply the word stop, no, it automatically unenrolls from the sequence. But it just appears I'm more real when I'm sending a text. So, the response rate on text is very high. Very rarely am I getting something through email other than, "Hey, thanks for the email, but we've been texting, so I'll see you Tuesday". It's more like a follow-up to our conversation as opposed to a conversion from the email.
Michael: And out of curiosity, what do you pay AgencyZoom to make all the automation magic happen?
Suzanne: They bill me monthly, I think $150 a month. Then RingCentral...
Michael: So, very much, this isn't a $10,000-a-year service.
Suzanne: Oh, no, no. And RingCentral is $20 maybe, $15. It's super cheap.
Michael: I can see now why you've had some traction with SmartAsset just in a world where there is some pressure/reward to be able to respond quickly. You've built the automations that make sure you are basically responding instantaneously when it comes in because computers can automate this immediately. So, I would imagine you're almost always first contact back to prospects, which means you get to win the majority of the people who are willing to meet to actually get to a first meeting.
Suzanne: Absolutely. Now, it's key, though. Zip codes matter. There are some fellow advisors who I've talked to over the years where SmartAsset just wasn't their thing because, say, the way SmartAsset works, you have to do a 20-mile surround, and hypothetically in Chicago, it just doesn't work very well. People want to operate in a 1-mile radius of you. But in The Villages...so, SmartAsset qualifies advisors based on U4 records. And I currently don't have complaints or a ding on my U4. And so, the reality with, unfortunately, some advisors is in their career, their span of 30-plus years of doing business, they may have a complaint. And so, specifically in The Villages, when I go to match, I am actually the only one that is in The Villages they match with. The next closest advisor is 45 minutes away. And then, most of the time they're matching with either Personal Capital or Fisher as the third option. And so, proximity matters.
Michael: And so, if they want the national firm with nothing local, they have that choice, but if they actually want local and the geography matters to them, you are right there.
Suzanne: I'm usually the only one with an office that they can golf cart to. And they actually ask that.
Michael: The Villages is all about whether you can golf cart to it.
Suzanne: Where's your office? What road are you on? Because they're trying to determine their house compared to you. So, proximity matters in The Villages. And the good news is I'm in The Villages, and because there's so many folks moving down there and have been for quite a while, eventually, sometimes they get a little sick of the guy who is on the East Coast, who doesn't really reach out to them. They want personal touch, they want to actually see the person. So, it's a little bit of an opportunity that I've taken advantage of, which I think may not last forever, but it works.
Michael: And then, what do you spend on SmartAsset for the lead flow that you're getting? What does this activity cost you?
Suzanne: I only do the top 2 tiers, which is the $250-plus and then, I don't know, the $500 or $750-plus. And my budget...
Michael: Meaning $250,000-plus asset minimum and $750,000-plus asset minimum?
Suzanne: Yes. My budget can vary anywhere from $3,000 a month. It's currently $1,500 a month depending on my, not so much my mood, but how often I think I'm going to get there. The more leads I get, the more expectation I have to have more in-person meetings, which means instead of maybe 2 Saturdays away, I have to spend 3 or 4. And my daughter's in volleyball season right now, she's got tournaments on Saturdays. And so, I'm trying to manage my lead flow based on my budget.
Michael: Because in part, you're trying to grow more of your practice in Florida because that's the future. So, you're primarily buying lead flow at The Villages, but you still live in Lexington, Kentucky. So, filling the calendar with a bunch of prospects means getting on a plane as you do this shift for yourself.
Suzanne: Correct. Yeah. Sometimes they Zoom. I actually have a prospect I'm meeting with next week via Zoom on a weekday. And I give them that flexibility, "Hey, if you're fine to meet through Zoom conference calls, I can do weekdays. If it's got to be in person, it's this Saturday or it's this Saturday. What do you want to do? Yes, I do have an office. Yes, I'm real. Eventually, we will meet. But what do you need right now?". So, my lead flow dials up and dials down. My budget adjusts monthly. They just recently raised their rates again. So, $3,000 used to buy me approximately 22 leads. I think now it may be 15 to 17.
Michael: Because you just pay per lead?
Suzanne: Correct. Pay based on the asset tier. So, if I don't care to have a ton of leads because I have referrals coming in organically, or I've got some new prospects closing from just other places, then I'll change my budget. And then, if there's a particular month where I'm like, "Hey, I really want to hit it hard", which may be what my November looks like, then I'll dial my budget up and go $4,000 or $5,000, but that's unusual.
Michael: I guess that's the nice thing for SmartAsset kinds of systems, just the lead flow is pretty instantaneous for when they're doing it. So, you want more leads this month, turn up the dial this month. You want fewer leads this month, turn down the dial this month. You just get to turn the dial.
Suzanne: Yeah. My account manager actually will tell me, "We are getting a lot of leads in The Villages." I've had this conversation with them maybe twice in 2 years, "And if you leave your budget just at $2,000, you're probably going to be capped out by like the 15th of the month. Do you want to bump your lead flow up?" And so, Fisher Investments pays SmartAsset a lot of money. And I do believe that that's their primary client, and they prospect in various zip codes, but they're very heavy. It's evident in Florida because they're always matching against me.
I don't know what their budget looks like, but I know that SmartAsset gets to work with their budget, and I'm piggybacking on that too. And so, if their lead flow is really heavy, they want to try to put three advisors in a match. But sometimes, for instance, if I'm not paying for them, they may only see one or two match. And so, they'll tell me, they'll go, "Hey, we've got a ton of leads, no one matching. Are you sure you want your budget this low?"
Michael: So, when you talk about this flow, like, "I spend $3,000, I get 22 leads," or maybe a little bit lower now that they raised their per lead price, but, "I spent $3,000, I get 22 leads," how many of those would you expect to become clients, and what asset flow would you expect? You've said you've been happy with the experience and how it converts, but I don't know what the context is. What's a good outcome on a $3,000 month spend in 22 leads?
Suzanne: My conversion rate's always been high. In fact, SmartAsset has over the years brought other people, not advisors, but their internal people to meet with me to figure out how I'm converting at a higher percentage than normal. I've explained the way I structure my emails, the words I use, my subject line, my texting. And I think because I'm authentic when I speak in my email and my text, it sounds like me, it's not a long-form or short-form sales script. But Lexington leads convert at a slightly different rate. We have a higher density of really good planner guys here. And in Lexington, if I get 4 leads, I'll get easily 1 in a meeting.
Usually, my conversion rate once they're in a meeting is like 80%. So, I do expect to convert 1 out of 4, but it could be 1 out of 5. And there's months, notoriously April, April's a weird month where I've gone back to my account managers and asked, "Are these people even real? Nobody's on the other side. What's happening here?". And then, I'll have a great month like May, where everybody's real, and they all call me back, and I meet with them, and it's amazing. So, it ebbs and flows, but in the conversion rate in Lexington, it's about 1 of 4, the average account is about $650,000. And then, in The Villages, for every 4 leads, it's 2 and a half meetings. And I'm converting traditionally at least 2. So, for instance, out of the 3 on Saturday, I've already closed one. One's going to be a plan, and the third lady, I have to follow up in 3 weeks when she gets back from her cruise. So, I think they will all close.
Michael: And what are average account sizes from those? What kind of clients are you getting?
Suzanne: Everything in The Villages is over $1 million. Sometimes it's $2 [million].
Michael: But just thinking about the math of this, if $3,000 buys you even at today's price, like 15 to 17 leads when you're converting anywhere from 1 in 2 to 1 in 4, you may get 4 to 6 clients from a $3,000 marketing spend. And these are clients that are, I guess you said like $650,000 average in Lexington, million-plus in The Villages. So, $3,000 spend maybe $2, 3 million-plus in new assets and revenue that's coming in. That seems like a phenomenal ROI on that marketing spend. Wow.
Suzanne: I applied for your summit last year and actually was speaking specifically about this automation, SmartAsset, if I got it. And I had to math out the leads I've gotten, the money I had because I had never put it to a spreadsheet before. It was 55 households. And mind you, I'm only lead-flowing 6 months out of the year. 55 households, I had $60,000 in paid planning fees. My AUM has gone from $30 million to $105, and all I've ever done is SmartAsset or normal client referrals. And of course, some of that's the market, but the market hasn't been great the last couple of years. So, oh my goodness, I've paid for SmartAsset for so long, I'll never stop. But that's been me.
Michael: From $30 million to $105 million is just phenomenal growth. And just I guess even guesstimate, what is that spend? I'm just envisioning, you're spending $1,500 to $3,000 a month. You're spending 6 months of the year that you're doing this. So, you're in like $10,000 or $15,000 a year times 5 years that you've been doing this. It's maybe $100,000 of marketing spend, but you went from $30 million to $100 million-plus in asset, which is like $700,000 of annual recurring revenue for $100,000 of marketing spend and $150 a month to AgencyZoom, who seems to be really earning it.
Suzanne: Right. Plus the planning fees, which I created planning packages when a weird nuancey thing happened with 3 SmartAsset leads in a row where they didn't convert, and I was super surprised and confused and realized the AUM model isn't the only way to go. That's what Chase does, that's what Wells Fargo does. So, that's what I was organically used to. But I was like, "How can I help the DIY engineer guys who have these spreadsheets built out, but want the Monte Carlos and want the software to just back up their assumptions?" Because that's originally when I went to college for, and that's my tribe, and they weren't converting.
And so, I implemented planning as a consulting service. I bill through AdvicePay because there was a gap that I wanted to fill based on my own experience with not converting. And so, that is $60,000 now in planning fees since I started that in 2019, which by itself is almost paid for SmartAsset. So, it's worked all the way around, and thankfully, that's been my experience with SmartAsset. But I have learned based on feedback from peer groups and meetings that I've been to that not everyone has had those same experiences. And I guess I'm lucky the zip codes I'm in work maybe because they're both considered maybe smaller towns versus big metropolises. I'm not sure about the logistics. It just it works.
Michael: And again, to me, in a world where there's still a lot of pressure to be the first responder and make initial contact, just this whole automation system you've created to get out to people so quickly, I would imagine is also a material factor in moving the needle on results on the conversion rate.
Suzanne: I hope it is.
What Surprised Suzanne The Most About Building Her Advisory Business [1:17:06]
Michael: So, what surprised you the most about building your own advisory business?
Suzanne: That's a good question. Capacity has always been a question for me. Most advisors set that goal of $100 million and 100 clients. That was my thing, "I'm going to get to $100 million and get to 100 clients." And now that I've bypassed $100 million and 100 clients, I've had to think bigger, "What do I really want out of life? What do I really want out of the next 30 years of my career?" Because I thought $100 million and 100 clients was my endgame, and I've learned there is no endgame for me. I will add more people, I will find the way to scale, I will hire more assistants. I brought my husband into the business.
I want to help as many people as I can, and if they want my help, I want to help them. And I don't want to say, "Oh, I'm at capacity, I can't help you". So, that really surprised me. Now, that I'm there, I thought, "Wow. Okay, I don't really want to stop. I'm not done yet. I got to keep going. Keep going, keep going". If I could hold everyone in my arms and take care of everybody, I actually probably would. However many million that is, I don't know. I do at some point intend or want to own my own firm, but my arrangement at Meridian [Wealth Management] is so amazing. The people here are great. Everyone likes each other. The vibes are positive. My revenue share is fantastic.
If I did go and break off on my own, I wouldn't actually get to keep as much money as I get to keep now with a whole lot more stuff. But there is a point where trying to think about my kids or bringing my kids into the business, my husband, and just what I'm really seeing where the money may not matter so much, it's more about legacy and creating something bigger. So, that's something I'm always thinking about too.
The Low Point On Suzanne's Journey [1:19:11]
Michael: So, what was the low point for you on this journey?
Suzanne: There's a story that was written about me a couple years ago. It's like a paid marketing piece when you're trying to get in Forbes and say you have been or whatever. And I speak about my childhood, basically growing up in a trailer park outside of Detroit, and the fact that I essentially hadn't finished my degree after 4 years of college. So, when I went to college originally for engineering, it was on a scholarship, took a really large class load, got slightly overwhelmed, decided to take a semester off. Meanwhile, I'm in a sorority. I'm doing a lot of work for them and spending a lot of time at literature tables, recruiting, which meant, inevitably, I wasn't going to all my classes because, again, I'm sacrificing myself for the whole.
Four years rolls around, and I had been chapter president, I had been Panhellenic president, done all the things. And they're like, "Okay your pledge class is going alum now". And I'm looking at my transcript, and I had 30 credits. I got nowhere, yet I was the best recruiter in our sorority, and I ran the whole organization, but I had sacrificed my class time and therefore didn't get what I needed done. So, I've spent the last 20 years taking online classes. Bank One paid for them, Chase paid for them, Wells Fargo paid for them. And then, when I broke off, it was almost done, but I was paying for it myself to where I officially have a four-year degree, I think in Bachelor of Science in... I think it's Bachelor of Science with a concentration in financial planning because I built the 18 capstone credits for the CFP into the program.
It was a program offered by Southern New Hampshire University. So, I walked. I actually walked. Last year, we flew out to Boston, went to SNHU, wore the cap and gown. My daughter was with me, crying my eyes out. I'm about to cry. Because these years that I've been working with people, I didn't have the degree. Chase took a chance on me. They got me licensed. Wells Fargo knew that I had crushed it at Chase, so they just brought me aboard. When I went to Meridian, everyone came with me because they love me. I don't have the thing on the wall. It was not that it's a low point, but when you're talking about FOMO, failure, credibility, and what do other people have that I don't have, I had a ton of experience.
I made up with it by reading a lot of books and plugging into your newsletters and doing all the things to get the information because I do love to read and I love this business. So, this is what I actually enjoy partaking in, even on the weekends and nights. So, it's not that it was a low point, but for me, the one thing under the radar was the fact that I've been managing assets for clients since 2004 but hadn't completed my degree until 2022.
Michael: And you said you weaved CFP capstone into it. So, does that mean you're now pursuing CFP certification as well, or queuing up the CFP exam?
Suzanne: Yeah. I'm legally allowed to call myself a CFP candidate, this is per their guidelines, for two years. Once you finish your capstone and you've met all your requirements, which happened in June of last year, I have 2 years to where I can say on my LinkedIn profile that I'm a CFP candidate. If I do not sit for that test by July of 2024, I have to remove that from my profile. I don't get to brag about it anymore. Not that I'm not a candidate, but I just don't get to say it out loud. So, my intention is to sit for the July CFP exam, which means that I will likely use some of this off time where I'm not client-facing to do my studying in the same hours that I would've normally given to client meetings so it's not eating into my kid family time. So, that's the next step that I would like to do it.
Michael: Very cool. So, how does it feel checking that off?
Suzanne: It was emotional, very emotional for me. And I'm not a super emotional crybaby kind of person. I'm very analytic, I'm the thinker, I'm left-handed. So, I'm analysis, analysis, analysis. And when I was walking across the stage and even sitting there, I swear I cried for like an hour straight. So, it's exciting. I'm glad it's done. It was a thing that you would dream about sometimes, which was always a bad dream.
What Suzanne Would Tell Her Younger Self [1:23:50]
Michael: What else do you know now you wish you could go back and tell the younger, earlier advisor you were from 10 or 20 years ago?
Suzanne: Oh, that's a good question too. I did it right. There were male and female advisors both that used to look at me like I was competition, be fairly trite, not nice, not share ideas, and I never appreciated those people, of course, but felt, I don't know, undervalued or felt less than. And so, when I had an opportunity...like Chase used to actually have the new advisor shadow me because of my closing ratio and the volume of money that I would close, and when I had an opportunity to coach other advisors, which I still do, I still am in groups and get outreach from other advisors throughout the United States, I give them the help. I give them the free advice. I plug in and I share.
I share what mutual funds and ETFs I'm putting people in, I share my process, I share my packaging. And so, if I could go back 20 years to Suzie that used to work at a branch and say, "You know what? You're going to do it right, keep helping. It's for the good of the whole. The better advisors are, the better we all are. The more women advisors that are successful, the more women will come into the business. We need more women advisors. How do I help that?". The one way that doesn't help is by acting like you're better than them, that your information's yours, that everything's proprietary. I can't operate like that. I give it all away, even if it costs me money to make. And that's worked for me. So, I would just probably tell her to keep on keeping on, like, "You've got it, you're gracious, you're helpful. Don't stop.".
Michael: So, any other advice for just younger, newer advisors coming in the profession today?
Suzanne: How they intentionally lead would be entirely up to them. Some people like to do workshops, which I appreciate, seminars, I get it, family, friends, the door knock, Edward Jones model, respect it. Whatever works for them and their city and their status, it works. Obviously, don't give up. Sometimes the thing that you're working on today doesn't pay you tomorrow. There are SmartAsset leads that I convert on an annual basis because they're in those Tuesday talk drips where I lead flow with them, like their lead was 3 or 4 years ago. So, just because someone isn't buying in today doesn't mean they're not keeping up with you. And just making sure that you're authentic, and you're credible, and that you're going to be a good fit for them. So, I would tell people, just keep doing whatever's working, but you have to repeat it and be consistent, it will pay off.
What Success Means To Suzanne [1:27:02]
Michael: As we wrap up, this is a podcast about success, and one of the themes that always comes up is just that word success, it means very different things to different people. And so, you've had this wonderful journey of success. You said that 100 clients, $100 million is a milestone for so many, so you've crossed that threshold. You're setting new goals for yourself now in the business. But I'm wondering, at a personal level, how do you define success for yourself at this point?
Suzanne: I've determined based on planning for my own clients that I don't know that I want a traditional GM, Ford, La-Z-Boy type retirement. I will likely continue in this career until my mid-70s, possibly 80s, just depending on my cognitive function. So, when I think about success for me, it's building this business, which I'm doing, to where my family and kids can potentially participate, depending on their strengths and if this is something that they determine that they want to do, but still have the freedom now with the time and money to participate in their life, be there for them however they need it, take the trips, go have fun, do it while they're young. So, it's kind of I'm doing it as I go.
Every year, I look at how I've built the practice out, how much time I give to myself that I get to spend with my family, doing fun things, going on trips, and I think, "This is success". What's success to me is continuing this style of living for a continued period of time to where, at some point, of course, hoping that at least 1 of 6 gets into this business, we're leaving a legacy and there's something bigger at the end.
Michael: I love it. I love it. Well, thank you so much, Suzanne, for joining us on the "Financial Advisor Success" podcast.
Suzanne: Thank you for having me.
Michael: Absolutely.