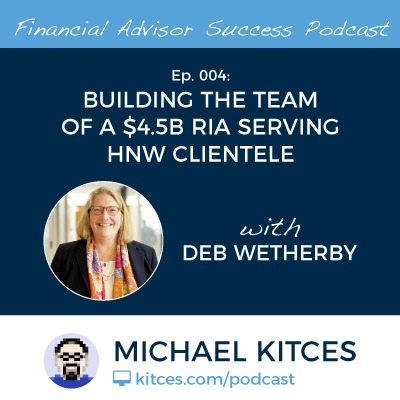 Welcome back for the fourth episode of the Financial Advisor Success Podcast!
My guest this week is Deb Wetherby, founder of Wetherby Asset Management, a $4.5B independent RIA based in San Francisco that serves ultra-high-net-worth clientele. So if you've ever been curious about how a fee-only firm with a whopping $10 million minimum is staffed and operated, this podcast will not disappoint.
And Deb's journey into the role of being a financial advisor, entrepreneur, and ultimately business executive, is a fascinating one. She started out working in the private bank division of a major wirehouse in the 1980s – as one of only 14 females around in the globe in her department – before eventually deciding that the conflicts of interest inherent in private banking of the day were just too much. The end result was launching her firm, and bootstrapping it from scratch, running three full years just to reach breakeven, while racking up substantial credit card debt to stay afloat!
Now, 23 years later, Wetherby Asset Management managed $4.5B of AUM for almost 500 clients, with 66 staff members. And Deb shares how the growth of the firm ultimately forced her to evolve from being "just" a financial advisor, into a leader of the business, with a primary focus on establishing and maintaining the culture of the firm. In fact, Deb has one of the most unique and intensive processes I've ever heard of, to both vet and onboard new team members – which she graciously shares in today's podcasts.
So if you're running a financial advisor firm and struggling with how to make sure your growing team is all marching to the same drummer, or simply aspire to grow a large advisory business in the future, I hope you enjoy this latest episode of the Financial Advisor Success podcast!